Comics
Published February 6, 2019
The Vision Family Tree
Learn the twisted roots of the Super Hero's family tree.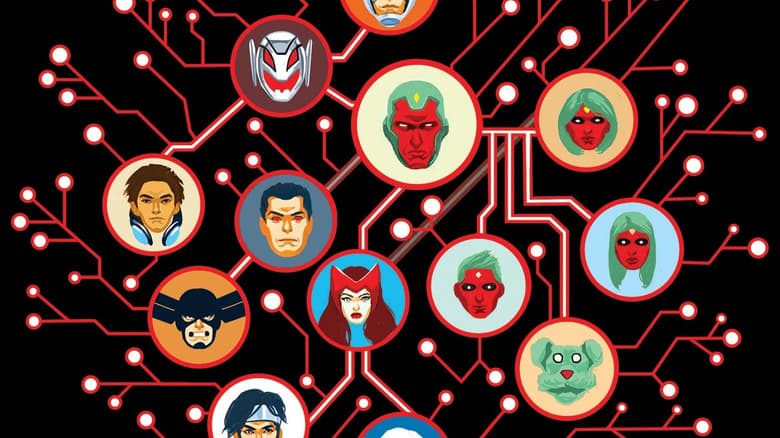 Big Daddy Ultron
The Vision's origin and family tree starts with Ultron. The evil robot created the "synthezoid" so he could send Vision after Ultron's own creator and his wife, Hank Pym and the Wasp. The Vision rebelled against his "dad" and helped the Avengers stop him from carrying out his plans to eliminate the human race time and time again.  So don't expect a Father's Day card anytime soon, Ultron.
"Grampa" Hank Pym
If you consider Ultron the Vision's dad, then that would make Hank Pym his grandfather, sort of. The two served as Avengers and, most recently, as a part of Avengers A.I., before Pym merged with Ultron and left for the stars—which makes the whole family tree a little fuzzy in the upper limbs.
His "Brother," Wonder Man
Not his biological brother, of course, but Ultron used Simon Williams' brain patterns as the basis for the Vision's, kind of making him the twin brother Wonder Man never had. Simon does have an actual brother, too: Eric Williams, who became the Grim Reaper to avenge his sibling's "death" at the hands of the Avengers. They don't invite Eric to family dinner, but sometimes he shows up anyway.
His Other "Brother" Victor Mancha
Ultron also created Runaways member Victor Mancha by combining the DNA of the boy's mother with his own nanotechnology, making Vic a cyborg and, in a sense, Vision's brother. The two served together in Avengers A.I., and Victor showed up in D.C. with an internship—and a mission to spy on the Vision's new family, courtesy of the Avengers.
The Ex, Wanda Maximoff
After joining the Avengers, Vision fell for The Scarlet Witch, a mutant with daddy issues of her own. The two had a long and happy marriage, complete with magically created kids, until Vision turned into a soulless robot and Wanda went crazy. Following attempts to reconcile and more insanity, the two remain friends for now.
Wiccan and Speed
The Vision and Scarlet Witch's magically created children came from the soul of Mephisto, and when the demon reabsorbed them, their parents thought they lost the twins for good. But they actually returned to life as Billy Kaplan and Thomas Shepherd, the Young Avengers known as Wiccan and Speed.
The Hype Box
Can't-miss news and updates from across the Marvel Universe!