Comics
Published November 18, 2020
The X-Men Face an Uphill Battle as 'X of Swords' Nears the End
Spoiler alert! Read through the ramifications of today's new issues of 'X-Force,' 'Hellions,' and 'Cable'!
Warning! This article contains spoilers for today's X-FORCE #14, HELLIONS #6, and CABLE #6, so read on at your own risk, True Believers!
For centuries, the children of Apocalypse were trapped on Arakko while fighting the unyielding forces of Annihilation. Now, Annihilation is merged with Genesis, the estranged wife of Apocalypse, and she leads the combined Arakkii in a bid to crossover into our world and destroy the mutant nation of Krakoa. So far, there have been few signs that they can be stopped.
In X OF SWORDS, Saturnyne, the Omniversal Majestrix, staged a tournament in Otherworld between the Swordbearers of Krakoa and Arakko. However, Saturnyne's cruel and vindictive actions against the X-Men and their allies have given the Arakkii the clear advantage. And this week, the Arakkii ran up the score as the countdown to invasion edged perilously closer to fruition.
X-FORCE #14 co-writers Benjamin Percy and Gerry Duggan joined artist Joshua Cassara to kick things off this week with a rematch between Magik and Pogg Ur-Pogg.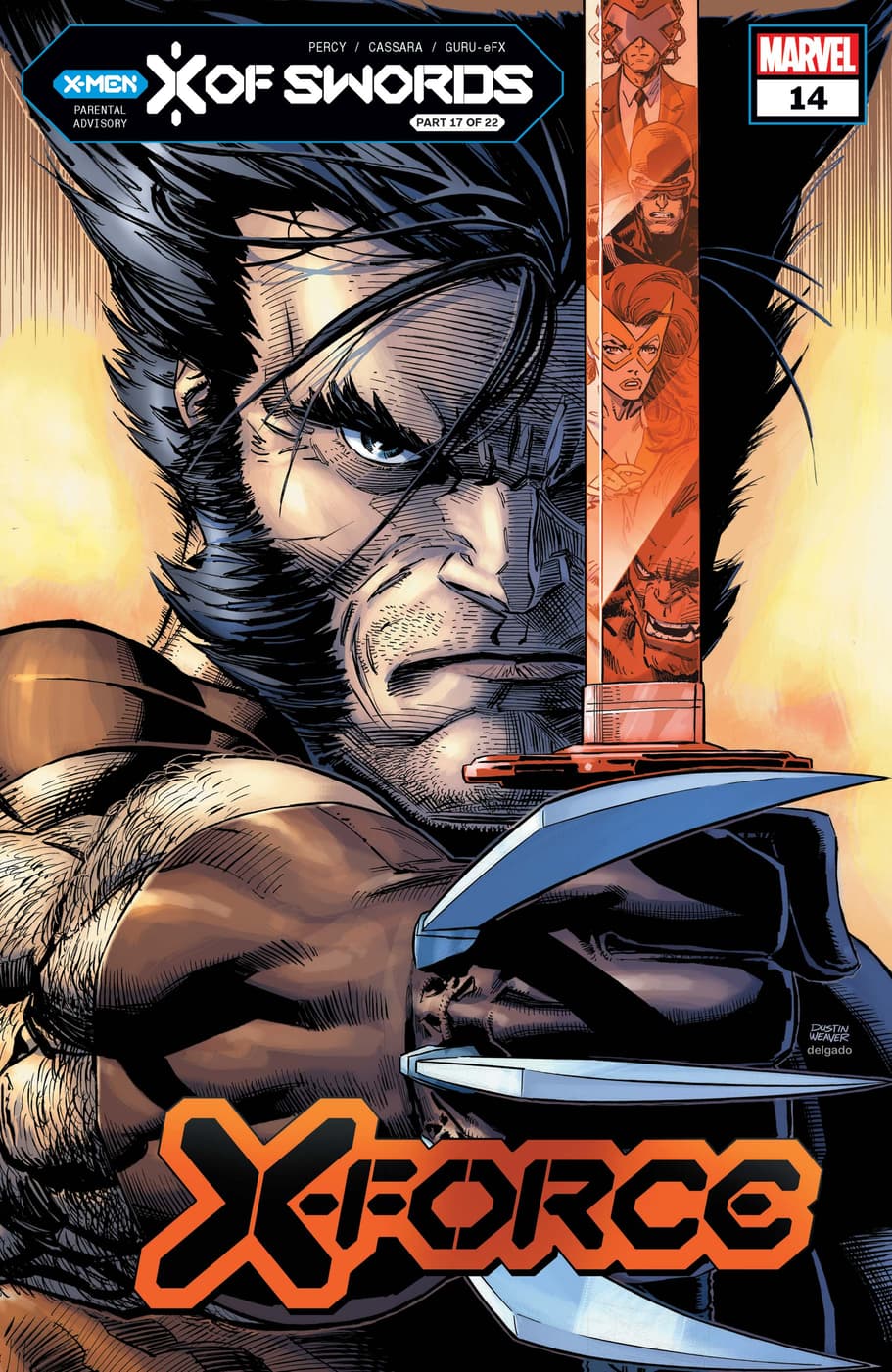 Unlike their previous arm wrestling contest, Magik emerged as the winner when she realized that Pogg Ur-Pogg's body was a giant construct; the real Pogg lay within, and she quickly extracted and defeated him.
Saturnyne continued to stack the deck against Krakoa, as their their team lost the following contests: Torture Endurance, Contest of Boulders, Battle Beneath the Waves, Lord of the Dance, Labyrinth Escape, Jigsaw Battle, Contest of Couture, and Blightspoke Navigation. Krakoa only won the Contest of Plates because Cable, Captain Avalon, and Doug Ramsey were presumably able to consume their disgusting dinner.
Despite causing Betsy Braddock's apparent demise, Saturnyne sought to ingratiate herself with Betsy's brother, Brian Braddock. However, the new Captain Avalon wasn't having it, and he refused to reclaim the Captain Britain mantle from his sister. In retribution, Saturnyne had the Fury violently delay Brian during his foot race against Redroot in the Crooked Market. Redroot won, but Mad Jim Jaspers imprisoned her for the trumped up crime of accidentally shattering a priceless crystal. Saturnyne threatened Brian with a similar fate unless he asked for her help.
Regardless, Brian was present for a Kitten Killing contest between himself and War, which he subsequently lost when he failed to protect the poor animal. Arakko also emerged triumphant in the Contest of Letters and Resist Temptation. Wolverine tried his best to withstand the Rumination Endurance. But while the White Sword could stare his victims in the face, Logan's glimpse into his past caused him to shed tears and look away.
The lone remaining bright spot was Storm's battle to first blood with Death. Despite the apparent loss of her powers due to shenanigans at the Crooked Market, Storm once again demonstrated why she is one of the X-Men's most formidable members. She defeated Death in part because he underestimated her. If Death survived, that's one mistake he won't make again. That left the score at Arakko 18 - Krakoa 6.
Writer Zeb Wells and artist Carmen Carnero's HELLIONS #6 acted as an interlude chapter, as Sinister's misfit squad of mutants finally made it to Arakko.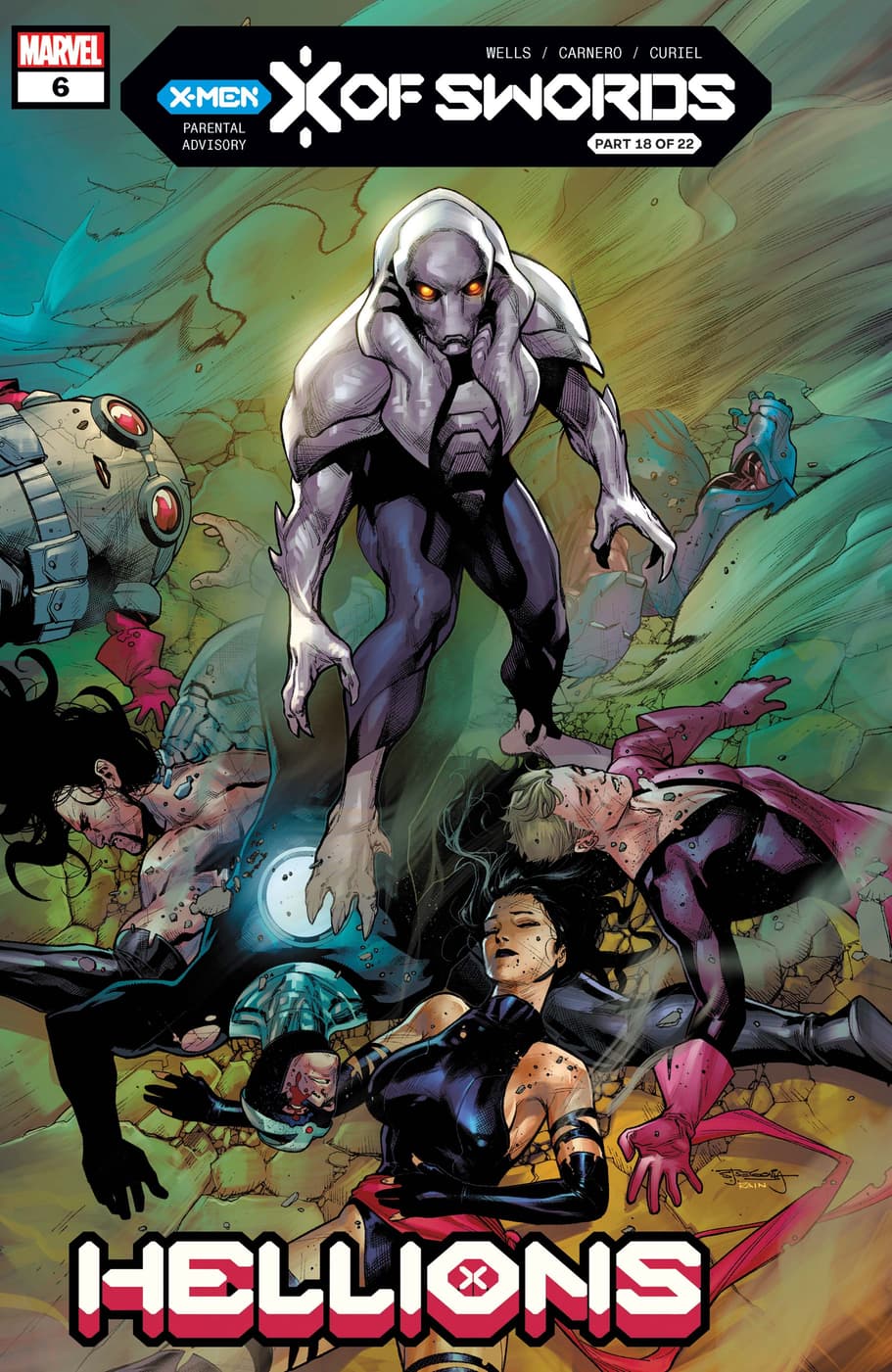 Their mission was to claim the ten swords of the Arakkii and force them to forfeit the tournament before it began. They failed, and paid a high physical price during their journey. Havok even lost an eye along the way to Hippogriffs as a bridge toll.
Upon their arrival in Arakko, the Hellions encountered Tarn the Uncaring, a powerful mutant who exposed Sinister's true agenda for the mission. Sinister wasn't trying to stop the Arakkii; he simply wanted the chance to surreptitiously collect DNA samples from Arakko's mutants.
While the Hellions were angered by Sinister's decepton, their more immediate problem was Tarn's team of mutants, the Locus Vile. Mother Rapture, Hex Butcher, Sick Bird, Mudgear the Recanter, and Amino Fetus proved to be more than a match for the tired Hellions. Havok lost his hands, while Nanny was killed. Orphan-Maker and Wild Child were left behind, while even Sinister appeared to die.
Before passing, Sinister called upon his deal with Psylocke to make her return to Krakoa with the mutant DNA samples in exchange for taking care of "her package." It's unclear what that means, but Psylocke reluctantly abandoned most of her team with the injured Havok and Greycrow...
Empath had already fled back to Avalon, and his powers allowed the survivors to return to Krakoa uncontested. However, Empath lost control of Greycrow's mind, who retaliated against Empath by stabbing him. Once they all returned to Krakoa, a SInister clone quickly killed all four of his surviving teammates, so that none of them would remember what he had done or why he really went to Arakko.
CABLE #6 closed out this week's chapters, as writer Gerry Duggan and artist Phil Noto pitted the young Nathan Summers against Bei the Blood Moon.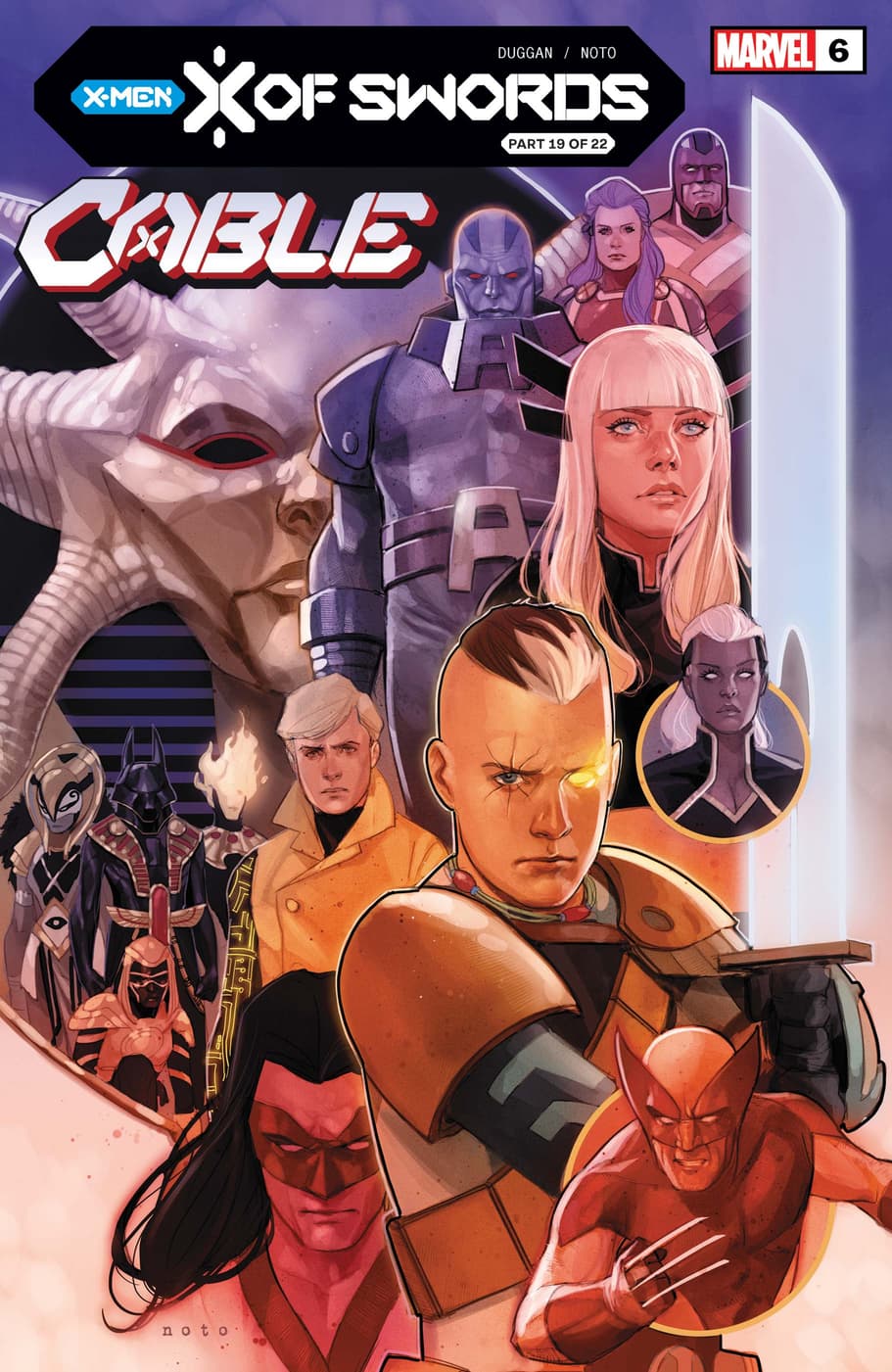 Cable nearly defeated Doug's newfound wife, but he hesitated to kill her for just a moment. That was all the time Bei needed to turn the tables on Cable. Without Doug's intervention, Cable would have been killed.
Because he was so disheartened by the loss, Saturnyne declared Bei the winner for killing Nathan's spirit. Later, Cable made a telekinetic connection to Jean Grey and Cyclops, where he confessed that it should have been "the other guy" for this, meaning his older counterpart, whom Nathan seemingly killed in EXTERMINATION (2018). Cable also warned his parents to prepare for the invasion before Saturnyne cut off his psychic conference call.
With the score 18-6 in Arakko's favor, the White Sword made a tactical error by sending his army of 100 swords against Gorgon first. Because Gorgon managed to kill 13 of the White Sword's champions, Saturnyne briefly awarded Krakoa a 19-18 lead. But Gorgon was so badly injured in the fight that he had nothing left when he finally faced the White Sword. Even the White Sword was impressed by Gorgon's promise to deny White Sword's control if he was resurrected as one of his soldiers. But with Gorgon's subsequent demise, the score was tied at 19.
Now, the final contest is about to begin between two of the most powerful mutants on each side: Apocalypse and Genesis/Annihilation. And to the winner go all the spoils as X OF SWORDS heads for its conclusion next week.
Read these mighty mutant mags at your local comic shop today!
The Hype Box
Can't-miss news and updates from across the Marvel Universe!