Comics
Published February 3, 2020
The X-Men's Secret History
Read 'Powers of X' #1 in digital comics-mega library Marvel Unlimited! See what other bingeable comics hit MU this week.
Have you tried Marvel Unlimited yet? It's your all-access pass to over 25K Marvel comics, all available at your fingertips. Sign up now.
New in Marvel Unlimited…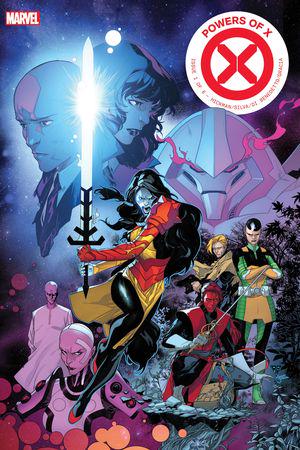 Powers of X (2019) #1
published

added to marvel unlimited

colorist

colorist (cover)

editor

letterer

writer

inker

inker (cover)

penciler

penciler (cover)
What is Marvel Unlimited?
We are in X⁰—The X-Men: Year One. Charles Xavier, a man with a "thinly disguised god complex", sits on a park bench at a county fair. Present are families, fortune-tellers, and "freaks"—strongmen and clowns who show off their unique gifts as easy commodities.
A young woman, Moira MacTaggert, sits beside Xavier, exchanges pleasantries. She delivers her own fortune to a perfect stranger, a prophecy of a clouded future. She speaks of The Magician. The Tower. The Devil.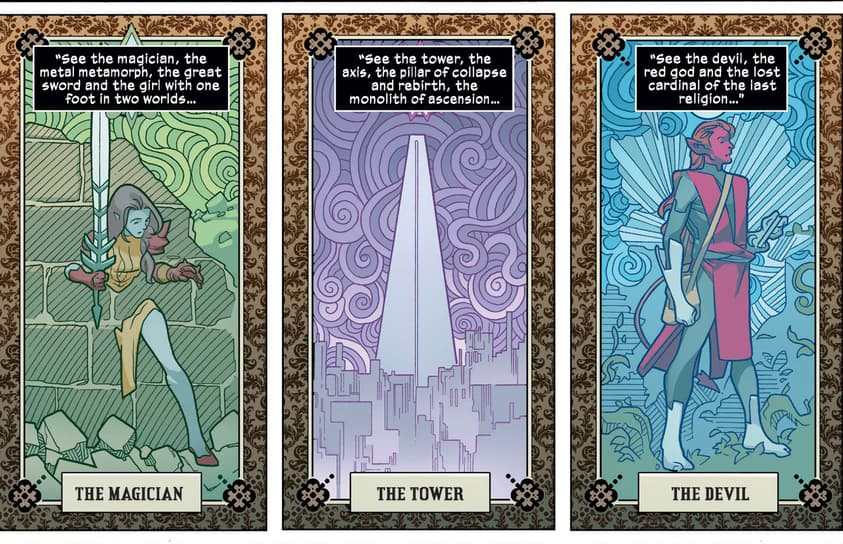 We are in X¹—The X-Men: Year Ten. In present day, the shapeshifting Mystique has arrived via Gateway back to the mutants' stronghold on Krakoa, (see: HOUSE OF X #1). She comes with stolen data at the request of Charles Xavier and Magneto, the founders of this new, mutant nation. This data is humanity's unwitting gift.
We are in X²—The X-Men: Year One Hundred. The mutant Percival breathes his last words in the Northern Territory of "the Nexus", a mainframe temple of the monolithic Nimrod. The Nexus, now a battleground of smoke and dead machines.
"There was a dream. Our dreams are the same. While you slept, the world changed."
Rasputin and Cardinal, The Magician and The Devil, escape Percival's fate. Fellow renegade Cylobel  fares far worse. The final strain of a breeding program, Cylobel's unique genes spare her, but land her in The Tower.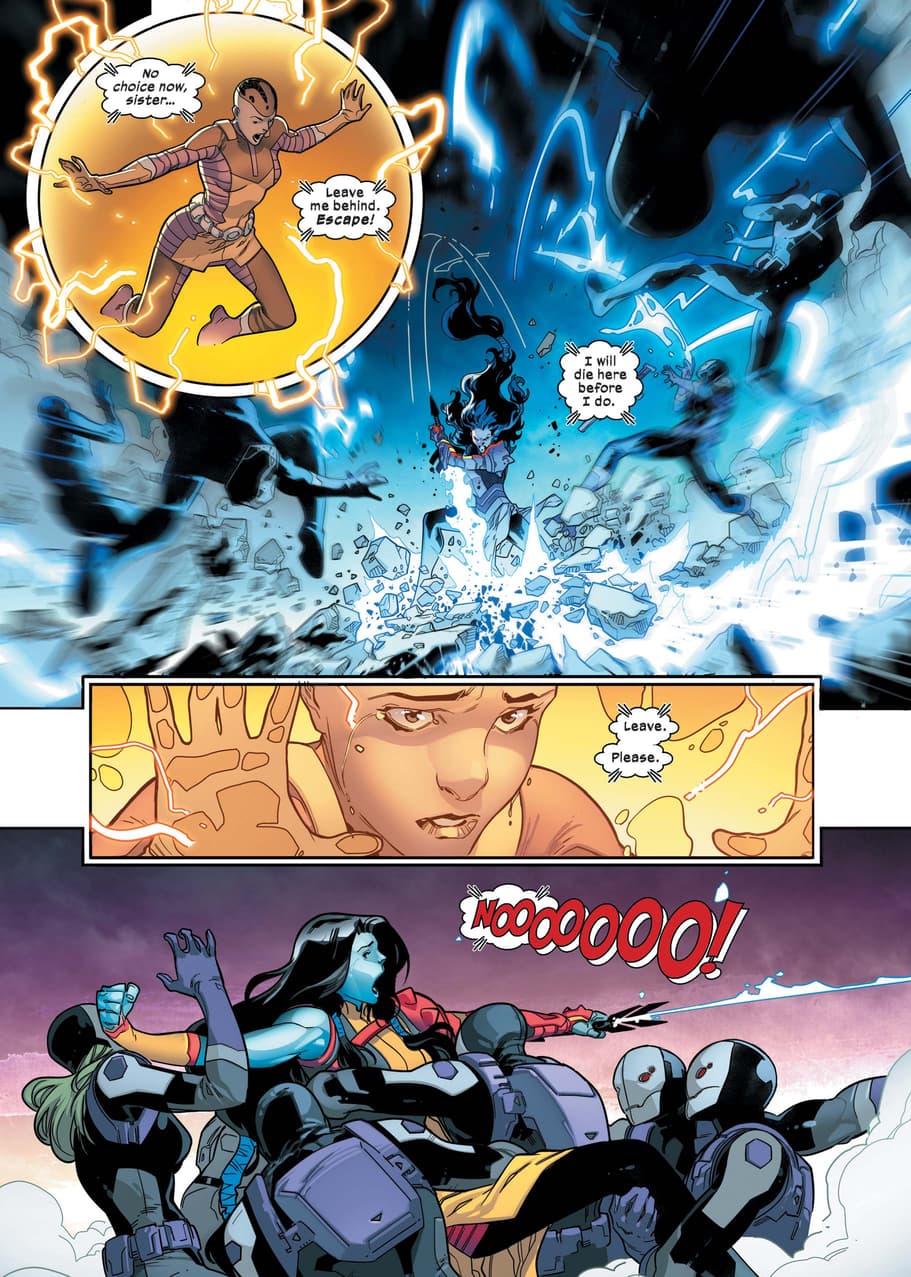 We are in X³—The X-Men: Year One Thousand. The Librarian grasps at straws to preserve a dying race.
The Archive of Nimrod the Greater bears few answers and little hope. The Mutant Library has been reduced to a living database of collective consciousness—so many physical bodies have perished in futile war.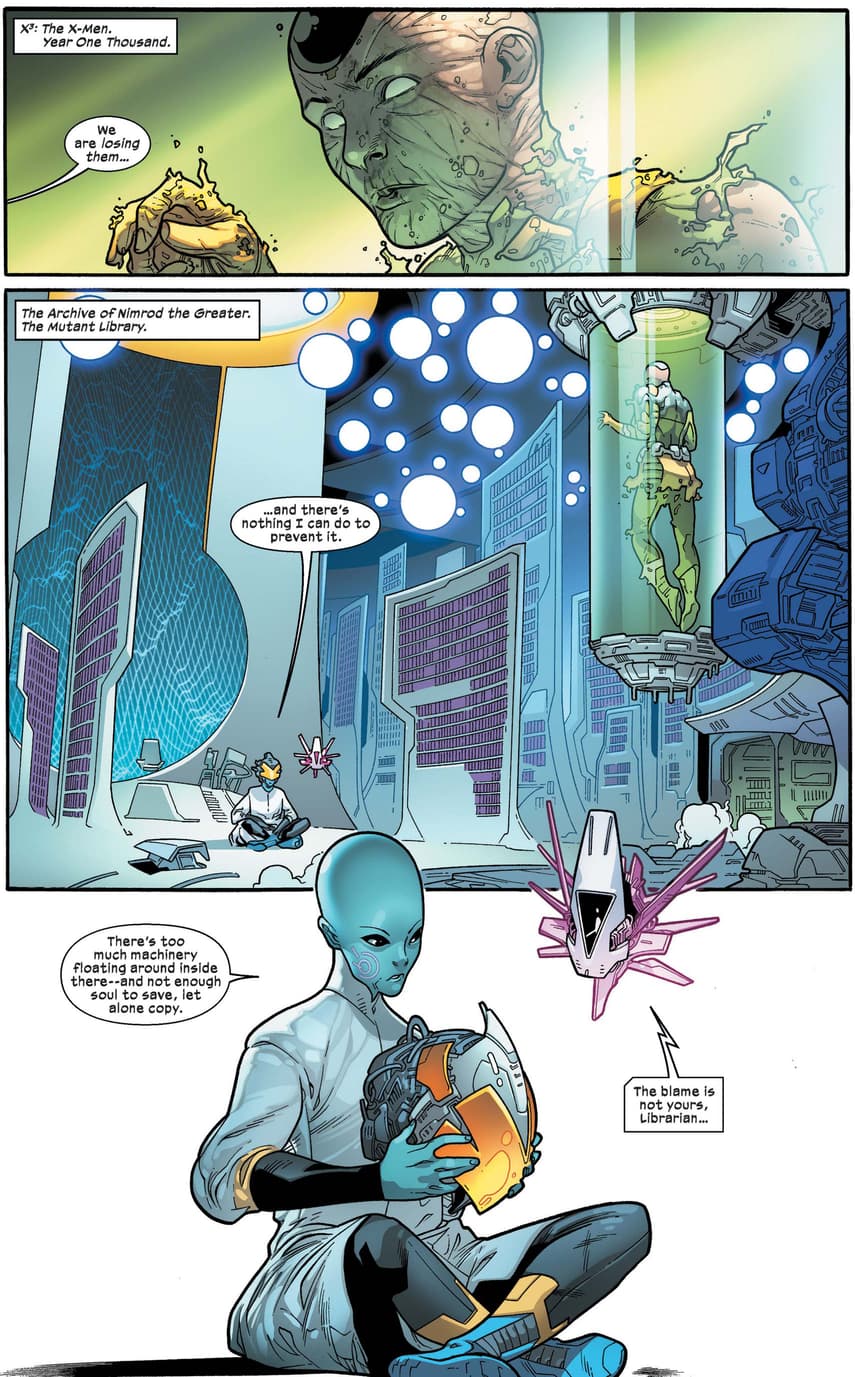 This is the POWERS OF X by Jonathan Hickman and R.B. Silva. And if any of the above seems a touch cryptic, you'll need to read the issue in full to fill in the blanks.
Check back weekly for the next chapter in the HOUSE OF X/POWERS OF X saga, 2 interconnected series that establish the past, present, and future of mutantdom.
See all of this week's Marvel Unlimited titles here, including our handful of Throwback Thursday arrivals, hitting the library February, 6.
NEW ON 2/3
Coming 2/6
Join Marvel Unlimited to read these comics—and over 25,000 more—right now! What will you be reading this week? Join the conversation with #MarvelUnlimited, and stay tuned to Marvel's Twitter and Facebook channels for more weekly announcements and updates.
The Hype Box
Can't-miss news and updates from across the Marvel Universe!