Comics
Published July 11, 2023
Winter Soldier Leads a New Strike Force to Deliver Justice like Lightning in 'Thunderbolts'
Collin Kelly, Jackson Lanzing, and Geraldo Borges launch a new 'Thunderbolts' comic series this December.
This December, Bucky Barnes will put together an all-new squad of THUNDERBOLTS to kick off a revolution in the Marvel Universe! 
 
Writing duo "Hivemind" Collin Kelly and Jackson Lanzing's explosive transformation of Bucky Barnes continues alongside acclaimed artist Geraldo Borges in this new ongoing series that follows Bucky Barnes in his thrilling new role as the Revolution. With the demise of the Outer Circle, Bucky is the last person alive who holds the power of a century of dark secrets. Now, he'll use that knowledge to embark on a bold quest to take down Marvel's greatest threats and he'll call upon some of the toughest, deadliest, and cunning players in the world to assist him!
The new THUNDERBOLTS lineup includes Black Widow, Sharon Carter AKA Destroyer, White Widow, Red Guardian, U.S. Agent, and Shang-Chi. Allied together under the command of Bucky and the one and only Contessa Valentina Allegra de Fontaine, readers can expect high-stakes missions in each issue as this crew sets out to dish out long overdue justice throughout the Marvel Universe! 
 
Bucky Barnes, the Revolution, just inherited a mountain of covert intel and he has one objective: justice… like lightning! He's going after the establishment, the people no one else is willing or able to take down, and he'll do whatever it takes to win. Teaming with the mysterious Contessa Valentina Allegra De Fontaine, Bucky assembles a team of black-ops heavy hitters to pursue high-profile targets like the Red Skull, Kingpin, and even Doctor Doom himself. No one is safe from the Thunderbolts!
 
"Welcome to Operation: Worldstrike! The Hivemind is wildly excited to continue the saga we began with Carmen Carnero in CAPTAIN AMERICA: SENTINEL OF LIBERTY—while also starting anew with a dangerous and unpredictable cast from across the Marvel Universe," Kelly and Lanzing said. "The call has gone out to all those who call the shadows their home; every spy, assassin, and renegade has a part to play in Bucky Barnes' all-encompassing and uncompromising hit on the singular, monstrous living symbol of fascism: the Red Skull. Alongside our old friend Geraldo Borges, we're taking this opportunity to tell a very different kind of team book. This is a whole new era for the Thunderbolts and it starts with a four-part espionage epic, an ever-shifting cast and a single overarching goal: to tear down a century of Nazi evil with justice like lightning."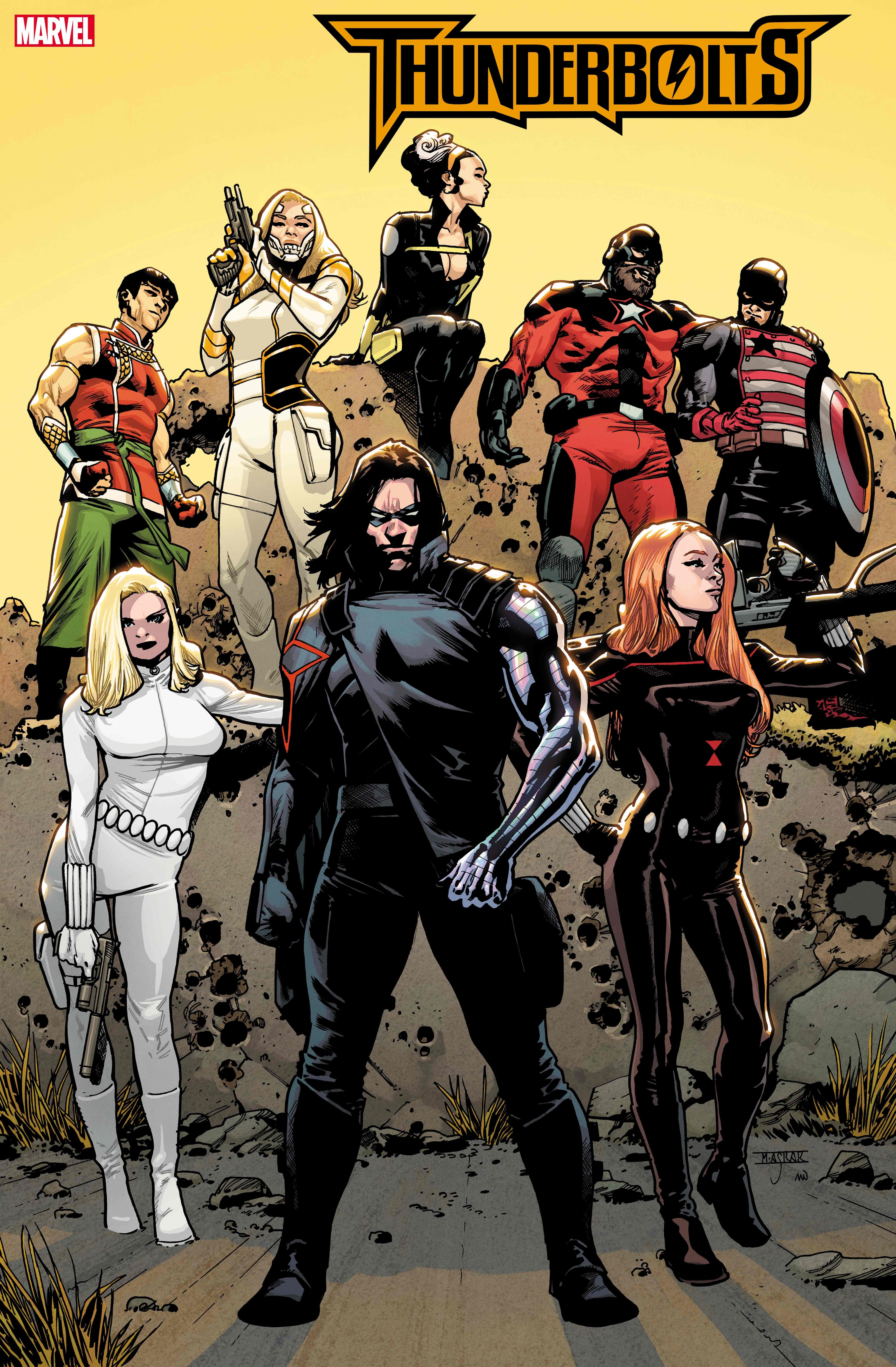 THUNDERBOLTS #1
Written by COLLIN KELLY & JACKSON LANZING
Art by GERALDO BORGES
Promo Variant Cover by MAHMUD ASRAR
On Sale December
See this star-studded team assemble for the first time on a new promotional variant cover for the debut issue by superstar artist Mahmud Asrar. Stay tuned for more news about THUNDERBOLTS in the weeks ahead, including the official THUNDERBOLTS #1 cover reveal at San Diego Comic Con!
Grab these comics and more at your local comic book shop! Or redeem then read your digital copy on the Marvel Unlimited app by using the code found in your print comic. Find and support your local comic book shop at ComicShopLocator.com.
To read your Marvel comics digitally, download the Marvel Unlimited app for iOS and Android devices. Gain an expansive catalog of 30,000+ comics spanning Marvel Comics history, plus access your entire digital library including comics redeemed from print. 
The Hype Box
Can't-miss news and updates from across the Marvel Universe!