Comics
Published June 16, 2021
What Is the Time Variance Authority?
Who are these time travel monitors, and how are they so powerful?
Have you tried Marvel Unlimited yet? It's your all-access pass to over 28,000 Marvel comics, all available at your fingertips. Sign up now to enjoy your favorite stories just three months after they're in stores.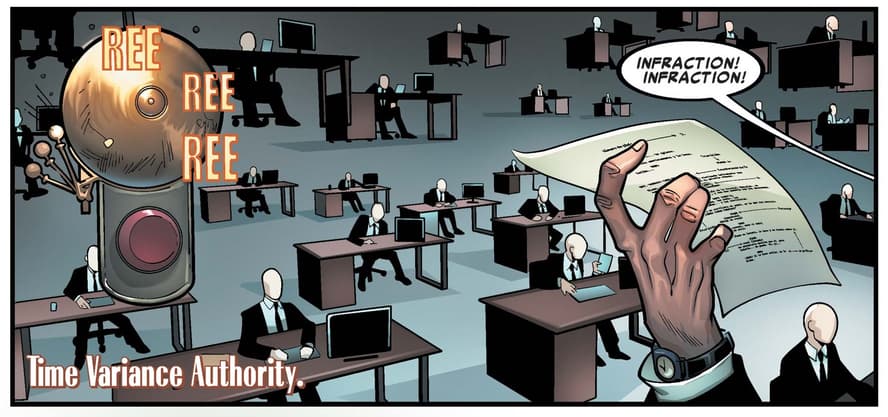 The TVA, or the Time Variance Authority, works off the clock.
Far from a corporation or a television network, this agency acts as the judge, jury, and executioner behind any temporal anomalies in the Marvel Multiverse. While they may be bureaucratic to a fault, they effectively monitor and regulate all realities and timelines from their home base in the Null-Time Zone dimension. Want to get into the comic details behind the TVA? Find out who they are and what they do on Marvel Unlimited now.
WHAT IS THE TVA?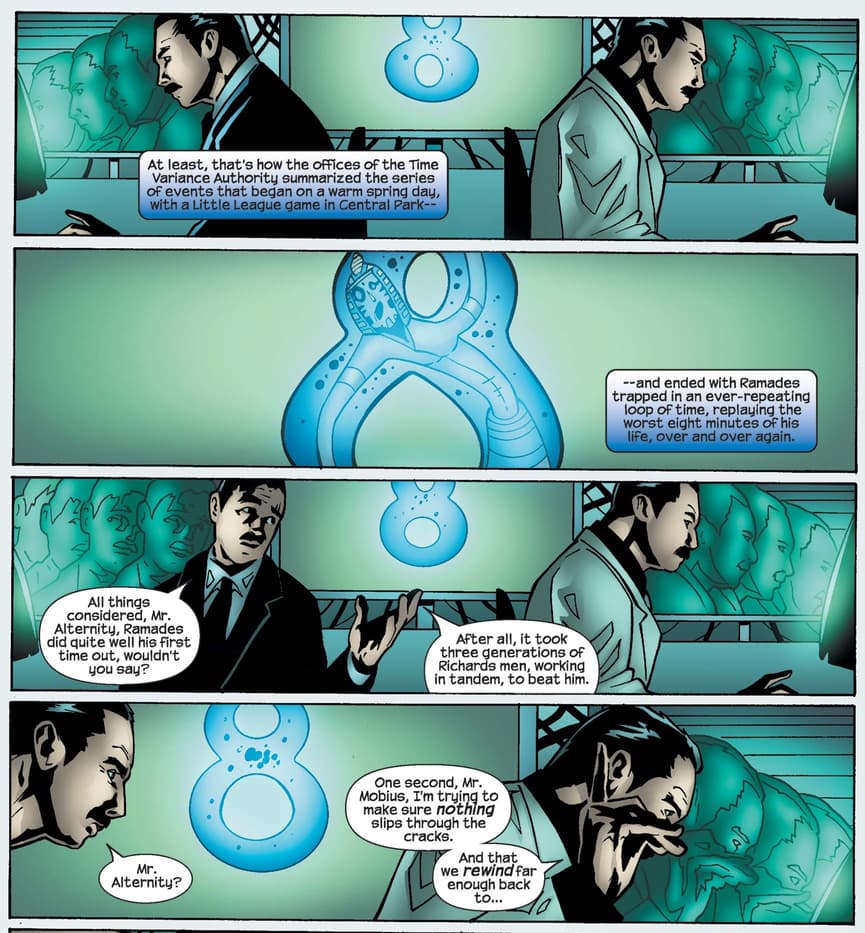 Mr. Alternity!
As the Director of the TVA, Mr. Alternity is the organization's highest authority. All of Alternity's subordinates are identical clones of him, including various administrators such as Mobius M. Mobius, Mr. Orobourous, Mr. Paradox, and Mr. Tesseract. Administrators like Mobius work closely with Alternity, and get notified when time travel or reality warps occur to determine their next move.
WHAT MOTIVATES MR. MOBIUS "MOBY" M. MOBIUS?
He's a clone who wants to keep his job!
When the Fantastic Four escaped the TVA's custody, it resulted in Mobius' demotion. However, he allied with them to overcome this setback, and has also partnered with other heroes from Earth-616 like Jennifer Walters, AKA She-Hulk. (That is, of course, when she's not messing with time herself!)
WHO ELSE WORKS FOR THE AGENCY?

The TVA uses Chronomonitors, or faceless people, who monitor every event in their assigned timeline through a computer screen, much like an office full of cubicles. They conduct their work in a timely manner, notifying the administrators through tachyon impulses, which travel faster than light!
DO THEY HAVE AN ARMY?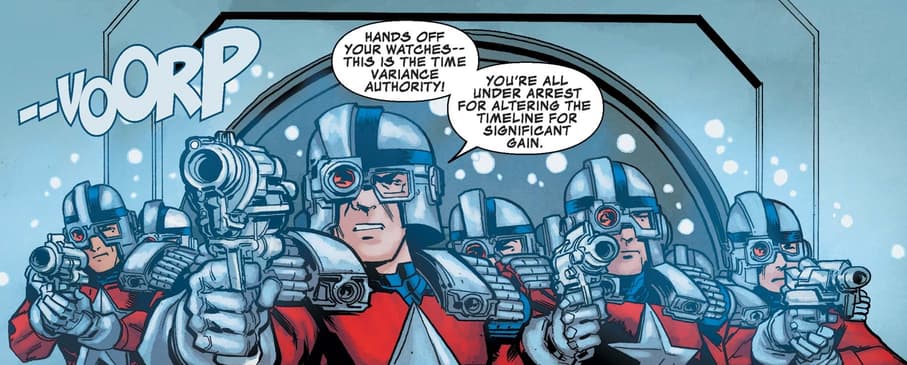 You bet they do!
The TVA's warriors are the Minutemen, an army of soldiers who, like the administrators, are created with cloning technology. The TVA then outfits their soldiers with cybernetic suits of power armor.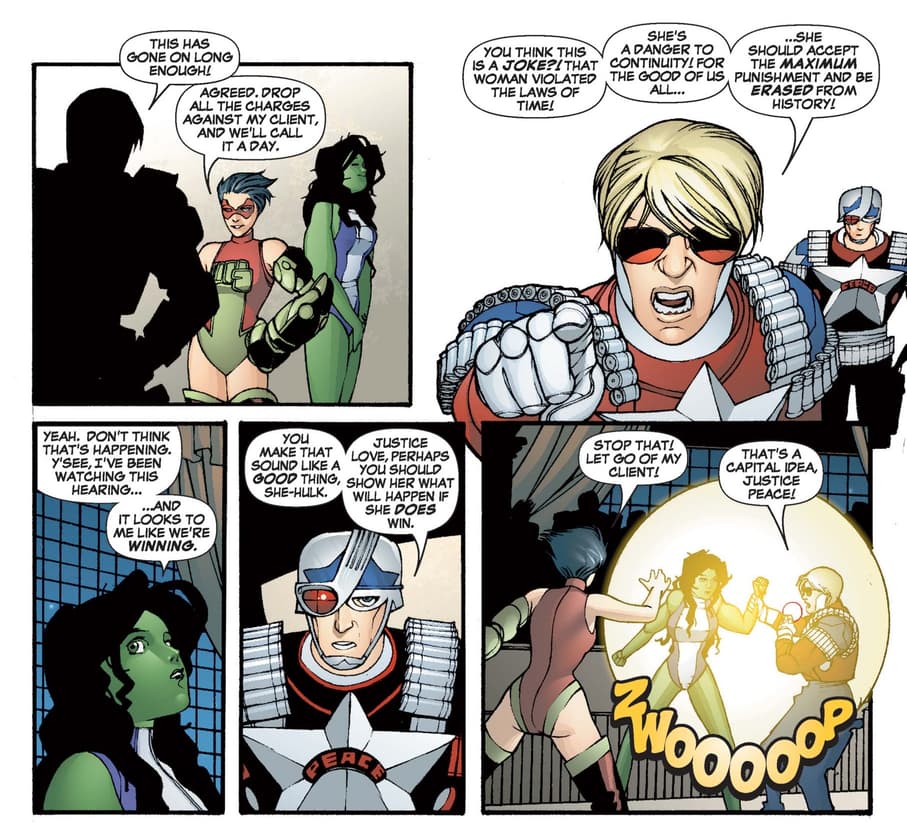 The Minutemen are led by the Justices—temporal patrol officers who are allowed to time travel and solve the TVA's problems independently. Justice Peace and Justice Love are commonly employed Justices who waste no time with pleasantries when it comes to their pursuit of time violators.
HOW MUCH AUTHORITY DO THEY HAVE?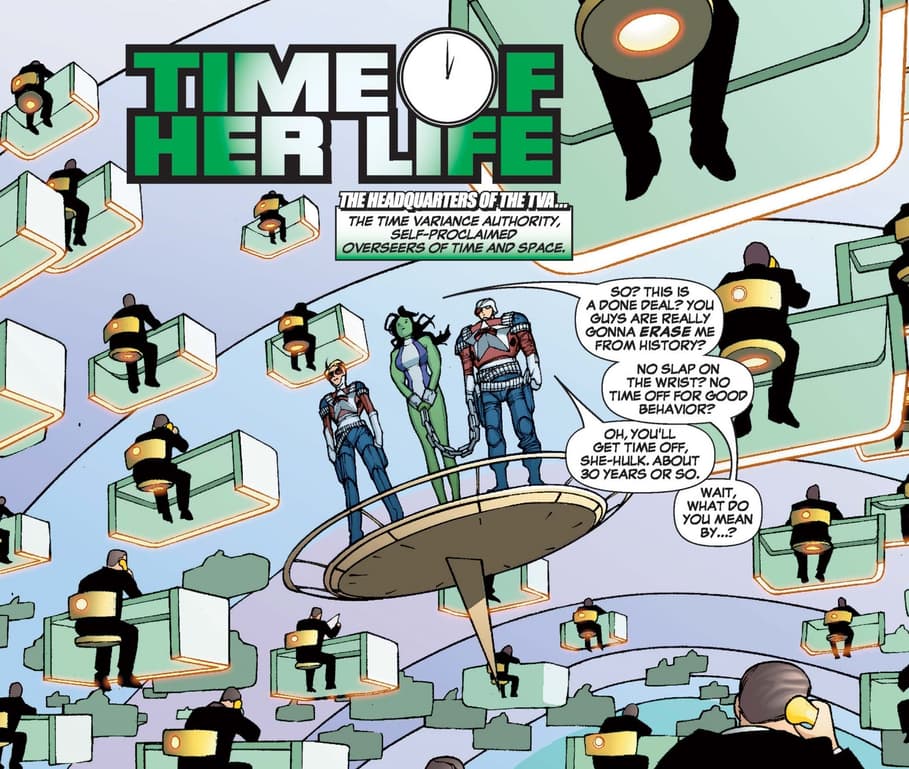 A lot! With access to every timeline in existence, the TVA has the will and power to undo anything, erase timelines entirely, and even expel people from history. So, don't violate those time laws or make sure you have a good lawyer!
Speaking of, gamma-powered lawyer She-Hulk violated a time law when she tried to save Hawkeye's life by passing his past self a note regarding his future demise. As such, she ended up in a different kind of court! Arrested by the TVA's Minutemen, she was charged with crimes against the space-time continuum and her punishment was to be erased from history. See how the TVA put her on trial, and how She-Hulk handled being on the other side of the bench, in SHE-HULK (2005) #1-4!
BUT… WHAT ARE THEIR TIME LAWS?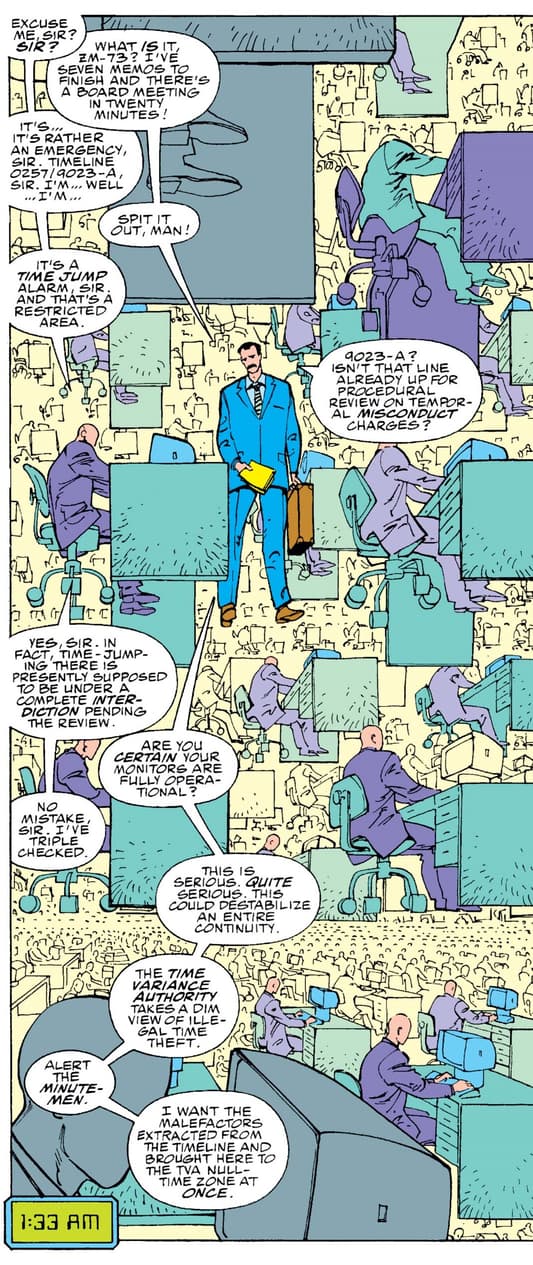 I mean, you have to know them so you don't violate them, right? Right...?
Stealing time, temporal misconduct, or time jumps that can destabilize the continuity are just a few of the myriad of crimes punishable by the TVA. From what we can gather, here are the laws: Don't mess with the timestream, avoid traveling through time, don't contact people in the past to save them from their future, and maybe don't explore/implode time bubbles like the Fantastic Four did in FANTASTIC FOUR (1961) #341!
WHO ARE THE TIME-KEEPERS?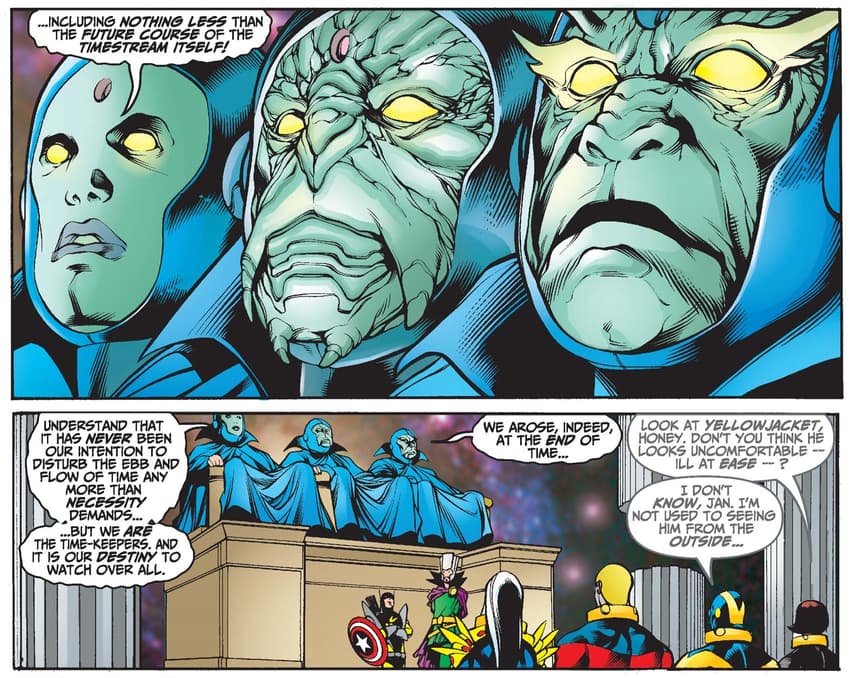 At the end of time, the TVA's last director known as "He Who Remains" assists in the birth of the Time-Keepers, who ensure that that the timeline will always end the same way. With their amassed knowledge of infinite existence, this triad became the custodians of time and the masters of Immortus. They also provide their chronal energy to the TVA.
Don't forget to check out all of the TVA's appearances on Marvel Unlimited!
Follow Marvel Unlimited on Twitter and Facebook to stay tuned in to weekly announcements, articles, and more, all @MarvelUnlimited. Follow us today to join the conversation with thousands of fellow fans, and let us know what you're reading!
The Hype Box
Can't-miss news and updates from across the Marvel Universe!