Comics
Published April 16, 2019
Today in Marvel History: The Debut of 'Runaways'
16 years ago today, the world was introduced to the Runaways...

On April 16, 2003, a collection of kids entered a new world when they realized their parents were members of a death cult that was preparing for the end of the world...
The modern-classic RUNAWAYS #1 established a new and unlikely Super Hero team with a youthful voice and a dramatic turn of events. Written by Brian K. Vaughan with art by Adrian Alphona, the issue introduced beloved characters and a new mythology all its own.
While hanging out during one of their folks' annual parties, Alex, Chase, Gert, and Nico witnessed their parents—who were all dressed and talking like villains—sacrifice a young girl during a ritual murder. After convincing their friends Karolina and Molly of what they saw, they ran off. Along the way, they tried figuring out how to stop their parents, collectively known as the Pride.
Ditching their folks and homes, the young people made a life for themselves, eventually facing off against their parents and the big bad Gibborim who backed them. Since then, they've done their best to stick together, though life—and death—have gotten in the way more than once. Nevertheless, in the first issue—16 years-old today—they became what they always will be...the Runaways.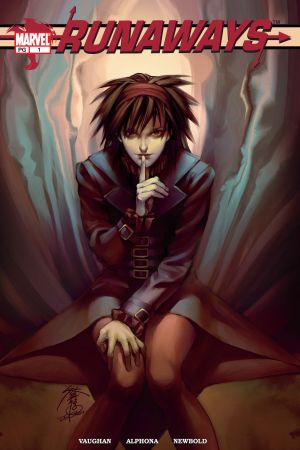 Runaways (2003) #1
published

added to marvel unlimited

writer

penciller

colorist

penciller (cover)

inker

letterer

editor
What is Marvel Unlimited?
The Hype Box
Can't-miss news and updates from across the Marvel Universe!