Comics
Published November 14, 2023
Top 9 Marvels Team-Ups
Some of our favorite moments when Captain Marvel, Ms. Marvel, and Monica Rambeau fought side by side in the comics!
Want to read all these issues and gain instant access to a library of 30,000+ others? Join Marvel Unlimited to read Marvel's catalog of digital comics, including ongoing series and new issues as early as three months after they're in stores.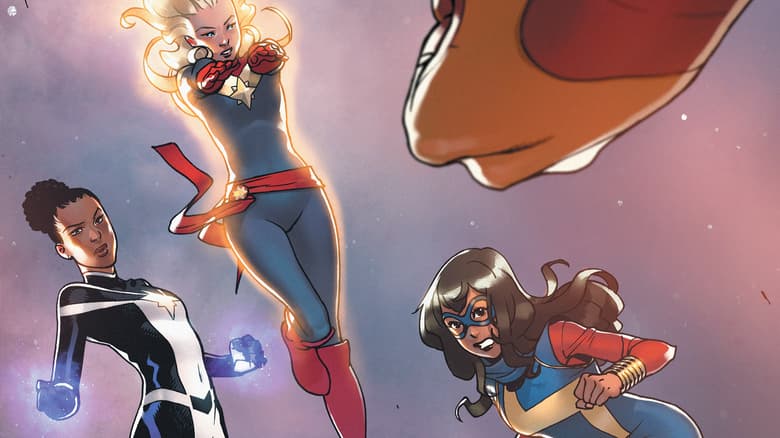 Long before they came together as team-up heroes, Captain Marvel: Carol Danvers, Monica Rambeau: Photon, and Ms. Marvel: Kamala Khan were entangled in each other's lives. Both Carol and Monica used the codename Captain Marvel and carried on the legacy of the original Captain Mar-Vell in their own ways. And, before Kamala first discovered her powers, she idolized Carol and laid claim to one of her old codenames when she first came onto the scene as a hero. After meeting Kamala, Carol Danvers welcomed her into the Marvels, an unofficial group with Monica and a few other cosmic and Earth-bound heroes who carry on the legacy of the original Captain Mar-Vell.
Now, we're taking a look back at some of the most memorable team-ups between Carol Danvers, Monica Rambeau, and Kamala Khan. We'll also break down some of the most memorable encounters between each pair of heroes so far.
MONICA MEETS THE NEW CAPTAIN MARVEL
Thanks to their mutual friends in the Avengers, Carol and Monica met shortly after Rambeau started operating as Captain Marvel. But when Carol started using the Captain Marvel codename, Monica wasn't too happy with her old friend, as showcased in CAPTAIN MARVEL (2012) #7. While the pair were investigating several missing boats, Monica told Carol that she should've let her know before she took on her old codename. After talking things over, Carol and Monica encountered a self-repairing robot made up of the missing ships, a relic of an old Avengers battle. To take down the giant robot before it could fix itself, Monica transformed into pure electricity and allowed Carol to absorb her. With her powers super-charged by Monica, Captain Marvel took down the robot with one massive energy blast, and the two heroes left the encounter feeling closer than ever.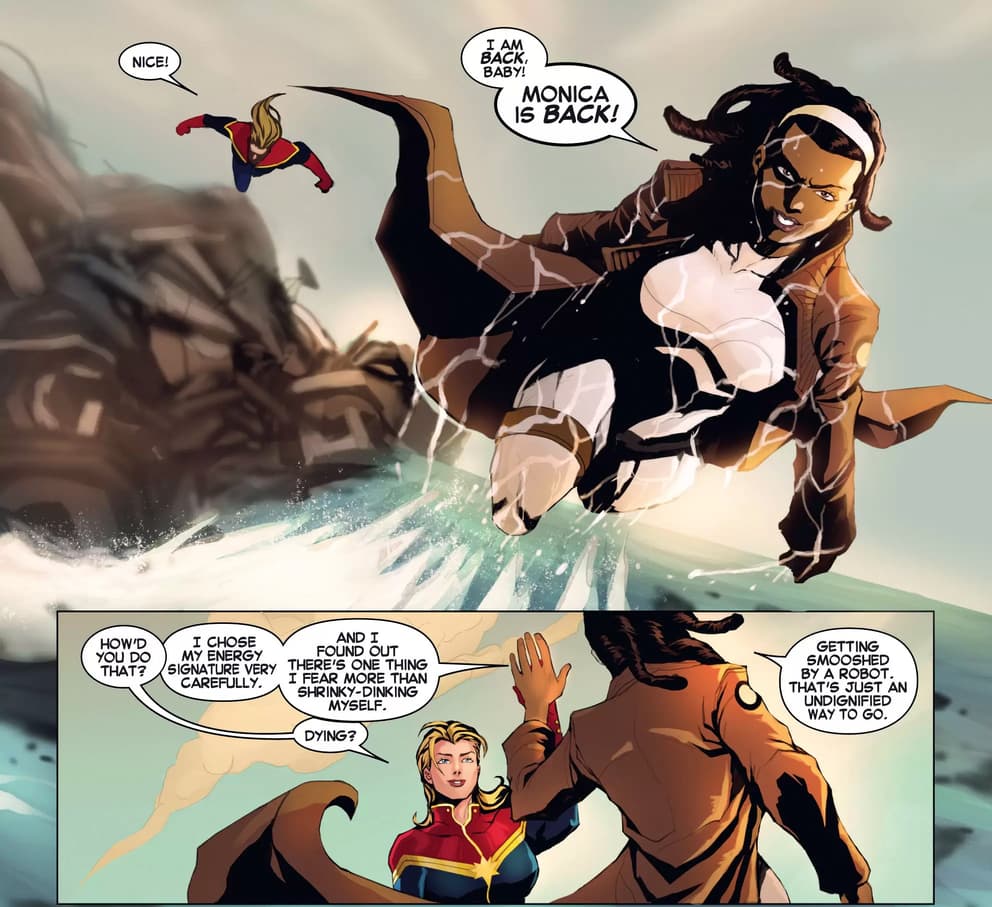 WHEN MS. MARVEL MET CAPTAIN MARVEL
After idolizing Captain Marvel for most of her life, Ms. Marvel finally got to meet her hero, Carol Danvers, at the end of the world. As another universe crashed into the Marvel Universe in the final Incursion before SECRET WARS (2015), Captain Marvel took a moment away from the Avengers to meet Ms. Marvel and help her deal with the unfolding crisis in Jersey City, New Jersey in MS. MARVEL (2014) #17. As she tried to calm Kamala's nerves, Carol helped the young hero track down her brother Aamir and save him from Kamran, Kamala's evil ex-crush. After explaining what was happening with the Incursion, Captain Marvel encouraged Ms. Marvel to stay hopeful and keep fighting. Before she left, Carol also gave Kamala a locator pendant featuring her Kree Hala star symbol intertwined with Kamala's lightning bolt logo, a physical embodiment of their friendship and the team-ups to come.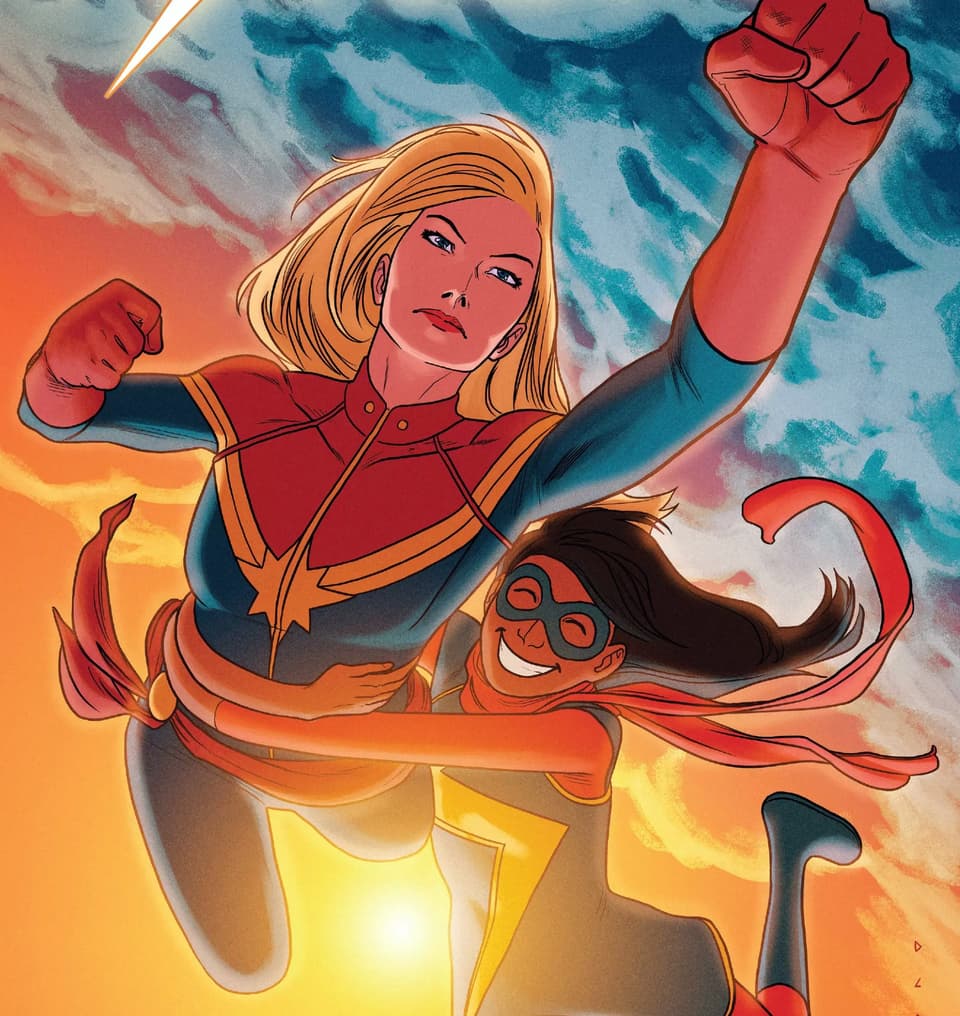 CAROL AND MONICA IN "THE ULTIMATES"
After SECRET WARS, Captain Marvel formed the Ultimates to deal with potential cosmic threats and address them before they could threaten the people of Earth. Naturally, Carol recruited Monica for the team, due to her tactical acumen and unique energy abilities. Along with Black Panther, Blue Marvel, and America Chavez, Captain Marvel and Monica, who was operating under the codename "Spectrum" at the time, began tackling cosmic problems like Galactus' unending hunger in ULTIMATES (2015) #1. When a young Inhuman called Ulysses Cain emerged with the ability to see the future, Captain Marvel wanted to use his predictions to guide the Ultimates, which led them into a disastrous battle with Thanos. When Captain Marvel and Iron Man's disagreements over acting on Ulysses' visions spiraled into CIVIL WAR II (2016), Monica was one of Carol's strongest supporters as the issue splintered the rest of the team.
MS. MARVEL AND CAROL'S LEGACY
During CIVIL WAR II, Ms. Marvel disagreed with Captain Marvel's actions, and the two heroes had a serious falling out. But after getting sucked into the timestream, Kamala traveled to the past and encountered a young Carol Danvers when she was operating as the original Ms. Marvel in GENERATIONS: MS. MARVEL & MS. MARVEL (2017) #1. While trying to blend into the past, Kamala found her way into the offices of Ms. Magazine, the offshoot of The Daily Bugle that Carol edited, and posed as an intern. When the alien Nightscream attacked, the Ms. Marvels teamed up to take on the alien exile from the Shi'ar Empire. After seeing the young Carol in action, Kamala was reminded of Captain Marvel's endearing and inspiring qualities. Kamala began to wonder if she and Carol could mend their relationship, which they did shortly after she returned to the present day.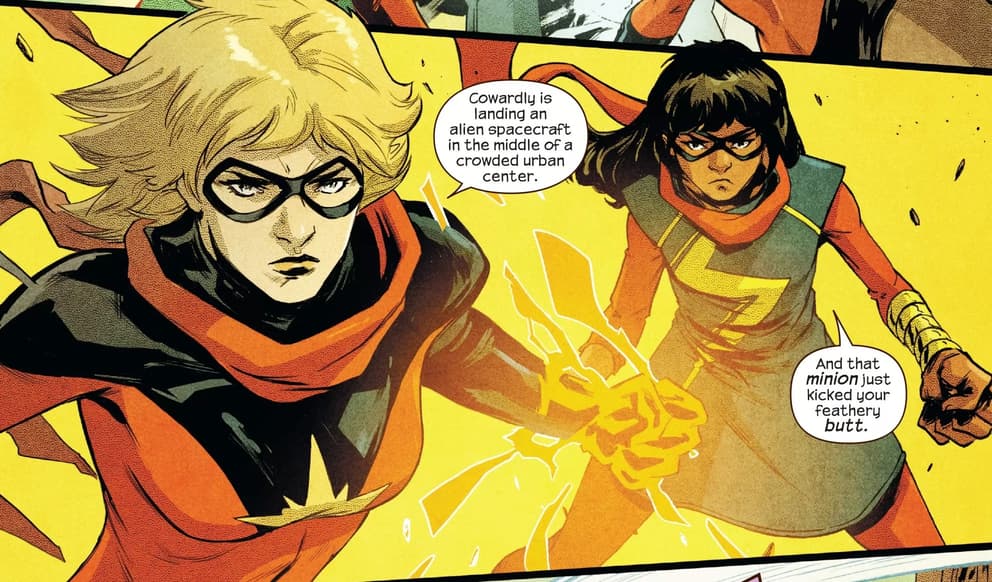 CAROL SAVES MONICA IN "SECRET EMPIRE"
When the Ultimates reformed, Captain Marvel and Monica Rambeau rejoined the team, and both were trapped outside of Earth by a Captain America doppelganger loyal to Hydra during SECRET EMPIRE (2017). When a Chitauri alien fleet threatened to invade, the evil Steve Rogers manipulated Carol into activating a planetary defense shield that surrounded Earth with an energy force field. After the Chitauri were defeated, the Ultimates and their allies tried to break through the shield to stop Hydra's attack on the United States. By turning into pure energy and merging with the shield, Monica tried to find a counter frequency that could shatter the shield in ULTIMATES 2 (2016) #7. Just as the experience started overwhelming Monica, Carol used her energy-absorbing power to pull her back from the edge of death and save her friend's life.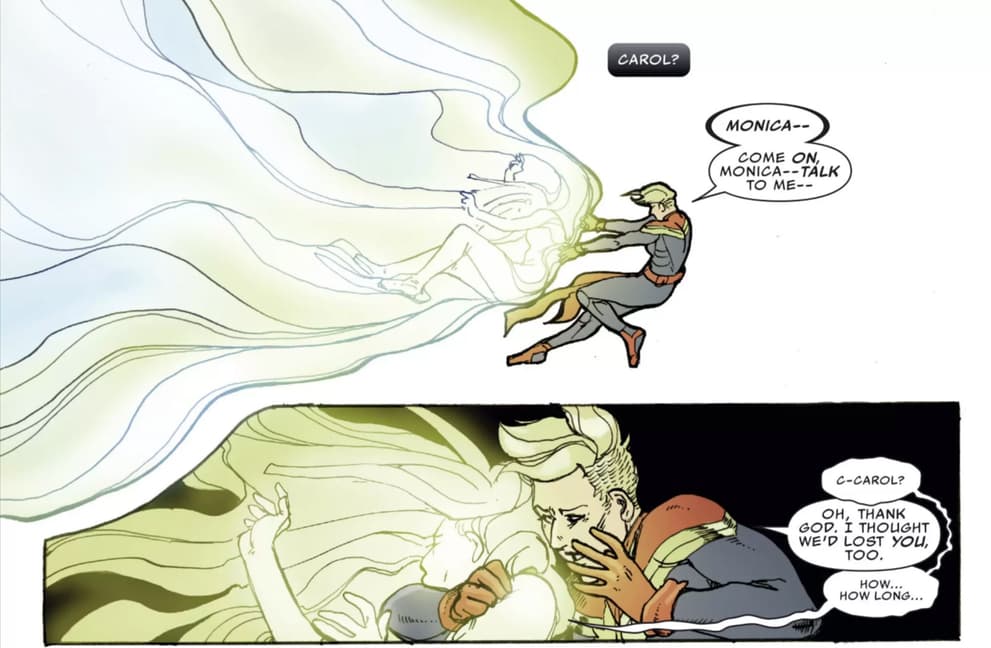 CAROL AND KAMALA MEET THE KREE
Shortly after Captain Marvel discovered her Kree heritage, she teamed up with Ms. Marvel for a mission that forced her to reconsider her complex feelings about the Kree in MARVEL TEAM-UP (2019) #4. While investigating what happened to several stolen pieces of Kree technology, Carol and Kamala encountered Walter Lawson, the long-thought-dead scientist whose identity was stolen by the original Captain Mar-Vell after he arrived on Earth. Now calling himself Wastrel, the delusional scientist was stealing and repairing alien technology to ward off a potential Kree invasion. Wastrel's hatred of the Kree made Captain Marvel question her relationship and history with the aliens, while Ms. Marvel urged her to focus on stopping him. After a brief fight with a Kree Starforce team investigating the situation and Wastrel, Kamala's words helped inspire Carol to resolve the situation peacefully, and Wastrel was tasked with helping the Kree rebuild their old technology.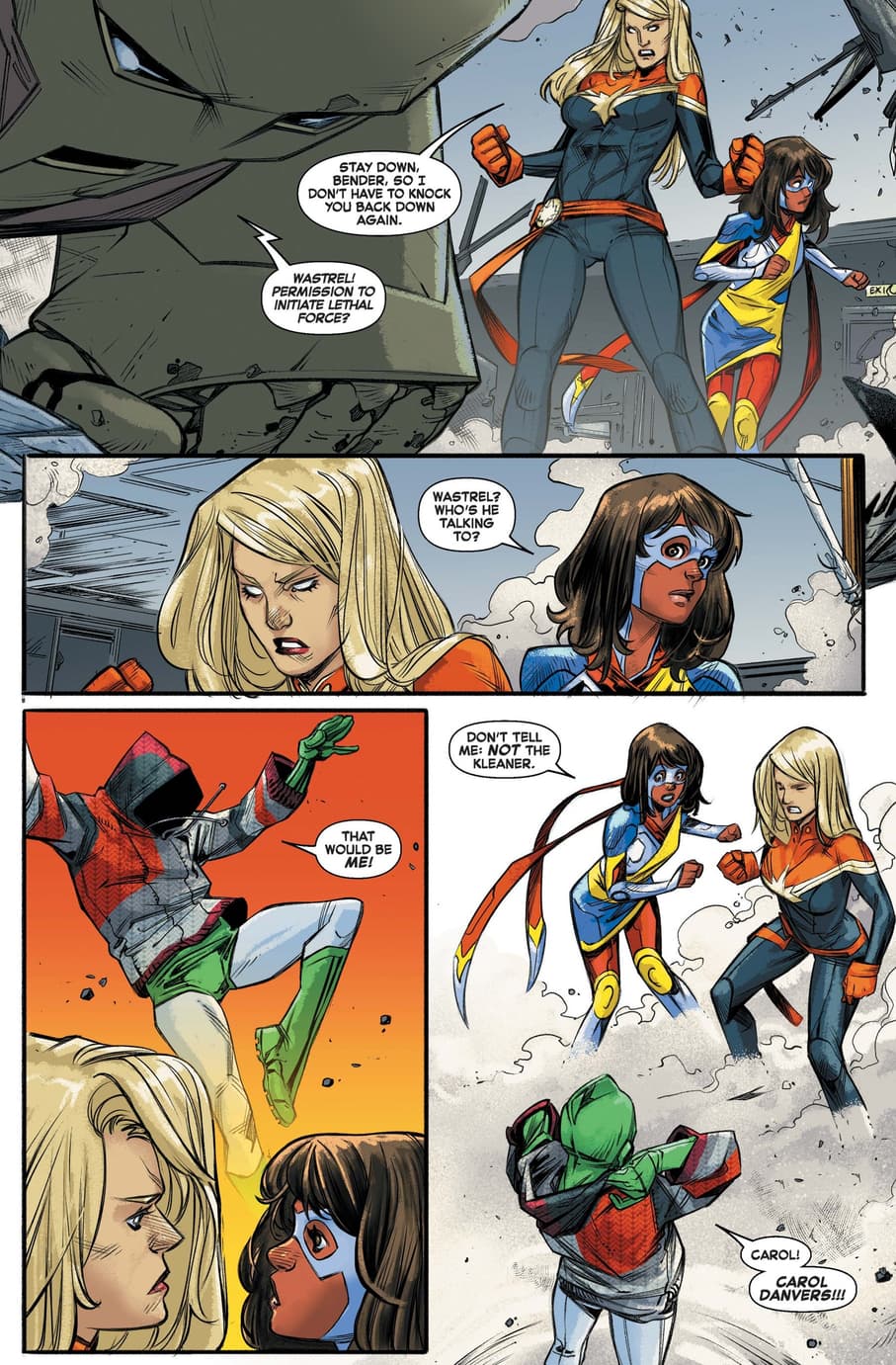 MONICA AND MS. MARVEL'S FIELD TRIP
While on a class field trip to New Orleans, Ms. Marvel teamed up with Monica, who was operating as "Photon" at the time, in a story from anthology special WOMEN OF MARVEL (2023) #1. While searching for a limitless source of energy for the Inhuman mob boss Lineage, Kamran captured Kamala with an explosive blast of energy that drew Monica's attention from across town. But when Photon tried to save Kamala, she walked right into Kamran's trap, and Lineage began draining both heroes of their power! But by drawing all of the energy out of the hotel that they were fighting in, Monica was able to overload the trap and free Kamala. With Kamran and Lineage both dazed in the attack, Monica took Kamala around her hometown, and the two heroes bonded over some frozen treats.
THE MARVELS' GAME NIGHT
When she isn't busy being Captain Marvel, Carol has held a regular poker night with heroes like Monica for years, but Kamala's first game night with Carol's crew turned into a different kind of adventure in CAPTAIN MARVEL (2019) #17. Kamala took Carol, Monica, Wolverine, Spider-Woman, and Hazmat to an escape room. But as the off-duty heroes quickly realized, the room was covered in Vibranium and designed to neutralize their powers by its operator, a low-level telepathic villain named Nexus. After they struggled to get out of the escape room with their own powers, Kamala reminded them that these rooms were designed to get them to cooperate. By pooling their powers together to blast out of the room and protect each other, the heroes freed themselves from the room and knocked out Nexus.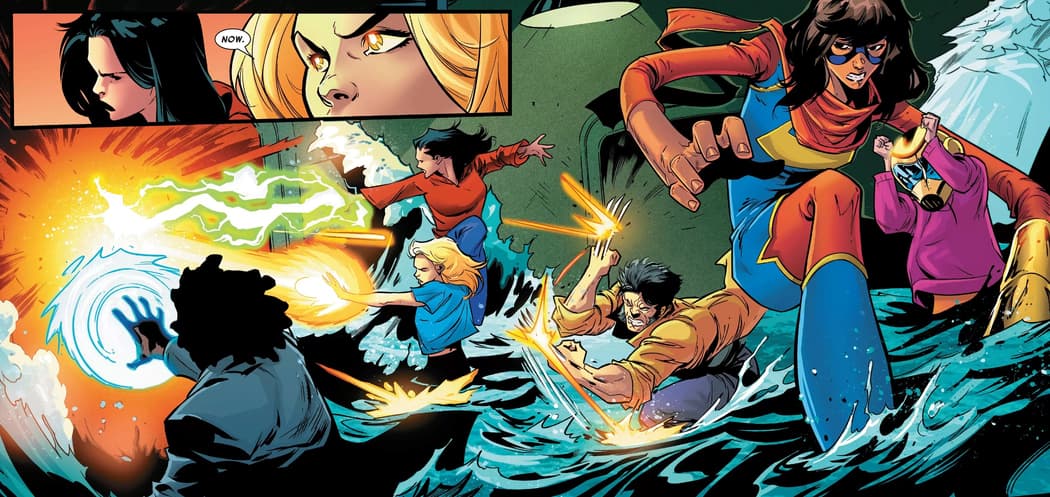 HOW THE MARVELS FORMED
To take down the Kree villain Vox Supreme, Captain Marvel teamed up with Ms. Marvel, Monica, and all the other heroes who carried on Captain Mar-Vell's legacy to form an unofficial team called "The Marvels" starting in CAPTAIN MARVEL (2019) #32. After unsuccessfully trying to turn Captain Marvel into his agent, Vox Supreme targeted the heroes who had previously called themselves Captain Marvel and trapped them in black suits that forced them to do his bidding. While Carol wasn't fast enough to stop Monica from being taken over, she intercepted Vox's forces just as they were taking over Kamala. As she saved her friends with help from the Avengers and the Guardians of the Galaxy, Monica inspired Carol to unleash a massive amount of energy that evolved into a sentient being known as Binary. Together with Kamala, Monica, and their allies, Carol and Binary defeated Vox Supreme and showed his army the power of the Marvels.
[RELATED: Meet Captain Marvel's New Binary]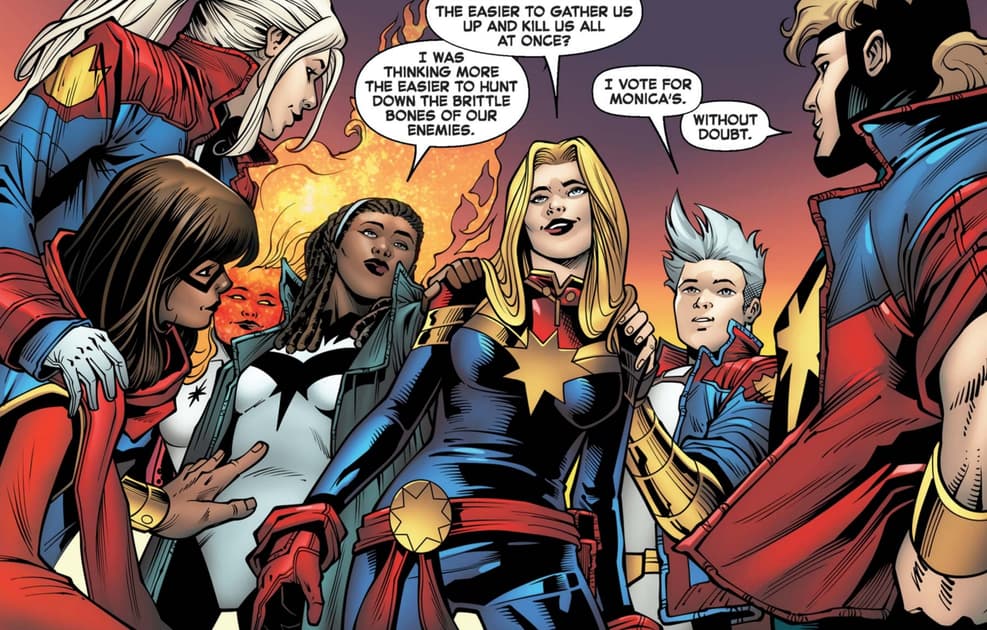 The Hype Box
Can't-miss news and updates from across the Marvel Universe!