Comics
Published November 8, 2019
Uncover the Story Before the 'Marvel's Avengers' Game
Comic writer Jim Zub previews the new prequel, 'Marvel's Avengers: Iron Man' #1!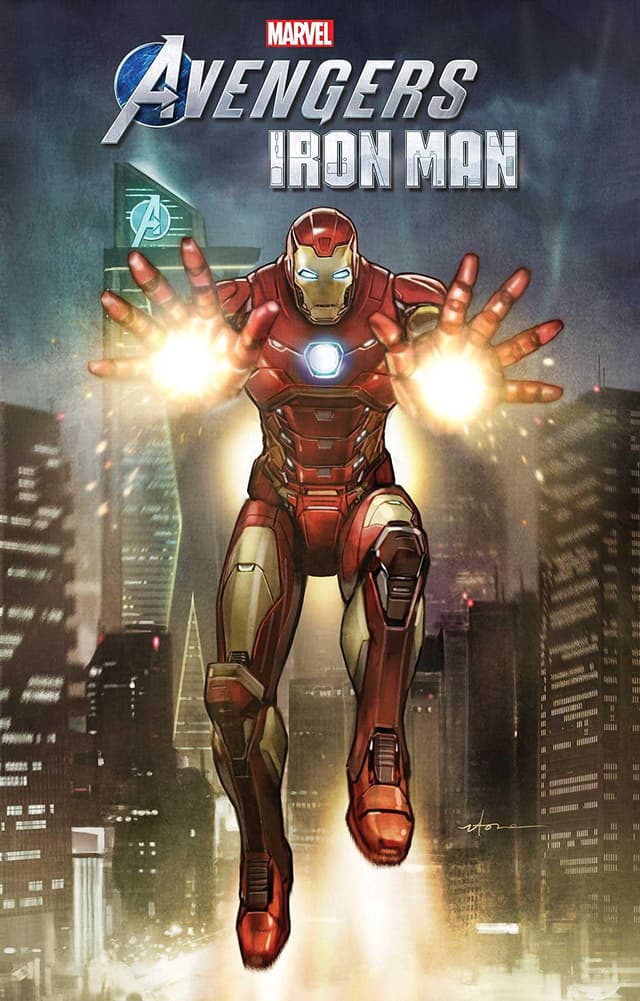 Iron Man, Captain America, Black Widow, Thor, and Hulk are the mighty Avengers, but as the Lethal Legion strikes, it's going to take more than their usual teamwork to save the day. When Tony Stark discovers his enemies have co-opted Stark technology for nefarious purposes, it's up to him to stop the leak. But can his teammates be trusted, or is something more sinister at play?
To get some answers, Marvel.com spoke with Zub about entering the world of Marvel's Avengers...
Since this comic is a prequel to the video game, did you get an inside peek at the game and how it characterizes Tony? Or did your take on the character stem more from the comics?
The crew at Crystal Dynamics looped me on their ambitious and epic game storyline, the back story pieces that lead into the game's plot, the incredible events that happen during the game, and even some teasers about where things could go from there.
Obviously the original comics are the ultimate source material that defines all of this stuff, but the Marvel's Avengers game is my main source for characterization when it comes to writing these prequel comic stories for Tony and the rest of the team.
What is the state of the Avengers when the book opens?
Like the Marvel's Spider-Man game from last year, Tony and the other team members are well established in this prequel to the original Avengers story. This is a story about these characters in their prime, not an origin story.
Tony may not be as brash as when he started out his career, but that's been replaced with a confident certainty in his own capabilities and that creates a bit of a blind spot his enemies might be able to exploit.
What can you tease about the villain and how this book helps set up the video game?
The relationship between the Avengers, S.H.I.E.L.D. and the public at large is not a simple one in the Marvel's Avengers game and this story helps set up some of those dynamics and teases tensions to come as Tony tries to figure out who he can trust and deal with the Lethal Legion at the same time.
You're working with Paco Diaz on this book. How does Paco's art help drive home the story you're trying to tell?
Paco's found a great balance between the dynamic feel of classic Marvel comic storytelling and the more realistic designs and rendering being used in Marvel's Avengers. I think fans of the comics, the movies, and the games are going to be thrilled with how he's been able to nail an aesthetic that feels both classic and contemporary at the same time.
What's been your favorite part about working on this book and what are you excited for fans to get out of it?
Marvel's Avengers is carving out its own space and the story being told is bold and full of surprises but it's doing it with a distinct knowledge and respect for the legacy of these characters. It's fun to take some of those classic Iron Man elements and reinvent them in the Gamerverse comics paradigm. I'm pumped to see how readers respond and can't wait to get my hands on the game once it's released.
Pre-order MARVEL'S AVENGERS: IRON MAN #1 at your local comic shop today, then pick it up on Wednesday, December 11!
Reassemble and Embrace Your Powers on May 15, 2020! Play the Beta first on PS4. Pre-Order for Beta Access! For the most up-to-date information about Marvel's Avengers, keep an eye on PlayAvengers.com. And be sure to follow "Play Avengers" on Facebook, Twitter, and Instagram!
The Hype Box
Can't-miss news and updates from across the Marvel Universe!