Comics
Published May 26, 2017
Venomverse: Living on the Edge
Roland Boschi straps Wolverine to a symbiote in exclusive sketches!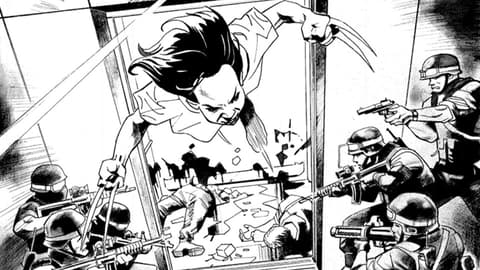 Eddie Brock returned to his symbiote roots this week in VENOM #150. That reunion will also lead to an immense Venom-ization of various characters across the Marvel Universe.
EDGE OF VENOMVERSE launches in June. Each issue focuses on a Venom-ized character with a different creative team. The first issue, by Matthew Rosenberg and Roland Boschi, will showcase X-23—aka the All-New Wolverine—and her struggles as she deals with not only escaping the Facility, but also the symbiote trying to take over her mind and body.
We talked with Boschi about combining Laura's sharpness with the fluidity of the symbiotes, plus his experience working with Rosenberg on helping to set up this major event.
Marvel.com: This project is unique in that it's using each issue to introduce a new character for the Venomverse story by a different creative team. How does that experience differ than some of your other work?
Roland Boschi: At first I previewed a sample of the amazing Venomverse covers when Marvel hired me on X-23. Then you realize that you're part of a big crossover. It's totally thrilling!
Marvel.com: The Venom version of X-23 looks like just about the most dangerous character of all time! How was it coming up with that look?
Roland Boschi: I truly enjoyed the character of Laura in the movie "Logan" recently, how versatile she can be, from the silent young girl to the savage killer. Mix that with Venom's symbiote and there is indeed a scary character! I try to show [Laura's] face through the dark tendrils as much as I can, especially when her humanity speaks before she unleashes the symbiote!
Marvel.com: What are the key elements of X-23's character that will remain even given her Venom-induced transformation?
Roland Boschi: She is constantly fighting the hunger of the symbiote and it looks like she finally almost handles it. The claws, high velocity, and healing factor of X-23 remain, plus the vicious Venom skills!
Marvel.com: Symbiotes have always been very striking visually as they seem like they're always moving. Is that something you try to convey on the page?
Roland Boschi: Absolutely; make tendrils in motion and spread them all around the page as much as possible!
Marvel.com: How was it working with Matthew on this kick-off to a big event?
Roland Boschi: I haven't had the chance to meet Matthew so far, but it's a true honor to be working with him. The first reading of his script was immediately exciting with the action sequences and X-23 infected by the symbiote, but I enjoyed even more the second part, focused on teenagers, living their wild life and meeting Laura.
X-23 struggles with her symbiote in the pages of EDGE OF VENOMVERSE #1, out June 28 by Matthew Rosenberg and Roland Boschi!
The Hype Box
Can't-miss news and updates from across the Marvel Universe!