Comics
Published April 22, 2019
What's the Best Marvel Comic of the 1970s?
Comics legend Colleen Doran lists her favorite books in honor of Marvel's 80th anniversary!

Each week, the Best of the Decade column honors 80 years of comic book excellence by spotlighting a single issue from the House of Ideas beloved by the best in the business!
Colleen Doran was born to create comics.
A prodigy who started exploring her artistic influences as early as age five, the future architect of her own epic works—not to mention a guest to Spider-Man's friendly neighborhood—credits a bout of childhood illness for lighting a fire in her.
"I read comics sporadically when I was little, but I didn't catch the bug until I was about 12," recalls Doran. "I got a really bad case of pneumonia, and was bedridden for a long time. A friend of the family gave me a big box of comics to read while I recuperated, and many of them were classic Marvel tales, including the CAPTAIN AMERICA storyline when he became Nomad, some early CONAN comics, DEFENDERS. That's when I decided to become a cartoonist. From then on I just drew and drew comics, comics characters. I was hooked."
In the years since, Colleen has collected awards and acclaim for her art and recently illustrated an autobiography of the late great Stan Lee than landed on the New York Times bestseller list. We spoke with this member of comic book royalty about a certain SON OF SATAN, the experimentation of the 1970s, and how that decade cemented the modern Marvel we know today…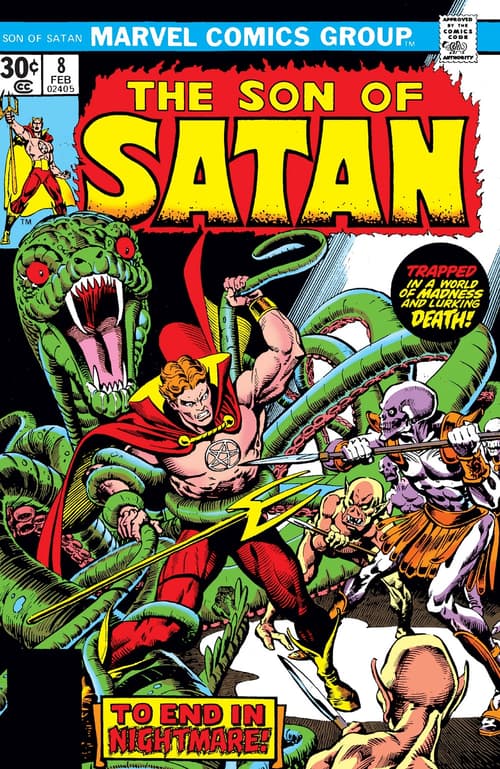 Marvel.com: How did you come across the Marvel books of the '70s?
Colleen Doran: I found a copy of CHAMBER OF CHILLS #1 crumbled up into a little ball under the bleachers of my elementary school. I'd never seen or read a comic book before, and I was captivated. This issue featured a story entitled "Delusion for a Dragonslayer" by the legendary Harlan Ellison. The point sailed right over my head, but I was fascinated by it. We were really poor when I was a kid, so there was no money to buy comics. I'd fish soda bottles out of the trash to redeem for money so I could buy some from the 7-Eleven and I treasured every single one of them. But my family moved away from the city when I was a little girl, and you just couldn't get comics in the country. There were no shops, no bookstores. I didn't see any comics again until I got sick: my parents tossed what few I'd owned before when we moved. Rediscovering comics again, in that big box when I was sick, that was a great gift. It changed my life.
Marvel.com: What sets the Marvel comics of the 1970s apart from other eras?
Doran: That's a great question. Comics were just beginning to be taken seriously as an art form, I think. Marvel was putting real effort into producing challenging story lines about social issues, the changing world. I remember being fascinated by Peter Parker's struggles with simple daily challenges, like getting a decent apartment, I loved stuff like that.
There were some wild and weird experiments, like HOWARD THE DUCK, and books like [UNCANNY X-MEN] got revamped and became incredibly popular. I didn't actually start reading X-Men until the 1980s, but all the set up for that modern take on mutants began in the '70s.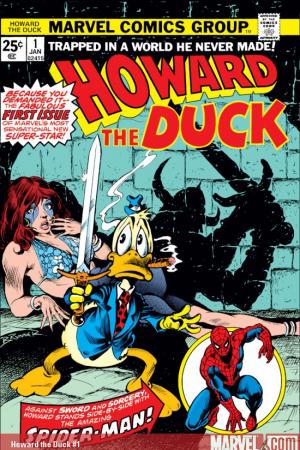 It was a great period for expansion because so much of what was being done in comics at the time has simply never been done before. Creators were getting more leeway to experiment, expand the boundaries in both art and story. So many truly great cartoonists got going in the '70s. I know a lot of the great comics were actually created in the '60s, everything from the FANTASTIC FOUR to DAREDEVIL, but I think they really hit their strides in the '70s.
Marvel.com: What titles stood out to you as favorites from that decade?
Doran: DEFENDERS. No doubt, I loved that book. I was very fond of Valkyrie and used to wear my long blonde hair in a single side ponytail to imitate her! THOR, of course. I loved ETERNALS, it was a huge influence on my own space opera comics A Distant Soil. Completely bonkers, and full of that old Erich von Daniken Chariots of the Gods stuff that was really popular back in the day. DOCTOR STRANGE; I was always really interested in the metaphysical comics, the stuff with magic. I liked comics with big, cosmic story lines. AVENGERS ANNUAL #7, with Adam Warlock and Thanos, that was stupendous. I mean, those story lines are still reverberating around the world today: they're making movies out of them.
Marvel.com: If you had to pick one story or issue from the '70s as your absolute favorite, what would it be?
Doran: Easy pick, I doubt it would be anyone else's pick, but you gotta track down this comic: SON OF SATAN #8.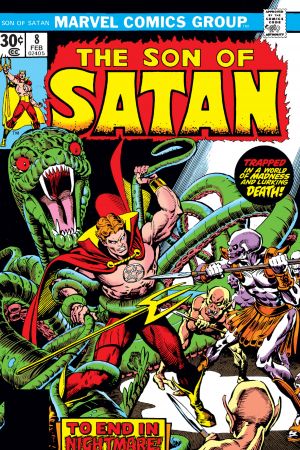 It is amazing they got away with half what they were doing in a 1970s-era comic, but this book is really something, in large part due to the amazing art of Russ Heath. It is creepy and it is gorgeous. Heath was always one of the finest draftsmen in comics, and he let it all out on this book. A couple of pages were drawn by other people because some of the work didn't pass muster with the Comics Code, but I think there's a collection with the original pages restored. It's beautifully drawn work, very weird. He really knew how to give a girl nightmares.
For classic Colleen Doran, read AMAZING SPIDER-MAN #326 today! Then dive into these 1970s-favorites on Marvel Unlimited! And visit Marvel.com's 80th anniversary hub page for more!
The Hype Box
Can't-miss news and updates from across the Marvel Universe!