Comics
Published February 22, 2022
Where to Start Comics Guide: 9 of Storm's Most Badass Moments
Unsure of where to begin? Head into the eye of the Storm with Ororo Munroe's most epic stories!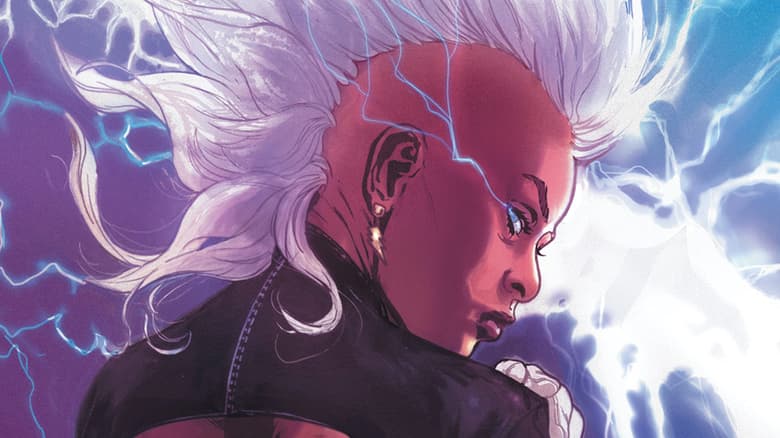 Descendent of an ancient line of African witch-priestesses. Daughter of Kenyan princess N'Dare and American photographer David Munroe. Thief. Goddess. Omega-level mutant. X-Men. Leader. Headmistress of Xavier's School for Gifted Youngsters. Queen of Wakanda. Regent of Mars. Voice of Sol. Member of both the Avengers and the Fantastic Four.
For over 40 years, since her debut in 1975, the X-Man Ororo Munroe aka Storm has always defied a single title.
We know how daunting it can be to dive into comics. Whether you've stumbled across Storm through the many X-films or the animated X-Men series, we want to help deepen your love for one of the most powerful mutants in the history of ever. Don't know where to start? Don't worry, we've got you—what better way to get started than heading into the eye of the Storm and discovering her most BADASS moments!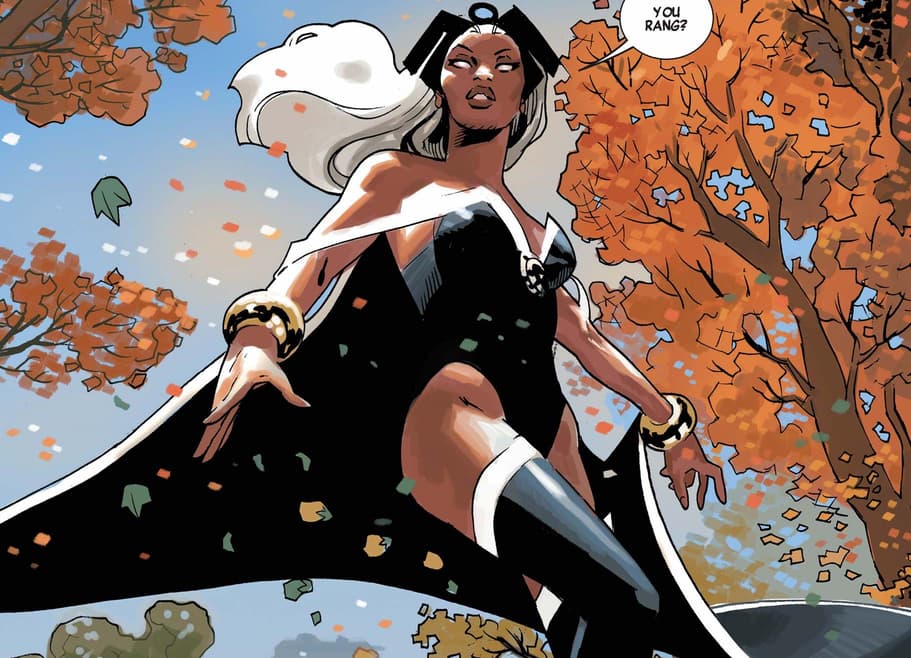 Loki gifted Storm her own enchanted hammer, known as Stormcaster, in an attempt to manipulate her.
While under Loki's enchantment, in a fight with Thor himself, she demonstrated her worthiness when she grabbed his unliftable hammer and used it to destroy Stormcaster, freeing herself.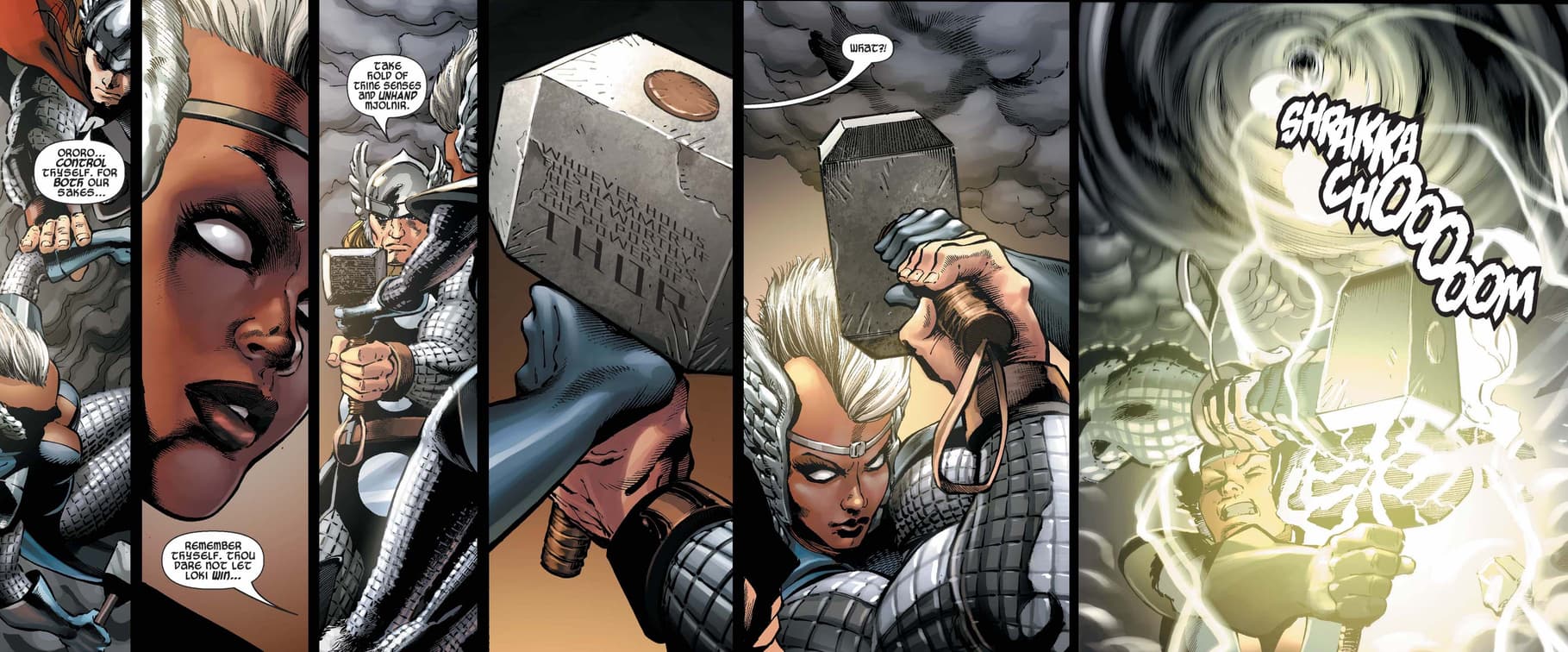 WHEN STORM DEFEATED MULTIPLE X-MEN SINGLE-HANDEDLY IN X-Men: Worlds Apart
Under the influence of the Shadow King, her friends attack her all at once, and Storm manages to put them all down all by herself.
Blowing her friends away in a tornado, Storm must contend with the Shadow King, who falls for the trap she laid out for him. Entering her body, he's attacked and eaten by Bast the Panther God, who was hiding in Storm's mind, freeing everyone from his control.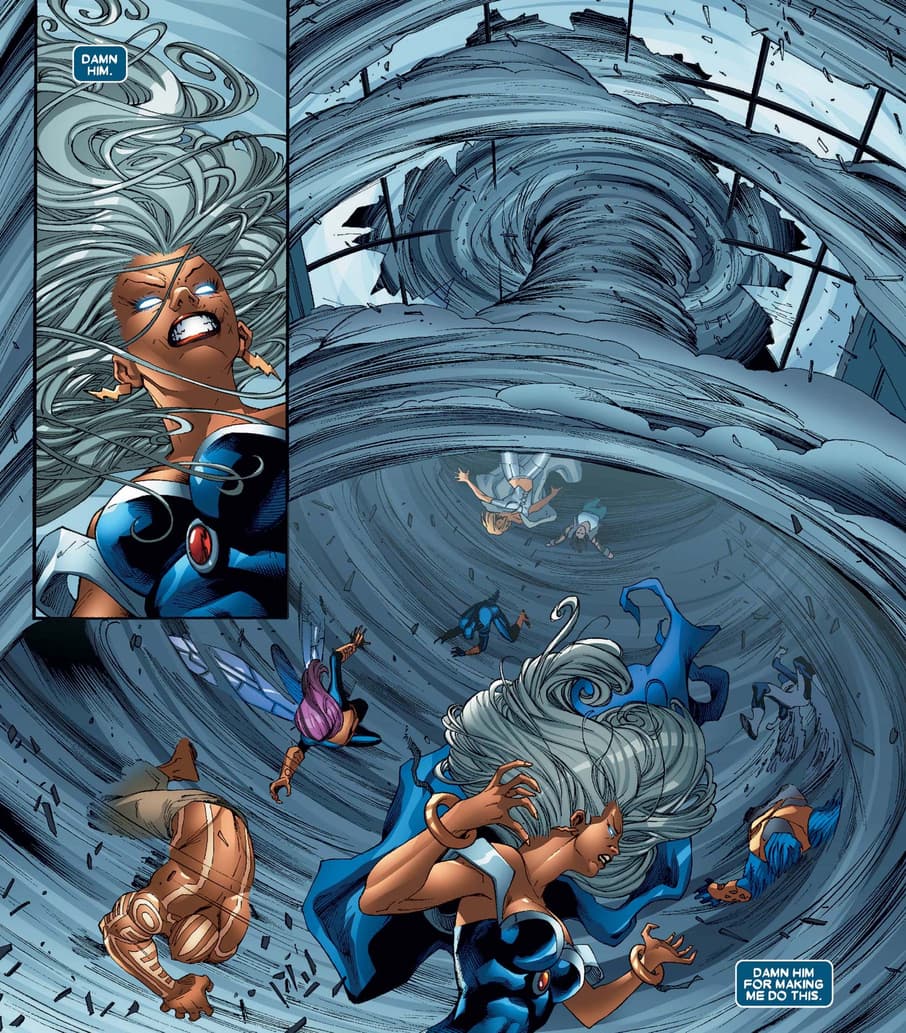 While on a second honeymoon, Reed and Sue Richards take a break from the Fantastic Four. Replacing them are the King and Queen of Wakanda, the Black Panther and Storm.
However, a mysterious object has entered the solar system from hyperspace, which pulls all parties, including Hank Pym, Silver Surfer, Doctor Strange, Uatu the Watcher, and Gravity, into the fray as they discover the object contains a message from an alien race warning Earth of its imminent destruction by the deadly Contrasepsis. Doctor Strange explained the Contrasepsis are actually creatures used to protect the physical universe but with Eternity, the personification of the universe itself, dying, they've started lashing out in hordes.
The team needed to perform a form of cosmic surgery to remove the infected piece of space time in order to save Eternity; Storm was the only hero with the strong enough will and mind to sustain it as its living host.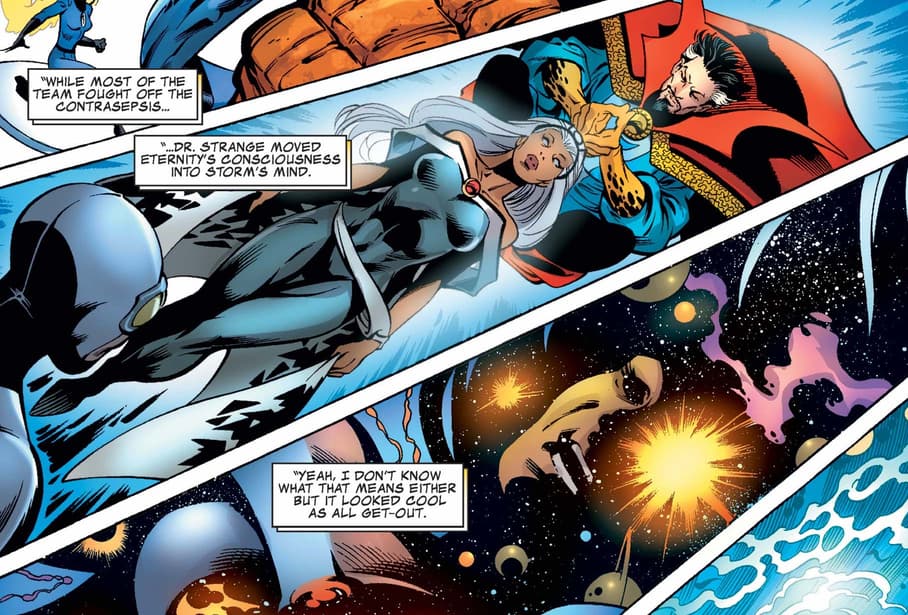 When STORM became the queen of mars in S.W.O.R.D.
The Mutant nation of Krakoa has quickly become a major force on the world stage, but why stop there?
In case you missed it, the mutants terraformed Mars, relaunched the Sentient World Observation & Response Directorate (S.W.O.R.D.)—a fully independent organization dealing with all things extra-terrestrial on behalf of all of Earth, and made Storm their fearless leader.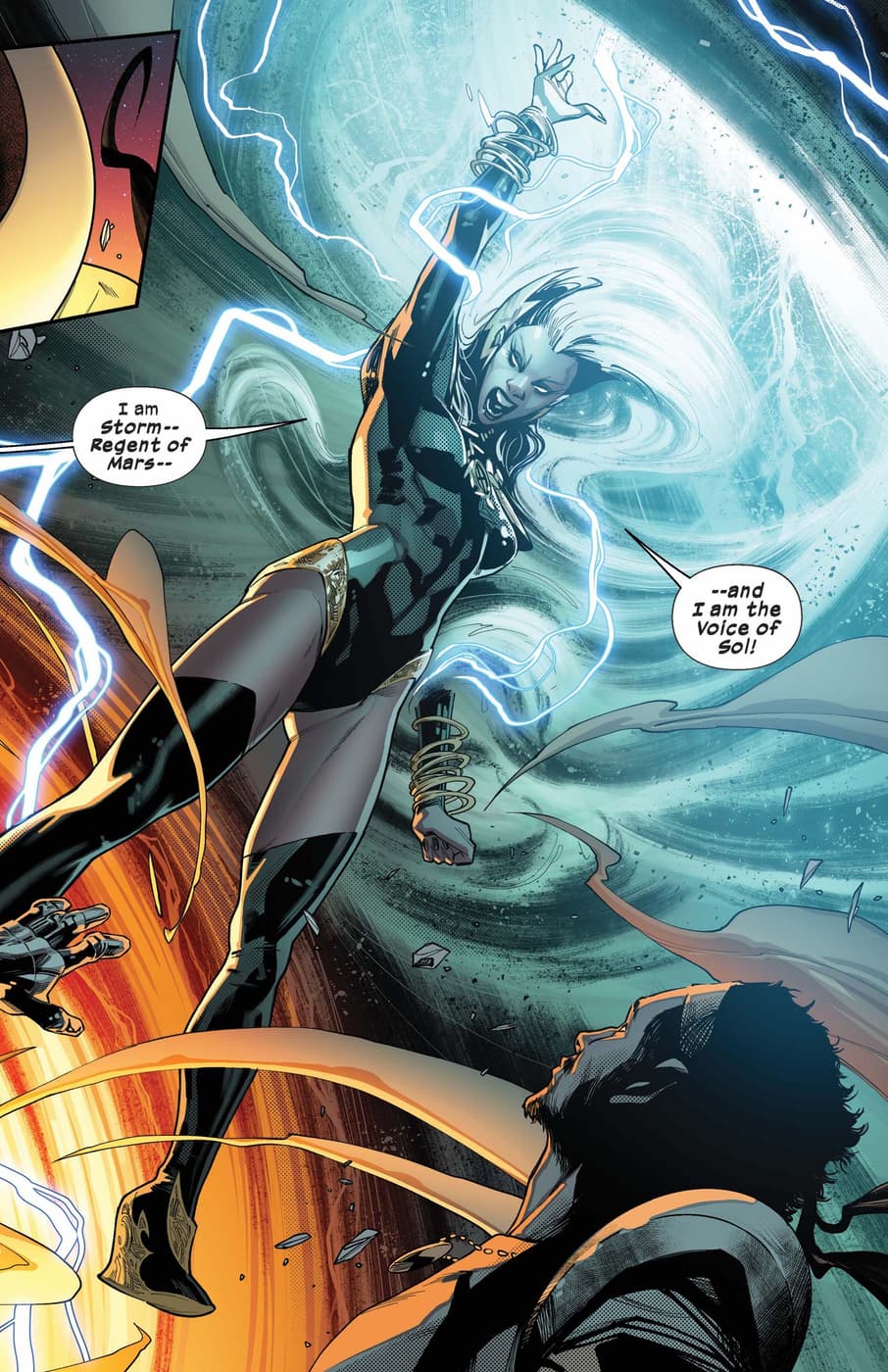 Even as Queen Regent, Storm stays ready; once casually catching a knife in an assassination attempt.
She then used said knife to win in a depowered fight, which itself was a callback to her fight with Callisto way back when...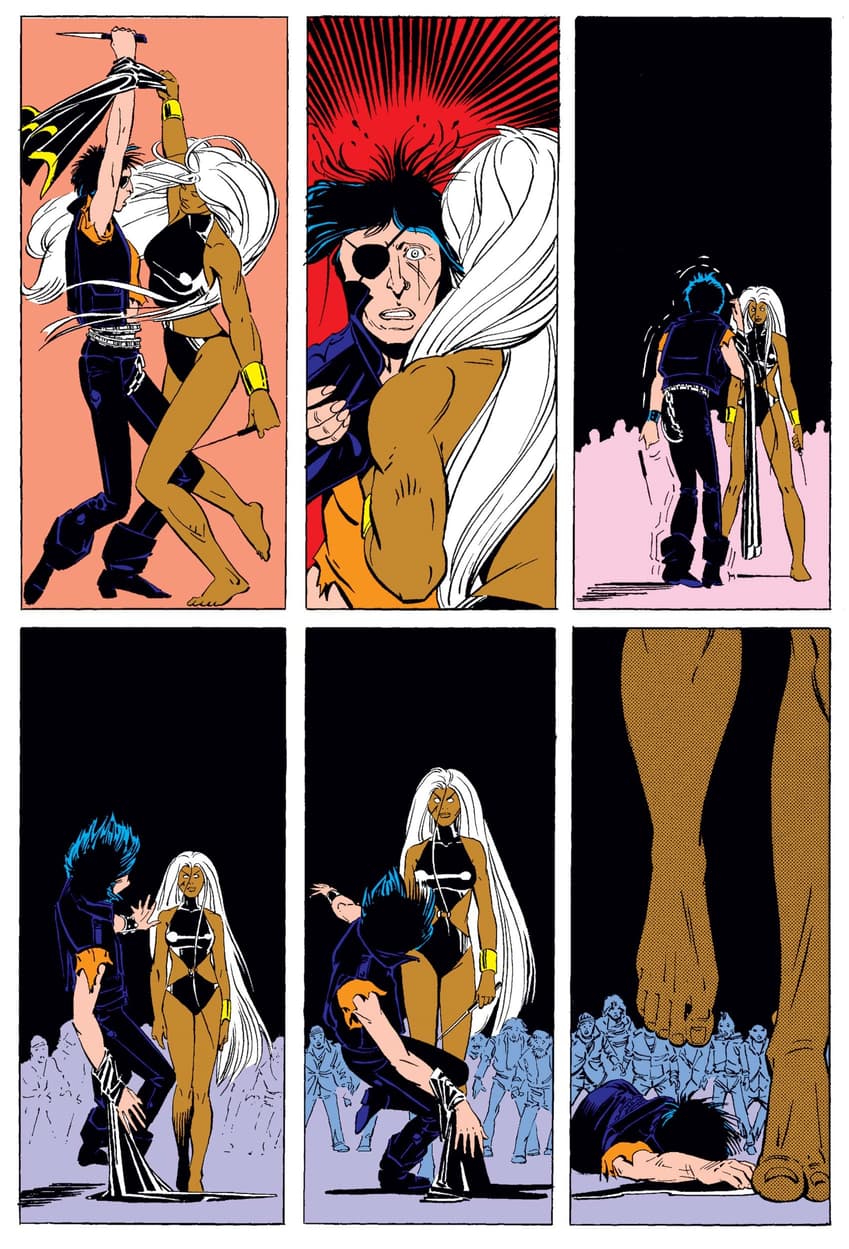 WHEN STORM fought to the death and BECAME THE LEADER OF THE MORLOCKS IN UNCANNY X-MEN
No moment better depicts Storm's strength and resolve as the leader of the X-Men than her scrappy knife fight with Callisto, ruler of the Morlocks. With a few members of the X-Men held captive by the sewer-dwelling Morlocks, Ororo, weakened and depowered by the Morlock Plague, challenges the vicious Callisto to a duel to the death in exchange for their freedom.
Declaring "Callisto...I lead the X-Men. The challenge, the duel—your life—are mine!," Storm lethally plunges her knife into Callisto's heart defeating her, freeing her teammates, and becoming the new leader of the Morlocks.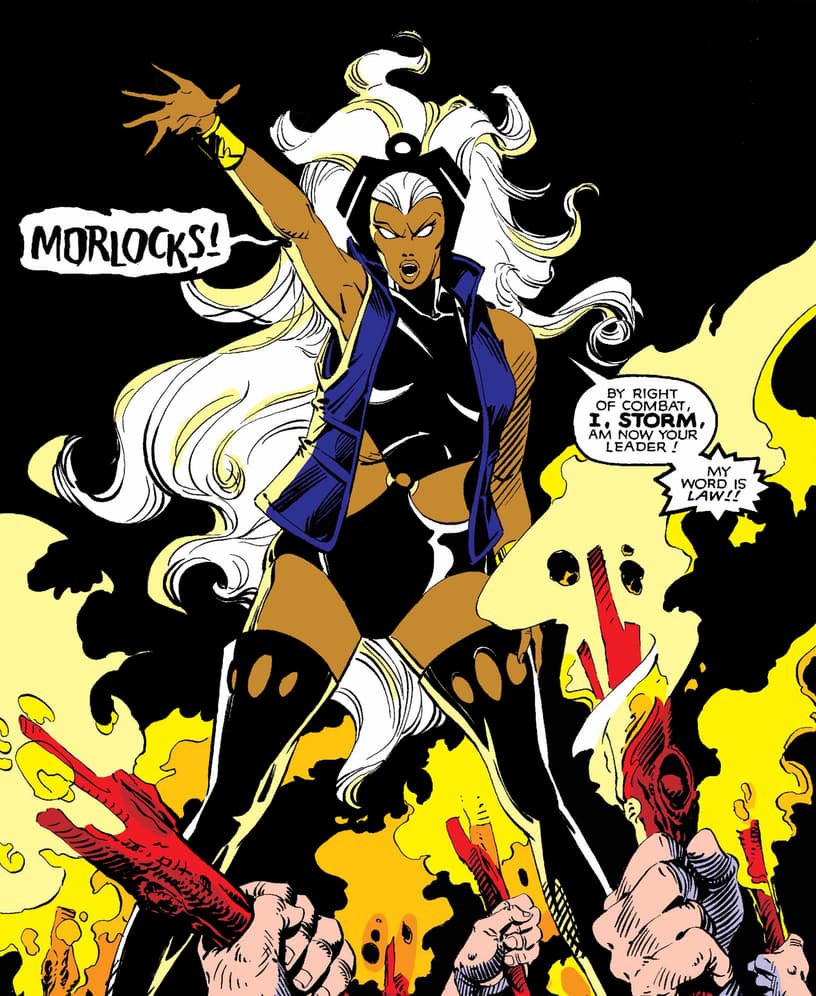 When Storm didn't have time for doctor doom's crush
During an extraction mission for the treacherous Arcade in UNCANNY X-MEN #145, Doctor Doom declared he'll entertain Storm's request for the release of Arcade if she joins him for dinner at his castle. 
Despite their mutual attraction, Doom imprisoned Storm by encasing her in chrome. Unknowingly forcing Storm to confront her biggest fear—severe claustrophobia, this form of torture triggered the full magnitude of Ororo's true powers, embodying herself into the storm, and nearly corrupting herself. As she centered the impact on Doom's Latverian castle that those as far away as in Southeast Asia could feel, Storm's deadly power nearly eliminated her captor along with her teammates.
Doom, satisfied that Storm survived the ordeal, apologized and wished to get to know her better, with Storm declaring that their slate is clean, leaving the ball in his court.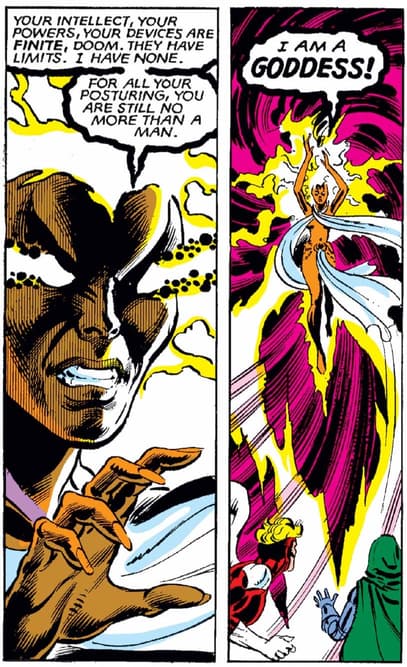 WHEN STORM PUT LOKI IN HIS PLACE
The first time Storm wielded Stormcaster was in X-MEN ANNUAL #9 when the God of Mischief tried to seduce the depowered Storm with Asgardian abilities, hoping she would make the land her home as their new Goddess of Thunder with him ruling by her side.
Not easily fooled, Storm bested Loki; trying to make amends, he offered to let her keep her Asgardian power and hammer. However, she refused his gift and insulted him to his face, which impressed him even more.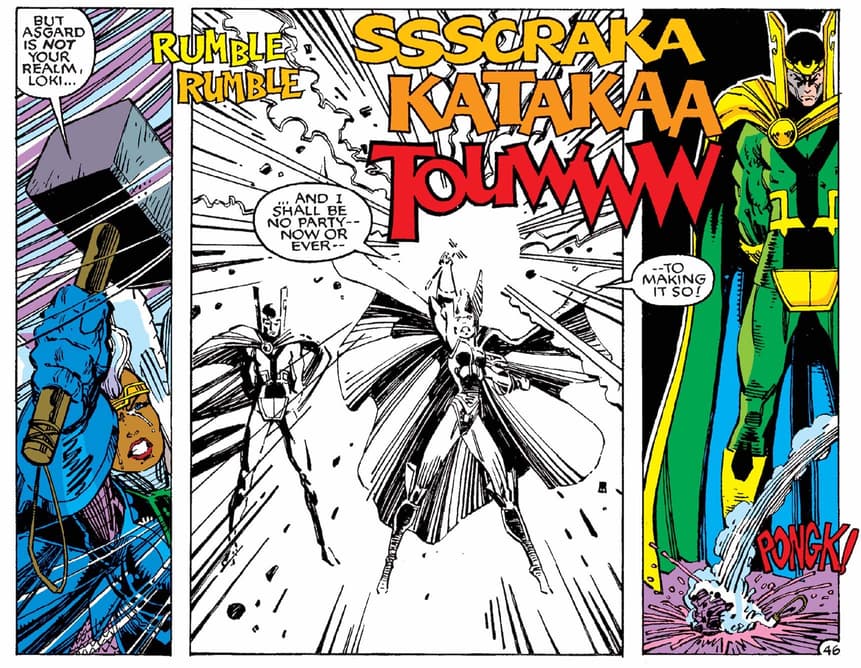 When Storm reminded Wolverine and Cyclops exactly who's boss
We pity the fools who run their mouths at Storm.
In UNCANNY X-MEN #142, Storm had her work cut out for her during her first mission as leader of the X-Men, questioning herself for not being as good as a leader as Cyclops. As they prepared to face the greatest challenge of their lives against the all-new Brotherhood of Evil Mutants, she pushed all her self-doubt and leapt into action as Wolverine unsheathed his claws to use on a bad guy at the risk of harming another teammate.
Storm sternly reminded Wolverine who commands when he will use his claws, "I am leader of the X-Men. While that is so, you will use your claws when I command. No other time." He complied.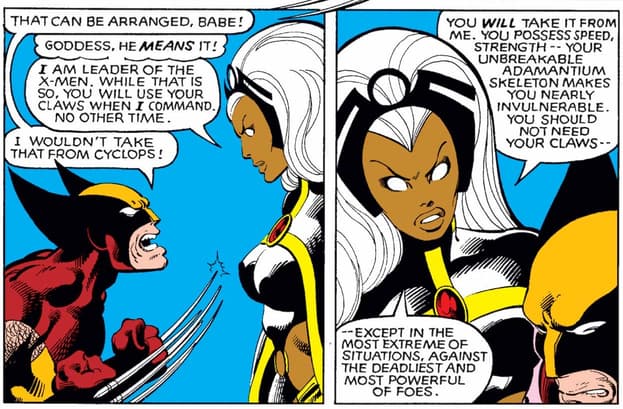 Storm led the X-Men for several years following the death of Jean Grey. Unhappy with his new role as a father, Cyclops returned to the team determined to reclaim his former leadership in UNCANNY X-MEN #201. Scott and Madelyne argued over his desire to abandon his responsibility as a father and remain behind as the leader of the X-Men.
As Madelyne debated returning home without her husband, a depowered Storm and Cyclops dueled for leadership of the team in the Danger Room as the X-Men and New Mutants watched. Despite not having her powers, Storm defeated Cyclops in battle, relying on her non-mutant skills and intellect. Scott conceded the battle, noting Ororo as the best X-Man, and left to return to his newborn and strained marriage.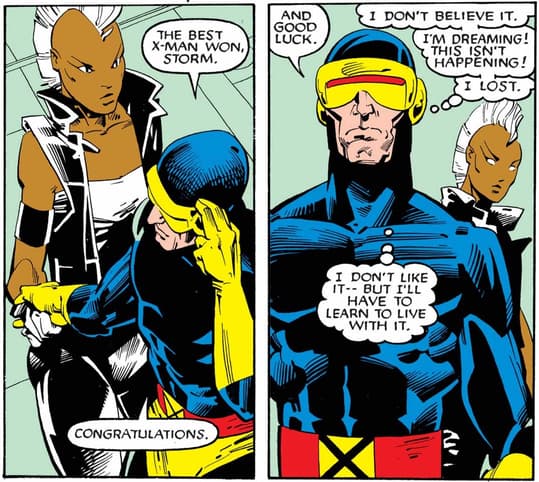 THAT SHOULD BE MORE THAN ENOUGH TO GET YOU FAMILIAR WITH THIS ABSOLUTE QUEEN WHO IS NOT TO BE MESSED WITH.
Want to stay on top of everything in the Marvel Universe? Follow Marvel on social media—Twitter, Facebook, and Instagram—and keep watching Marvel.com for more news! 
The Hype Box
Can't-miss news and updates from across the Marvel Universe!