Comics
Published May 18, 2021
Winter Comes for the White Widow & Red Guardian in 'Winter Guard' #1
Russia is cleaning house this August!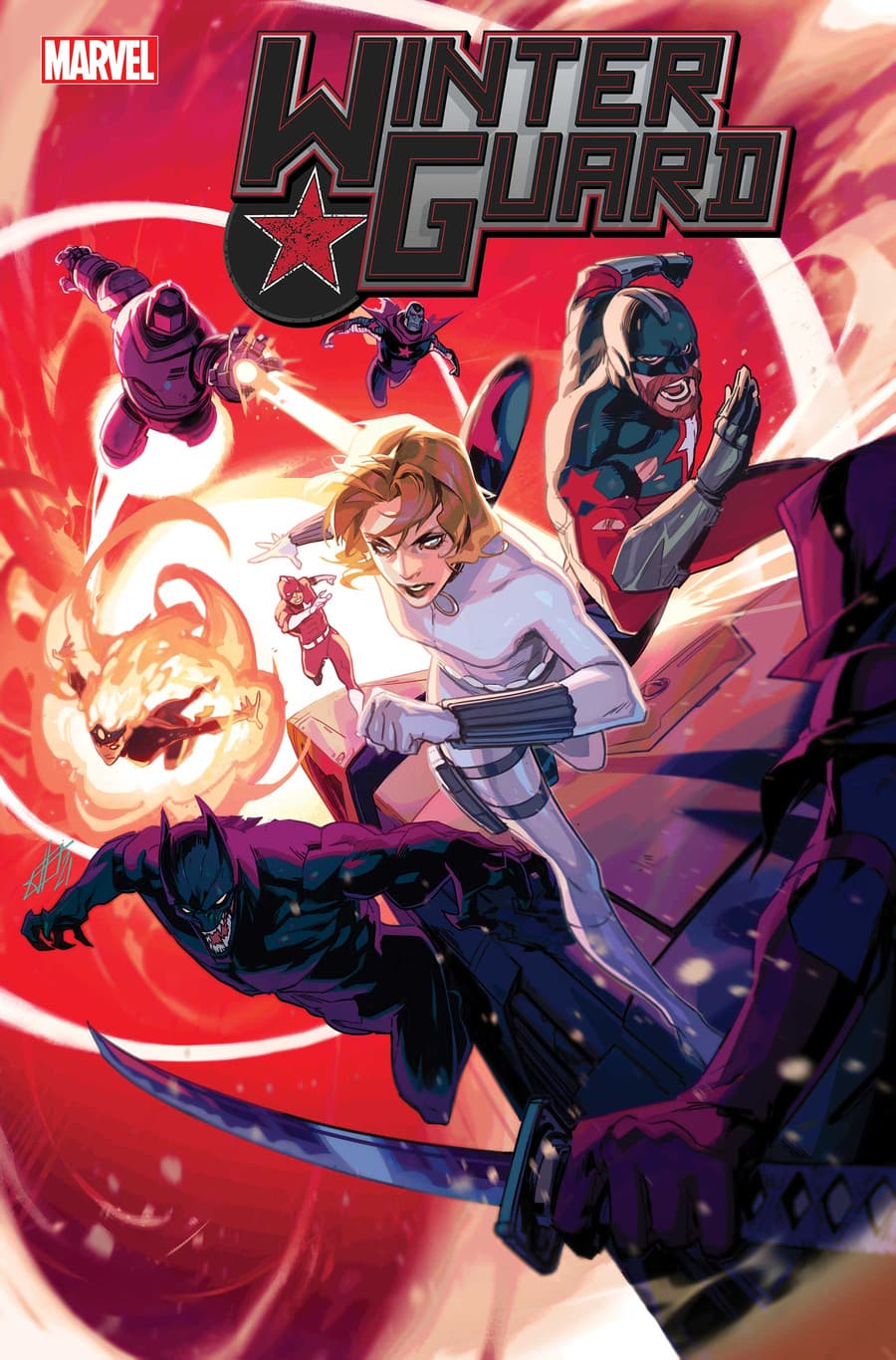 The Red Guardian starts hunting down state secrets, putting himself right back in his home country's crosshairs — dragging the White Widow along with him. But the motherland has new heroes now…and not even the Red Room could have prepared Alexei and Yelena for the Winter Guard's retribution in WINTER GUARD #1, a new four-issue epic thriller from Ryan Cady and Jan Bazaldua, kicking off this August!
The Winter Guard, comprised of Crimson Dynamo, Vanguard, Darkstar, Ursa Major, Perun, and Chernobog, are hot on Alexei and Yelena's trail. Can the duo evade their grasp?
Get a glimpse of the upcoming spy series below!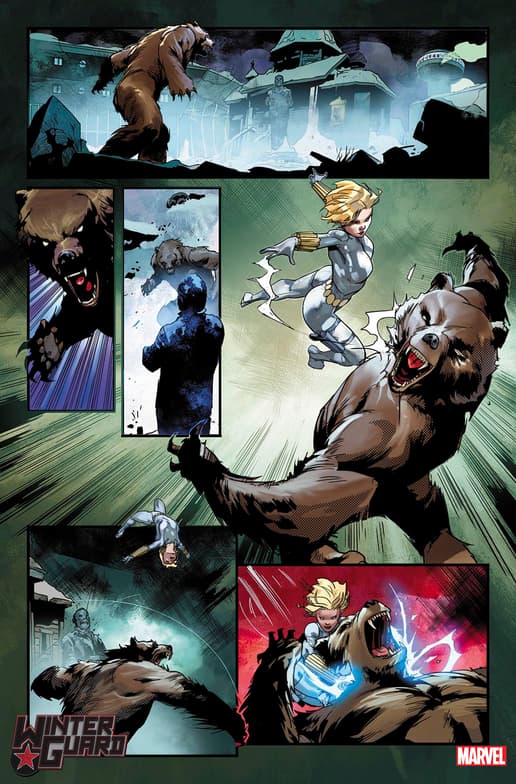 Speaking to Syfy Wire, Cady revealed "[Yelena Belova and the Red Guardian] have crossed back over the border, and now they're Russia's most wanted; the top of the Winter Guard's hit list."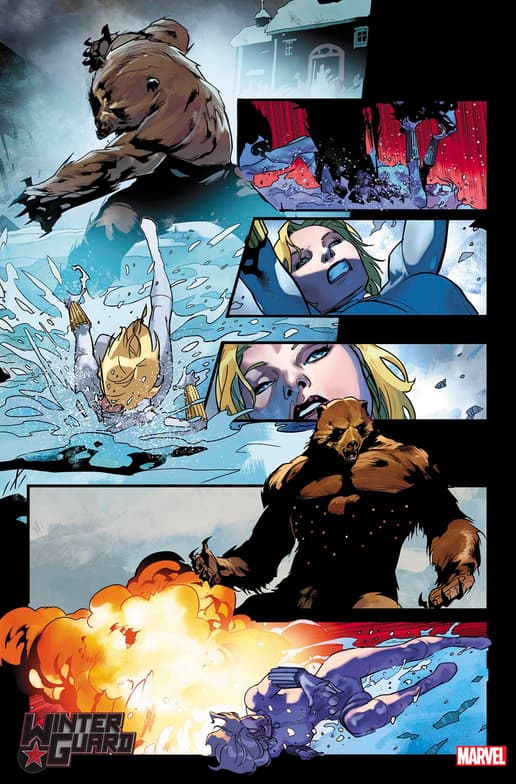 "Coming off of last year's WIDOWMAKERS one-shot (and all of Kelly Thompson's work on BLACK WIDOW, you're looking at two disillusioned super-spies who want to kind of 'redeem' their homeland in ways that the standard 'find villain, punch face' approach can't handle," continued Cady to Syfy Wire. "Unfortunately, they're more than willing to violate international law and beat up a few state-sponsored super 'heroes' in search of that redemption."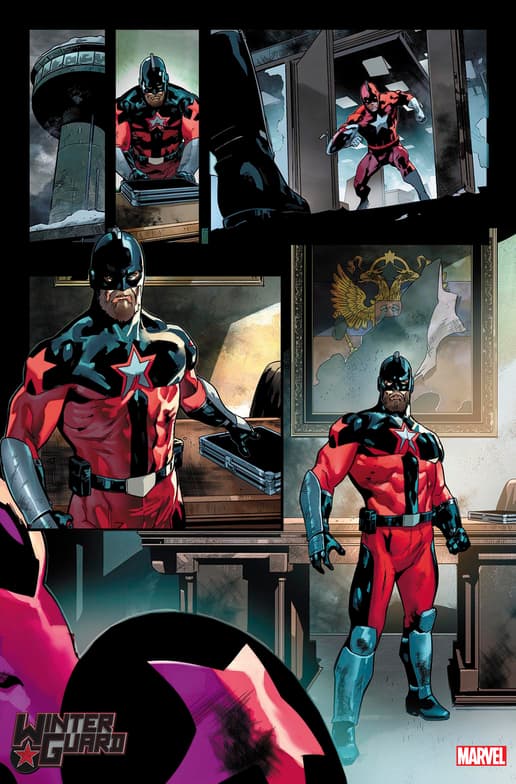 As for the Winter Guard, Cady shared to Syfy Wire, "You've got classic heroes like the Crimson Dynamo, the siblings Darkstar and Vanguard (Red Guardian's spiritual successor), and of course, everyone's favorite Russian Mutant - no, not Colossus - Ursa Major! He's a drunk who turns into a bear, and I love him with all my heart. There are also two Slavic deities on the team, Perun the stormbringer and Chernobog of blood and darkness, and as any Marvel fan will tell you, it's always a bad idea to put two gods on one team. But there's a lot of motives within motives for these heroes, and a lot of them are more sympathetic toward Red Guardian and Yelena than they should be. A catastrophe is going to rock the Winter Guard in this first issue, and they're going to have a hard time trusting each other. Especially since their boss on the Russian Security Council is the mysterious Red Widow, a stoic assassin with a secret identity and Red Room assassin training, who seems to be taking this mission a little personally…"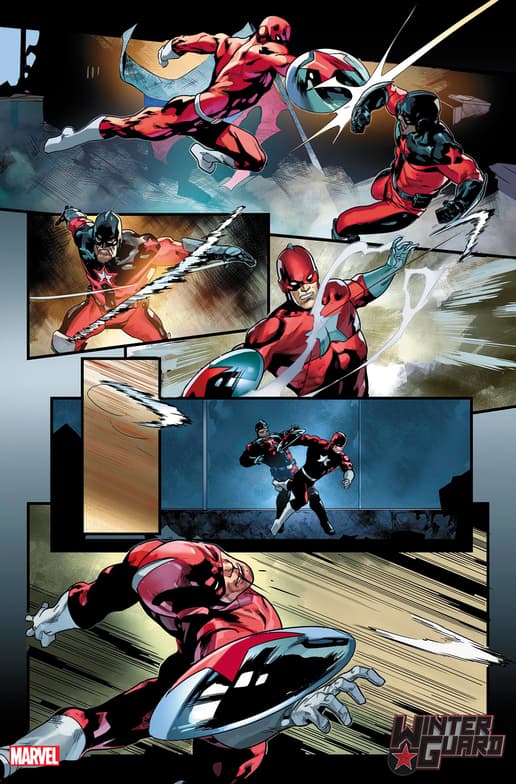 Discover more about the upcoming series from Ryan Cady over on Syfy Wire!
Bold twists and bombastic action abound as the Winter Guard tracks down two of Russia's dirtiest secrets! Don't miss the chills and thrills of Ryan Cady and Jan Bazaldua's new epic thriller kicks off with WINTER GUARD #1 this August! 
To find a comic shop near you, visit www.comicshoplocator.com
Want to stay on top of everything in the Marvel Universe? Follow Marvel on social media—Twitter, Facebook, and Instagram—and keep watching Marvel.com for more news!
The Hype Box
Can't-miss news and updates from across the Marvel Universe!