Comics
Published July 16, 2021
Who Is Alioth?
Hint: Much more than a cloud of devastation!
Have you tried Marvel Unlimited yet? It's your all-access pass to over 28,000 Marvel comics, available at your fingertips. Sign up now to get 50% off your first month.
The Usurper. A being outside of time. Transtemporal entity Alioth may be a primordial cloud that absorbs/conquers whichever reality it touches, but it is also a necessary force for the timestream. At least that's what Alioth thinks.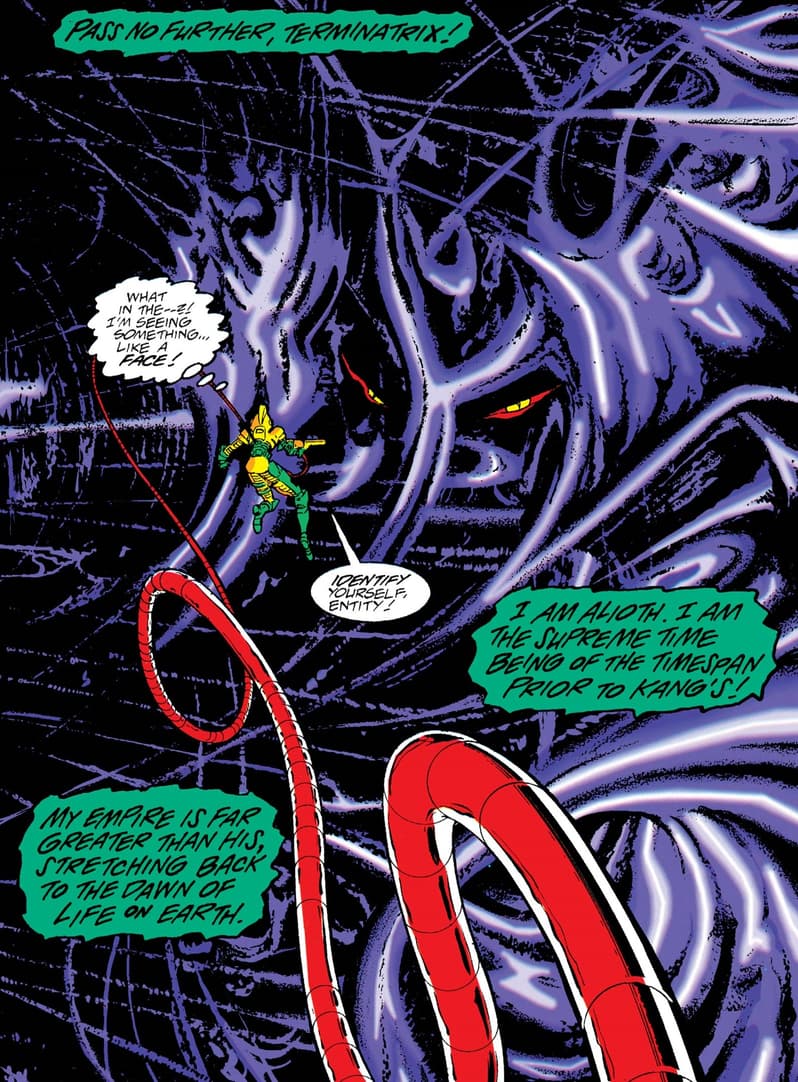 It's safe to say that even casual fans now know the name of Alioth. That's an impressive feat considering that its appearances in the Marvel Universe have been few and far between! Regardless, Alioth is a name that even Kang the Conqueror fears. And through the power of Marvel Unlimited, we're going to show you why.
WHO IS ALIOTH?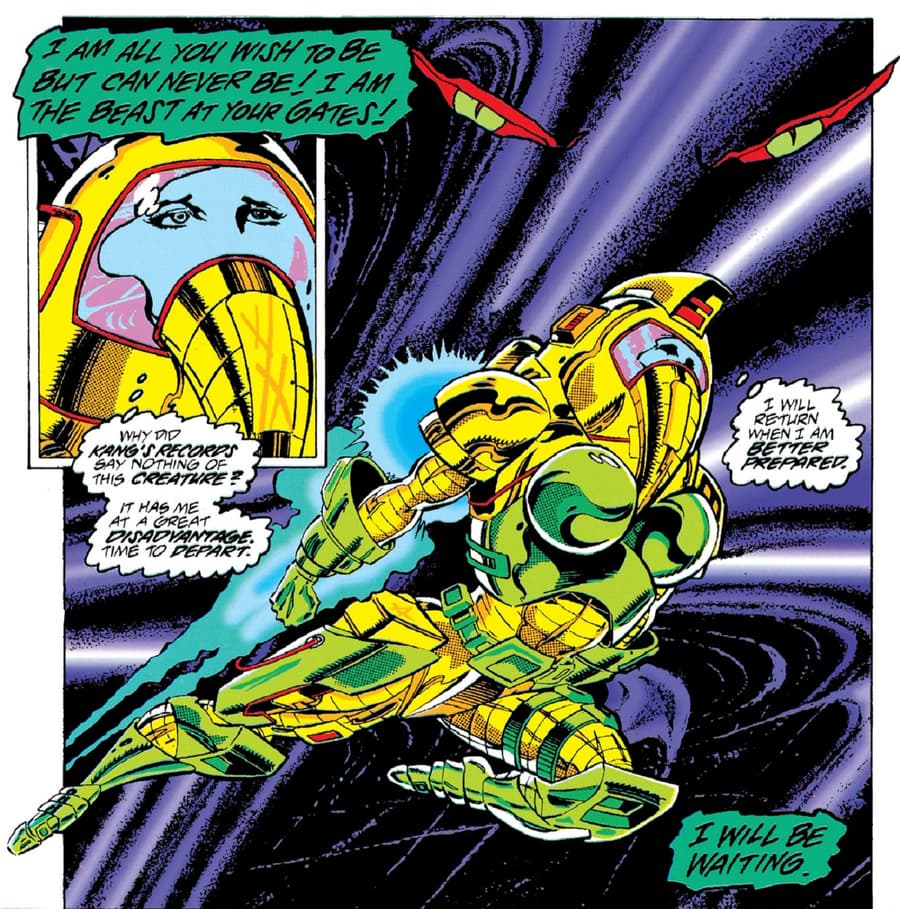 Ravonna Lexus Renslayer, AKA space renegade Terminatrix, was the first person to encounter Alioth on panel in AVENGERS: THE TERMINATRIX OBJECTIVE (1993) #1. To Ravonna's surprise, Alioth was much more than a ravenous cloud. Alioth actually spoke to Ravonna and introduced itself as "the supreme time being of the timespan prior to Kang's." Kang had previously encountered Alioth and held it at bay, however Ravonna had no knowledge of this, and therefore had no defense ready when Alioth began breaking through the time barrier.
For the record, this encounter happened at the borderland of Kang's temporal empire in 2000 BC. But in the far future, Kang was comatose, and Ravonna ruled his empire.
WHAT IS ALIOTH?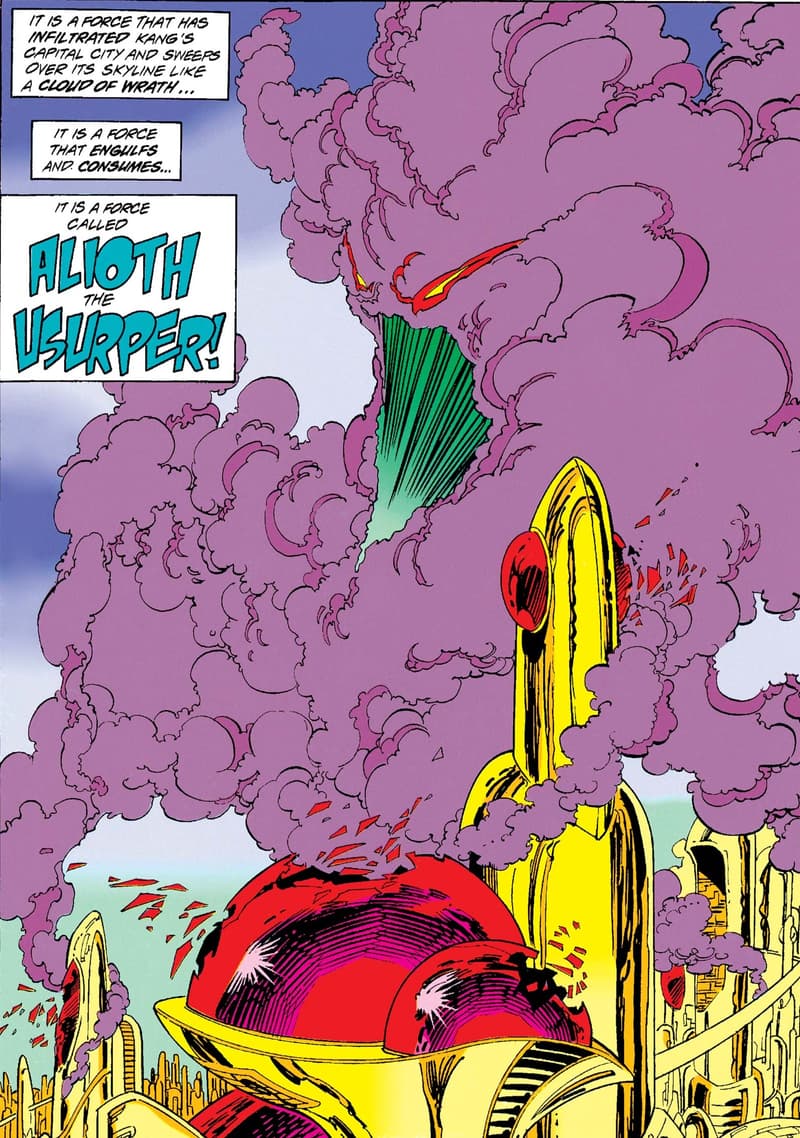 That's a trickier question.
No one knows for sure where Alioth comes from or even its class of lifeform. Although, it claims to be the first living being to break free from the timestream. Alioth's accumulated power is so great that only Kang's temporal barrier kept it from conquering every time period in history. 
WHAT DOES ALIOTH WANT?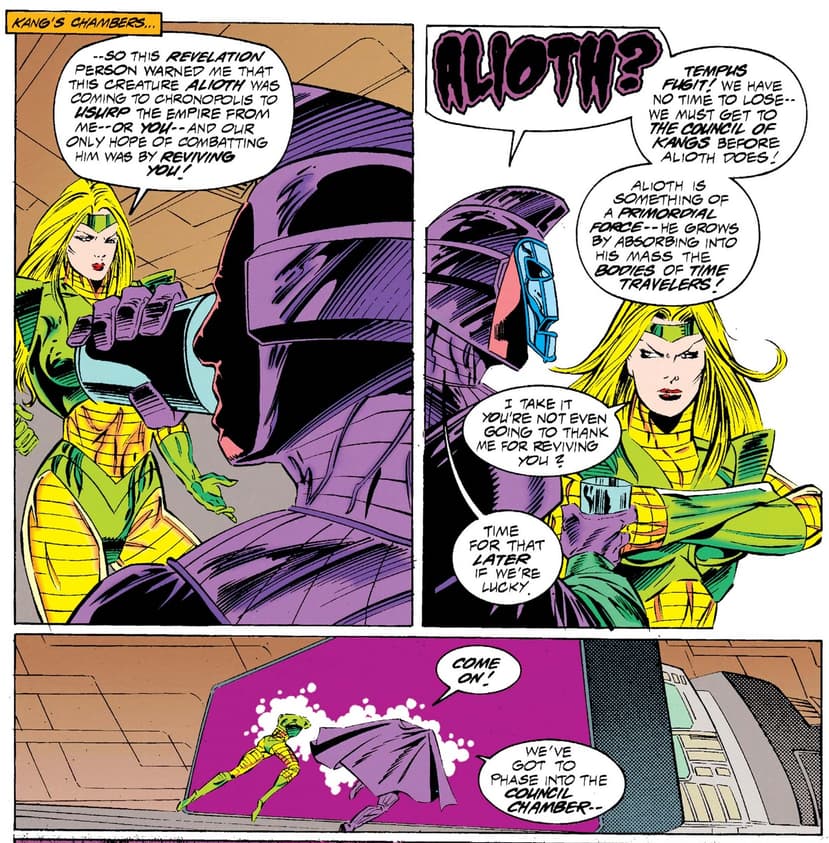 Alioth wants to rule all of history, from the beginning of time all the way to its end! In AVENGERS: THE TERMINATRIX OBJECTIVE #4, Kang told the Avengers that he was the only reason that Alioth hadn't already conquered the timestream.
WHAT ARE ALIOTH'S POWERS?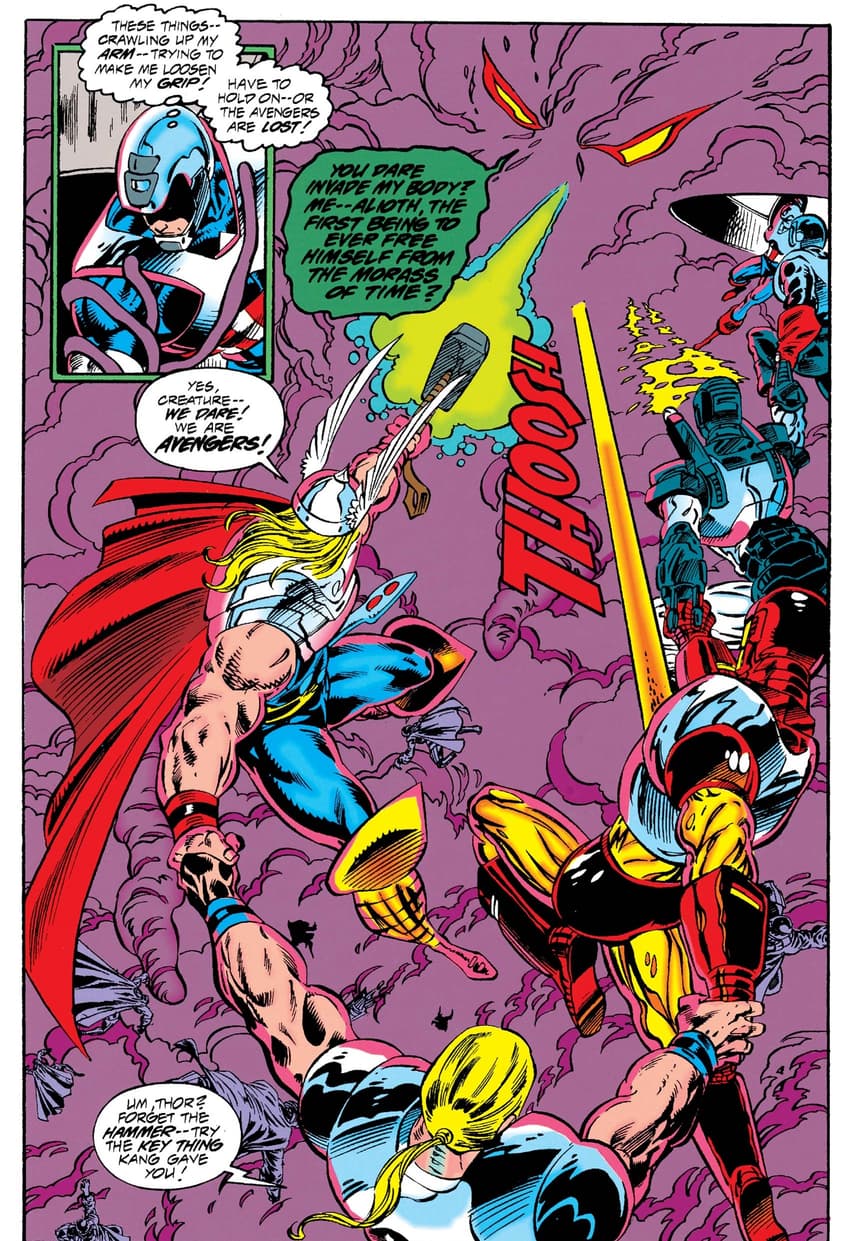 It's difficult to say if Alioth's existence as a living cloud qualifies as a power. But the fact that it exists across every alternate timeline is certainly formidable. Alioth can devour and destroy anything it touches. And that is not a euphemism. Anything or anyone unfortunate enough to be enveloped within Alioth's mass is quickly absorbed.
Alioth's reach is so vast that not even time travel can be used to escape its grasp. Once it enters a time period, there is no escape by running to the past or a divergent reality. Alioth simply expands to fill all available space until it is the only being that exists.
WHY HASN'T ALIOTH CONQUERED ALL OF TIME?!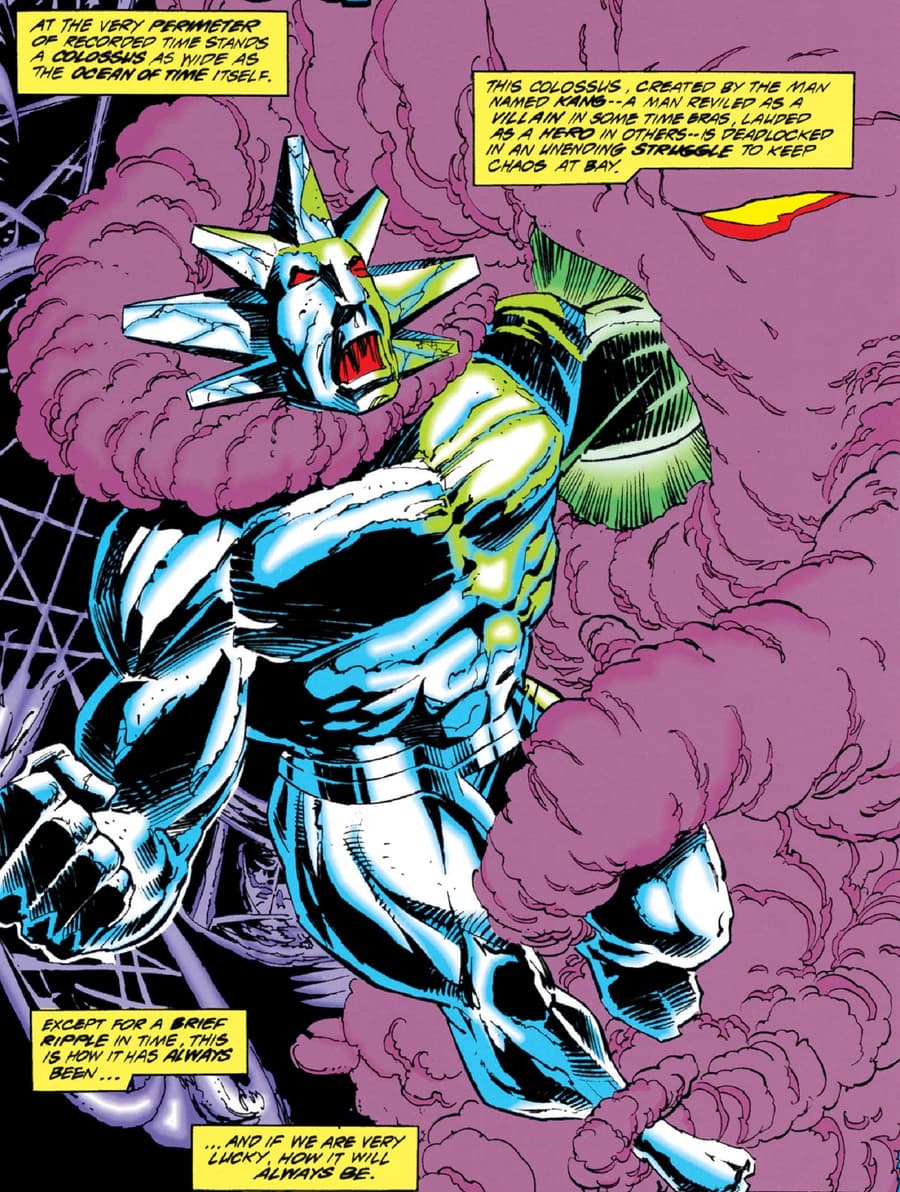 Kang's time barrier held off Alioth before the time-tossed overlord was put into a coma. When Ravonna revived Kang in AVENGERS: THE TERMINATRIX OBJECTIVE #3, he quickly realized that he lacked the power to stop Alioth from destroying his stronghold at Chronopolis. That's why Kang enlisted the aid of the Avengers to steal the temporal energies within Alioth. Kang also tricked the Avengers into unleashing his servant, Tempus. Tempus absorbed Alioth's temporal energies but consequently became locked in an eternal conflict. Neither could defeat the other, but this stalemate worked in Kang's favor.
WHAT IS ALIOTH'S CURRENT FATE?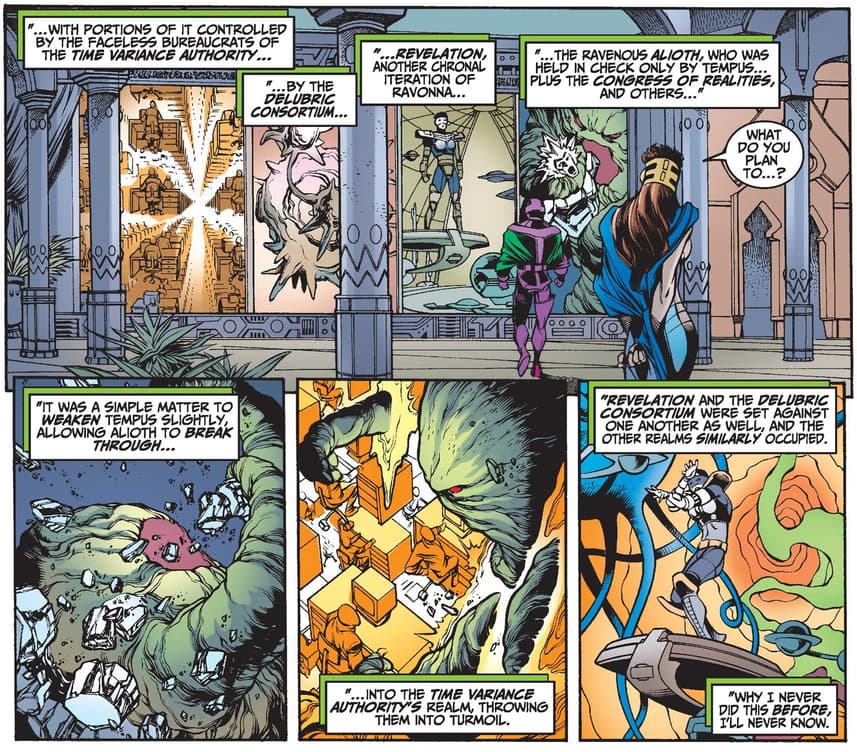 Alioth has largely been absent from Marvel Comics since the events of  AVENGERS: THE TERMINATRIX OBJECTIVE #4. However, Kang still found a way to use Alioth's power to his advantage. In AVENGERS FOREVER (1998) #9, Kang recalls weakening Tempus so that Alioth could defeat him, before unleashing Alioth's might on the Time Variance Authority. Essentially, he made Alioth the TVA's problem.
However, if Alioth resurfaces, it's going to be a problem for the entire Marvel Universe. Perhaps for the entire multiverse too.
Read all of Alioth's appearances on Marvel Unlimited now, and keep up with a  multiverse of comics featuring Kang, Loki, Ravonna Renslayer, and more!
Follow Marvel Unlimited on Twitter and Facebook to stay tuned in to weekly announcements, articles, and more, all at @MarvelUnlimited. Follow us today to join the conversation with thousands of fellow fans, and let us know what you're reading!
The Hype Box
Can't-miss news and updates from across the Marvel Universe!