Comics
Published May 13, 2022
A Daughter of the Dark Dimension: Who Is Clea?
The comics history of Clea, current Sorcerer Supreme, and Doctor Strange's longtime love and ally!
She is the sorcerer ruler of the Dark Dimension and one of the Faltine, a race of beings whose existence was born out of pure magical energy. A longtime ally and partner of Doctor Strange, Clea, a superhuman spell caster and illusionist, is easily one of the most important women in his life. And now, she has succeeded Strange as the Sorcerer Supreme!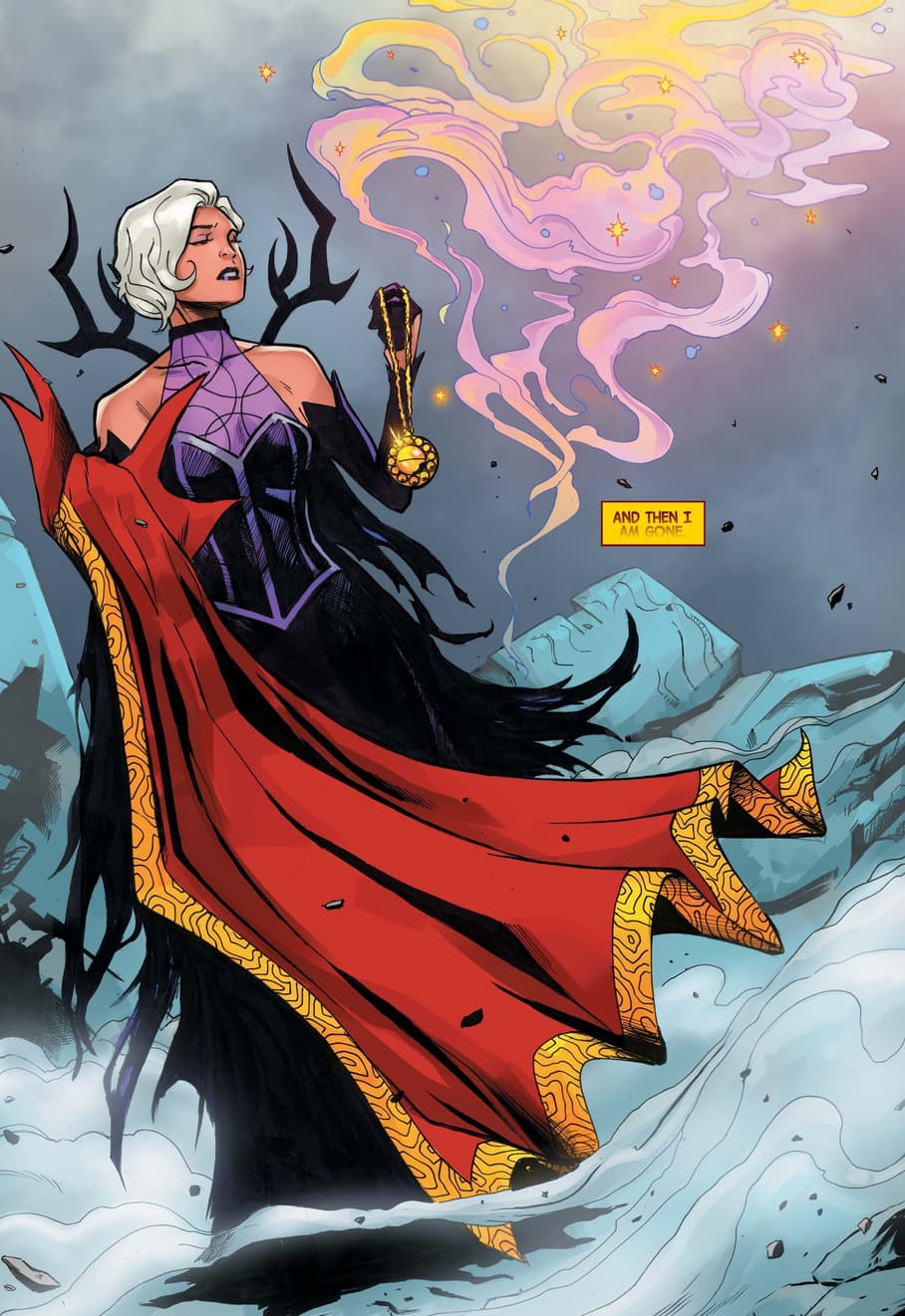 Marvel legends Stan Lee and Steve Ditko introduced Clea in STRANGE TALES (1951) #126, and she has gone on to become Strange's friend, his disciple, his lover, his peer, and even his wife. But if you'll pardon the expression, Clea had a very strange journey to the position she currently holds. And she is willing to do just about anything to be reunited with the man she loves. To bring new fans and classic readers up to speed, here's some pivotal Clea, all of which can be read on Marvel Unlimited.
THE MYSTERIOUS STRANGER
Clea has a somewhat complicated family history. Her father, Orini, was the original ruler of the Dark Dimension, while her mother, Umar, is the sister of the Dread Dormammu. And because Orini was a loyal follower of Dormammu, so too was Clea for most of her early life. Years after Dormammu seized the Dark Dimension for himself, Clea encountered Stephen Strange in STRANGE TALES #126.
Clea was so impressed by Strange's bravery that she aided him against Dormammu. Enraged by Clea's betrayal, Dormammu captured her and threatened her life. But Dormammu was soon forced to team with Strange in order to prevent his dimension from being overrun by the Mindless Ones. In STRANGE TALES #127, Dormammu reluctantly repaid Strange by sparing Clea's life and releasing her from captivity.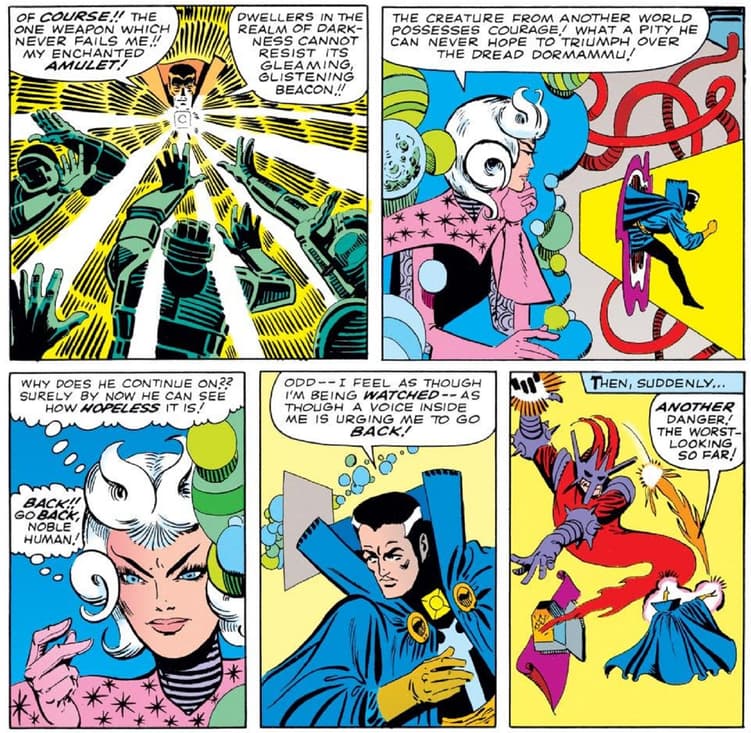 THE STUDENT AND THE MASTER
During Clea's exile on Earth, Strange took her on as his disciple in MARVEL PREMIERE (1972) #12. Under Strange's instruction, Clea's natural abilities as a sorcerer began to flourish. The romantic feelings between the two also intensified over time. While Clea began as Strange's student, she became his partner and more. In her co-starring series DOCTOR STRANGE (1974), Clea gained her own book of spells under his tutelage and became equal to her teacher. Issues #6-9 also saw Strange (once again) dragged into the dirty laundry of her family.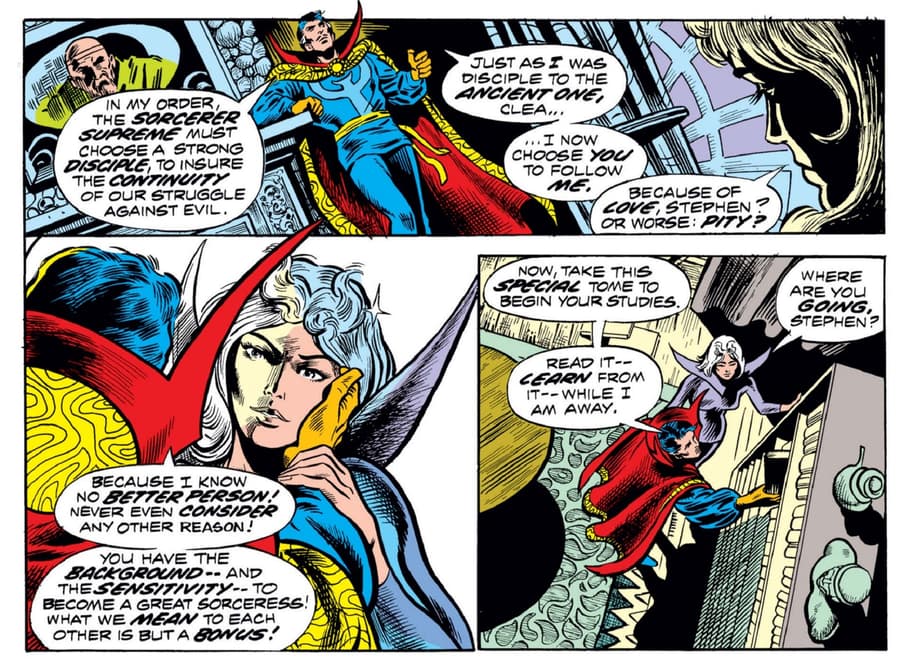 TWISTED REFLECTION
Clea may be the niece of Dormammu, but there usually isn't a family resemblance between them. That changed in MARVEL TEAM-UP (1972) #76, when Clea's soul was abducted by Silver Dagger and drawn into Strange's Orb of Agamotto. Inside the Orb, Clea was corrupted and she was reborn as a demonic figure composed of flames. This is what Clea could have become in the Dark Dimension, if she had reached her potential for evil. With the aid of Spider-Man and Ms. Marvel: Carol Danvers, Strange was able to restore Clea in MARVEL TEAM-UP #77, at great peril to his own soul.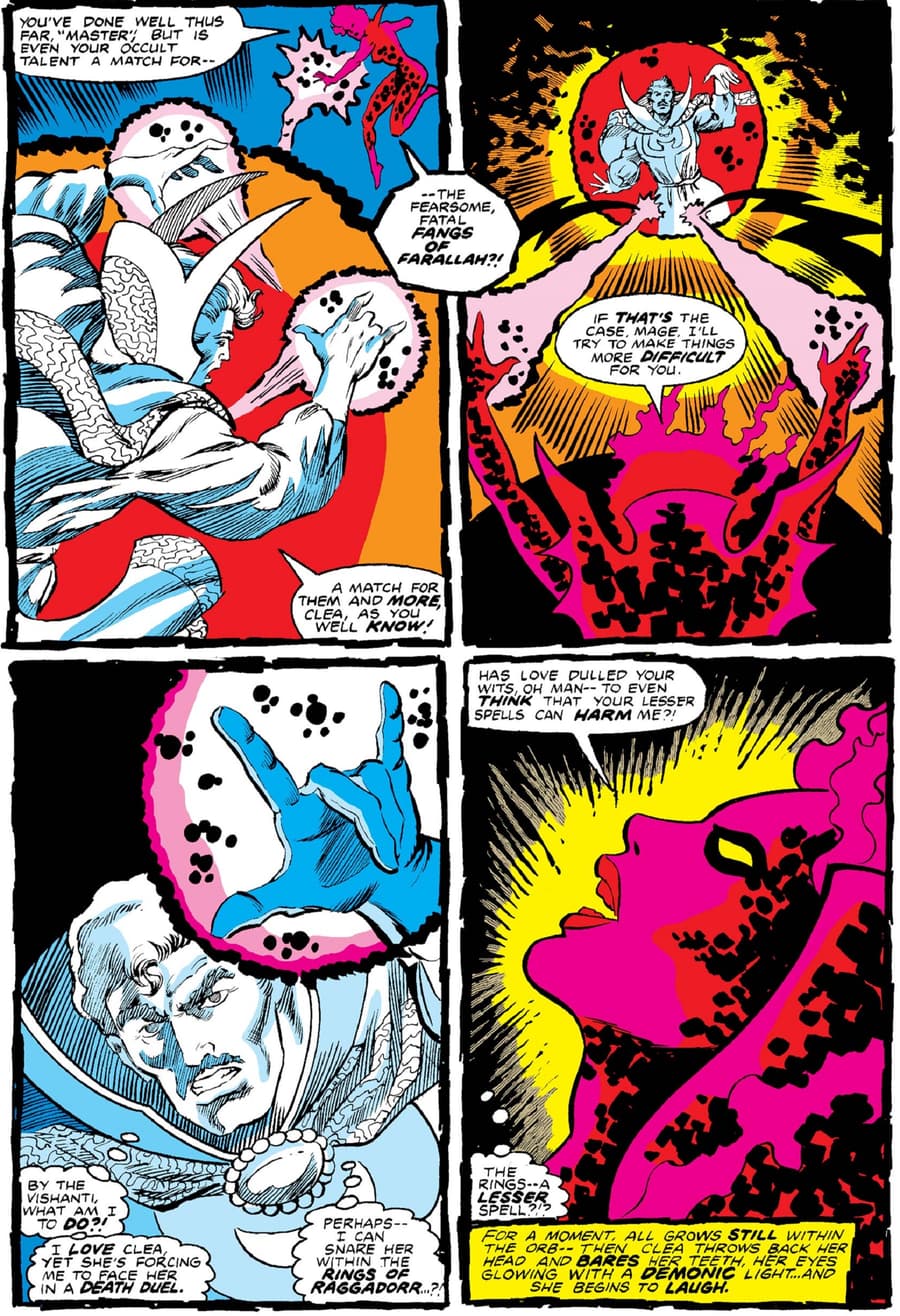 RULER OF THE DARK DIMENSION
With Strange's help, Clea defeated her parents, Orini and Umar, to take her rightful place as ruler of the Dark Dimension in DOCTOR STRANGE (1974) #74 (start with issue #69). Clea asked Strange to remain in the Dark Dimension as her consort, but he regretfully had to turn her down. As Earth's Sorcerer Supreme, Strange knew that he had a responsibility that he couldn't abandon, even if it meant that he couldn't stay with the love of his life.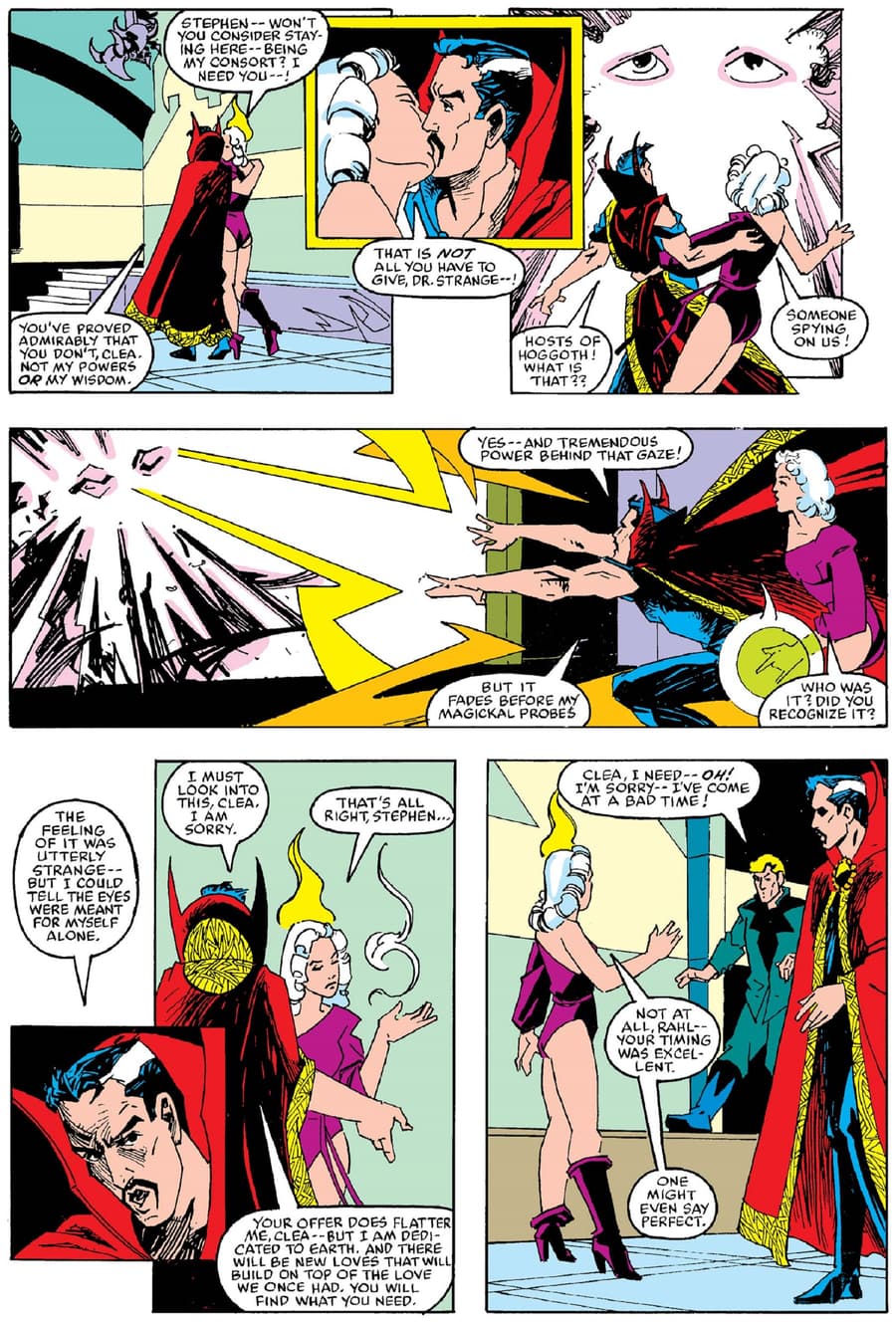 LOVE AND MARRIAGE
After a long period of courtship and occasional separation, Strange and Clea decided that they finally wanted to be bound to each other for life. More of a mystical union than a traditional wedding, Strange and Clea exchanged vows in DOCTOR STRANGE, SORCERER SUPREME (1988) #3. They each accepted enchanted rings, or more specifically, the "Two Rings That Are One," forging a connection more powerful than any human bond of matrimony. It also afforded Clea protection as a non-human inhabitant on Earth.
Plus, after enmeshing souls with each other in DOCTOR STRANGE (1974) #5 a formal ceremony wasn't needed.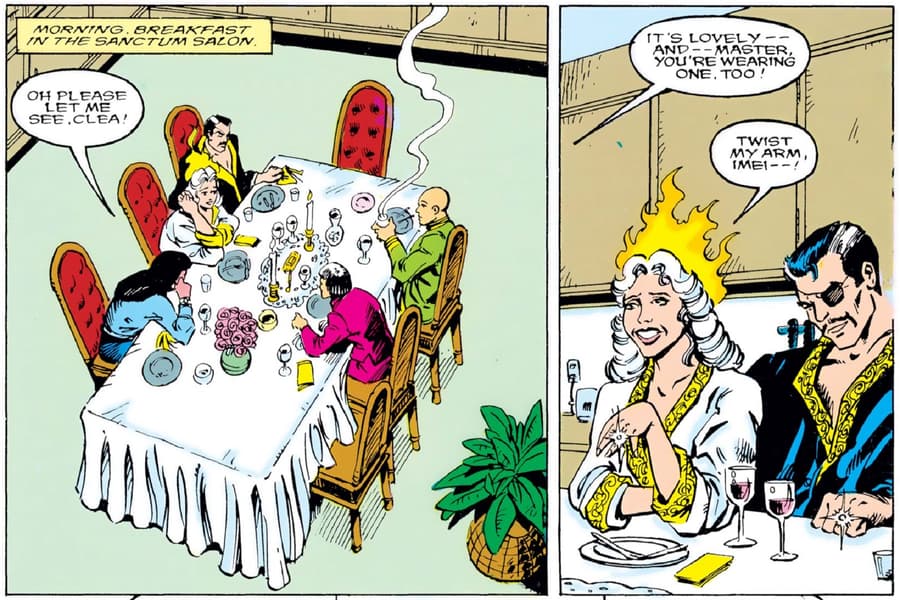 A PERIOD OF ESTRANGEMENT
Over time, Strange and Clea had drifted apart. The love they once shared was apparently gone, and her own pressure to rule the Dark Dimension drove the wedge in further. In DOCTOR STRANGE ANNUAL (2016) #1, Clea paid a visit to the Sanctum Sanctorum to make their separation official by severing the mystic bond between them. Instead of coming to terms on a divorce (for lack of a better word), Clea and Strange teamed up to save Wong from a demonic building contractor (they're the worst!). Because this reminded them of what they saw in each other and their individual strengths, the former couple decided not to go through with the mystical annulment. Instead, they parted as friends.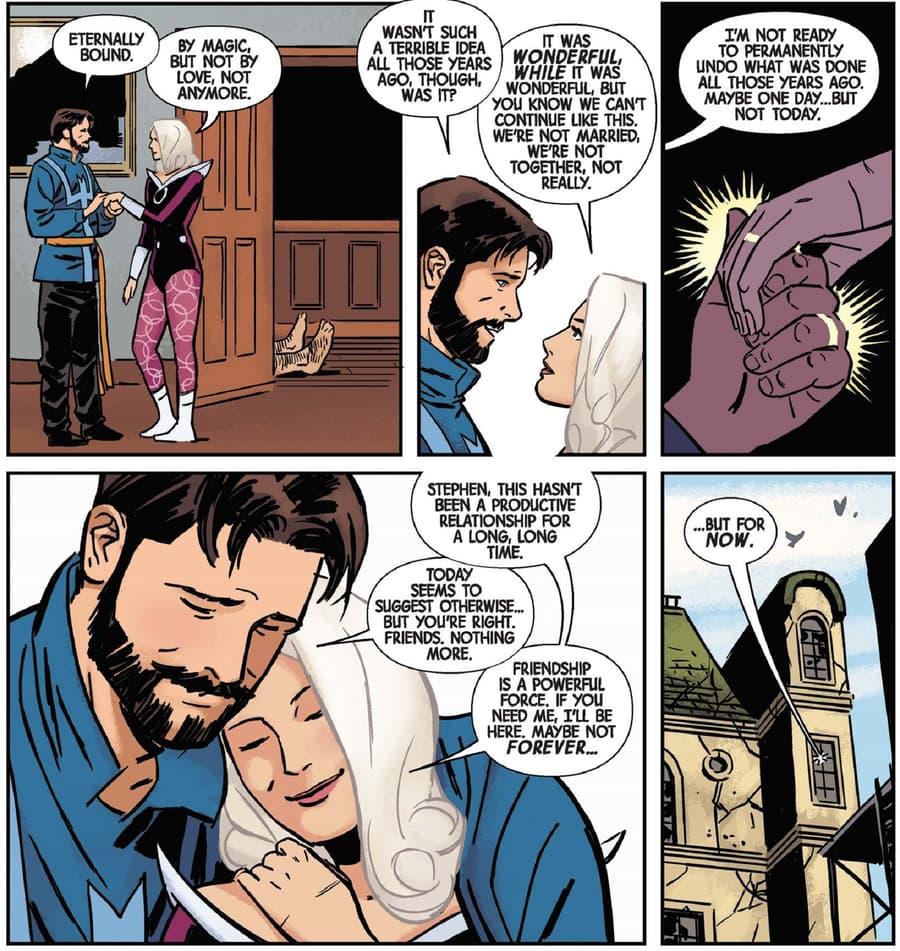 FORGET ME NOT
As Spider-Man fans can attest, Mephisto seems to enjoy tearing couples apart. He did it to Peter Parker and Mary Jane Watson in "One More Day," and in DOCTOR STRANGE (2018) #17, Mephisto pulled off a similar trick with Strange and Clea. Much like Peter Parker before him, Strange was in a desperate position when he approached Mephisto for help. But in this case, the stakes were nothing less than the survival of reality itself. The price of Mephisto's assistance was that Clea would lose all memory of Strange and the love they felt for each other. Strange had one last moment of hope with Clea before the spell took effect, and seemingly parted them forever.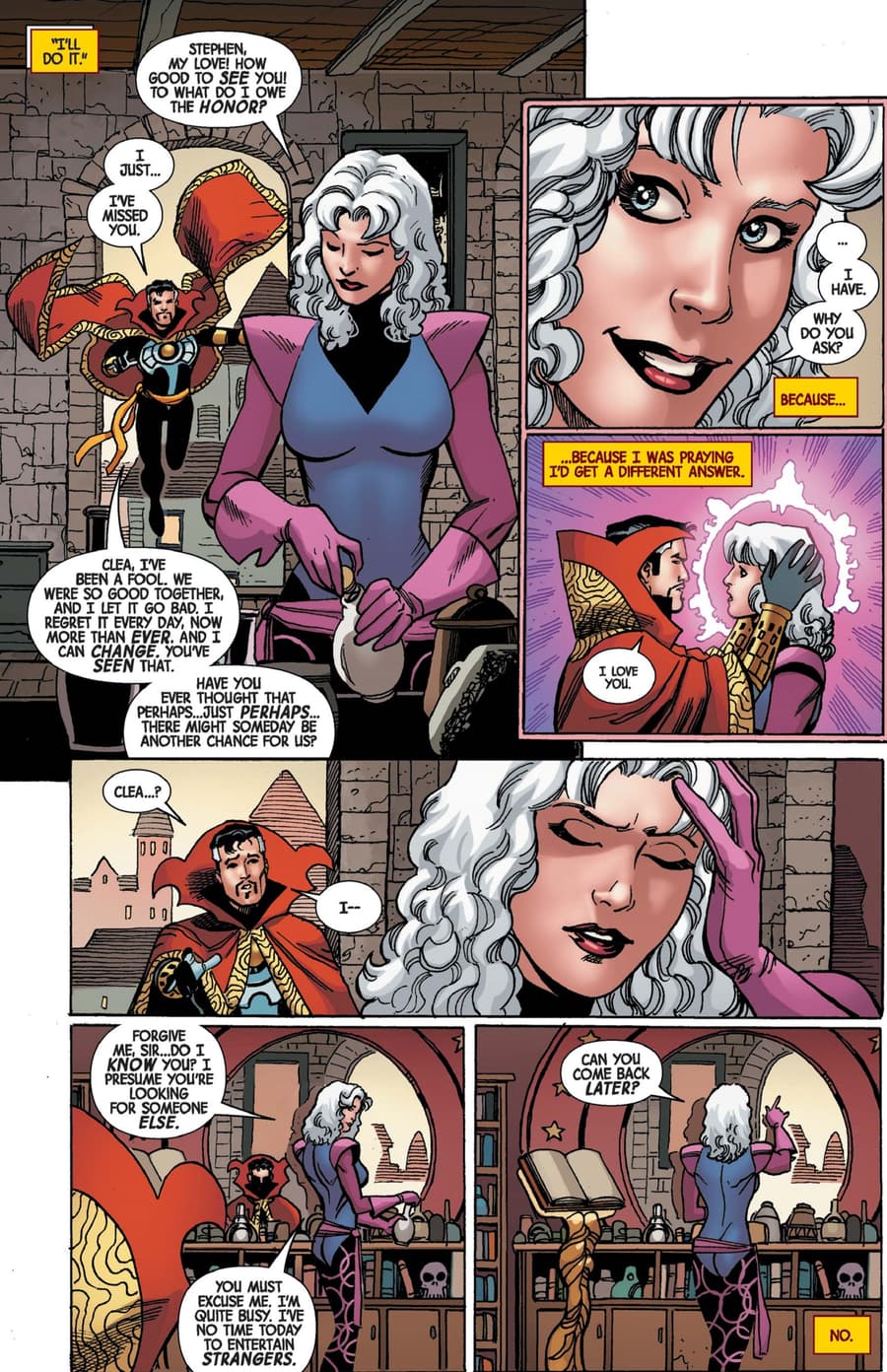 THE BIG GOODBYE
Following Stephen's murder in DEATH OF DOCTOR STRANGE (2021) #1, the deal he had struck with Mephisto was lifted and Clea was able to remember her time with Strange. Seeing Strange's past self in the present also rekindled Clea's feelings for Stephen. Although the younger Strange didn't know Clea, he was clearly drawn to her as well. He condemned the older Stephen as a fool for ever letting Clea go. Young Strange successfully brought Stephen back to life...but only temporarily. In DEATH OF DOCTOR STRANGE #5, Clea and Stephen were barely together long enough for a proper farewell. But this is not the end of their story.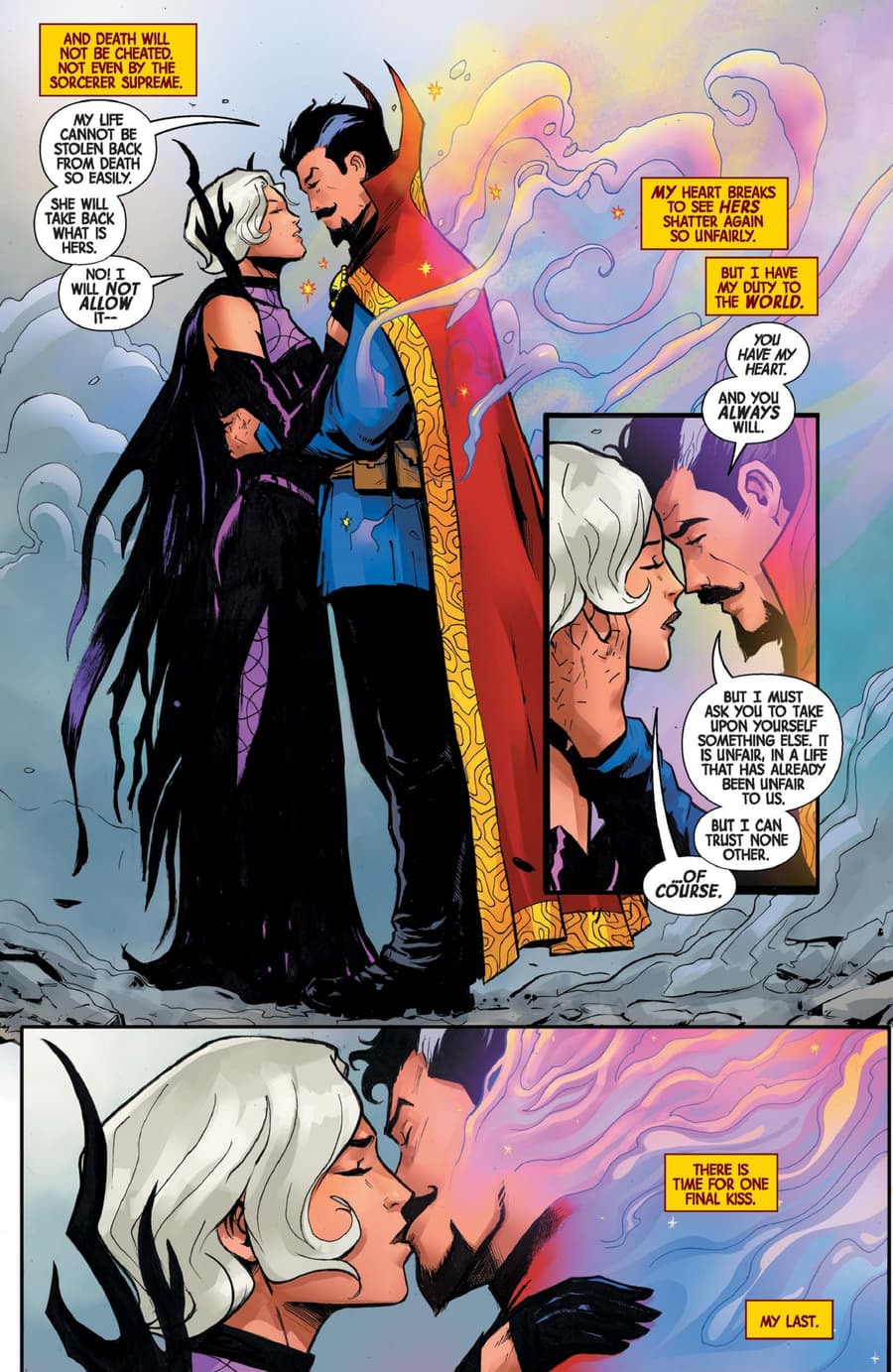 SORCERER SUPREME
In the wake of Strange's death, Clea took up residence in the Sanctum Sanctorum as of STRANGE (2022) #1. Somehow, Stephen Strange was able to bequeath the Eye of Agamotto, the Cloak of Levitation, and the title of Sorcerer Supreme directly to Clea. And in tribute to her late partner, she now goes by Clea Strange. Clea is also dedicated to finding some way to free Strange from Death's icy embrace in order for them to be reunited once more…
Download the Marvel Unlimited app for iOS or Android devices now for more stories starring the Scarlet Witch, Doctor Strange, America Chavez, and more. You'll also gain instant access to 29,000+ digital comics with new titles available as early as three months after they're in stores.
Follow Marvel Unlimited on Twitter and Facebook to stay tuned in to weekly announcements, articles, and more, all at @MarvelUnlimited. Follow us today to join the conversation with thousands of fellow fans, and let us know what you're reading!
The Hype Box
Can't-miss news and updates from across the Marvel Universe!