Comics
Published July 13, 2022
The Marvel Comics History of Hercules
Everything you need to know about Marvel's Prince of Power!
Gods walk among us in the Marvel Universe. Thor is easily the most high-profile deity on Earth, but there's one god who comes in right behind him: Hercules. The mythological demigod and hero is not only real, he has saved the modern world multiple times and served on the Avengers, the Champions, the Heroes for Hire, and even the Guardians of the Galaxy. That's an impressive resume for anyone.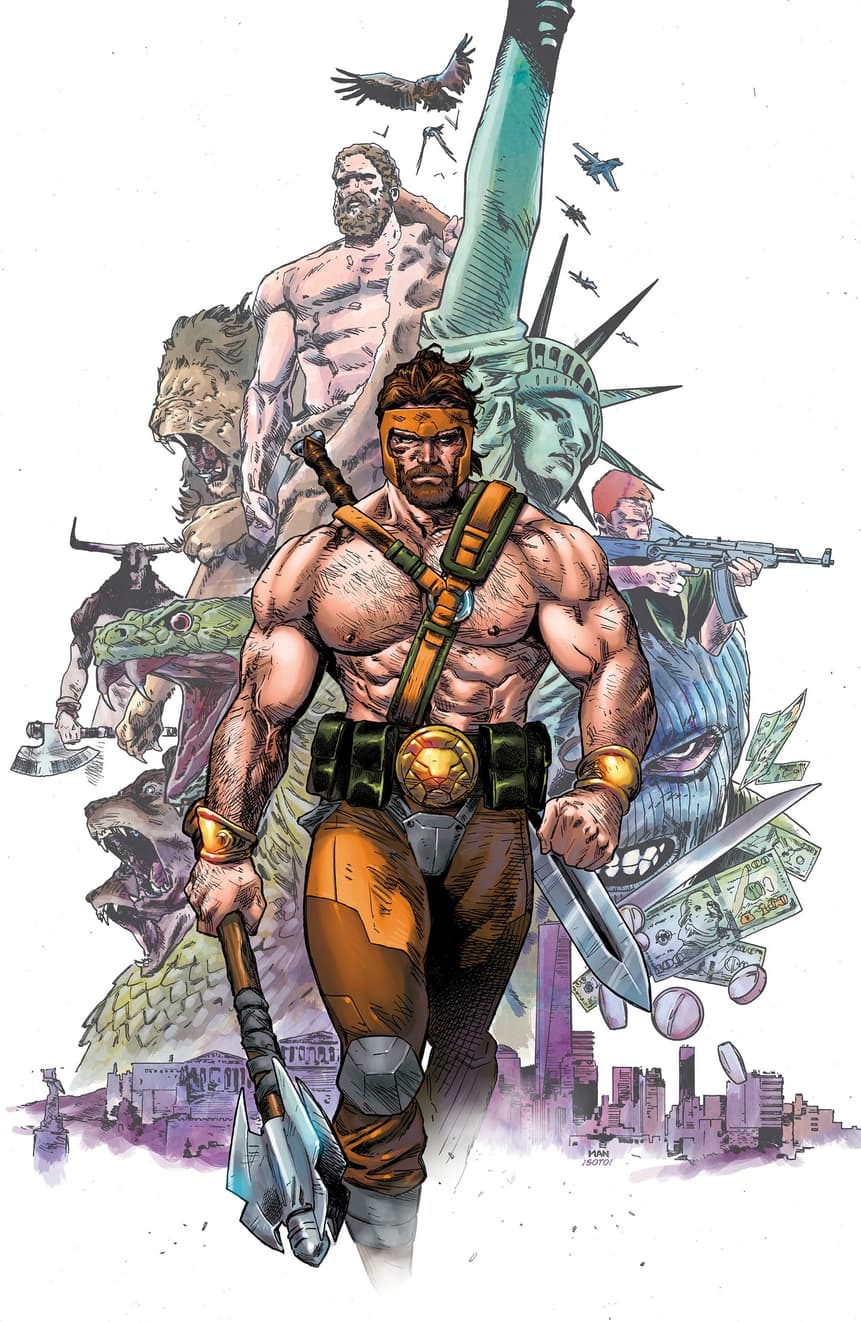 While Herc walks a heroic path, it hasn't stopped him from forming rivalries (friendly and otherwise) with Thor, Namor, Atlas, and even his half-brother, Ares. The son of Zeus rarely turns down the chance to prove his might, but that doesn't mean he won't welcome his rivals as friends when it comes time to share a few drinks and stories at the local tavern.
Here's everything you need to know about Hercules, the Prince of Power. Many of these stories are also at your fingertips if you subscribe to Marvel Unlimited.
LIVING IN ANTIQUITY
The first thing you should know is that Marvel's Hercules is a close adaptation of the Hercules from myth and legend. As such, almost everything you've heard about Hercules is true. He completed the Twelve Labors, and Herc established such a reputation for heroics that his name is still known today. Unfortunately, the stories of his life being marred by tragedy are also true. He married his first wife, Megara, and had children with her before he unintentionally murdered them when he was out of control with bloodlust.
This event was revisited in HERCULES (2005) #5, and the death of his family left Herc with massive guilt that he has never entirely let go of. Within that issue, the spirit of his late wife, Megara, offered Hercules the forgiveness that he longed for. But whether Hercules can ever truly forgive himself is a question that only he can answer.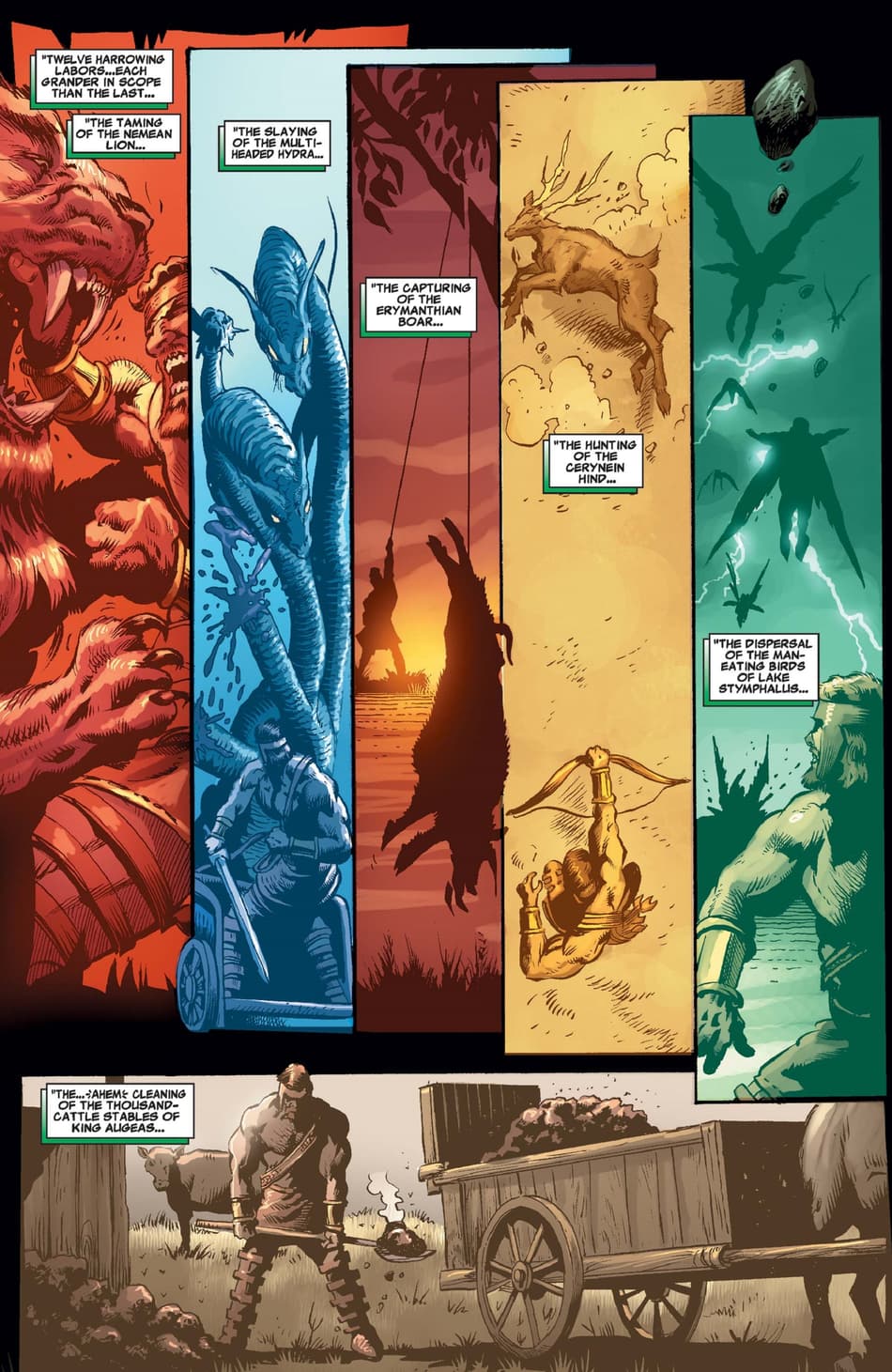 FRENEMIES OF THUNDER
Hercules' first meeting with Thor took place within JOURNEY INTO MYSTERY ANNUAL (1965) #1 and it wasn't a friendly encounter at the start. Thor was looking for a path to Olympus, and he found Hercules guarding a bridge and eager for a fight. The Odinson quickly obliged the son of Zeus, and they had a contest for the ages. It was also readily apparent that the two were evenly matched. So much so that Zeus saw the need to intervene, and he insisted that Thor and Hercules clasp hands and part as friends.
[RELATED: Get to Know Zeus and the Gods of Olympus]
In the subsequent years, Hercules and Thor have teamed up on many occasions and their friendship is genuine. And yet Hercules does seem to feel a lingering rivalry with Thor simply because the son of Odin is so beloved in the modern world. But that has never stopped Hercules from standing side-by-side with Thor when the fate of the Earth is on the line.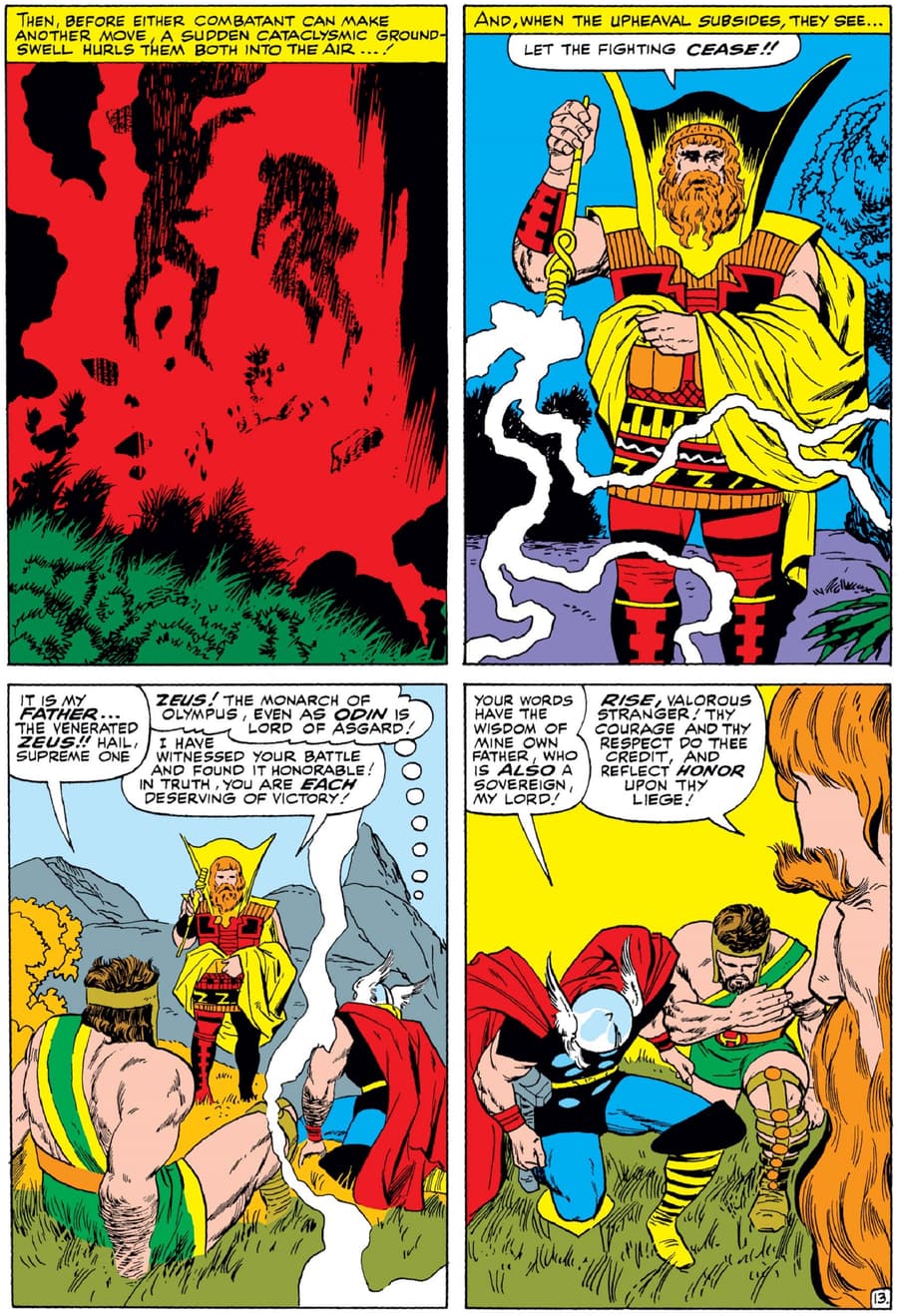 ONCE AN AVENGER...
After Hercules met Thor, it was only a matter of time before he came across Earth's Mightiest Heroes. In AVENGERS (1963) #38, the Enchantress used her powers to lure Hercules away from Olympus so that he could attack the team on her behalf. Once Hawkeye helped Hercules break free from the Enchantress' mystical mind control, he found himself exiled on Earth. For a while, Hercules was a houseguest who simply had nowhere else to go. But he proved himself fighting alongside the team, which is why Hercules officially became an Avenger in issue #45. Shortly thereafter, in AVENGERS (1963) #50, Hercules and his new friends saved Olympus and won the favor of Zeus.
Since then, Hercules has had multiple stints with the Avengers. Most notably, Hercules was nearly killed by the Masters of Evil during the "Under Siege" storyline, which led Zeus to declare war on the Avengers themselves in AVENGERS (1963) #281-285. A weakened and chastised Hercules helped his father see the error of his ways, and the Avengers were allowed to leave Olympus in peace.
Hercules was also alongside the team for some of its most memorable moments, including "Operation: Galactic Storm," "The Gathering," and the Onslaught crisis. Herc's last full stint with the team began in AVENGERS (2016), and continued all the way through "No Road Home." But there's an expression that seems fitting for Herc: "Once an Avenger, always an Avenger!"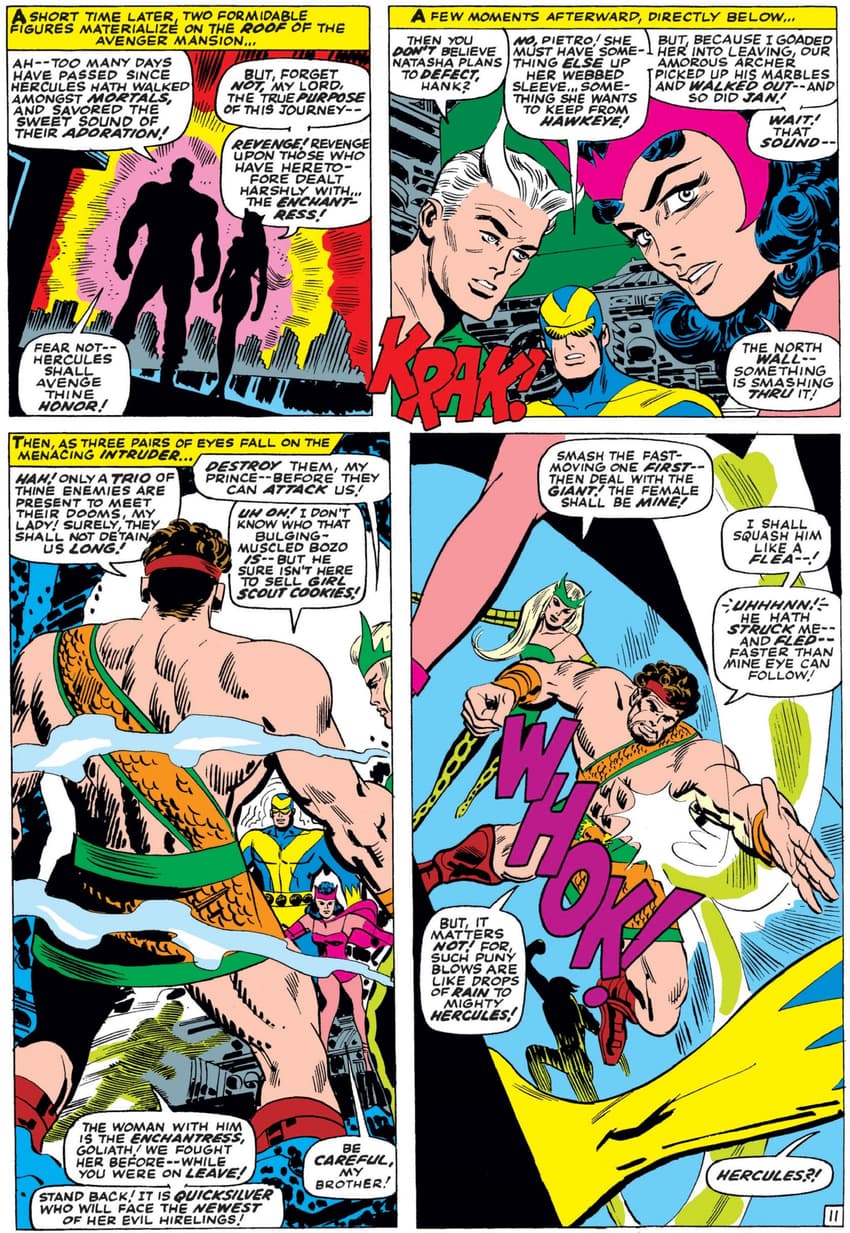 CHAMPIONS
Hercules couldn't walk the Earth without eventually co-founding a team of heroes of his own. While Thor was one of the first Avengers, Hercules was among the first heroes who declared themselves to be a Champion. In CHAMPIONS (1975) #1, Hercules, Black Widow, Iceman, Angel, and even Ghost Rider: Johnny Blaze found themselves united against Pluto's attempt to overthrow Zeus and the Olympians. Once the crisis had passed, the newfound group stayed together in Los Angeles. Hercules and Black Widow even formed a brief romantic relationship before deciding to remain friends instead of lovers.
The adventures of this team unfolded in CHAMPIONS (1975) #1-17, before an ignoble breakup was related through flashback in the pages of PETER PARKER, THE SPECTACULAR  SPIDER-MAN (1976) #17. But it was Herc's ties to the Champions that paved the way for some of his greatest modern adventures.
THE NEW ADVENTURES OF OLD HERCULES
During WORLD WAR HULK, Amadeus Cho put out the call for allies to rally around Hulk. Former Champions Hercules and Angel answered Amadeus' request, and this led to a long partnership between Herc and Amadeus. In the aftermath, INCREDIBLE HERCULES (2008) #113 reunited the pair as they took on S.H.I.E.L.D. After SECRET INVASION, Herc and Amadeus both joined Hank Pym's team in THE MIGHTY AVENGERS (2007) #21, while also continuing to have adventures on their own.
Hercules and Amadeus both played major roles in the CHAOS WAR, and their victory ultimately cost Herc his divinity. HERC (2010) #1-10 chronicled Hercules' adventures as a mortal hero without great power. Thankfully, his powers were restored by the events of HERCULES (2015), as Herc and his allies took on a dangerous group of new gods who called themselves Uprising Storm.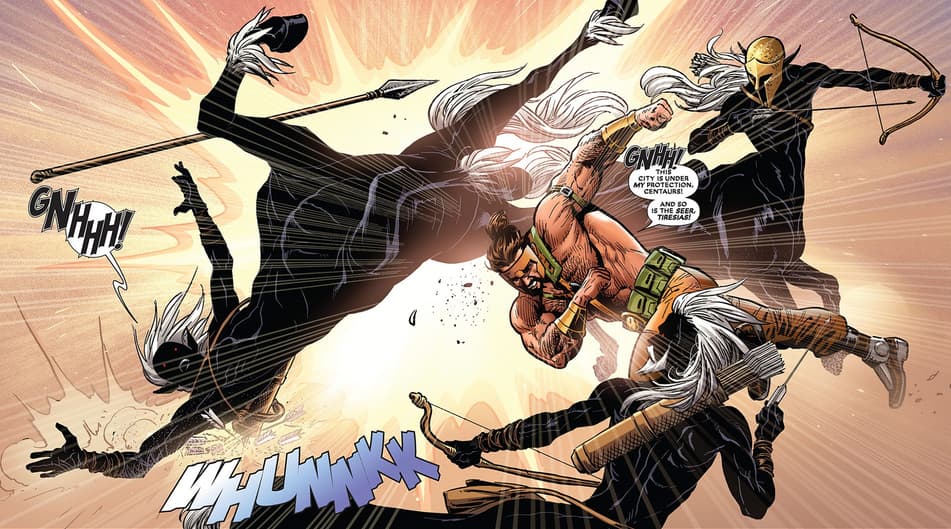 NO ROAD HOME
Herc's most recent adventure with the Avengers unfolded in the pages of AVENGERS NO ROAD HOME (2019) #1-10, with the most personal stakes possible. Nyx, the Goddess of Night, was freed from her eternal prison, and she immediately slaughtered Zeus and the Olympian gods. To prevent the end of the universe, Hercules joined with a ragtag team of Avengers and journeyed to the edge of creation to stop Nyx and her children.
But as before, death was only the beginning for Zeus and the Olympians...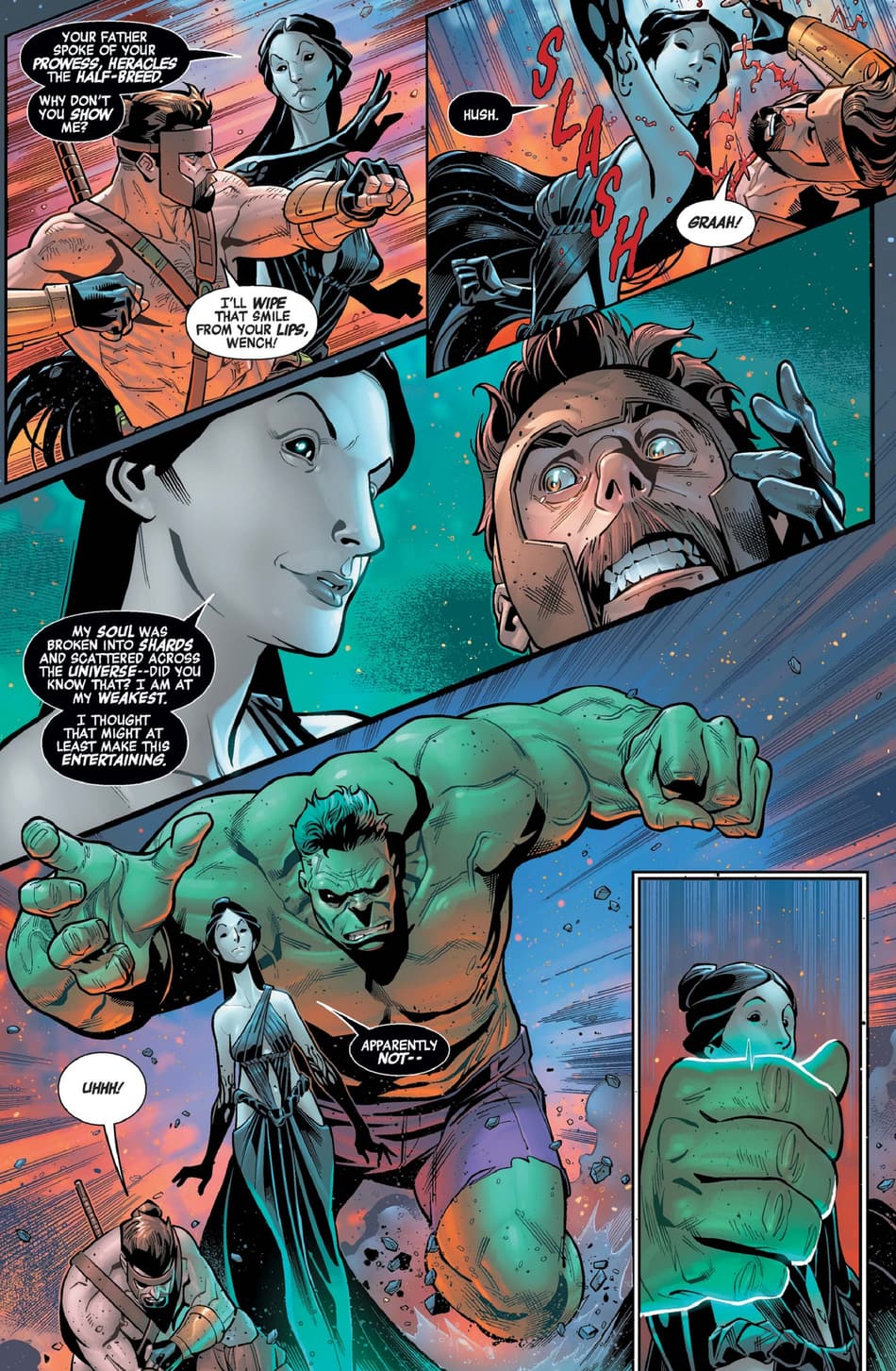 GUARDIANS OF THE GALAXY
As seen in GUARDIANS OF THE GALAXY (2020) #1, the Greek gods were reborn as the Dark Olympians, and they went on an intergalactic rampage. Hercules was captured by his transformed relatives, before the Guardians freed him in issue #2. Despite his newly aged appearance, Hercules aided the Guardians and ultimately joined the team for further adventures in the cosmos.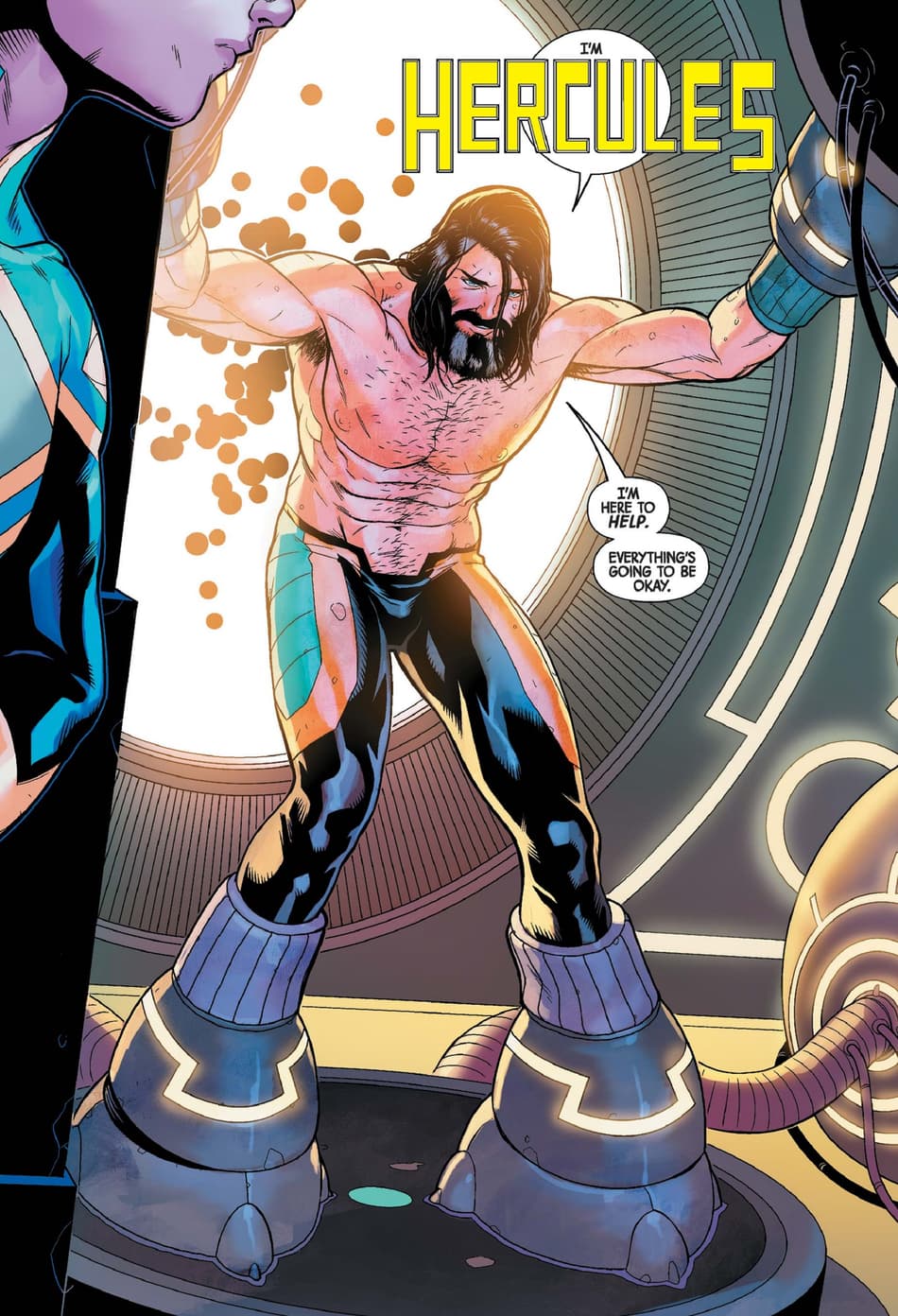 LIVING IN THE FUTURE
The future of the Marvel Universe is an ever-changing beast. But HERCULES (1982) #1-4 established a timeline where Herc was still alive in the 24th century and having adventures in space. HERCULES (1984) #1-4 pitted Herc against his father, Zeus, before they ultimately reconciled. Decades later in, HERCULES: PRINCE OF POWER: FULL CIRCLE, Hercules learned that his own son, Arimathes, had become a vengeful god who believed that his father had wronged him. Because of his own experiences with Zeus, Hercules resolved to work out his differences with Arimathes and he prevented his son from going down a path of darkness.
Hercules' journey in the future came to an end in HERCULES: TWILIGHT OF A GOD (2010), in which Herc fulfilled his final destiny and saved the universe once more. Whether this future will ultimately come to pass remains to be seen. But the Prince of Power will always have a place in the Marvel Universe.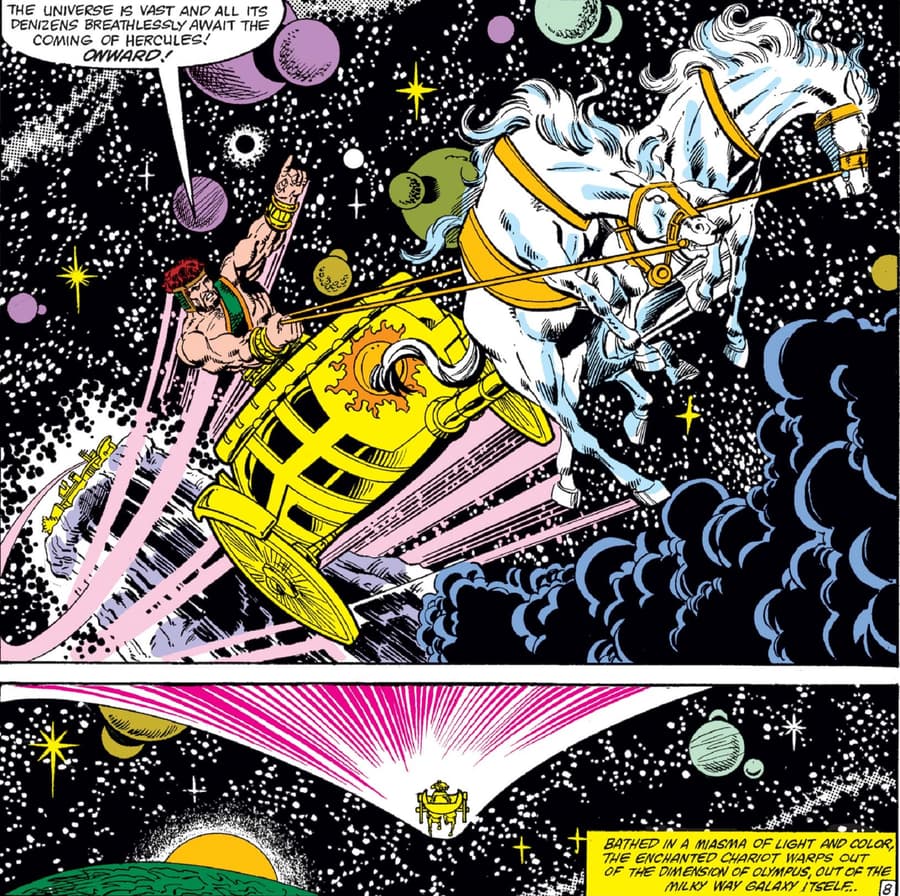 The Hype Box
Can't-miss news and updates from across the Marvel Universe!