Comics
Published June 29, 2022
Who Is Red Dagger?
Get to know the hero that Karachi can count on!
Have you tried Marvel Unlimited yet? It's your all-access pass to over 29,000 Marvel comics at your fingertips.
He is the protector of Karachi, Pakistan. He's a bad guy's worst nightmare. He also…has really great hair. He is none other than Laal Khanjeer, or, for those who don't speak Urdu, the Red Dagger!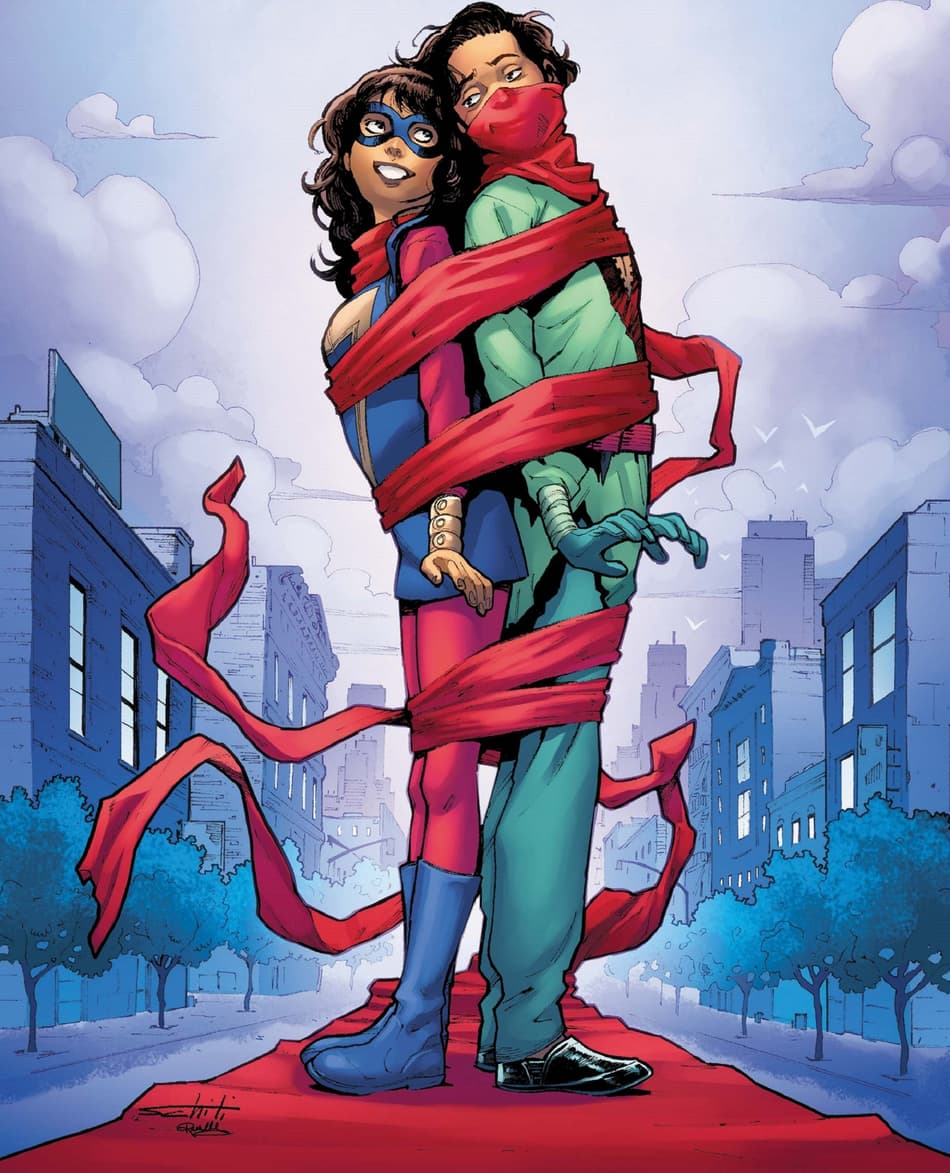 An ally of Ms. Marvel: Kamala Khan, he wants nothing more than to help people. But Red Dagger didn't experience a life changing moment like being "struck by radioactive lightning" or being enveloped in a cloud of Terrigen Mist. He's just a regular guy who decided to grab a costume and be a hero, putting his life on the line for what he believes in.
But surely there's more to him, right? Of course! With Red Dagger co-headlining in LOVE UNLIMITED: MS. MARVEL AND RED DAGGER (2022), a six-part Infinity Comic story arc only on the Marvel Unlimited app, there's no better time to explore his history! Let's take a closer look at the man behind the red scarf.
[RELATED: We Talk 'Ms. Marvel & Red Dagger' with Creators Nadia Shammas and Natacha Bustos]
FIRST APPEARANCE
Red Dagger was introduced in MS. MARVEL (2015) #12 during Kamala's trip abroad to Karachi, Pakistan. Kamala, as Ms. Marvel, runs into him while stopping criminals one night, and they initially start off on the wrong foot. He felt that she had encroached on his turf (gotta check in with the local heroes, Ms. Marvel!), but after talking it out, the two become cordial.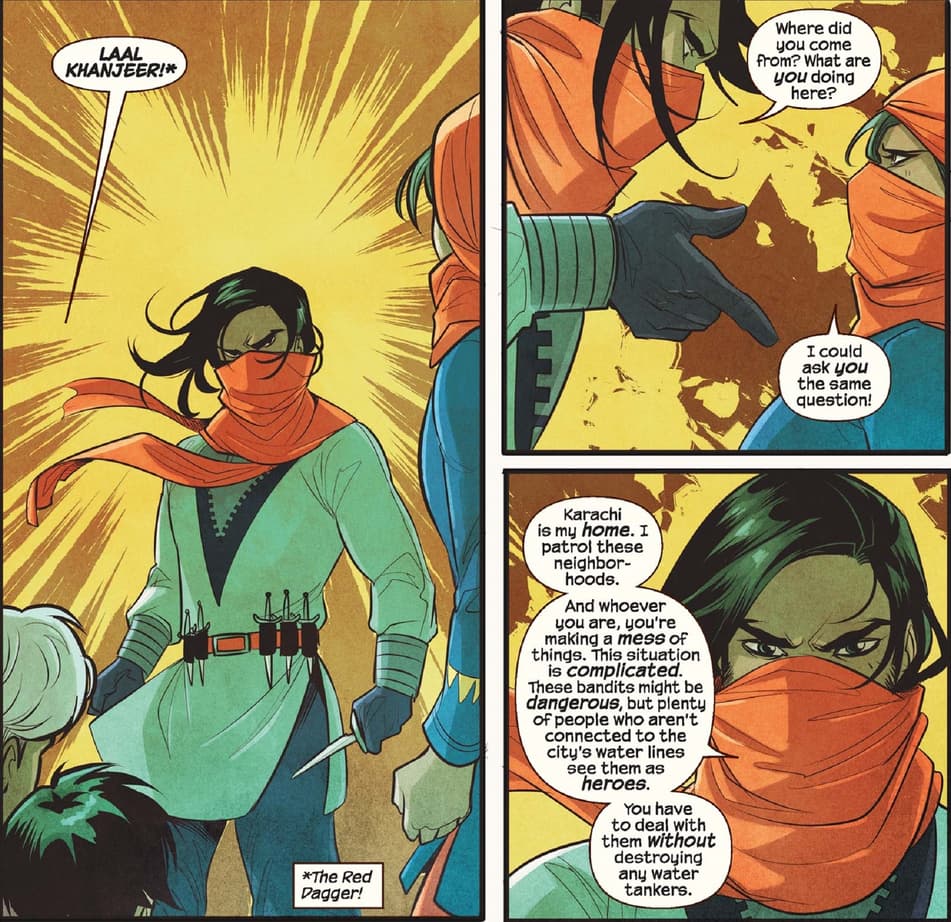 SECRET IDENTITY
What Kamala doesn't know is that she's already met Red Dagger, but as her family's "friend-in-law" Kareem. He lives with Kamala's grandmother, but his family is originally from Badin. When he's not protecting the locals, Kareem is a normal guy studying for his university exams.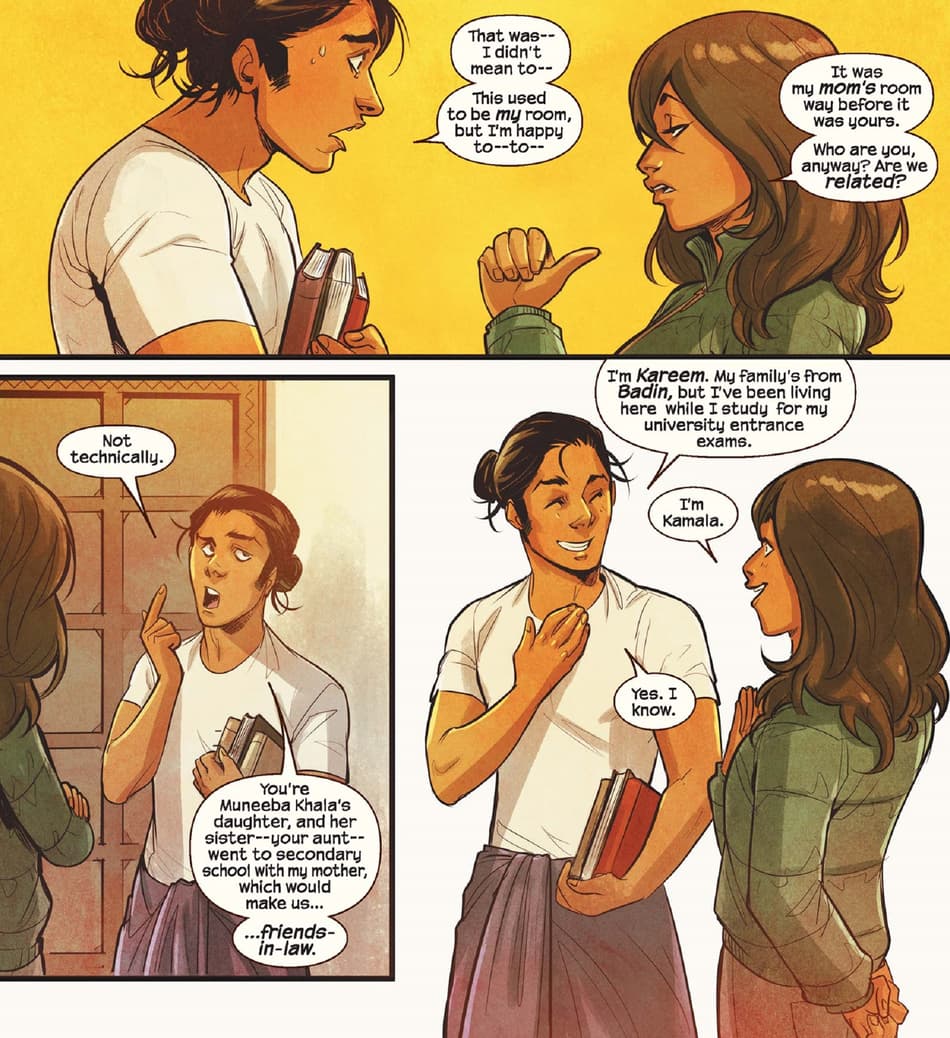 WEAPON OF CHOICE
Even though "Dagger" is in his name, Red Dagger prefers to use throwing knives against his foes. He's also a parkour master, which he learned from videos on the internet! Who says falling down a YouTube rabbit hole is a waste of time?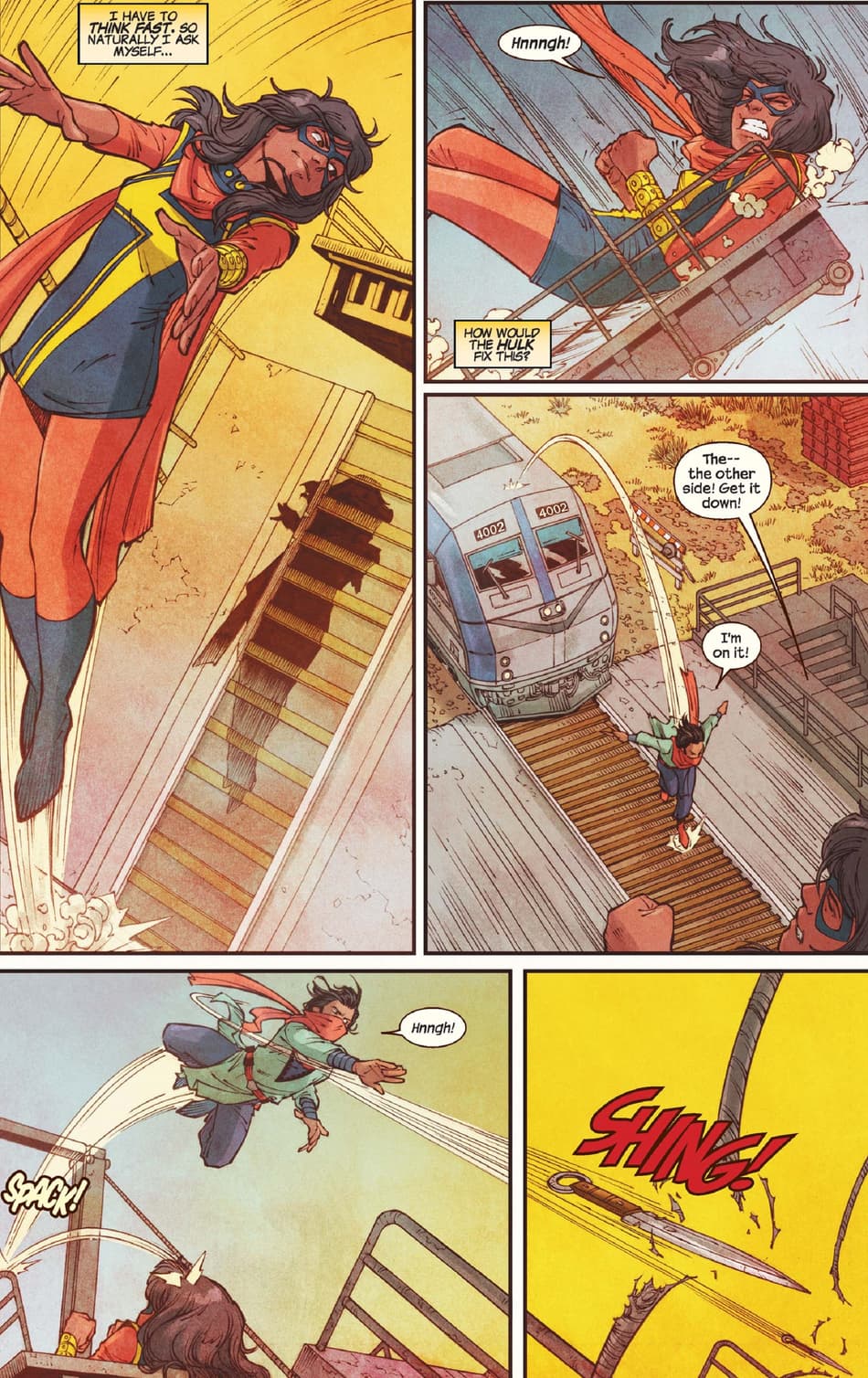 RETURN OF THE DAGGER
The hero from Karachi later made his reappearance…in Jersey City!? This time, Red Dagger was the stranger in a new environment as he arrived in Ms. Marvel's hometown in MS. MARVEL (2015) #23. (The true reason is because Kareem was there for a semester to earn foreign-language credits for his college applications.) He aided Ms. Marvel in halting a runaway train and moving that same train from colliding with another train and from turning into a rollercoaster in issue #24.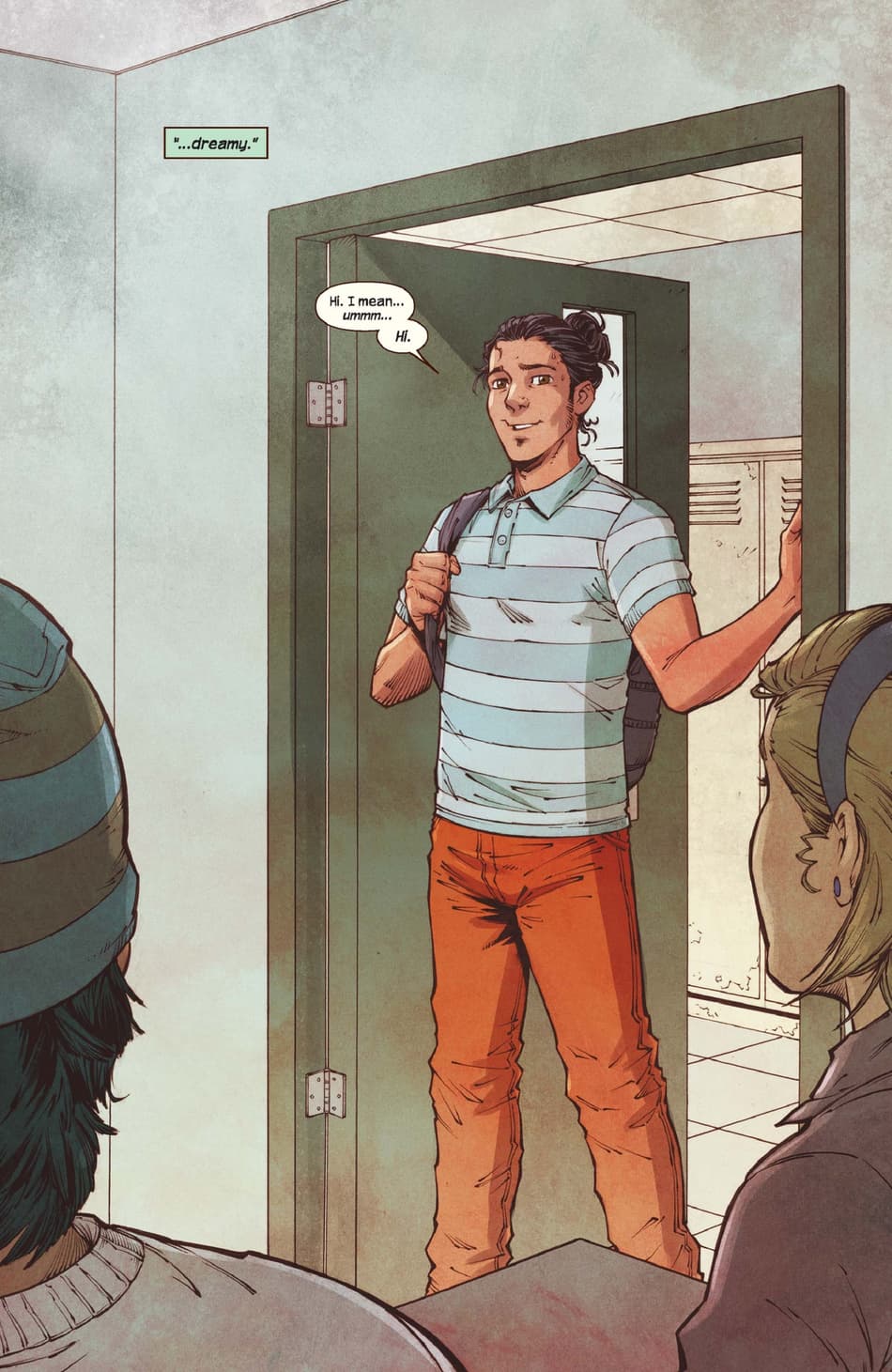 SUBSTITUTE HERO
Unfortunately, Red Dagger's appearance sparked some tension between him and Ms. Marvel. The media was invested in him and gave him sole credit for saving the train. Which was a two-person job. Although, when Ms. Marvel temporarily exited hero work, Red Dagger stepped in (along with the Kamala Corps) to defend Jersey City from the recently released Inventor and his cybernetic animals in MS. MARVEL (2015) #25-28.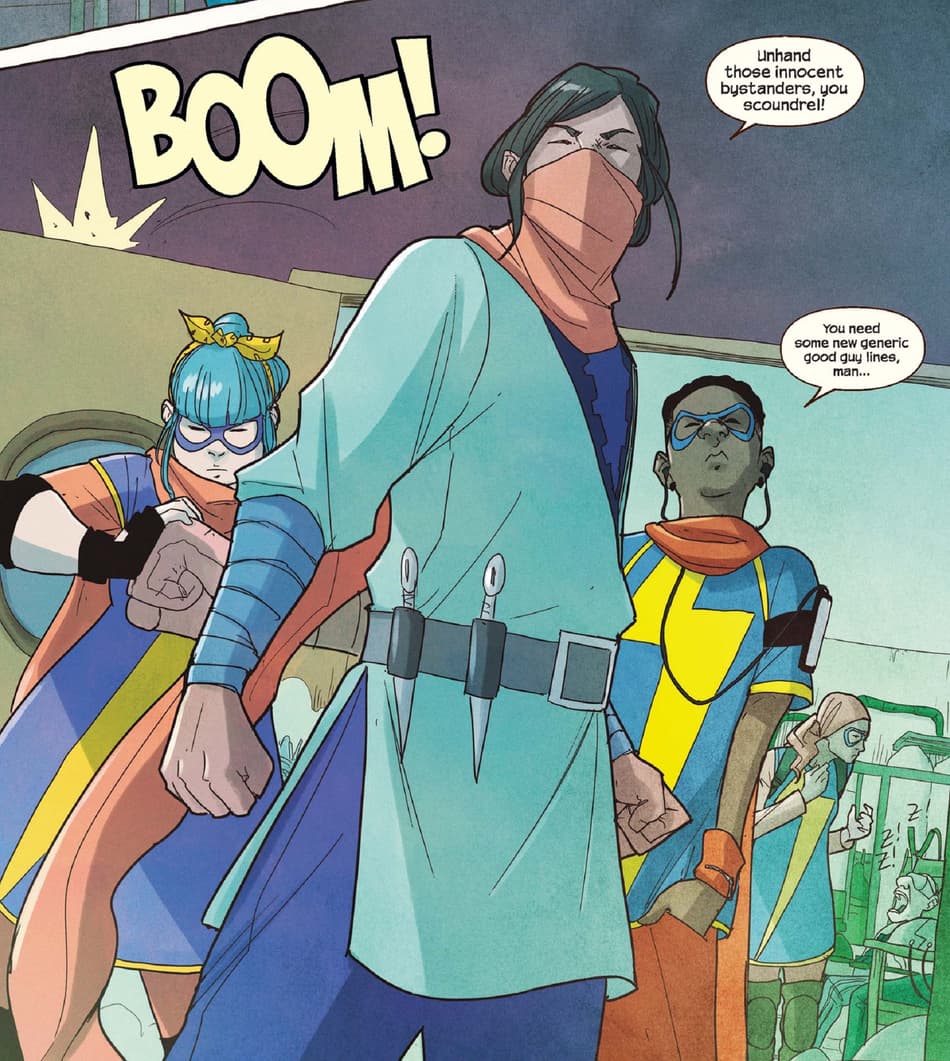 SUPER-CRUSH
It was hinted that Red Dagger has feelings for Ms. Marvel, and vice versa, in MS. MARVEL (2015) #24. They flirted with each other, and the flirtation culminated in something more in issue #29 when Red Dagger kissed Ms. Marvel! In the following issue, Red Dagger suggested "taking the masks off" to reveal their true identities, but Ms. Marvel wasn't ready to do so. Thus, a romantic relationship stopped before it could even begin.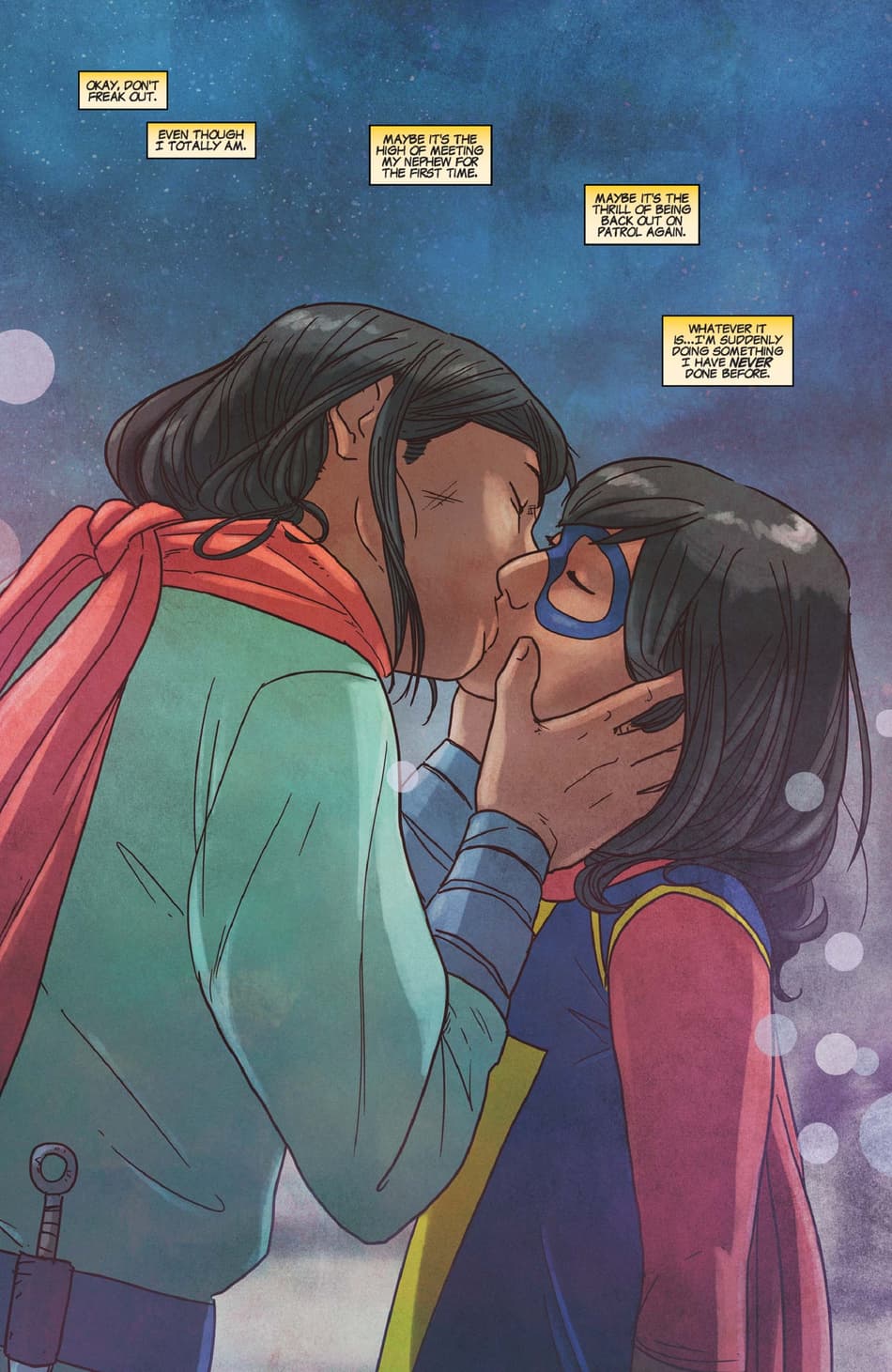 WHERE IS HE NOW?
After one more tag team with Kamala in MS. MARVEL (2015) #30, Kareem returned home to Karachi. Red Dagger wouldn't be seen again until MARVEL'S VOICES: IDENTITY (2021) #1. Three years later (in real world time)! Ms. Marvel, who happened to be on vacation in Karachi, rescued Red Dagger from some baddies, and the duo showed off why they are not to be messed with. They flirted with each other at Clifton Beach, but the mood was completely ruined when Red Dagger called her a "self-hating Pakistani" during a conversation. Ouch.
However, this is not the last time the two heroes meet…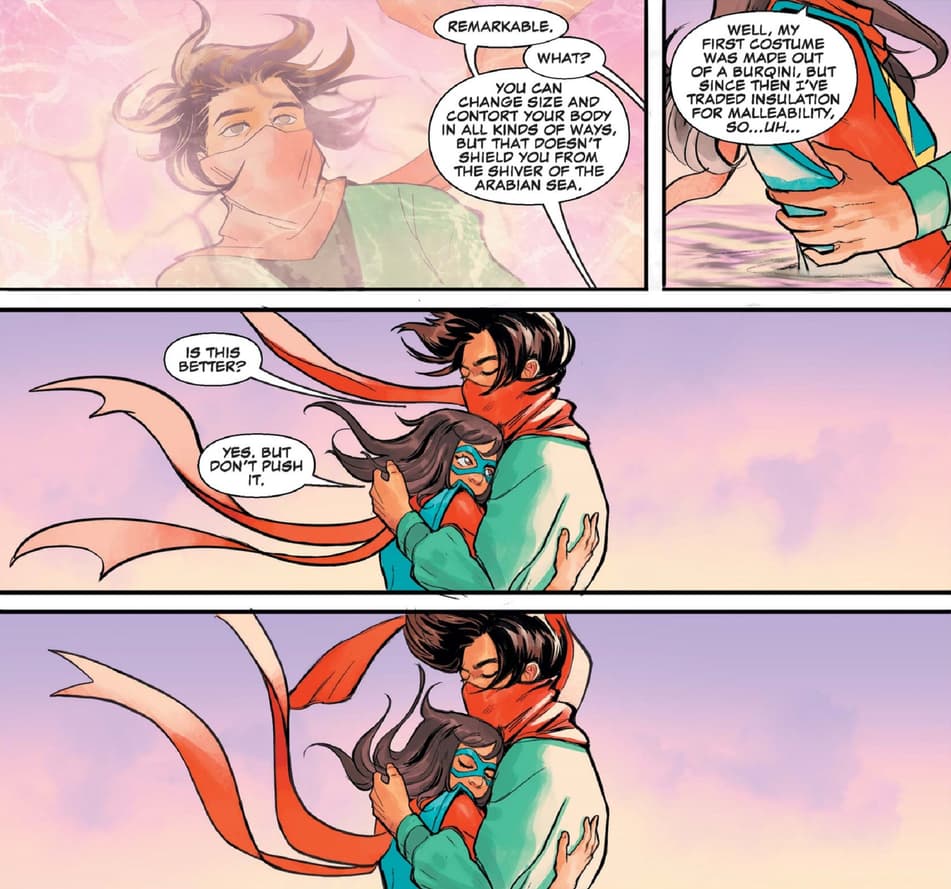 As previously mentioned, Red Dagger is currently featured in romance anthology series LOVE UNLIMITED on the Marvel Unlimited app. This "Ms. Marvel & Red Dagger" arc picks up after their previous interaction in MARVEL'S VOICES: IDENTITY. Red Dagger travels back to the U.S. to stop a museum thief, who recently hit the Lahore Museum in Pakistan. While they are patrolling the Metropolitan Museum of Art, he learns more about Ms. Marvel's personal life and old feelings arise.
Will things work out for Red Dagger and Ms. Marvel this time? It's an ongoing story arc, so you'll have to read it to find out! All comics mentioned above are available on the Marvel Unlimited app so grab this hometown hero's history for yourself!
Download the Marvel Unlimited app for iOS or Android devices now for more stories starring Ms. Marvel, Red Dagger, and more. You'll also gain instant access to 29,000+ digital comics with new titles available as early as three months after they're in stores.
Follow Marvel Unlimited on Twitter and Facebook to stay tuned in to weekly announcements, articles, and more, all at @MarvelUnlimited. Follow us today to join the conversation with thousands of fellow fans, and let us know what you're reading!
The Hype Box
Can't-miss news and updates from across the Marvel Universe!