Comics
Published January 11, 2017
Who Should Lead S.H.I.E.L.D.?
Steve Rogers leads the search for a new head of the spy organization!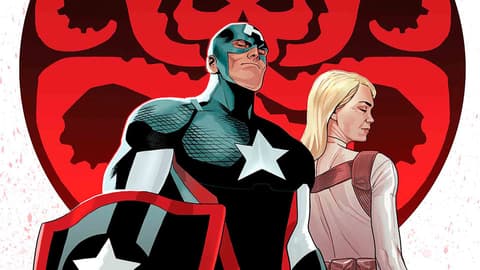 On February 8, CAPTAIN AMERICA: STEVE ROGERS #11 by Nick Spencer and Jesus Saiz reveals Maria Hill's days as head of S.H.I.E.L.D. have come to an end, thanks to her recent actions and subsequent court martial. Hill joins a short but impressive list of ex-S.H.I.E.L.D. leaders, one that includes Nick Fury, of course, as well as Tony Stark, Steve Rogers, G.W. Bridge, and even Norman Osborn.
With the job vacant and a want ad no doubt hitting the job boards sometime soon, here's a list of potential candidates for the high-pressure, high-stakes role.
Sharon Carter
Sharon seems a natural choice as leader of the organization. Not only a legacy—she claims the infamous Peggy Carter as her great aunt—she also currently serves as interim director, while the powers-that-be determine Maria Hill's fate. Her history with Captain America and groups like the Secret Avengers give her inside knowledge on the super hero community, something that would help any potential director. Her one drawback? Possibly her current condition. Her time in Dimension Z resulted in premature aging, which could affect her ability in the field—and we all know that every director always ends up getting their hands dirty in the field at some point.
Nick Fury
He already has the name, so why not? The man once known as Marcus Johnson had a military background before learning he had the legendary Nick Fury for a father, and following that reveal he joined S.H.I.E.L.D. and has tried to carve out a name of his own. While he has the chops, his lack of experience might play against him.
Jimmy Woo
Woo served as both an FBI and S.H.I.E.L.D. agent before taking over the Atlas Foundation with his teammates, the Agents of Atlas. While currently running a school for superhuman kids in Asia, perhaps a new job offer could lure him back to S.H.I.E.L.D.—and lead to the reinstatement of Gorilla-Man as an agent.
Mockingbird
While most fans probably know Bobbi Morse as the super hero Mockingbird, the former Avenger also served as an agent of S.H.I.E.L.D., helping to uncover corruption in the organization once upon a time. Since then she's literally been to hell and back, and even ran her own "World Counter-terrorism Agency." So she has experience, the know-how and tenacity to lead S.H.I.E.L.D. into the future.
Pepper Potts
While the others on this list all have experience in the ranks of S.H.I.E.L.D., perhaps the division needs an outsider's perspective. The former Rescue has some hero experience herself, not only as Iron Man's armor-wearing partner but also as a member of the Order. She possesses a keen mind, a strong will and a good heart, which after the group's recent PR nightmares could help S.H.I.E.L.D. recover the trust it needs to perform its duties.
Find out who steps up for S.H.I.E.L.D. on February 8 in CAPTAIN AMERICA: STEVE ROGERS #11 by Nick Spencer and Jesus Saiz!
The Hype Box
Can't-miss news and updates from across the Marvel Universe!