Comics
Published October 7, 2020
Wolverine and Storm Make Sacrifices in 'X of Swords'
Spoiler alert! Read through the ramifications of today's 'X of Swords' chapters 3, 4, and 5!
Warning! This article contains spoilers for today's WOLVERINE #6, X-FORCE #13, and MARAUDERS #13, so read on at your own risk, mutant mavens!
The march to war continues this week in three installments of X OF SWORDS, the first X-Men crossover event in the Dawn of X. In previous chapters, Apocalypse's children, the original Horsemen, betrayed their father and declared their intent to conquer Krakoa and its mutant nation.
However, Saturnyne struck an unusual bargain between the mutants and the Arakkii. Each side will have ten champions and each side will take ten special swords into battle within the Otherworld arena. And if the X-Men die in Otherworld then they will be truly dead, because not even the Resurrection protocols can save them.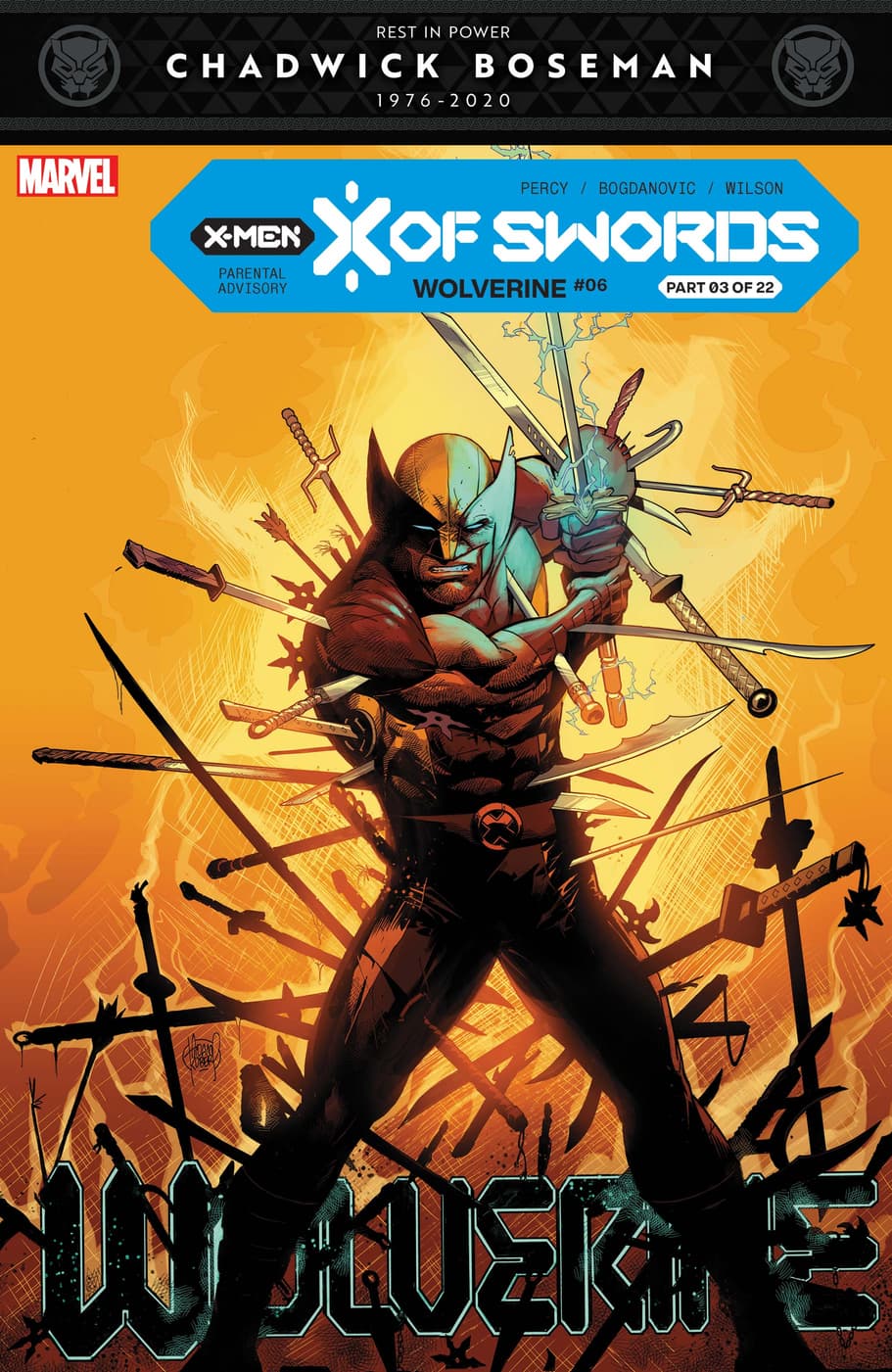 Writer Benjamin Percy and artist Viktor Bogdanovic are the creative team for a two-part mini-epic in WOLVERINE #6 and X-FORCE #13. To kick things off, Wolverine confronts Krakoa itself about the External Gate which has endangered them all. Krakoa wants to be reunited with Arrako, and Logan feels betrayed because the island is endangering the mutants it agreed to protect and nurture. Logan once befriended one of Krakoa's sons, in WOLVERINE & THE X-MEN (2011), but now that trust has been shattered.
Get used to that feeling, by the way...it's going to be a common theme this week.
The early pages of WOLVERINE #6 recount the origin of the Muramasa Blade that was forged by an immortal madman of the same name. As revealed in WOLVERINE (2003) #40, Muramasa created that sword out of a piece of Wolverine's soul following the death of his wife, Itsu, and the apparent (but not actual) demise of their son, Daken. The original Muramasa blade was destroyed, but that didn't stop Logan from seeking a replacement.
However, Logan isn't the only one looking to claim a Muramasa sword. In Arakko, at the Tower of Broken Will, War reluctantly goes to free her husband's murderer, Solem. She thought that Solem would be broken and desperate after 100 years in solitude. But instead, War finds that Solem has all of the comforts of home because he still inspires love and devotion from his admirers.
The supplementary material notes that Solem was a lover to Bracken, War's husband and the father of Summoner. But Solem has never been able to seduce War herself, which may have been his ultimate design. He cheerfully accepted War's reluctant invitation to seek the Muramasa sword on behalf of the Arakkii.
Meanwhile, Logan has a brief reunion with his former lover, Mariko, which largely takes place off-panel. The Hand resurrected Mariko as the Scarlet Samurai in OLD MAN LOGAN (2016) #31-33, and Mariko's words to Logan suggest that he has not fully accepted her return. But Mariko does have vital information about the Hand that leads Logan to Muramasa's location in Hell.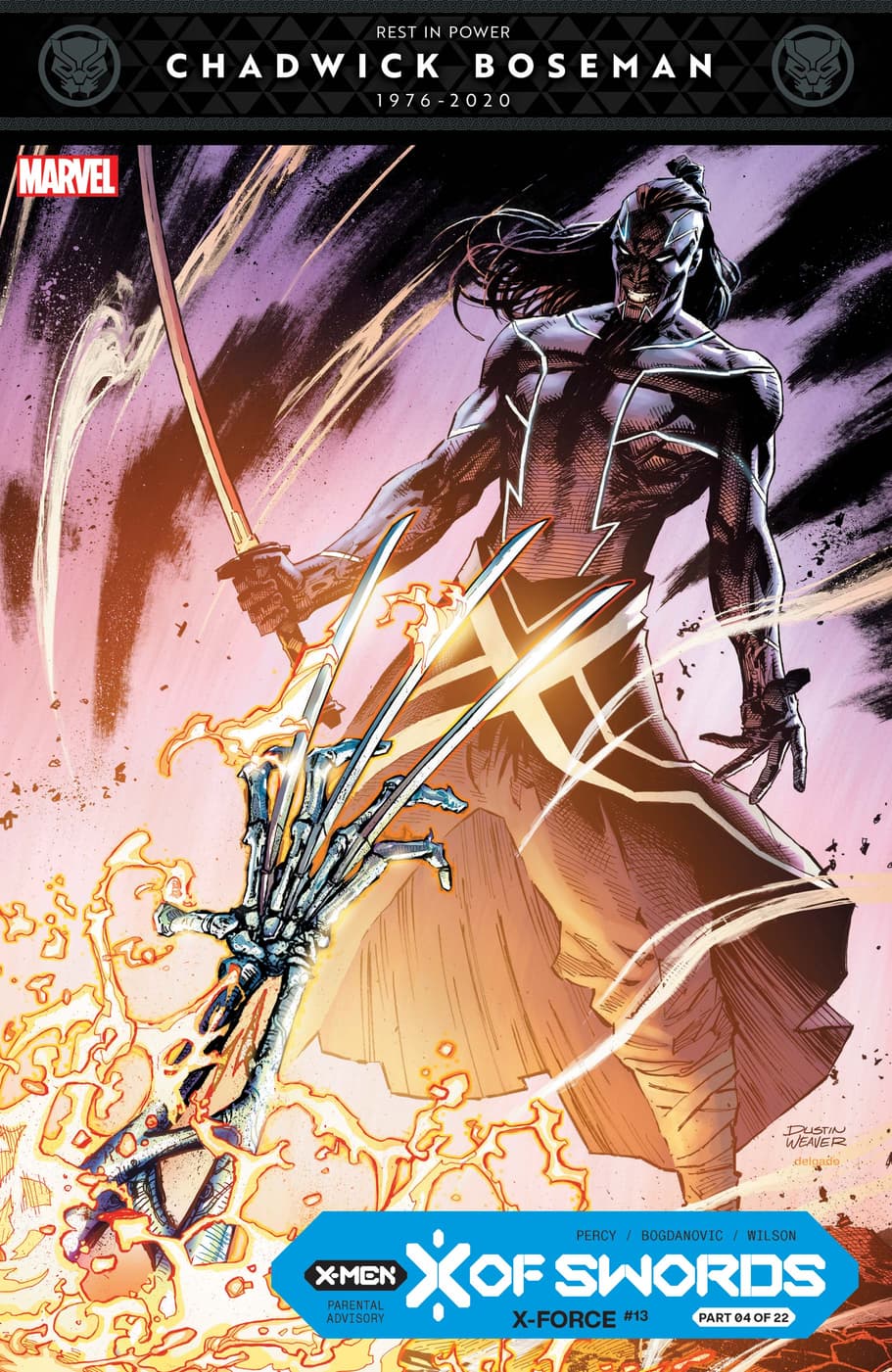 X-FORCE #13 continues the story with the unsettling revelation about the Hand and the Beast (the demon, who is definitely not Hank McCoy). The Beast once possessed Daredevil in SHADOWLAND, but now, even the rank and file members of the Hand are one with the Beast. And they easily thwart Wolverine's attempt to rescue Muramasa from Hell.
Within the bowels of Hell's dungeons, Logan and Solem finally meet face-to-face. Solem seems to instantly like Logan, as he declares that "the two of us were clearly meant for each other, as best friends or worst enemies."
Together, they break out and crash a marriage in Hell between two Hand members who were being joined in matrimony by the Beast himself. Muramasa is slain, and his soul is absorbed into two new swords, which can even cut through adamantium. Solem ends up with both blades and has the opportunity to abandon Logan in Hell. Instead, Solem offers to sell his spare blade to Logan. Wolverine accepts the bargain, but it's unclear what the price will be... We suspect it will be very high indeed.
Finally, writer Vita Ayala and artist Matteo Lolli continue X OF SWORDS with MARAUDERS #13. This issue is more of a spotlight on Storm, but it also reveals the origin of Skybreaker, "the voice of the Heavens." It was the first Vibranium weapon and it is sacred to the people of Wakanda. By studying the Vibranium within Skybreaker, Wakanda became one of the most technologically advanced nations on Earth.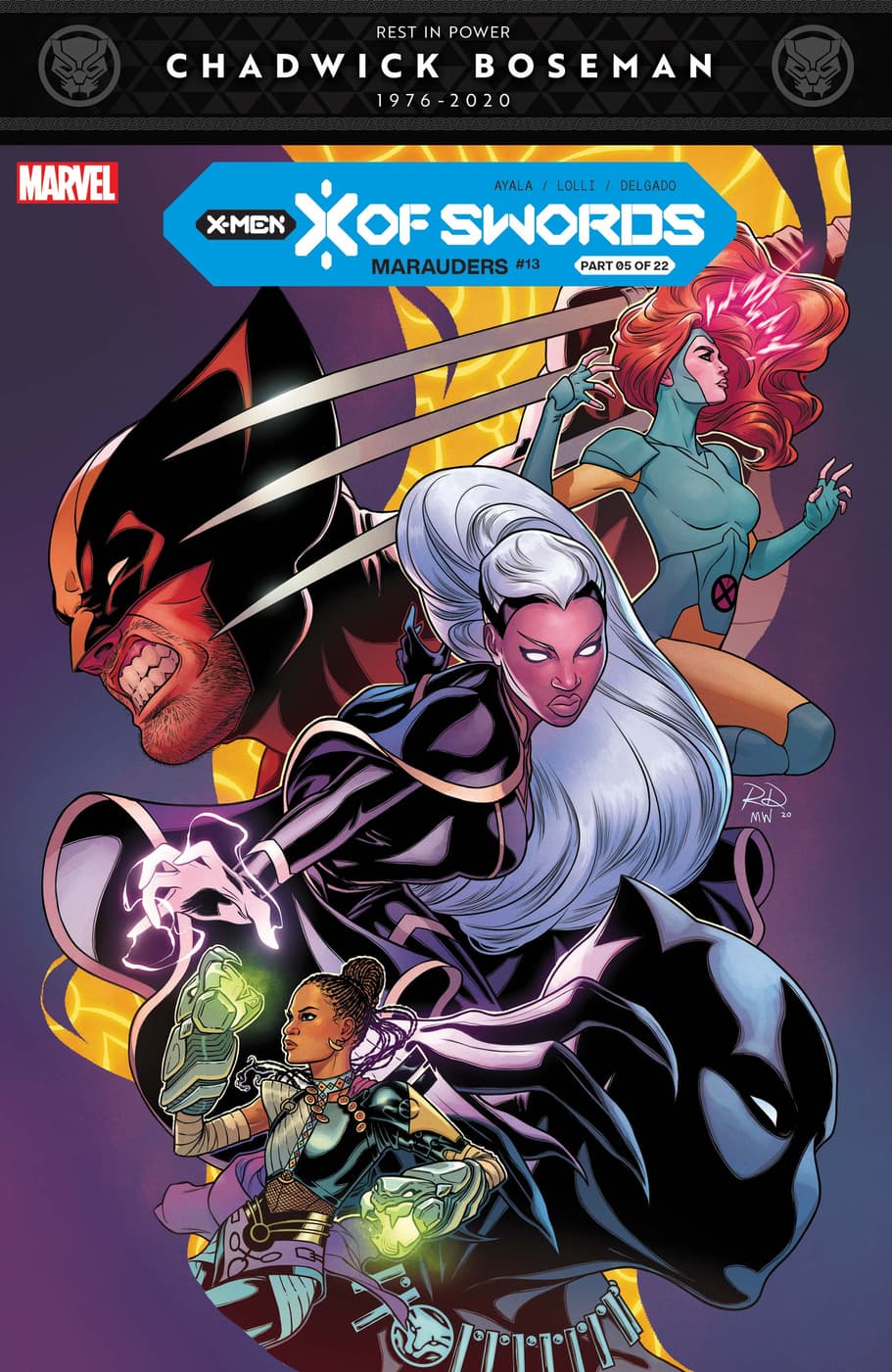 In the present, Storm is warmly received by Queen-Mother Ramonda and Princess Shuri. Ororo and T'Challa were married in the backdrop of CIVIL WAR, and divorced in the aftermath of AVENGERS VS. X-MEN. But Storm and Black Panther have been getting close again. And the bonds of family are still strongly felt between Storm and her former in-laws. They're also sympathetic to her plight, and willing to lend her Wakanda's might. They even offer her other legendary blades: the Nation Maker, the Panther's Claws, and the King's Mercy—the sword of the late T'Chakka.
Unfortunately, they would not give Skybreaker to Storm without T'Challa's approval, because the people of Wakanda would riot if the sword was taken. Shuri's instantly suspicious of Storm's intentions after that rejection, but she tries to dissuade her ex-sister-in-law over a private dinner.
In flashback, T'Challa showed Storm where Stormbreaker was displayed, and in a roundabout way, how to steal it. Ororo believed that may have been intentional. Shuri is less inclined to agree, though, as she fights Storm to prevent the sword's theft. After Storm defeats Shuri, Black Panther finally arrives and confronts her.
T'Challa tells Storm that he would have done anything for her, even if it meant giving her Skybreaker. Her breach of trust doesn't stop T'Challa from allowing her to leave with the sword. But Black Panther orders the gate to Krakoa burned behind her, and states that she will only return with permission if they allow it.
Storm's return to Krakoa is less than triumphant, but she takes her rightful place on the casting circle alongside Wolverine and Magik. Three champions have been found, and seven remain as X OF SWORDS continues next week!
Read WOLVERINE #6, X-FORCE #13, and MARAUDERS #13 for yourself at your local comic shop today!
The Hype Box
Can't-miss news and updates from across the Marvel Universe!