Comics
Published September 6, 2019
World Fantasy Award-Winning Author Fonda Lee Joins 'Sword Master'
Get to know the writer as she teams-up with Shang-Chi and Lin Lie with issue #4!
On October 2, Sword Master delves 5,000 years into the past to uncover the legendary origins of his magic sword—and finally discovers his connection to the mysterious huntress Ji Shuang Shuang! And in a second story, the Master of Kung-Fu himself, Shang-Chi faces a teacher's greatest nightmare... Can he trust Lin Lie in the fight against Ares, the God of War, or must Shang-Chi wield the black sword himself?
Find out in Shuizhu, Greg Pak, Gunji, Ario Anindito, and—for the first time—World Fantasy Award-winning writer Fonda Lee's SWORD MASTER #4!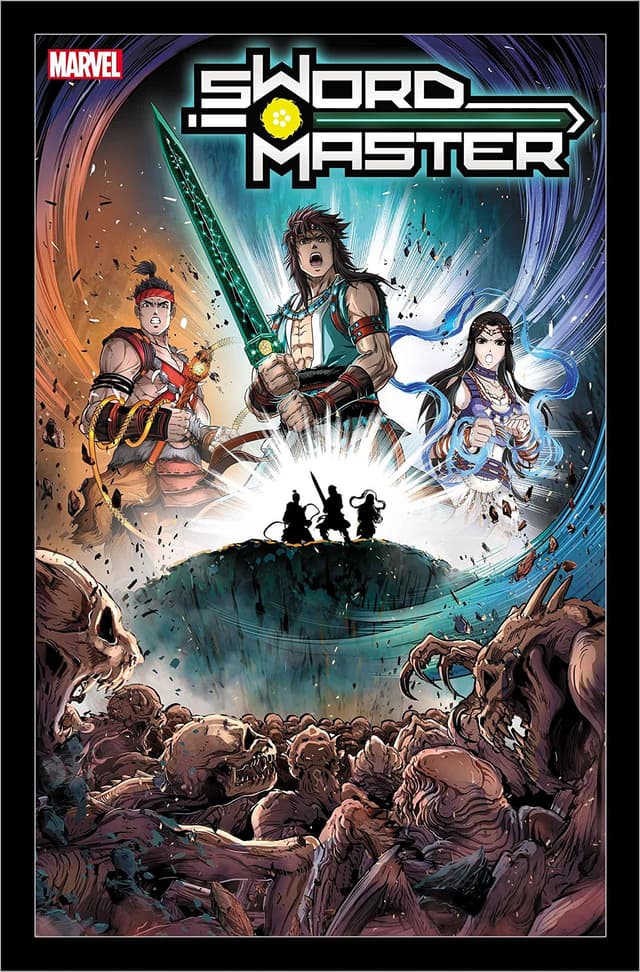 Fonda Lee is the author of several novels, most recently including the martial arts gangster epic fantasy Green Bone Saga, beginning with Jade City and continuing in Jade War. The author of acclaimed science fiction novels Zeroboxer, Exo, and Cross Fire, Lee has had her work nominated for the Nebula, Andre Norton, and Locus Awards, and has won the Aurora Award—Canada's national science fiction and fantasy award—twice in the same year for Best Novel and Best Young Adult Novel. And now she is entering the mighty Marvel Universe for the very first time!
To prepare for the journey ahead, we caught up with Fonda about making the House of Ideas her new home.
How excited are you about writing Sword Master and Shang-Chi?
When Greg Pak asked if I would be interested in writing for comics, I had to consider my answer for an entire 0.25 seconds. I've always written my novels in a very visual and action-driven style, so the idea of writing comics and graphic novels has been sitting in the back of my mind for years. An opportunity to co-write Shang-Chi for Marvel??? I couldn't possibly pass it up!
As a first-time comic writer, what challenges did this new medium present, and what unique opportunities did you find it offers?
Coming into comics as a novelist, there were a few big differences to get used to. I'm accustomed to working on a novel for a year or more by myself. I control the entire storyline and all the characters, and I know how the story begins and ends. With comics, the writers might have an overall idea of where the story is going, but it's developing month-by-month in rapid cycles and going to print within weeks. And I'm playing in someone else's sandbox, so to speak, when it comes to the world and the characters, so we have to keep an eye over our shoulder on what's happened, happening, or going to happen elsewhere in that story world.
I also had to adjust to the fact that in comics, most of my words aren't intended for the final reader. They're meant for the artist (in this case, the fantastic Ario Anindito), who will use those words to bring the story to life on the page. So I'm not agonizing over choice of adjectives or construction of a sentence the way I am in a novel; instead I'm learning to focus on visual snapshots and explaining the story in a script that will be useful and inspiring to Ario.  
In short, comics is a far more rapid, free-flowing, collaborative creative environment. That presents challenges as well as fantastic opportunities. There's a sense of "we're all making this up together as we go along" energy that is both mildly terrifying as well as very energizing and freeing, and it's a nice counterpoint to the way I work on novels. Fortunately, I had about as painless an entry into comics writing as I could get because I'm co-writing with the immensely experienced and talented Greg Pak. It's really been an absolutely ideal way to come in.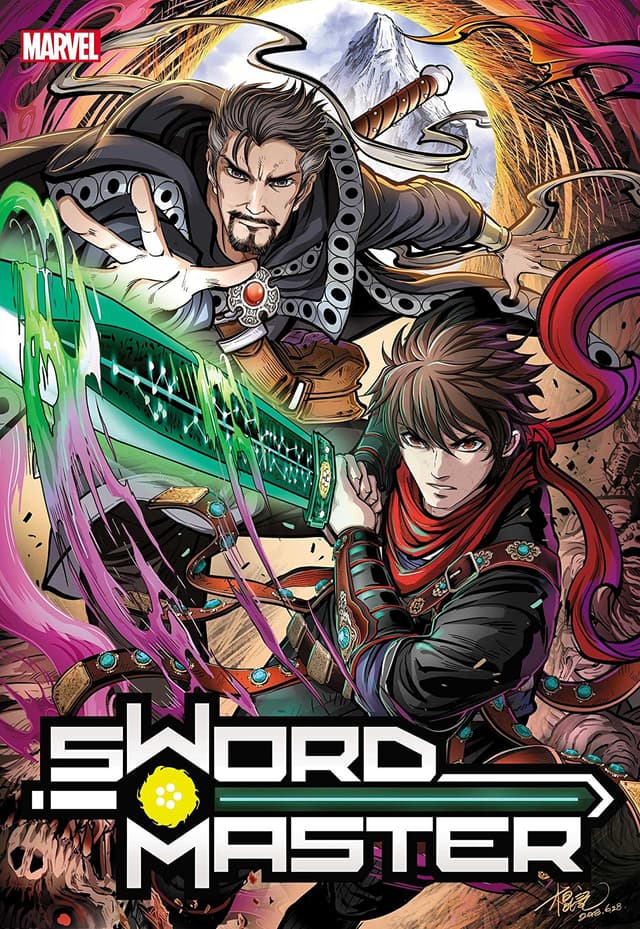 Shang-Chi is a historic character with decades of backstory; Sword Master is a brand-new character to the main Marvel Universe. With that in mind, did you approach writing these characters differently?
The beauty of comics is that each writer finds their own angle into the characters, regardless of whether those characters are established or new. So while I made sure to familiarize myself with Shang-Chi's backstory as well as all the Sword Master comics that exist so far, as writers, Greg and I also have to make these characters our own.
Shang-Chi came into being at a time when the West became enamored with Bruce Lee and martial arts, but he then faded into relative obscurity, and is now getting attention again. Which means that Greg and I have an opportunity to introduce him to new readers and flesh him out as a more modern character in a way that, I hope, makes him more interesting beyond being a Bruce Lee look-alike. Two Asian-American writers working in 2019 are going to approach Shang-Chi differently than how he was portrayed in the 1970s.
I very much want to retain Shang-Chi's essence as a warrior and teacher, while also moving away from outdated stereotypes. We have a relatively clean slate with Sword Master, and we're able to communicate with the Chinese creators of that series as it's developed, so we can use the adventures and interactions of these two characters to our advantage, to build both up at the same time. I like that these two characters were created in different eras by creators in different countries, and we're bringing them together like this.
What's your favorite character element of Shang-Chi? What surprised and intrigued you about Sword Master? And simultaneously, what did you enjoy most about their chemistry together?
My favorite characters in comics have always been the street-level Super Heroes, the ones without god-like powers, who are defending their neighborhoods and battling enemies block-by-block. That's always been my preference as a writer as well; I want to write stories that feel very grounded. I tend to be a minimalist when it comes to fantastical magic or technology.
Shang-Chi's power is that he's really, really, really good at martial arts. And he's also an excellent teacher and passes that knowledge on to other warriors. That's what makes him appealing to me. As someone who has trained in martial arts since I was a teenager, I think of the character as Shang-Chi as the unattainable paragon—he's the Ultimate Grandmaster. Shang-Chi is what you get when someone in the top .0005% of human athletic ability and mental discipline devotes himself entirely to being the best possible martial artist as well as a contributing member of the Super Hero community. That's a pretty cool character to work with.
What intrigued me about Sword Master is the fact that he's basically a kid with more power and responsibility than he knows what to do with. I'm drawn to characters with difficult family legacies sitting on their shoulders, and Sword Master definitely fits that mold. His magical sword is immensely powerful…but it's also his personal burden. At the end of the day, he just wants his dad back. I immediately liked the idea of him paired up with Shang-Chi and creating this fun dynamic of the seasoned fighter mentoring the cocky but insecure young hotshot.
Both Shang-Chi and Sword Master have fantastical elements to their powers, backstories, and corners of the Marvel Universe. From your own life or across media and genre, what stories, comics, movies, and books did you find yourself drawing inspiration from for this team-up?
Because I've trained in kung-fu myself, I get a great deal of pleasure writing Shang-Chi utilizing his spectacular kung-fu skills. For example, Greg and I just finished writing a script where I had Shang-Chi fight with a three-sectional staff. I've handled the three-sectional staff before. It's a notoriously difficult weapon to wield and I know what it's like to accidentally hit yourself with it. (Not fun.) I've also seen martial artists wield it well, so I can envision Shang-Chi fighting with it, with absolute perfection and fluidity, and it's such a blast to transfer that idea onto the page.
I also like to draw inspiration from wuxia novels and films, kung-fu movies and other action movies, anime, Asian history and mythology, crime thrillers, and "buddy cop" stories. We're only a few issues into the run, and as I said, there's a sense of creative spontaneity in writing comics that I'm learning to embrace, so who knows where we might draw inspiration as the story and these characters evolve. I'm as curious as anyone else to find out!
And you can do exactly that by pre-ordering SWORD MASTER #4 at your local comic shop today, then picking it up on October 2!
The Hype Box
Can't-miss news and updates from across the Marvel Universe!