Comics
Published November 17, 2021
Jordie Bellaire on Making Her Marvel Writing Debut in 'The Darkhold: Wasp' #1
The art superstar discusses her brilliant turn alongside Janet Van Dyne.
Jordie Bellaire is known as one of the most luminously talented colorists in the comic book industry. But prepare yourselves, readers, as you pick up THE DARKHOLD: WASP #1 and discover that her future as a scribe at the House of Ideas looks just as bright.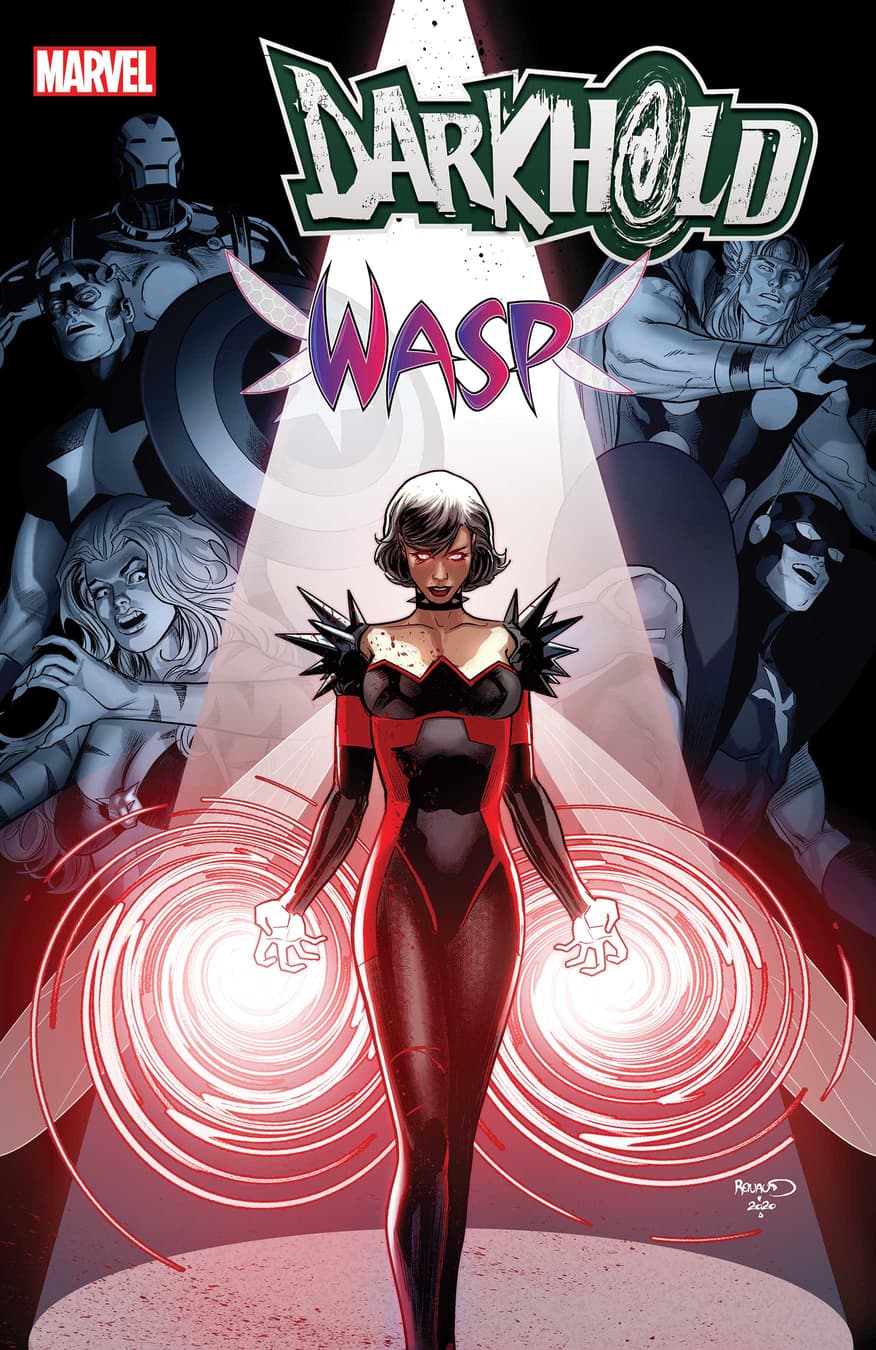 As readers of September's DARKHOLD ALPHA know, Doctor Doom acquired the infamous mystical guide which attracted the attention of the Elder God Chthon. Looking to stop this evil from spreading, Scarlet Witch turned to Iron Man, Blade, Black Bolt, Spider-Man, and the Wasp. However, to truly do some good, they must be driven mad by the Darkhold itself before traveling to Chthon's realm...
As a founding member of the Avengers who has survived some intense trauma throughout her life both in and out of her fabulous costumes, Janet Van Dyne offers plenty of raw material for Bellaire and artist Claire Roe to mine for the issue! 
We caught up with Jordie to hear more about her work on the issue.
How was this project different for you not just as a writer of a Marvel project, but as the writer of a crossover installment?
Jordie Bellaire: It felt absolutely wonderful being asked by my BLACK WIDOW editor, Sarah Brunstad, to pitch on this. I've worked with Sarah many years as a colorist and when she came to me with such a dark piece, I got the sense she really knew me, not just as a colorist, but as a writer too. The concept was totally in my wheelhouse and really just poured out of me as I wrote it.
This series features heroes turning into darker versions of themselves. What were the key elements of Janet's character at play in her transformation?
I believe Janet was a complex character, mostly defined by the expectations of the era she was created in. She was a woman who put herself on a shelf to allow her partner to succeed even though she had all the ability and means to achieve her own goals. She loves Hank in a way that sometimes seems desperate and pathetic. I don't say that to knock Janet, I think she's insecure and uncertain of who she is and at a loss of what she can offer others and then she meets Hank. Not a great set for a fulfilling and long lasting relationship. I don't believe the two were a good match in that classic past at all, and if things had gone a different way, the Darkhold way, she could have ended up a bloody mess.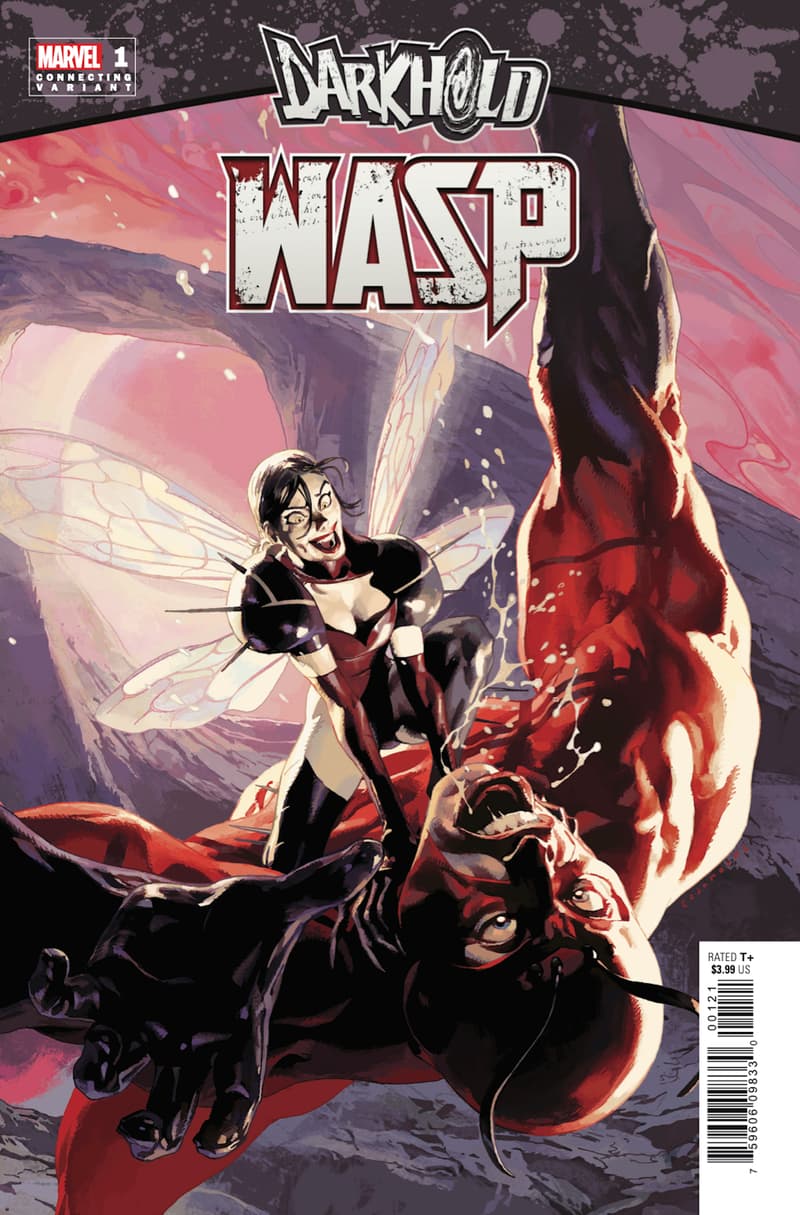 Were there any particular Wasp appearances that you went back to for reference or inspiration while working on this issue?
My favorite thing about writing this issue was getting into the research of the series, revisiting stories I had never previously read. This issue references the direct moment of abuse and many others before that. I wonder what readers will pick up and notice!
One of Janet's most visually fun qualities is that she's always changing up her costume. Did you have any input into her new look for this book?
Janet is a trained fashion designer so I believe takes great care in her choices. I was very inspired by classic outfits tailored for Jackie Kennedy as well as internet sensation and personal icon, Poppy. I think if this story were set in present day, Janet would be a direct mix of the two. Posh with a soft loudness. I wish we could have had even more instances of Janet expressing herself through her wardrobe but we only have so many pages. Maybe another time.
Along those lines, how was it working with Claire to bring this story to life?
Claire was an absolute angel to take this story on. The story had been on hold for so long due to the pandemic and I had almost forgotten it would maybe one day take shape. Unfortunately, creative teams shifted and I was worried what would happen with the story but was then beyond reinvigorated after finding out Claire would be part of it!
I've always wanted to work with Claire and have pitched a few stories her way, well back in the day. Claire brought deceptively simple elegance and highly emotive storytelling to the work and I'm so grateful that my debut at Marvel rocks so hard entirely because of her. There are moments where I called for a range of emotions on a character's face that usually feels like I'm asking too much and Claire delivered every single time. After this collaboration, I'm hoping for another go, I'm sure we could tell some really unique and evocative stories together.
THE DARKHOLD: WASP #1, by Jordie Bellaire and Claire Roe, is available at your local comic shop today!
The Hype Box
Can't-miss news and updates from across the Marvel Universe!