Comics
Published October 27, 2023
The History of Wanda Maximoff and Agatha Harkness
These two magic-wielders have been enmeshed in each other's lives for a long time. Not even death keeps them apart…
Want to read all these issues and gain instant access to a library of 30,000+ more? Join Marvel Unlimited to read Marvel's catalog of digital comics, including ongoing series and new issues as early as three months after they're in stores.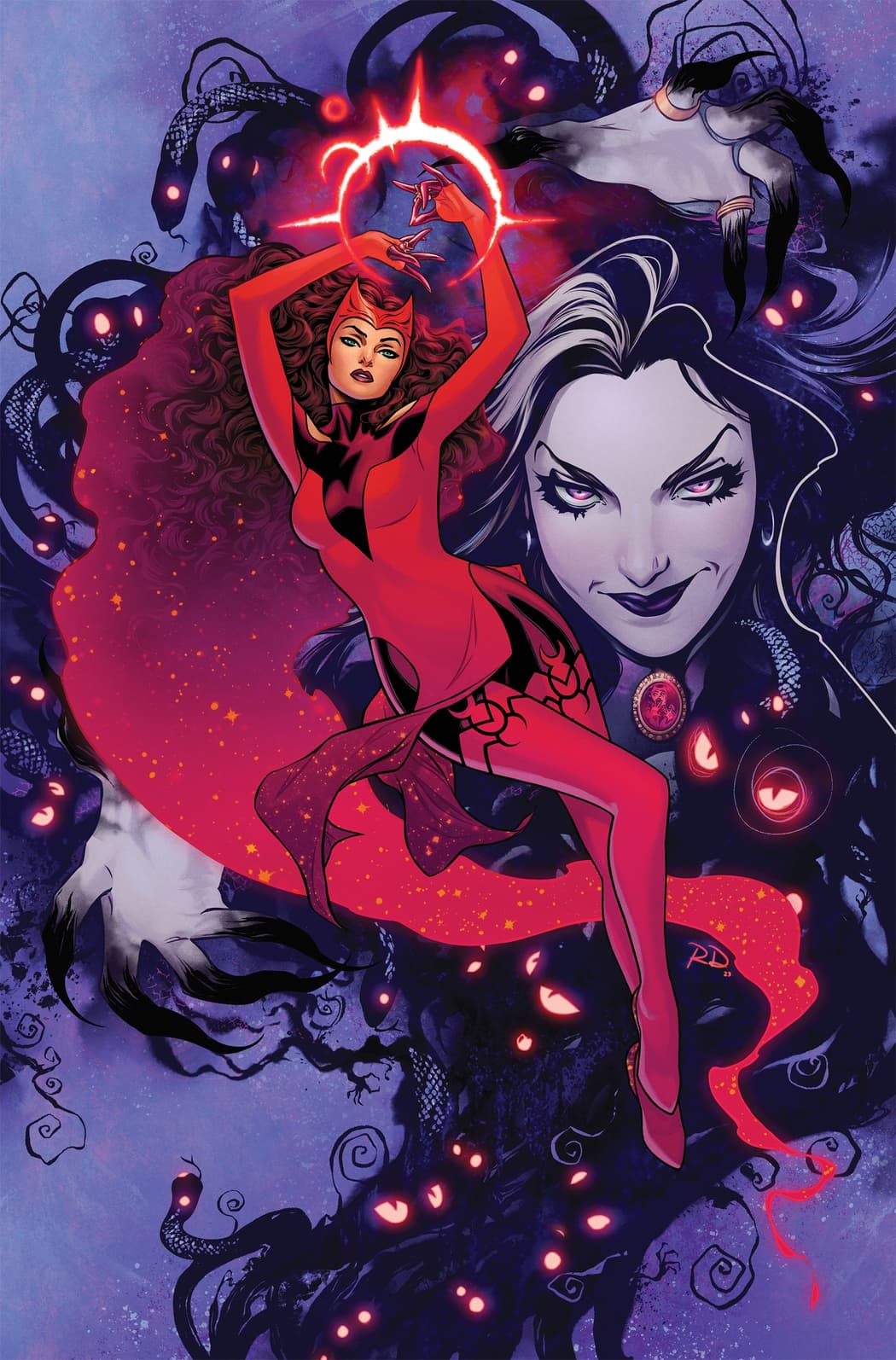 Among the most powerful mystics in the Marvel Universe are the Scarlet Witch and Agatha Harkness. When locked into their full potential, their spellcasting can alter the fabric of reality. But it was not coincidence that brought together the hexing hero and the ancient mage—it was fate. Wanda and Agatha share an extensive history together, not all of it friendly. And with the pair occasionally coming to blows over mythical tome the Darkhold, it has now become nasty.
Here is the complete history between Wanda Maximoff and Agatha Harkness: Their origins as protégé and mentor, their dynamic from beyond the (temporary) grave, and the growing antagonism that has set these two witches against each other for a lifetime.
MAGICAL ORIGINS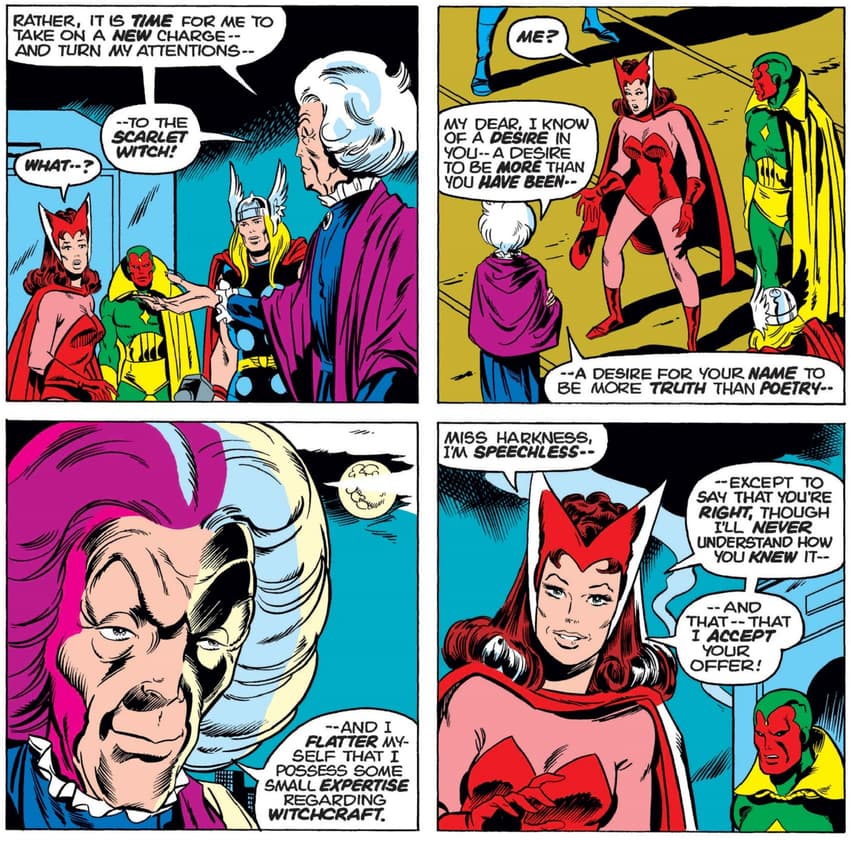 Stan Lee and Jack Kirby originally introduced Agatha Harkness as a governess for Reed and Sue Richards' son Franklin in FANTASTIC FOUR (1961) #94. After helping defeat the Frightful Four, Agatha admitted that she was a witch, with sinister figures from her past occasionally resurfacing to menace her and the Fantastic Four. It was during a team-up between the Fantastic Four and the Avengers that Agatha and the Scarlet Witch would fatefully cross paths and begin their shared history in earnest.
[RELATED: Who Is Agatha Harkness?]
In AVENGERS (1963) #128, Agatha was targeted by the magical super villain Necrodamus, who intended to steal her soul to gain immortality. This created an epic conflict between the supernatural enemy and Earth's Mightiest Heroes, with Necrodamus defeated at the hands of Wanda. Agatha decided to leave the Fantastic Four, after ensuring Franklin was safe, to mentor Wanda's mastery over her vast magical abilities.
AGATHA'S HELP FROM THE BEYOND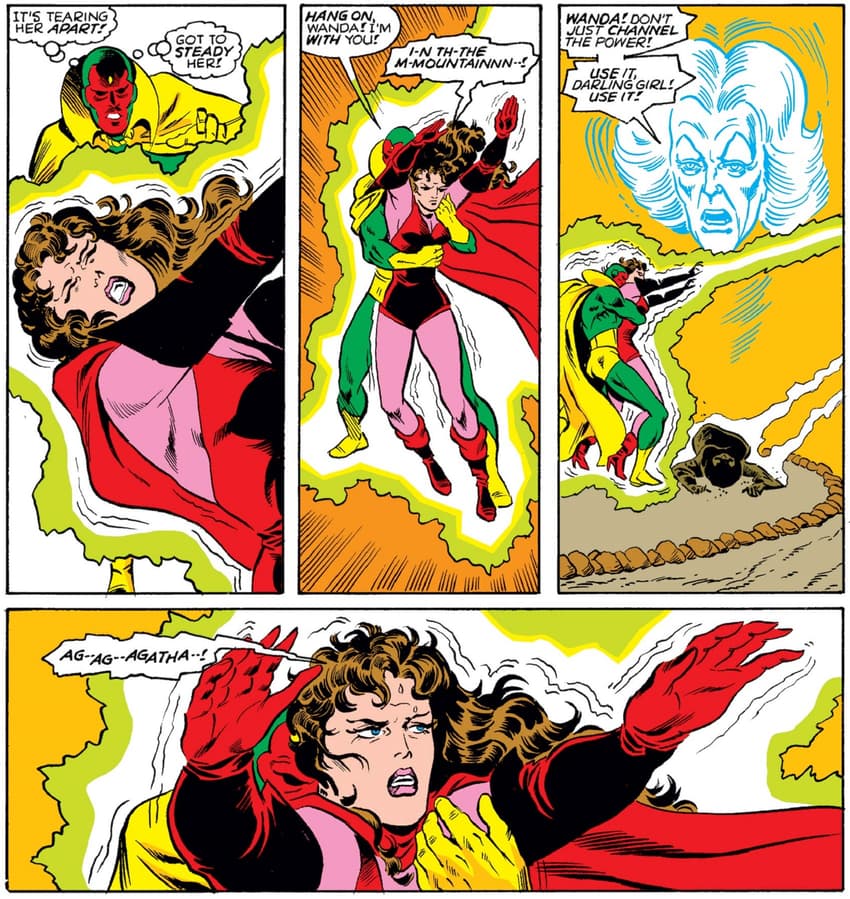 Prior to being hired by the Fantastic Four, Agatha's magical family lived in a community hidden away in Colorado known as New Salem. Frustrated by living in hiding, Agatha's grandchildren, referring to themselves as Salem's Seven, took control of New Salem and captured a weakened Agatha. After being burned at the stake by her own grandchildren, Wanda and Vision are attacked and kidnapped by Salem's Seven, whisked away as prisoners while the villains conspire on how to achieve magical supremacy.
In VISION AND THE SCARLET WITCH (1985) #3, Wanda and Vision battled Salem's Seven, with the super villain team's leader Vertigo absorbing the latent magical energy in New Salem to combat Wanda. This strategy backfired, and Salem's Seven and New Salem were destroyed by the power overload from Wanda's energy absorption. Thanking Wanda for this act of justice, an astral form of Agatha appeared from beyond the grave and helped her student channel her energy into a pregnancy. This manifested a dream that Wanda shared with her partner Vision: to become a mother.
THE TRUTH ABOUT WANDA'S TWINS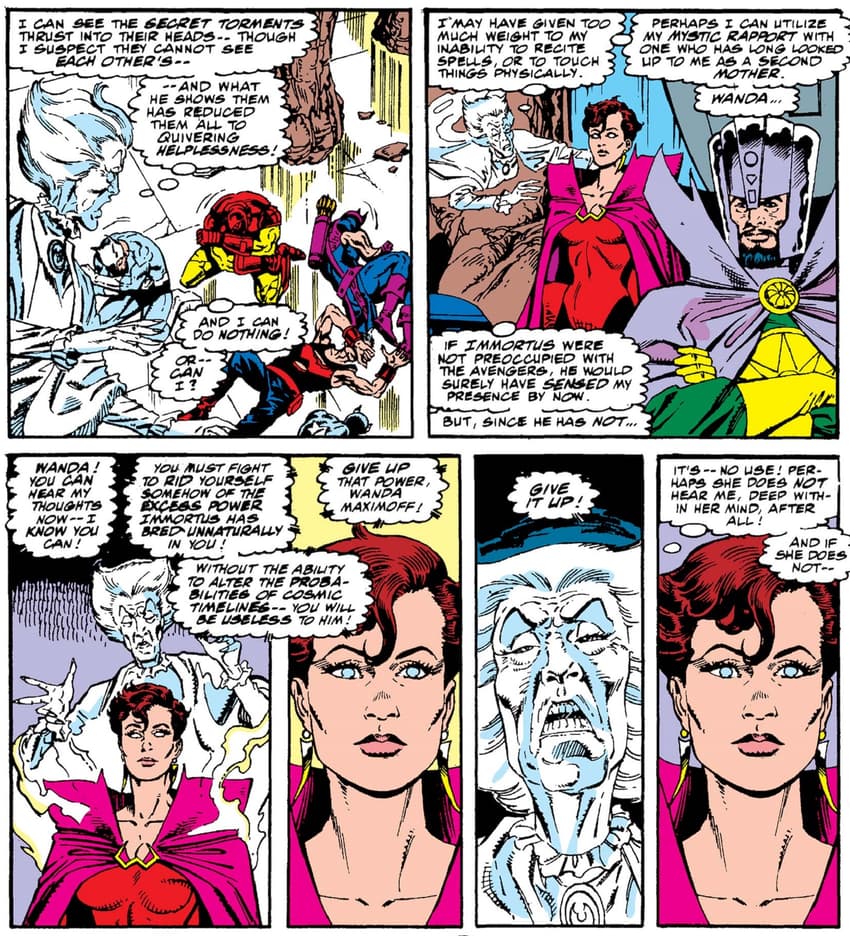 Agatha mysteriously reappeared alive and well after the birth of Wanda's twins, two little boys named Billy and Tommy. Drawing on her past experience as a super hero governess, she became the babies' caretaker in WEST COAST AVENGERS (1985) #51. This domestic bliss was completely upended when Mephisto claimed the twins were lost fragments of his soul due to a power source mix-up with the Salem's Seven. To help Wanda cope with the trauma of losing her children, Agatha wiped the Scarlet Witch's memories of Billy and Tommy so that she could better move on with her life.
When Immortus, one of the many Kang the Conqueror variants from across the Multiverse, challenged the West Coast Avengers, a targeted Scarlet Witch became brainwashed into becoming a weapon. Together with the West Coast Avengers, Agatha played a prominent part in defeating Immortus by restoring Wanda's painful memories, including the tragic existence of her children. While Wanda was now back to her senses, the toll on her mental health was disastrous. And Agatha was right at the center of this harrowing, life-altering incident.
AGATHA DISASSEMBLED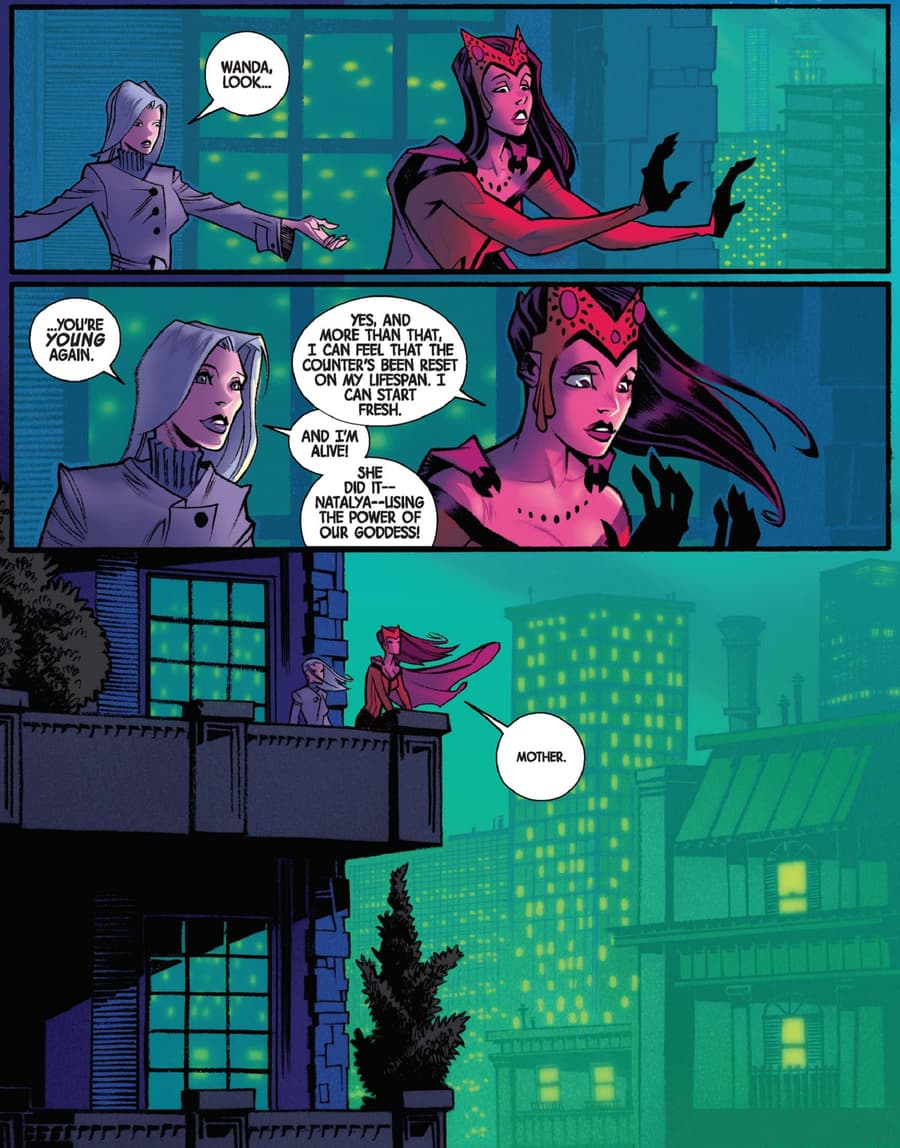 Some time after Immortus' defeat and the restoration of her memories, Wanda grew mentally unstable from the trauma of losing her children and angrily confronted Agatha. In an unseen incident, Wanda kills Agatha, with her corpse found much later by Nick Fury in AVENGERS (1998) #503. With her mind fragile, Wanda had no memory of killing her mentor, suffering from an extended fugue state and a temporary lapse in sanity.
However, Agatha continued to observe Wanda as a ghost, and her magical and spectral abilities allowed her to explore the entire Multiverse. Along with the spirit of Wanda's late mother Natalya Maximoff, Agatha helped the Scarlet Witch save all of reality against the villainous demigod Chaos. In the aftermath, Natalya sacrificed her ghostly self to resurrect Agatha in SCARLET WITCH (2015) #14, who intended not to take her life for granted this time.
BATTLE FOR THE DARKHOLD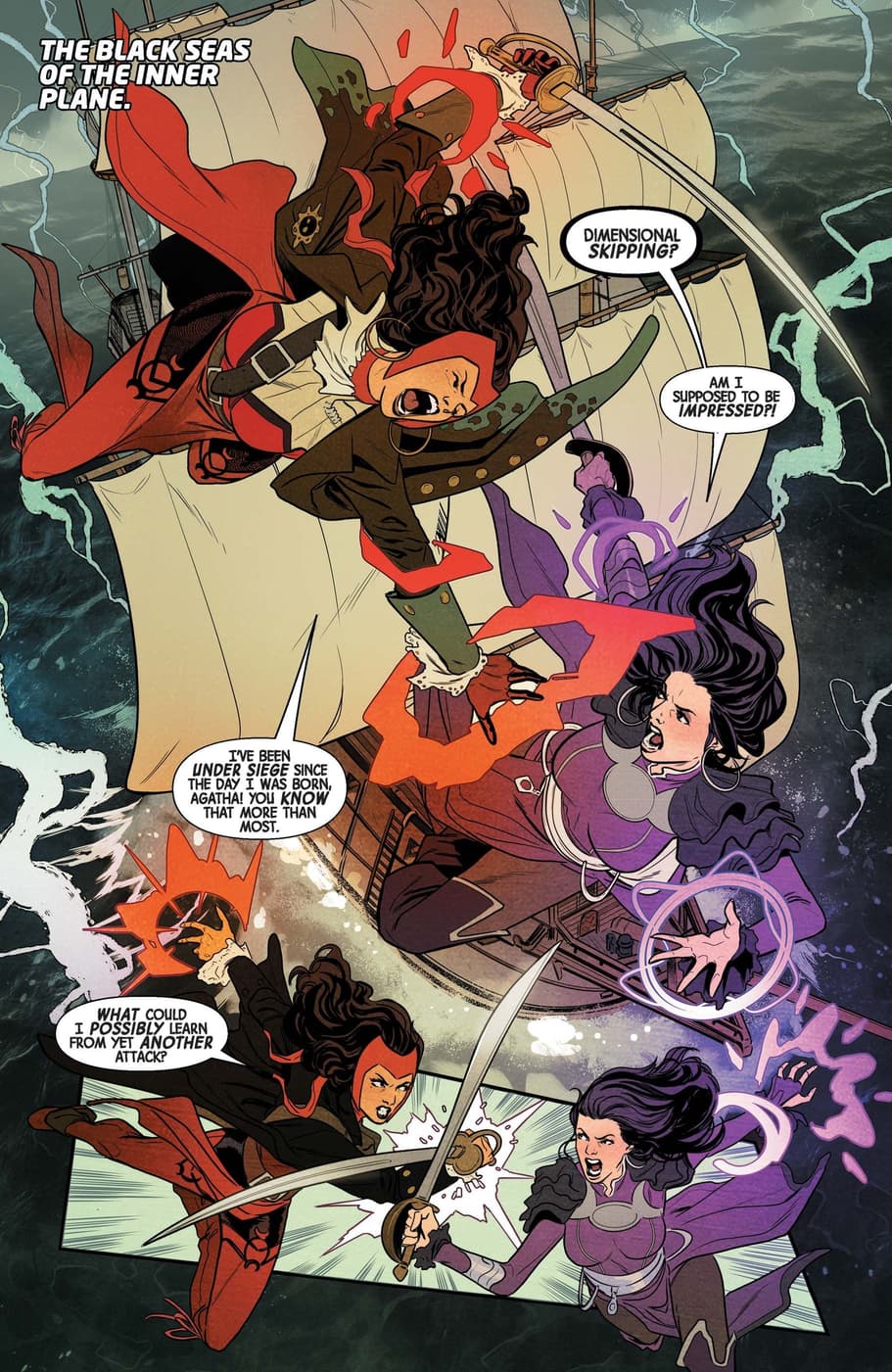 After Wanda absorbed the Darkhold, a tome of evil magic, Agatha reached out to her former pupil, afraid that this made Wanda a target for forces seeking the ancient book. In addition to the Darkhold, the Scarlet Witch sealed away the demon Chthon within her soul, placing the creature dangerously close to the vast potential within the Darkhold. Disagreeing with Agatha's assessment that she couldn't handle the responsibility of maintaining two powerful entities inside of her, Wanda fought her teacher in SCARLET WITCH ANNUAL (2023) #1.
[RELATED: Agatha Harkness' Newfound Youth, Explained]
After skipping across multiple dimensions in their skirmish, Agatha eventually admitted defeat to the Scarlet Witch (but only after showing off her increased mastery over magic). However, the entire confrontation was an elaborate ruse on Agatha's part to gain access to the Darkhold and destroy Chthon by magically transporting herself inside Wanda's soul during the heat of battle. With Chthon no longer posing an immediate threat to the Marvel Universe, a satisfied Agatha continued her journey and parted ways after reconciling with Wanda.
For now.
Read the entire CONTEST OF CHAOS event on Marvel Unlimited now, then dive into the complete backstories of the Scarlet Witch and Agatha Harkness!
The Hype Box
Can't-miss news and updates from across the Marvel Universe!