Comics
Published October 10, 2022
Strong Guy and Madrox Go to Space
Creator Jason Loo breaks down his new 'X-Men Unlimited' story arc "X-Friends" from the weekly Infinity Comics series.
Have you tried Marvel Unlimited yet? It's your all-access pass to over 30,000 Marvel comics at your fingertips. Start your 7-day free trial, or sign up with plans as low as $9.99 a month.
New on the Marvel Unlimited app: Strong Guy and Madrox take off on an intergalactic boys' night in issue #56 of weekly anthology series X-MEN UNLIMITED! But there's only one problem...Madrox's toddler son Davey is an accidental stowaway.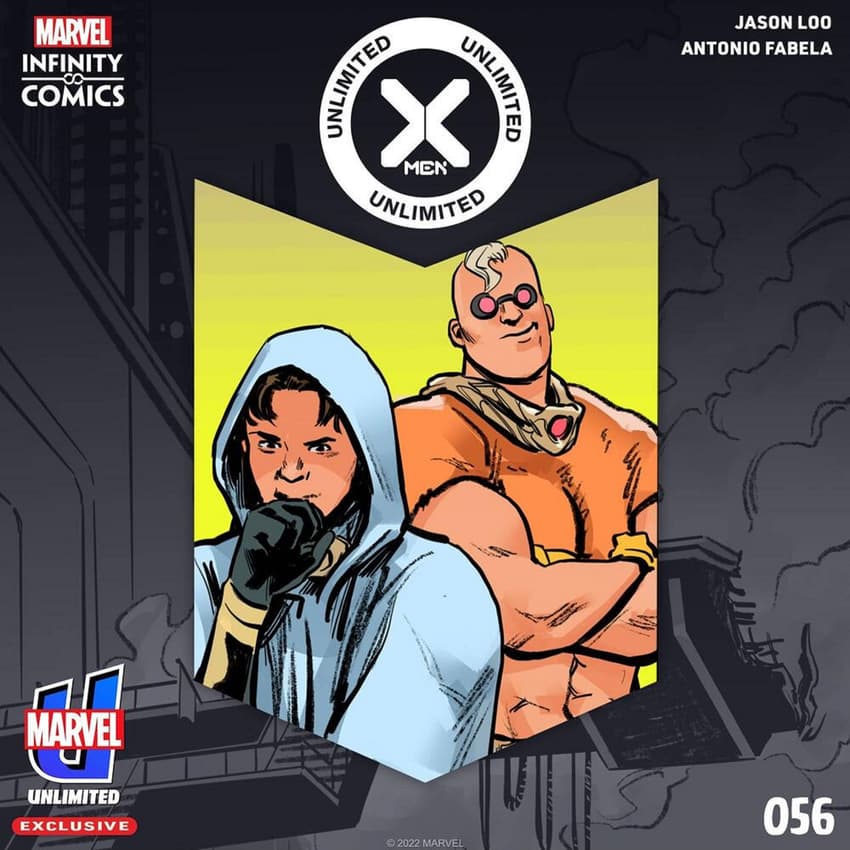 As announced during New York Comic-Con 2022, "X-Friends" is the latest story starring the Strong Guy/Madrox duo from writer/artist Jason Loo. This time, he's joined by colorist Antonio Fabela in a pickup from the "Downtime" arc told in X-MEN UNLIMITED #21, issue #27 and issue #34.
We spoke to Loo about classic X-Factor stories, and what readers can expect from the first part of "X-Friends" in X-MEN UNLIMITED INFINITY COMIC #56.
Your love for Madrox is real! How long does that go back?
JASON LOO: My love for Madrox definitely goes back to the 90s X-FACTOR. While most of the sixth graders in my class were raving over how cool Gambit looked, I always went for something along the fringe just for the sake of being different. So I liked Multiple Man since he also wore a long jacket. I even got the mail-in order Multiple Man action figure from Toyfare magazine! But I really connected with Madrox after he died—the first time—when Moira MacTaggert was in his room reminiscing all the things he did to keep himself busy [in 1994's X-FACTOR #101]. I, too, was that only child being happy on my own making crafts, reading, drawing comic strips, pretending to do stand-up, and singing to Radiohead in my bedroom. Fast forward several years later, I cosplayed as him for a local X-Men cosplay charity group while reading every issue of Peter David's X-Factor Investigation run. So yeah, my love for the character goes pretty deep.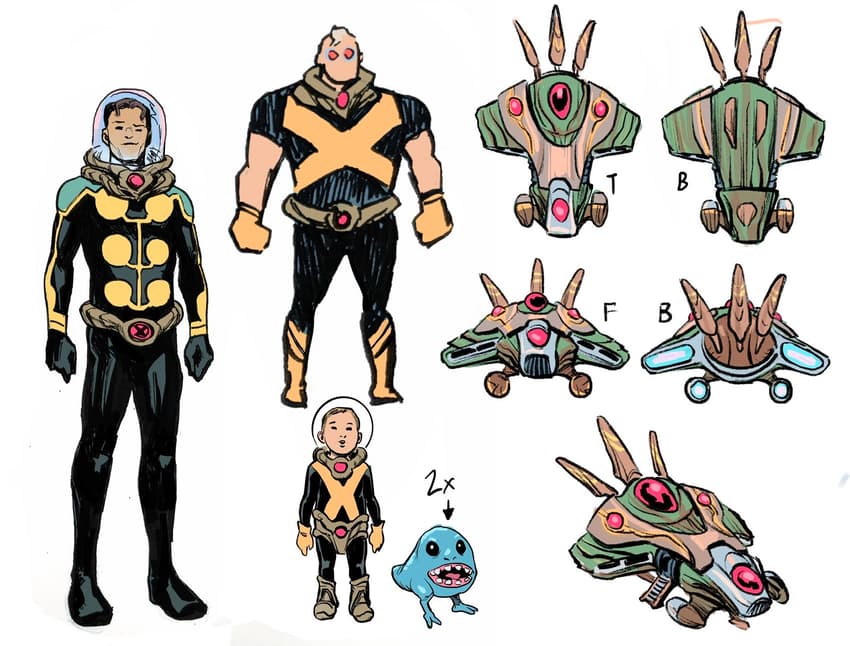 Picking up from your "Downtime" story, can you fill readers in on where Madrox and Strong Guy stand in their friendship now?
JASON LOO: OK, so in the "Downtime" story arc, Strong Guy was grouchy because he got stuck with a dupe when Jamie Prime double-booked himself with his family. But after their long adventure of being stranded on the sea, their friendship rekindled (by proxy of dupe) and those memories get absorbed by Jamie Prime who promises to hang out with his old friend for real next time. So the new arc, "X-Friends," is that next time for Strong Guy and Jamie Prime. And they are doing it big! They take Forge's top secret Krakoan star cruiser on a joyride and plan to have a fun time someplace Lila Cheney suggested. Problem is, Davey and his babysitting dupe snuck on board. So, can Jamie still be a good dad without breaking his promise to his best friend? Find out!
So, we're going intergalactic! What sort of adventures lie ahead in Shi'ar space?
JASON LOO: Lots of laser fights! Some sleuthing! Corsair and the Starjammers are in it! Even a SPACE GIANT...maybe? There's a lot of things I got to throw in this space adventure—shout out to my editor Lauren Amaro as well as Jordan D. White for allowing this to happen! But really, the true adventure is friendship. The heart of the story is about two friends who've had wild times in the past, but one is now a parent and the other wants the wild times to continue…I think we've all been there, whichever friend you may be.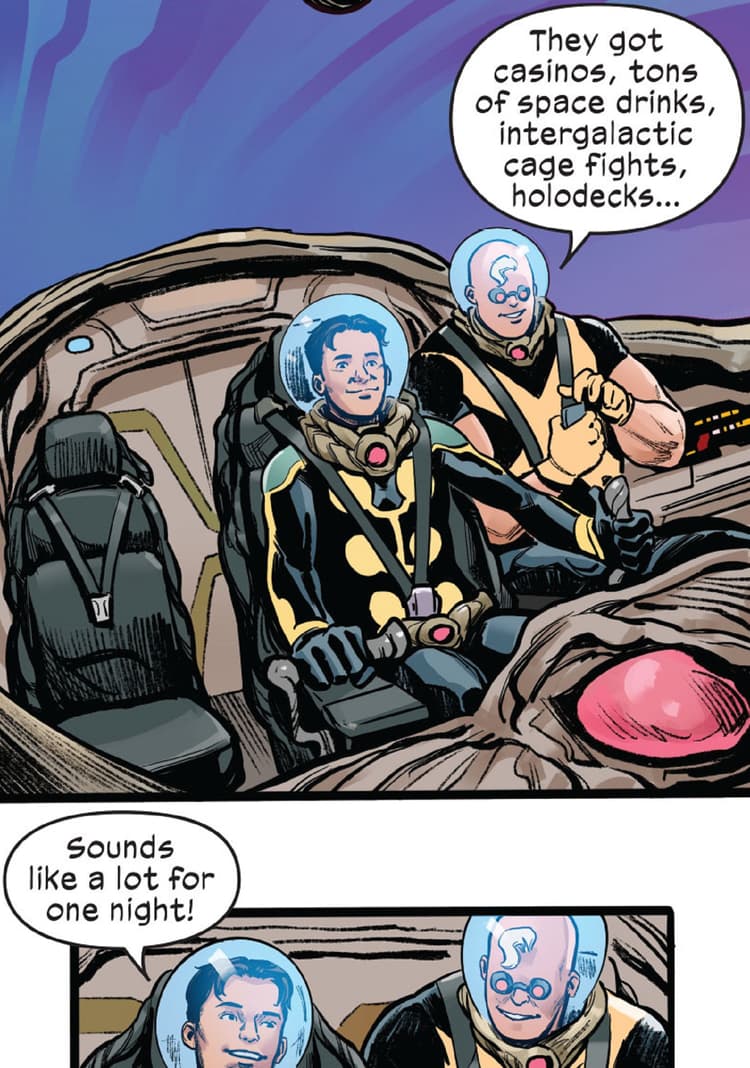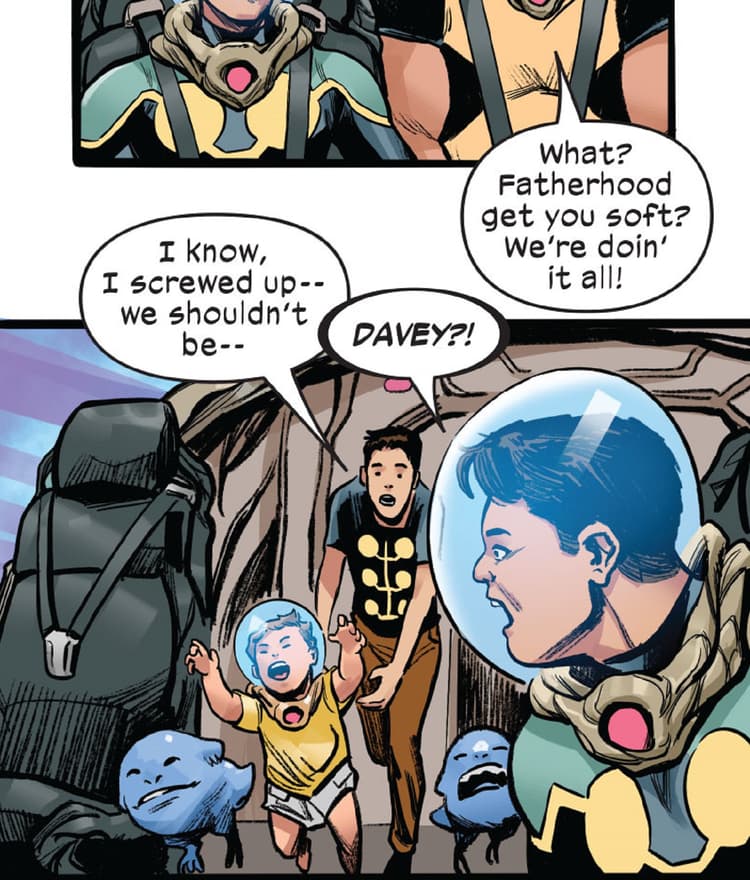 You've now worked on a handful of Infinity Comics. What are some of your favorite aspects of creating stories for the digital space?
JASON LOO: Yeah, I've been making vertical-scrolling comics for almost a year, with my first being LUCKY THE PIZZA DOG. I always like a challenge when making comics and I'm still finding different ways to experiment. The whole creative process has been a mental exercise, figuring out how to create the feeling of suspense for the readers by stretching out scenes. It's like telling a comic story as if it was a waterfall. By the way, there are also waterfalls in "X-Friends"!
Download the Marvel Unlimited app for iOS or Android devices now for more vertical comics starring favorite Marvel characters. You'll also gain instant access to 30,000+ digital issues spanning 80 years of Marvel Comics.
Follow Marvel Unlimited on Twitter and Facebook to stay tuned in to weekly announcements, articles, and more, all at @MarvelUnlimited. Follow us today to join the conversation with thousands of fellow fans, and let us know what you're reading!
The Hype Box
Can't-miss news and updates from across the Marvel Universe!