Comics
Published March 1, 2021
Read the Complete 'X of Swords' Event
Binge now on Marvel Unlimited. Grab our top 10 takeaways from this X-Men epic!
Have you tried Marvel Unlimited yet? It's your all-access pass to over 28,000 Marvel comics, available at your fingertips. Sign up now to get 50% off your first month.
THIS ARTICLE CONTAINS SPOILERS FOR X OF SWORDS, SO READ ON AT YOUR OWN RISK, FRANTIC ONES!
Binge X OF SWORDS in full on Marvel Unlimited! This tournament of the unexpected pits Krakoa's mutants against their fallen sisters and brothers of Arakko. Opal Luna Saturnyne, Omniversal Majestrix of the Starlight Citadel, is the ringleader of this competition, a duel that determines the future of Otherworld.
As told in POWERS OF X #4, Arrako is one half of the primordial island Okkara, forebearer to Krakoa. Millennia ago, Apocalypse and his First Horsemen faced an otherworldly invasion on Okkara, and the "warrior-god in blue" was forced to split his homeland in two, trapping his Horsemen, and family, in a fallen dimension. Krakoa remained safe on Earth, while Arakko was plagued by its conquerors, the demons of Amenth. Once locked in war to hold back a long age of darkness, Arakko has now fallen. And they're taking their battle to Otherworld.
For those who have not been keeping up with current X-Men lore, we do recommend starting with the "Dawn of X" story arcs in order to gain the most from this event. "Dawn of X" not only establishes the current X-rosters, but also the new status quo and world order of a mutantkind not under humanity's heel. Now in a symbiotic relationship with the Living Island of Krakoa, the mutants' new home world offers its citizens medical miracles, global/interstellar portals, and even a cure to death. That last one being especially important.
Here are a handful of takeaways, and favorite moments, from one of the most expansive X-events to date.
1. ALL OF THOSE SWORDS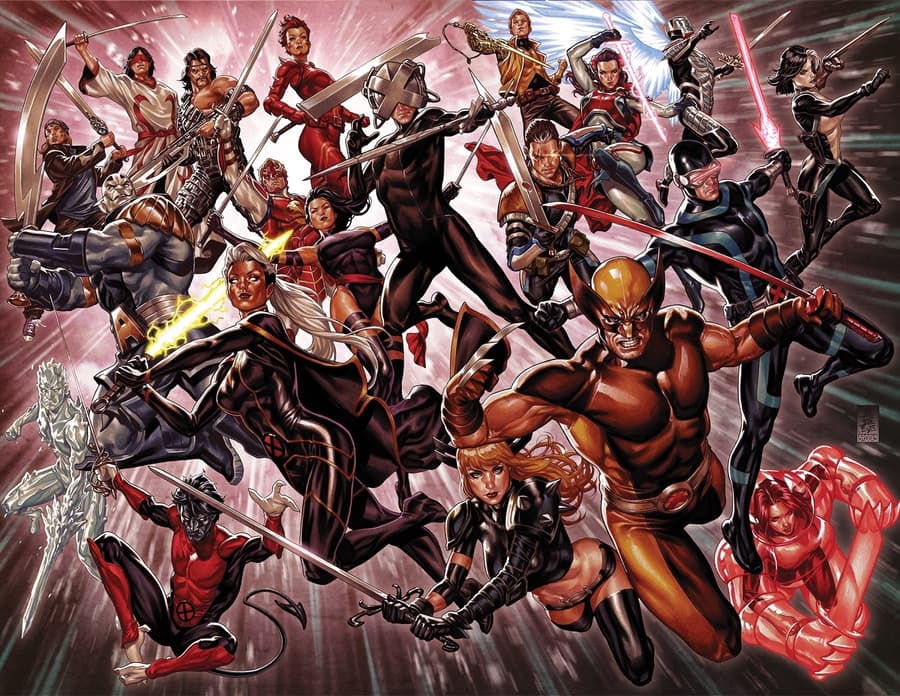 Krakoan Swords: Muramasa, the Sword of Might, the Starkiller Sword, Grasscutter, Godkiller, Warlock, the Soul Sword, the Scarab, the Light of Galador, and Skybreaker.
Arakkii Swords: The Twilight Blade, Mercy, Vermilion, the Red Sword of War, Colony, the Black Bone of Amduat, Seducer, Pogg Ur-Pogg, Purity, Alluvium, and Muramasa.
Swords. A key part to this event. In the battle for Otherworld, and to stop an invasion on their own shores, Saturnyne's mutant champions take to the omniversal arena with their fated blades in hand. Ten swords for ten mutants. Surprisingly, "Muramasa" makes the list twice.
2. OTHERWORLD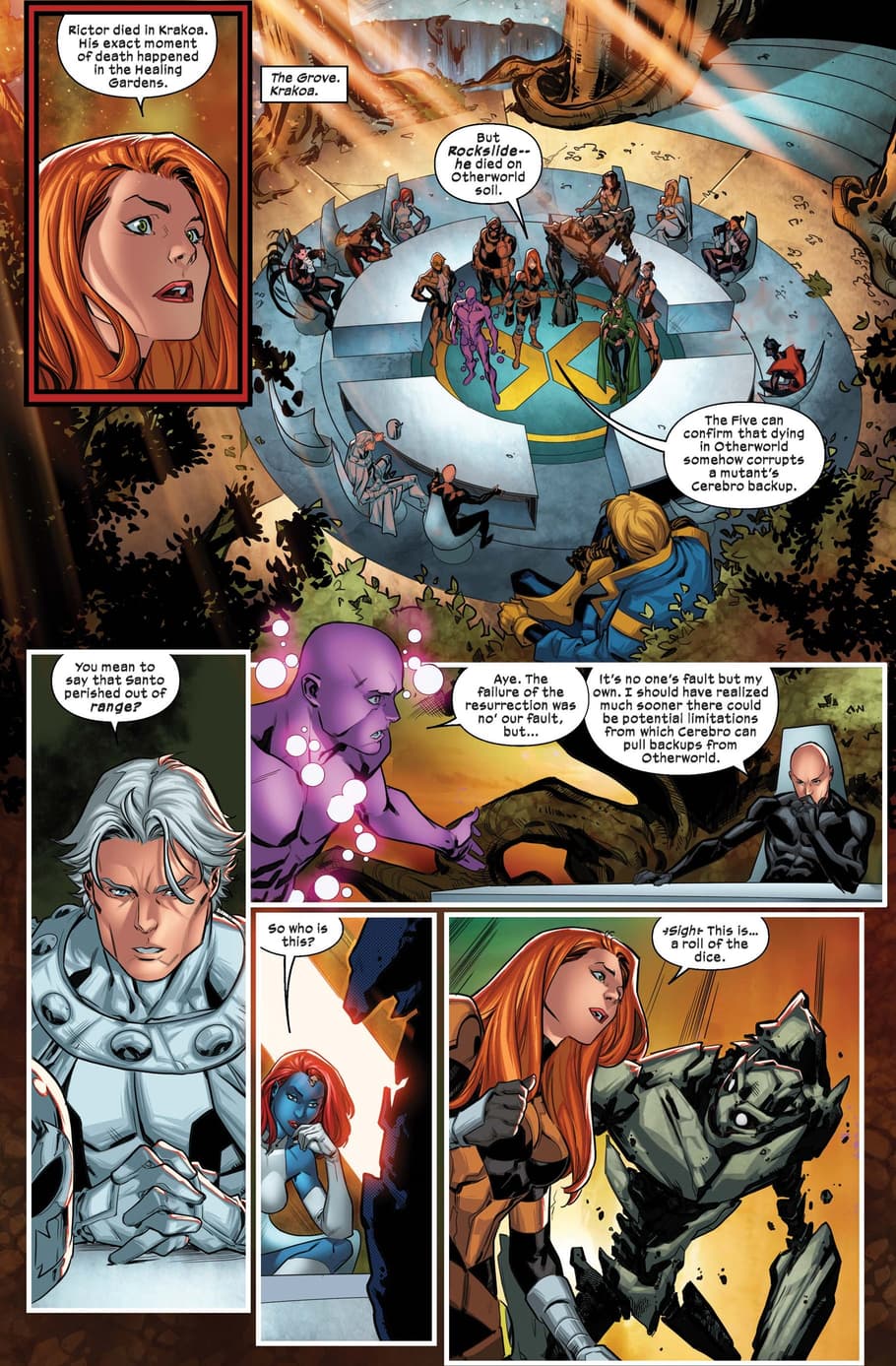 A realm of many, and a nexus point where universes meet. One of the many joys in X OF SWORDS is watching the contests unfold across strange, omniversal worlds, from the lawless Blightspoke, to the upside-down "Floating Kingdom," and even the "Buyers Beware" bazaar that is the Crooked Market.
But for mutants, the improbabilities of Otherworld pose a threat to their Resurrection Protocols. In X-FACTOR (2020) #4, we learn what happens to mutants who die in Saturnyne's realm. Exhibit A: teen mutant Rockslide. When the Quiet Council learns that death in Otherworld is permanent, the stakes become that much higher for those "lucky" champions selected.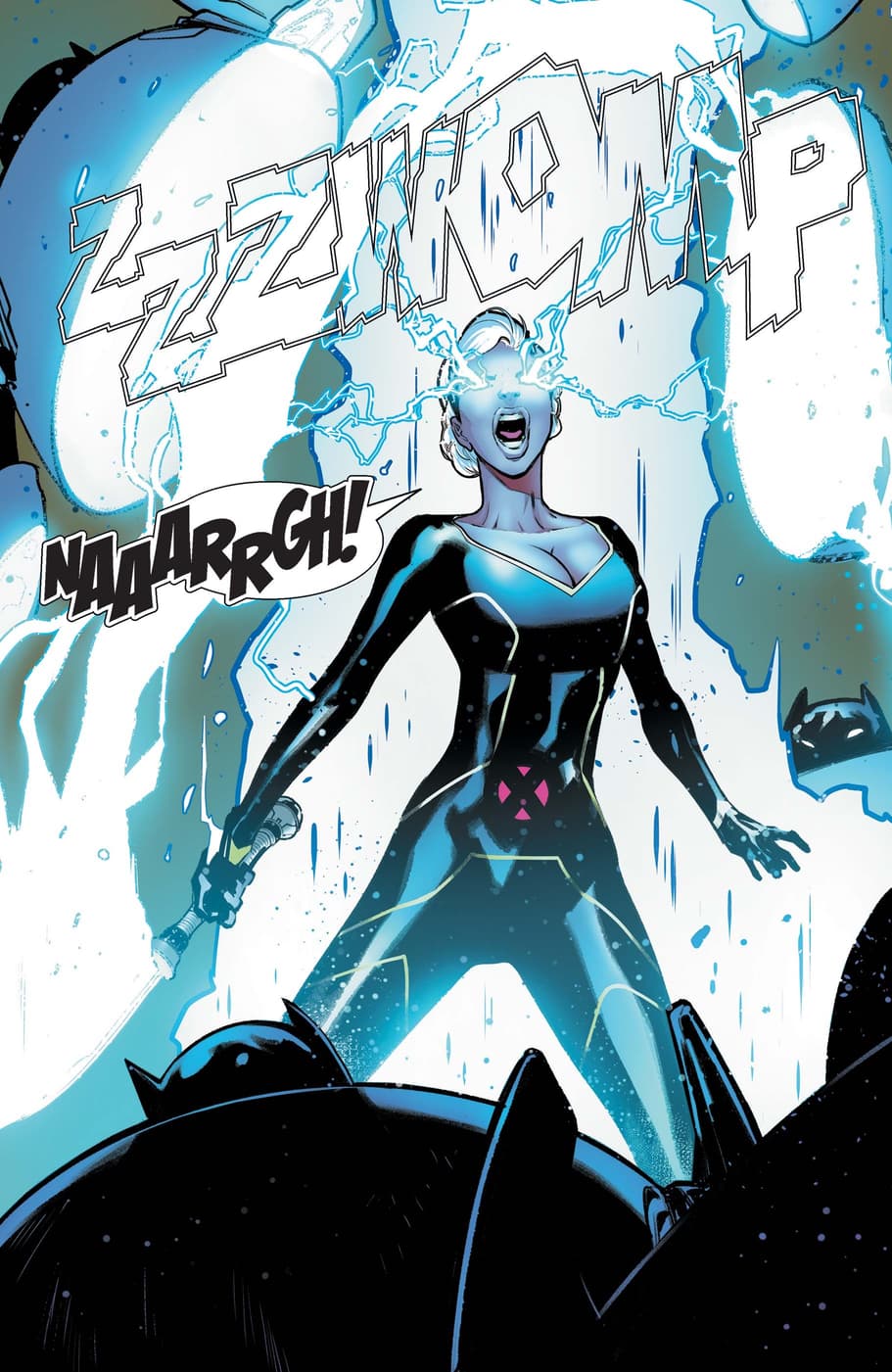 Storm's sword makes the list for being the most difficult to obtain—and that's saying something considering that Wolverine went to actual Hell and back to grab hold of the Muramasa. The Skybreaker, forged from the earliest hunk of Vibranium, is a sacred and legendary weapon to Wakanda and its people. But when Ororo Munroe didn't get approval from her ex-husband and in-laws, she swiped the sword instead using her skills as a master thief. A diplomatic blunder, and a romantic one too. Although, Storm bearing this immense elemental weapon does make a lot of sense.
4. THE CHAMPIONS OF ARAKKO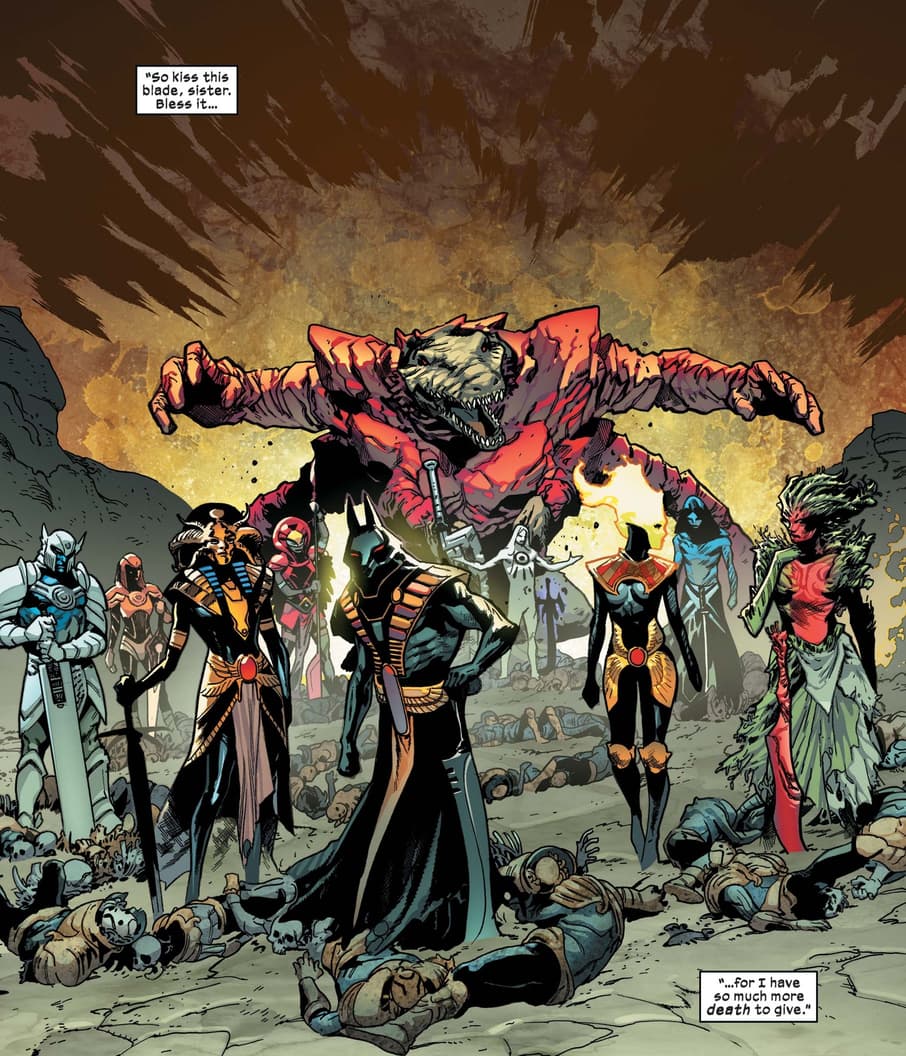 "Annihilation" herself. The living embodiment of death. The Muramasa-wielding Solem. A warrior from Okkara with the "curse" of always winning. The "mouthpiece" of Arakko. A multi-limbed alligator beast that speaks in forced rhyme...
Spanning the ancient "one-land" of Okkara, to Amenth and Arakko, the appointed champions from the "Other Side" are a fearsome and pretty weird bunch. But when they start pulling points in the arena, the mutants realize that "stepping up their game" isn't nearly enough. After all, many of the Arakkii have a few thousand years on their competitors.
5. HER ROYAL WHYNESS, AKA OMNIVERSAL MAJESTRIX OPAL LUNA SATURNYNE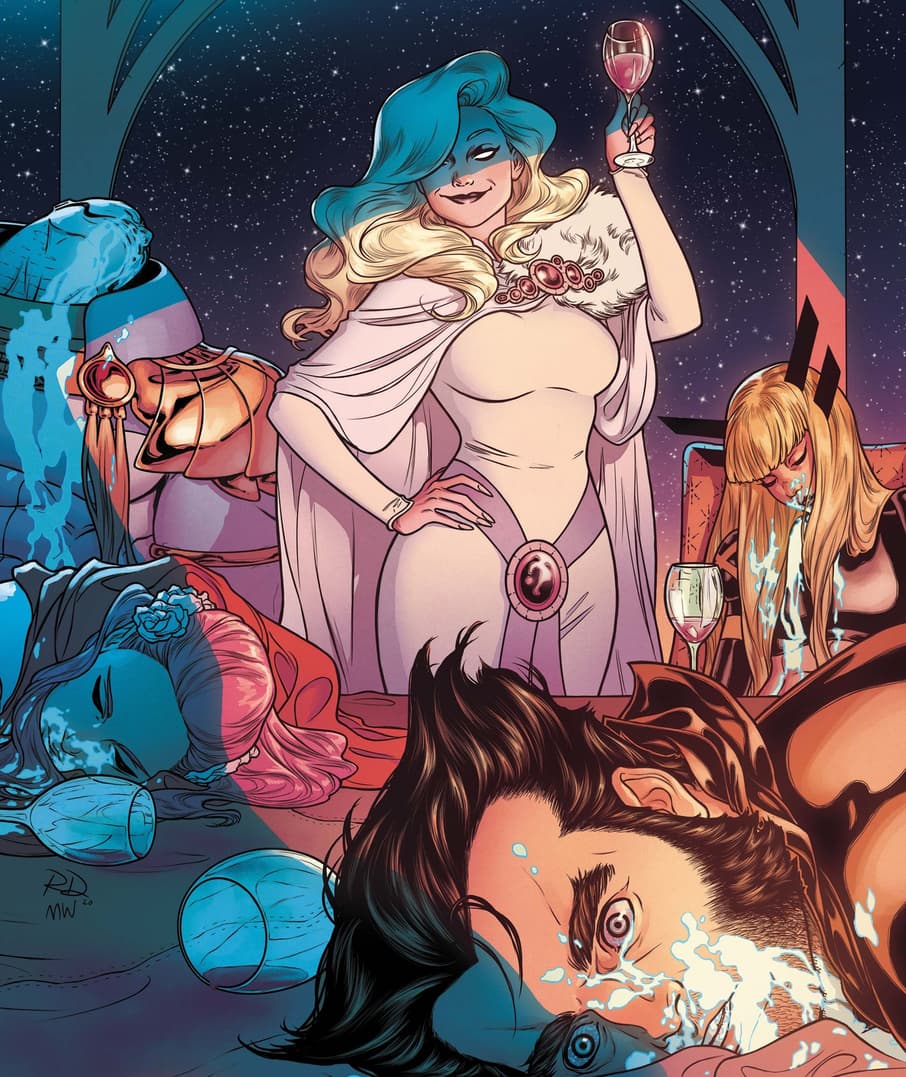 The keeper of all realties and the better-than-thou guardian of the Starlight Citadel, Saturnyne is the "Mistress of Ceremonies" behind X OF SWORDS. Her Royal Whyness is at wit's end keeping Arakko out of Otherworld, and she has agreed to give the Arakkii direct access through her realm. If they can defeat her mutant champions.
Tricky, clever, and utterly chaotic—Saturnyne keeps us guessing with her tarot readings, prophetic riddles, and secrets.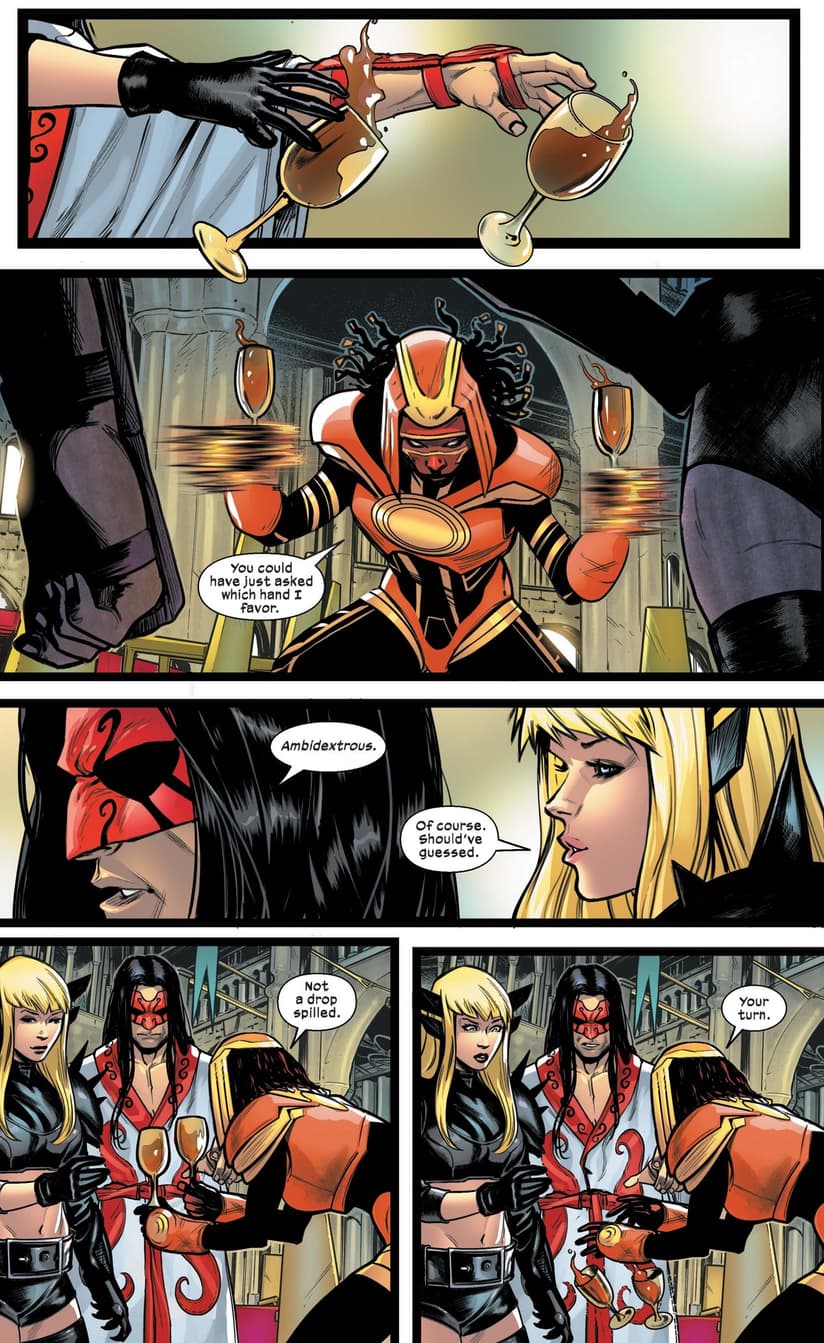 Dancing, deceit, drinking games, and murder. In this two-part "Dinner Party," Saturnyne drags out the torture of her "guests" with an elaborate affair at the Starlight Citadel. Quite a few Krakoan and Arakkii mingle and hit it off, plus it's a great opportunity to see everyone size up the competition.
But by MARAUDERS #15, it starts to unravel like that tea party in Alice in Wonderland.
7. CAPTAIN BRITAIN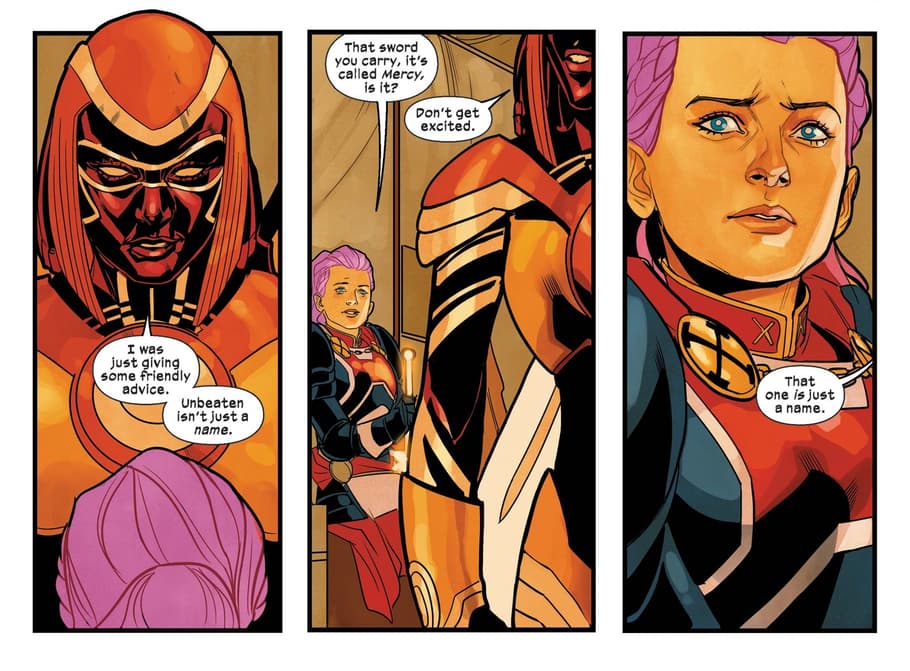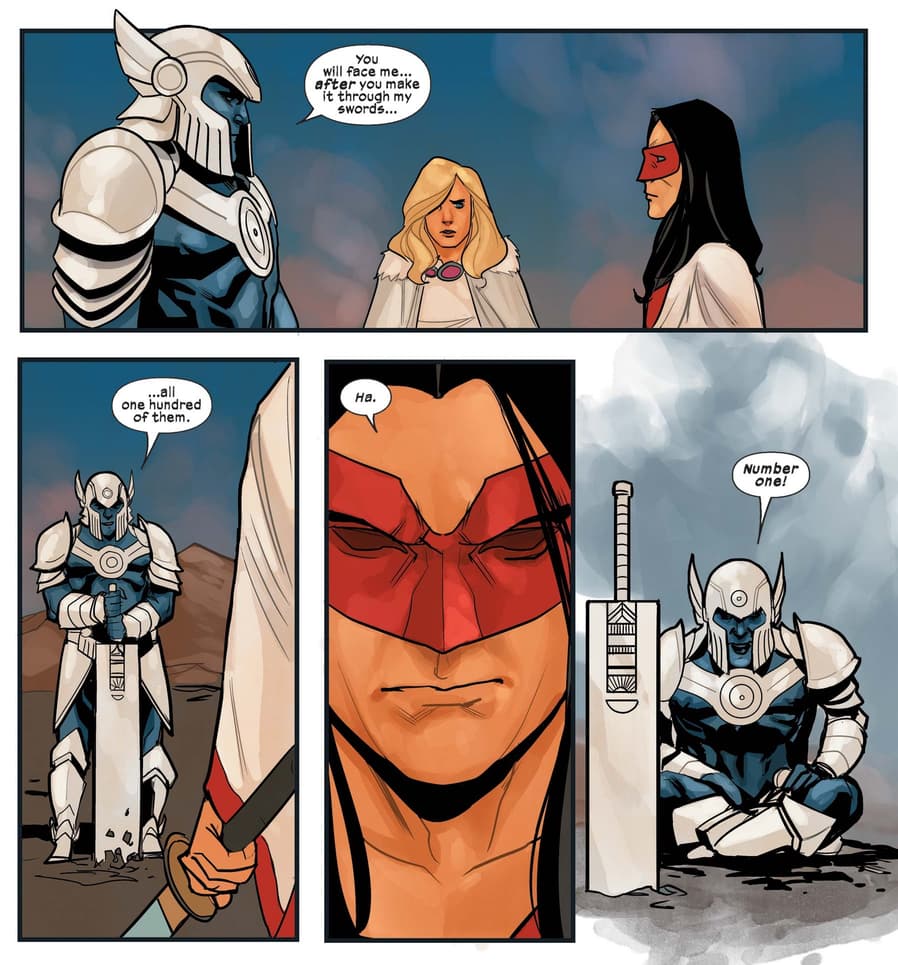 Another mutant champion who absolutely blew us away. While his duel against White Sword of the Ivory Spire may not have ended in the way he had hoped, Gorgon impressed Apocalypse himself with his unbreakable warriors' spirit. CABLE (2020) #6 belongs to Gorgon, a standout issue by writer Gerry Duggan and artist Phil Noto. 
9. APOCALYPSE VS. ANNIHILATION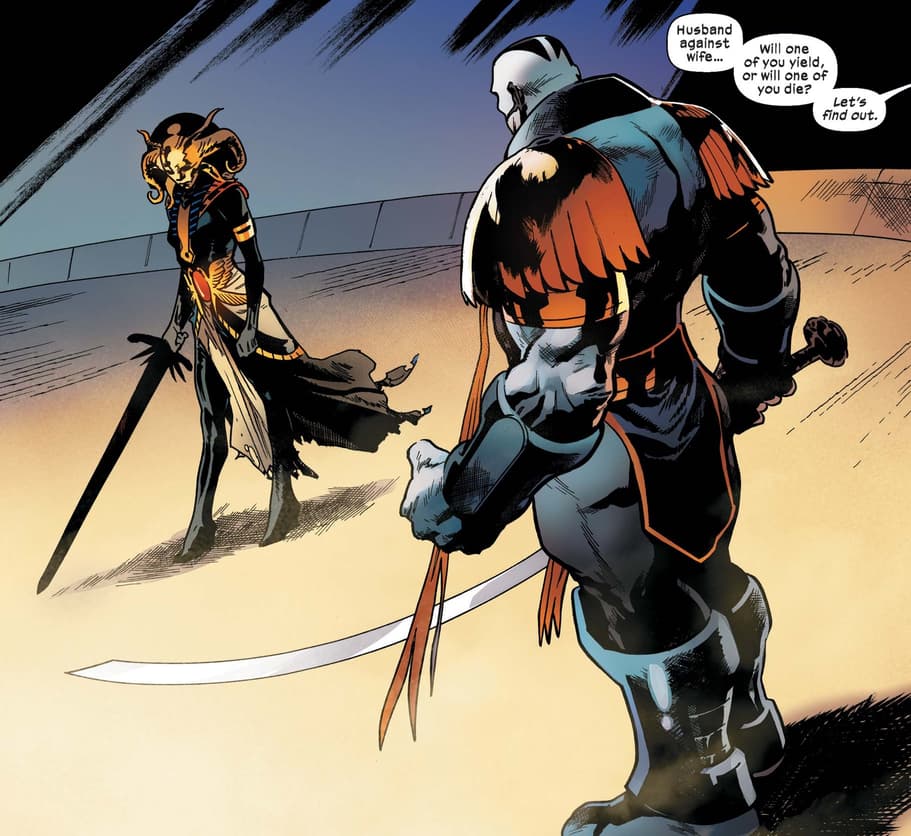 A pivotal standoff between husband and wife! After millennia-years of separation, Apocalypse and the Amenth-influenced Genesis rekindled their past love and old wounds... plus created a few new ones. The opposition of these two ancient forces is a driving wedge in the unrest between Krakoa and Arakko. It's implied that if Apocalypse and Genesis reunite, so do the two land-halves of Okkara.  
10. S.W.O.R.D. STATION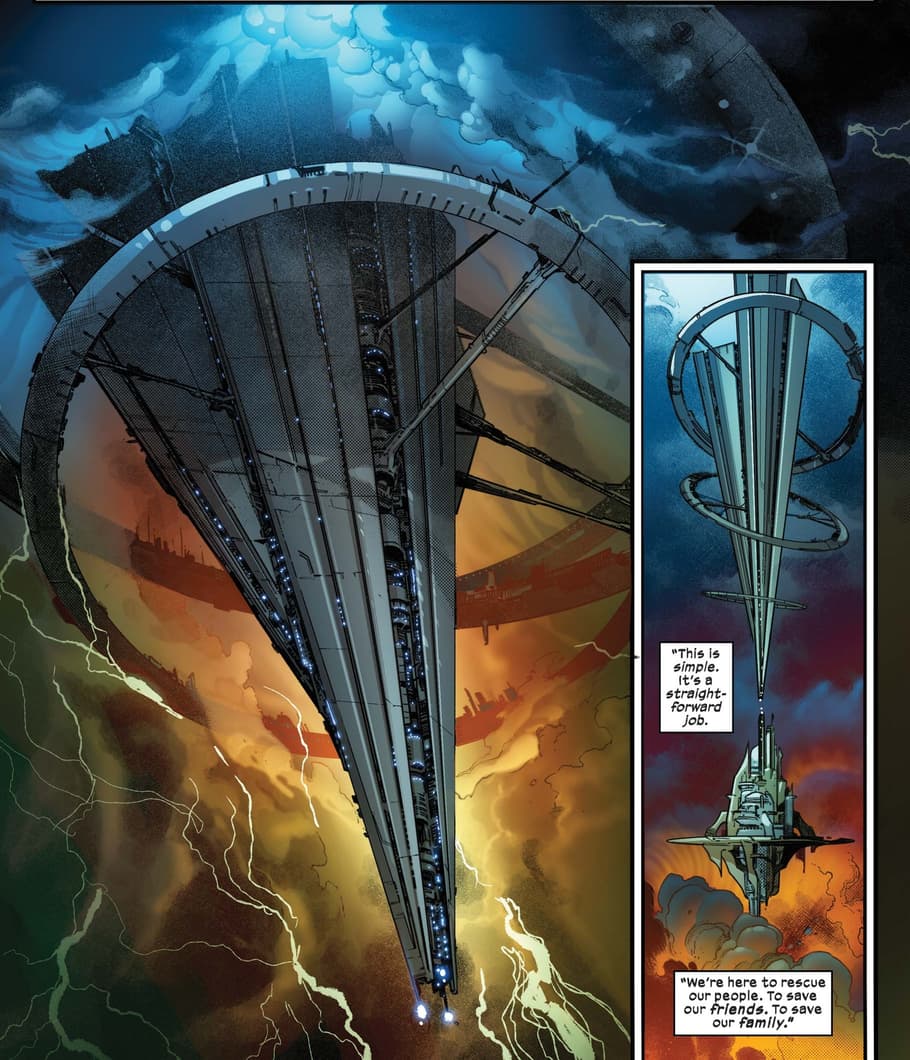 In the event finale, we finally learn what that "S.W.O.R.D." in the sky is all about. Teen Cable, wielder of the Light of Galador, worked with Magik, plus parent figures Cyclops and Jean Grey, to unlock the event's most surprising twist. A younger, time-displaced Nathan Summers inherited an alien sword of Space Knight origin, not realizing that this relic was the key to the X-Men's victory. Enter: S.W.O.R.D.'s former orbital space station chock full of alien prisoners galore.
Stay tuned for S.W.O.R.D. (2020) #1 to read the next chapter in (interstellar) X-Men history.
Read the complete X OF SWORDS saga on Marvel Unlimited today, and let us know your top moments at @MarvelUnlimited on Twitter and Facebook!
Follow Marvel Unlimited on Twitter and Facebook to stay tuned in to weekly announcements, articles, and more, all at @MarvelUnlimited. Follow us today to join the conversation with thousands of fellow fans, and let us know what you're reading!
The Hype Box
Can't-miss news and updates from across the Marvel Universe!