Comics
Published October 30, 2020
'X of Swords': Meet the Swordbearers of Krakoa and Arakko
Everything you need to know about Marvel's X-Men crossover...so far!
Looking to get into X OF SWORDS? Flip through our reading guide right here!
This week, X OF SWORDS: STASIS #1 marks the halfway point for the X-Men's latest crossover. As far back as POWERS OF X and HOUSE OF X, Head of X Jonathan Hickman has been teasing the event that split the sentient island Okkara into two pieces: Krakoa and Arakko. X-MEN #13 shed more light on how it happened. Apocalypse and his wife, Genesis, led their children/horsemen into battle against the demonic forces of Amenth ages ago.
To end the ongoing invasion, Genesis and the Horsemen remained on Arakko as it was cast into another dimension. Apocalypse was charged to remain on Earth and "test" the remaining population until only the strongest remained. In effect, his survival of the fittest creed came about because Apocalypse was preparing the world for the next invasion.
Unfortunately for Apocalypse, the centuries have twisted his children and turned them against him. In X OF SWORDS: CREATION #1, Summoner led Apocalypse and other mutants from Krakoa into a deadly trap. Apocalypse narrowly survived, but Rockslide's death revealed that any mutant who dies in Otherworld can not be resurrected as they were before their demise. The mutant Resurrection protocols holding their minds and souls are corrupted by the infinite possibilities of Otherworld.
The Arakkii have already slaughtered the Otherworld kingdom of Drayador on their way to ravage Krakoa and Earth. To prevent the war from spilling over into her kingdom, the Omniversal Majestrix, Saturnyne, arranged for a tournament to take place between the swordbearers of Krakoa and the champions of the Arakkii. After X OF SWORDS: STASIS #1, we now know the identities of the warriors on both sides of the conflict.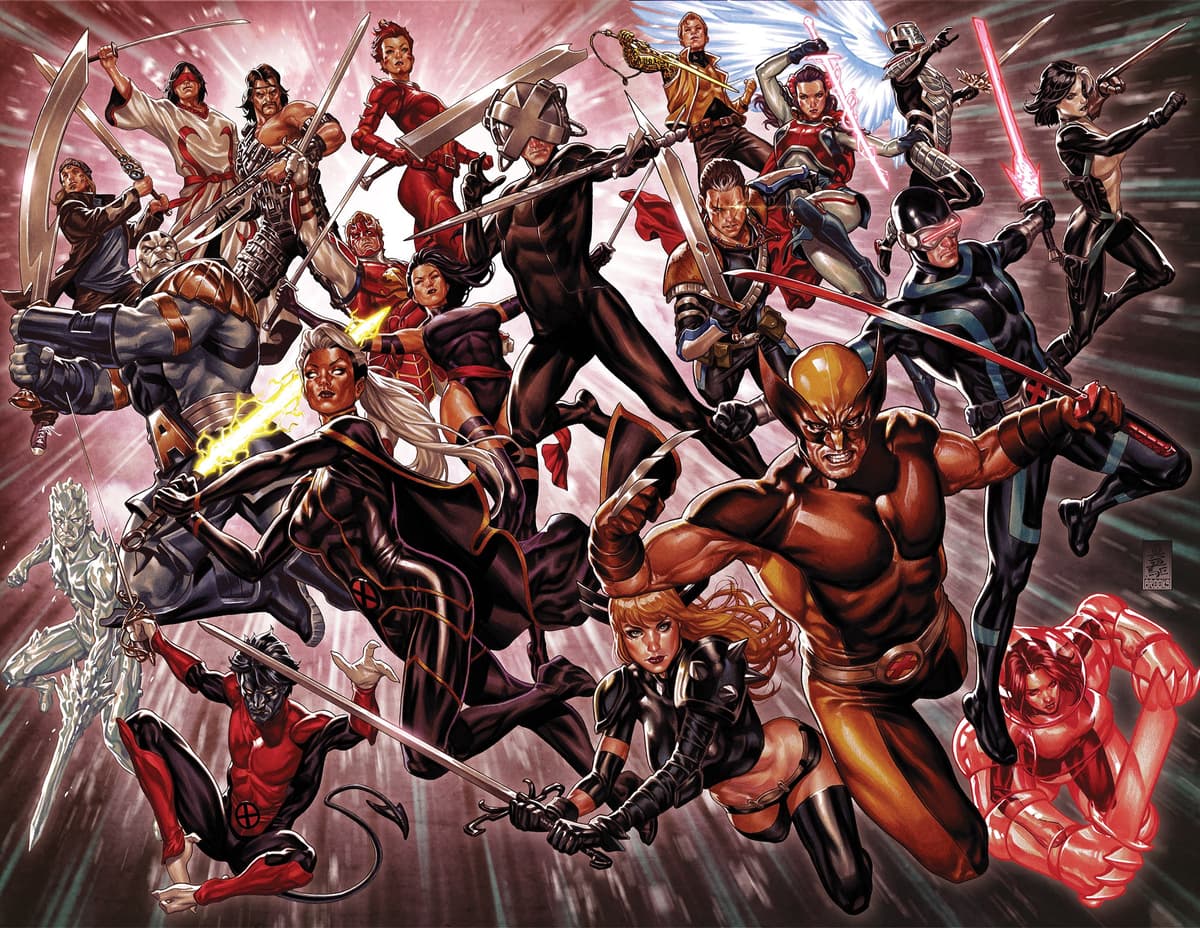 The Swordbearers of Krakoa
Apocalypse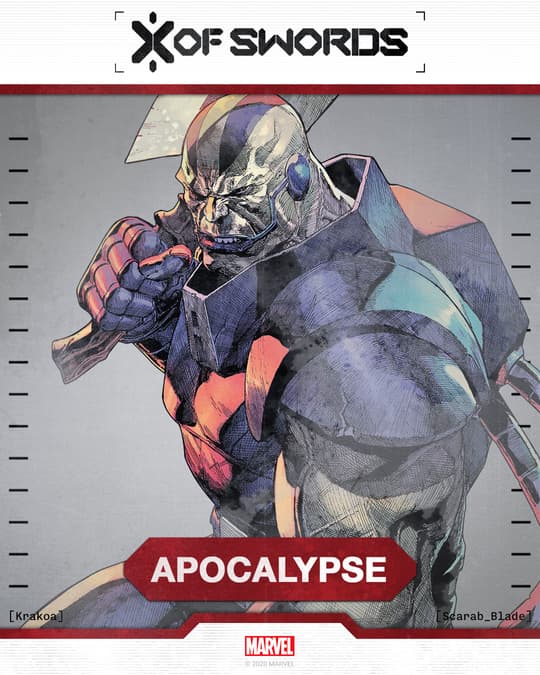 En Sabah Nur was overjoyed to see his children alive again...right up until they nearly killed him. Now, Apocalypse is filled with a sadness and anger that we've never seen from him before. His physical wounds have been healed, but his emotional wounds remain. Apocalypse will go into the ultimate battle with the Scarab Blade, which he'd previously discarded centuries ago.
Wolverine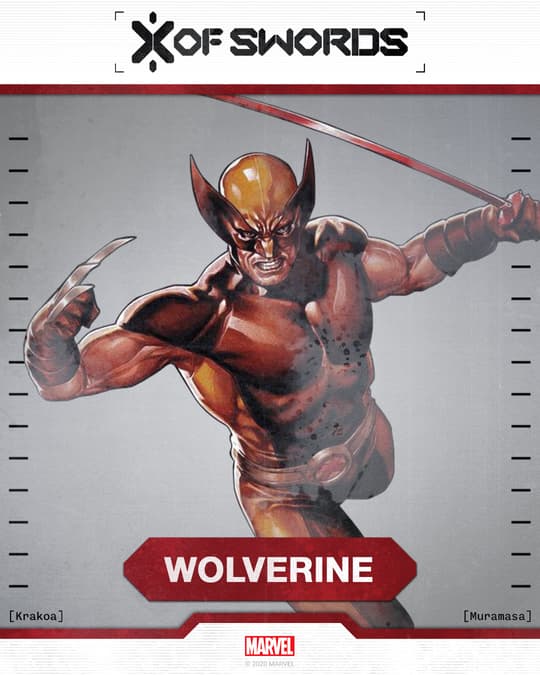 Logan's original Muramasa Blade was lost years ago. To get a replacement, he tracked down the immortal sword maker, Muramasa—in Hell—where he was being held prisoner by the Hand. Muramasa created two powerful new blades, which were immediately claimed by Solem of the Arakkii. However, Solem "generously" sold one of the blades to Wolverine. The price of that transaction has yet to be revealed.
Magik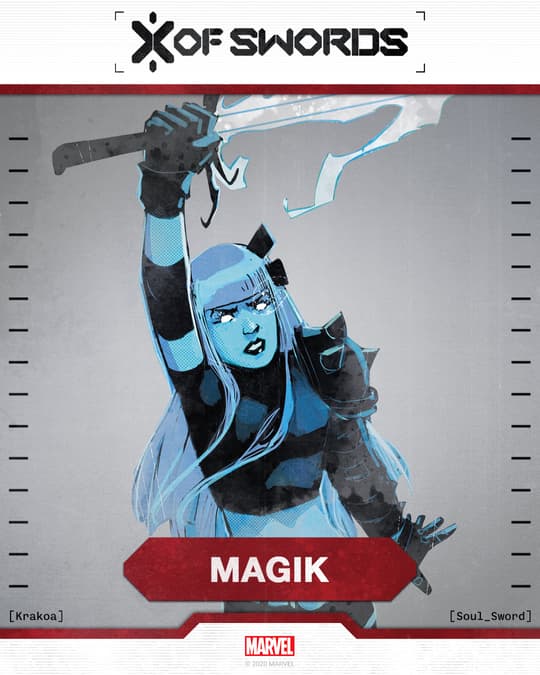 Illyana Rasputin was the first champion of Krakoa, and she already had her blade. The Soul Sword was literally created from a piece of Illyana's soul when she was a child trapped in Limbo. As a young adult, Magik is one of the most powerful X-Men and New Mutants; she's also one of the captains of Krakoa.
Storm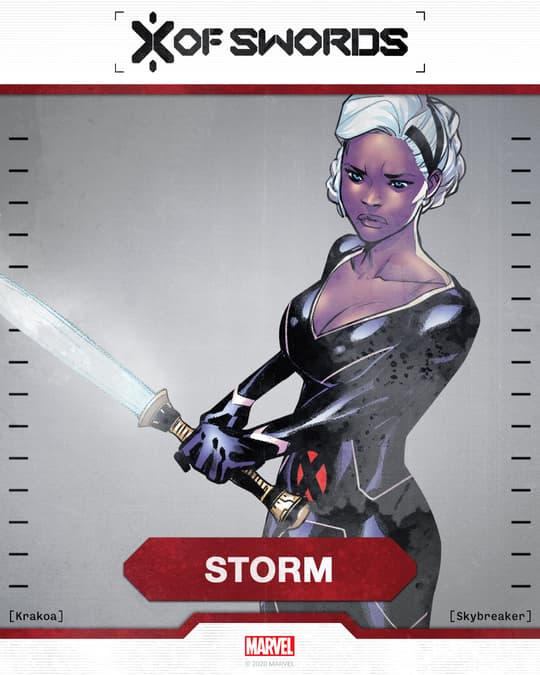 Ororo Munroe has been a leader of the X-Men for years, and she currently sails the high seas with Captain Kate Pryde and the Marauders. But Ororo was also once the queen of Wakanda and the wife of Black Panther. To save Krakoa, Storm betrayed the trust of T'Challa and his family to steal Skybreaker, "the voice of the Heavens." This sword was the first vibranium weapon and it is sacred to the people of Wakanda. T'Challa ultimately let Storm take the blade, but their relationship has been damaged.
Cypher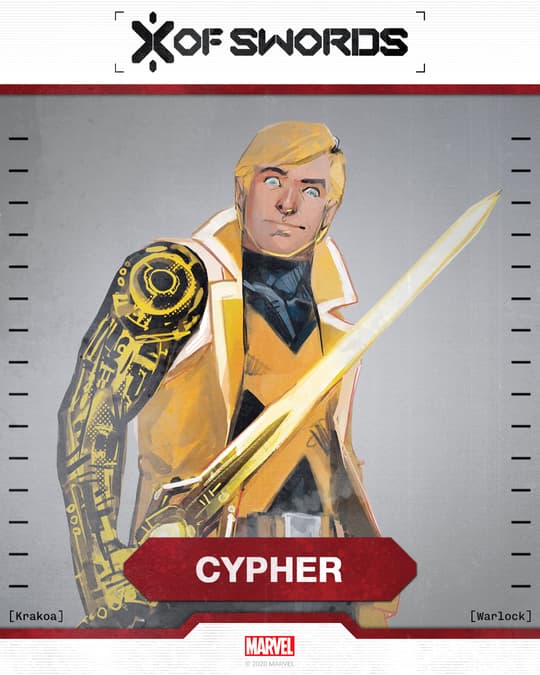 Doug Ramsey's open secret was that his best friend, Warlock, survived and lived on as Doug's Techno-organic arm. The prophecy predicted that Doug would use Warlock as a blade in the upcoming battle. But since Doug isn't a warrior, Krakoa didn't want its voice to go into war. Even with crash course training from Magik, Doug's lack of fighting skills may place him in even greater danger during the tournament.
Cable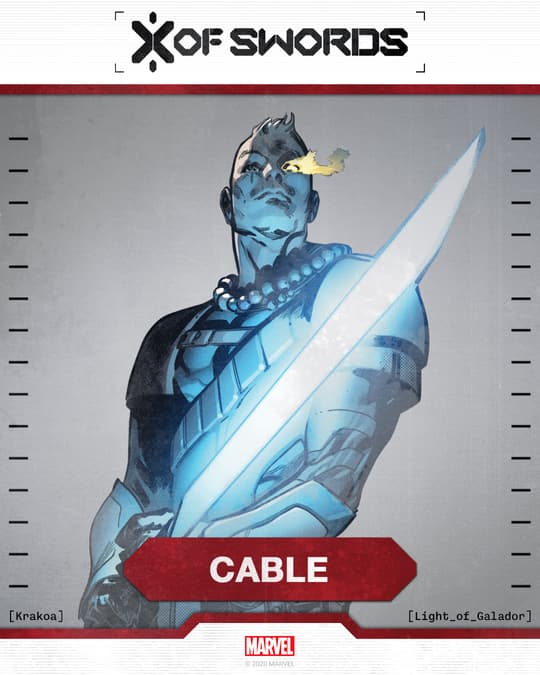 The grizzled war veteran from the future was spotted as recently as CABLE #1. In that same issue, Nathan Summers' younger counterpart found the Light of Galador, a blade created by the SpaceKnights. Young Cable's new sword also empowered the Peak, the orbital station previously held by S.W.O.R.D. and its agents. However, an unknown alien invader overran the Peak, forcing young Cable and his parents to retreat. For now, Cable can only deal with one threat at a time. But the enemy he encountered on the Peak will surely show up again.
Captain Avalon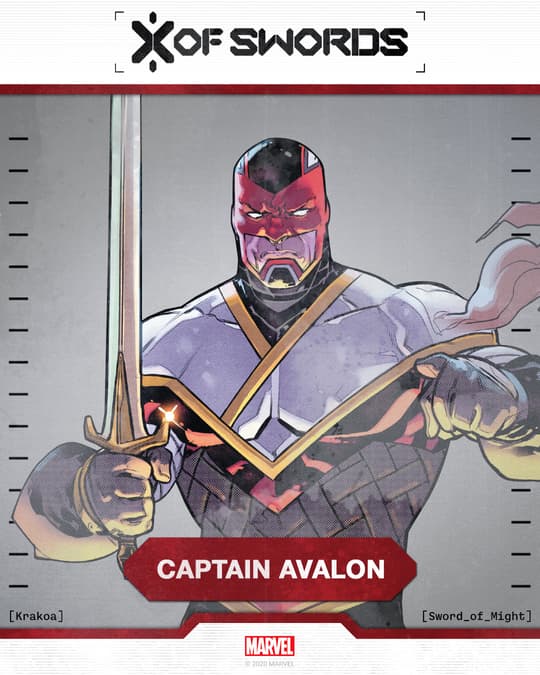 For many years, Brian Braddock was Captain Britain and a staunch ally of the X-Men. He was also a founding member of Excalibur. Unfortunately, Brian lost his mantle in EXCALIBUR #1 when he was captured and enslaved by Morgan Le Fey. In EXCALIBUR #13, Brian was rechristened Captain Avalon by his brother, Jamie. He is Krakoa's only human champion, and he will bring the Sword of Might into battle.
Captain Britain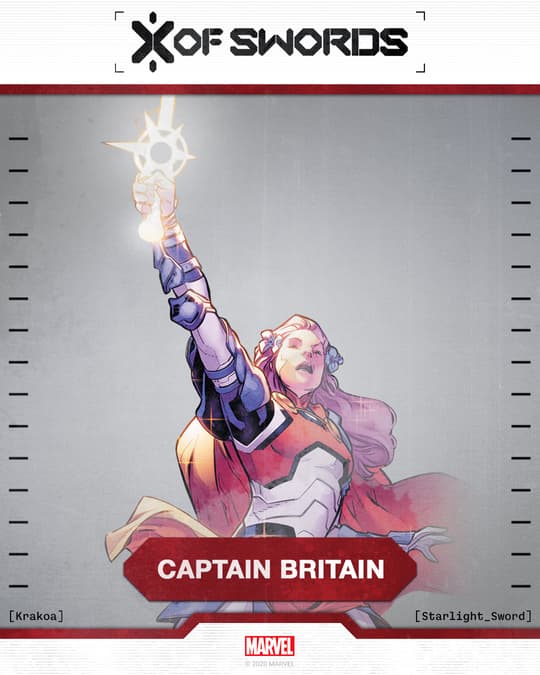 Betsy Braddock was never supposed to be Captain Britain. But now that she is, Betsy won't give up that role without a fight. Saturnyne has openly displayed her contempt for Betsy, and she even attempted to have her executed. Regardless, Betsy and her brothers outsmarted Saturnyne, which allowed Betsy to claim the Starlight Sword, a new blade that was crafted from a piece of the Starlight Citadel itself.
Gorgon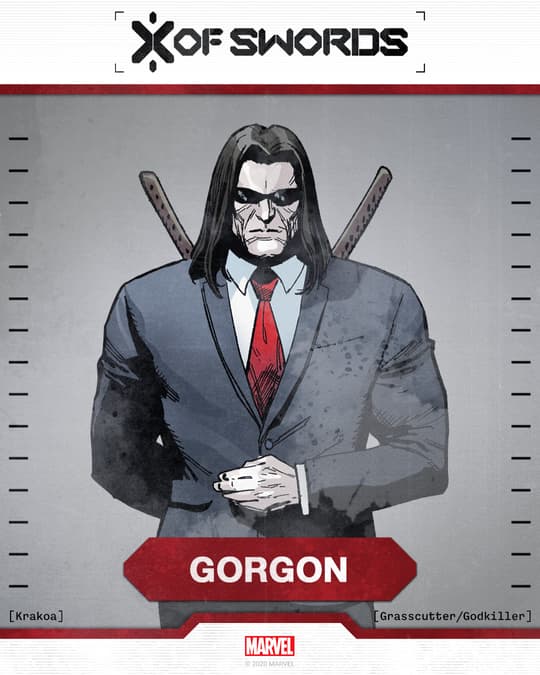 Once, Gorgon was one of Wolverine's greatest enemies. Now, he is among the captains of Krakoa, and a staunch believer in the mutant nation. Intriguingly, Gorgon has claimed this part of the prophecy as his own: "Ego death and broken stone; two wars waged by one champion alone."
This leaves Krakoa with only nine swordbearers. But there were ten spaces on Polaris' casting circle, which implies at least one more swordbearer to come.
And now to introduce...
The Swordbearers of Arakko
Redroot the Forest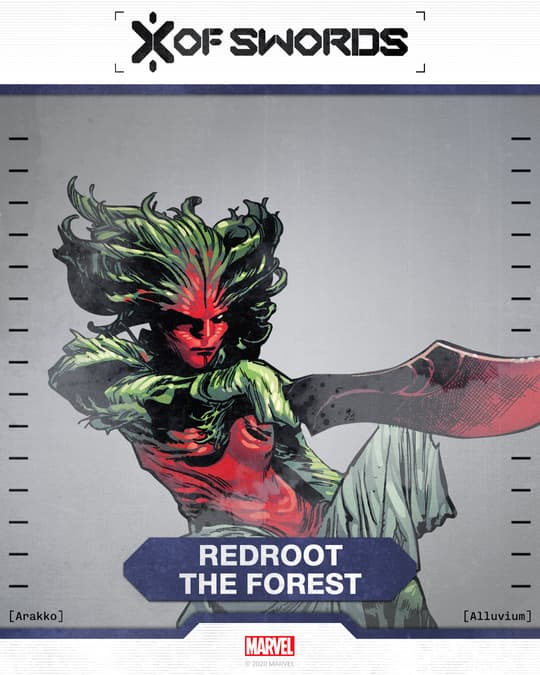 Arakko is female, and so is her voice, Redroot the Forest. Among the Arakkii, Redroot is unique in that she doesn't want to fight and she despises the upcoming bloodshed. If not for Arakko's desire to reunite with Krakoa, Redroot would sit out of this conflict. But at Arakko's behest, Redroot will utilize her botomancy powers and the blade known as Alluvium.
Pogg Ur-Pogg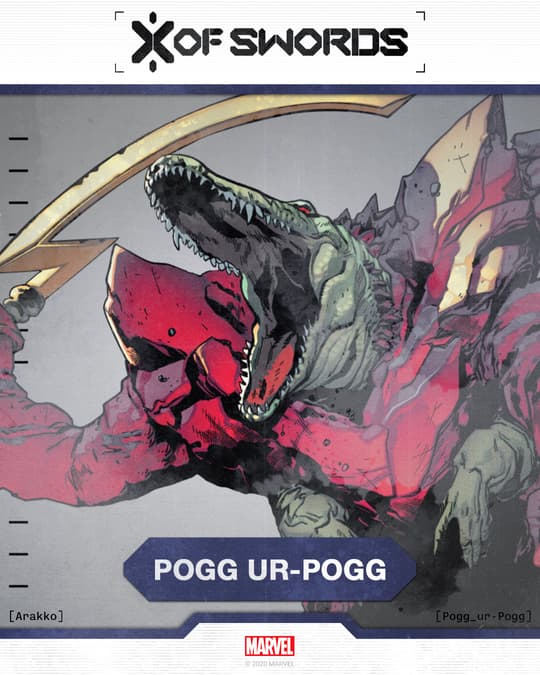 Very little is known about the lizard-like Pogg Ur-Pogg. But it is telling that the Arakkii had to appeal to Pogg Ur-Pogg's greed in order to get him to fight for them. His sword shares his name, and Pogg Ur-Pogg will face Magik in the upcoming tournament.
Bei the Blood Moon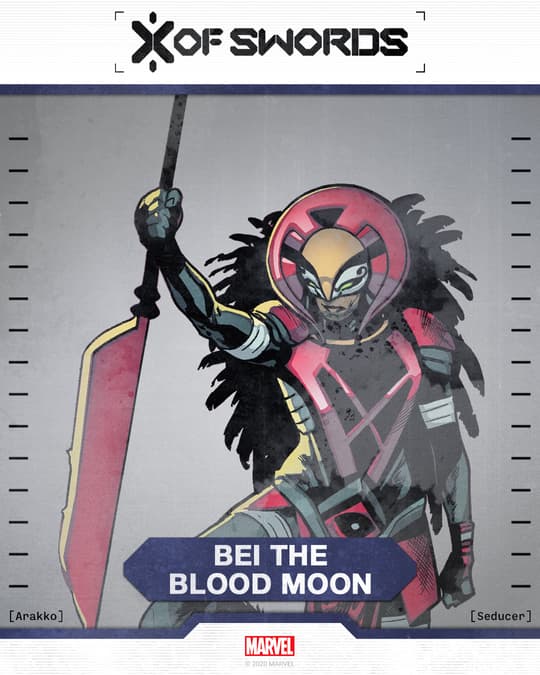 Bei the Blood Moon needed very little convincing to join the fight. Her blade is Seducer, but it's harder to define her mutant power. We only know that it is called "the Doom Note"...
Solem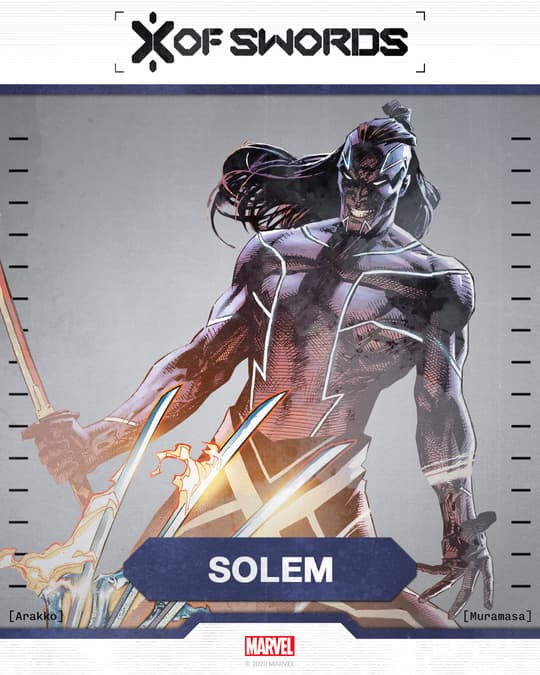 A seducer of all, Solem was imprisoned by War for over a century. His crime was murdering his former lover, War's husband. But War remains the only being that Solem has not been able to seduce. Solem's adamantium skin makes him nearly invulnerable to injury, and he has a Muramasa blade of his own. More importantly, Wolverine owes him a favor. And it may soon be time to collect.
Isca the Unbeaten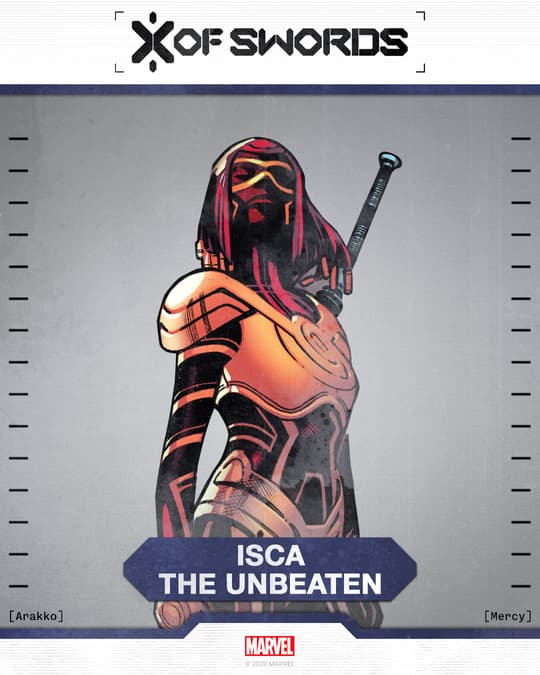 Isca the Unbeaten has a unique mutant power: she can't lose. Ever. Hence "the Unbeaten" in her title. Her sword is called Mercy, but she has none. She is also the sister of Genesis, Apocalypse's wife. That would make Isca Apocalypse's sister-in-law. Once, they really were like brother and sister. She even forged Apocalypse's Scarab Blade as a wedding present.
The White Sword of the Celestial Spire
Once, the White Sword was a champion to the Arakkii. He personally led an expedition into the invading dimension and held back the advance of the Amenth. That's why he considers it a betrayal that the Arakkii now bow to Amenth. He only agreed to wield his sword, Purity, for their cause in exchange for a significant favor to be named later. The White Sword also has a healing ability that may rival Wolverine's.
Death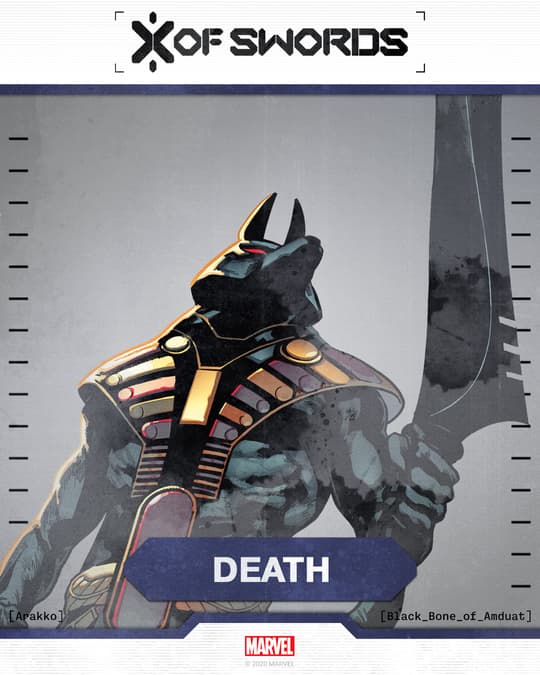 Child of Apocalypse and Genesis, the original Death recently stole the Black Bone of Amduat to be his blade. His power is called "The Eyes of Death," and it lives up to its title.
War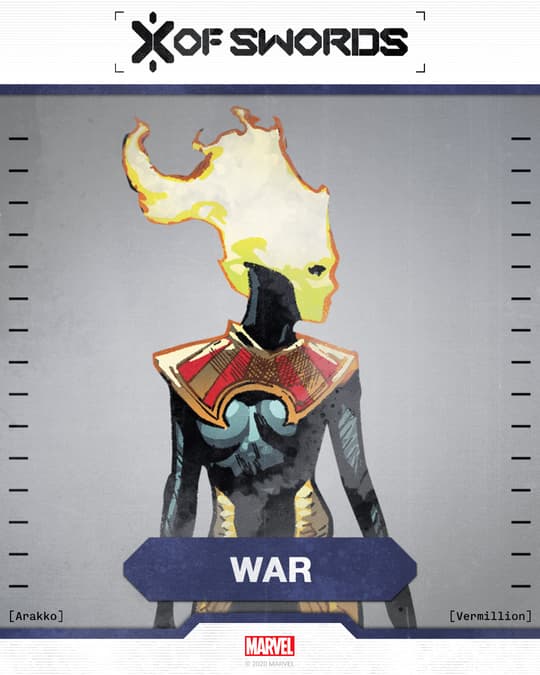 Another child of Apocalypse and Genesis, War's mutant power is control over fire. Her blade is called Vermilion, the Red Sword of War. In X OF SWORDS: CREATION #1, a single strike from Vermillion nearly killed Apocalypse himself.
Summoner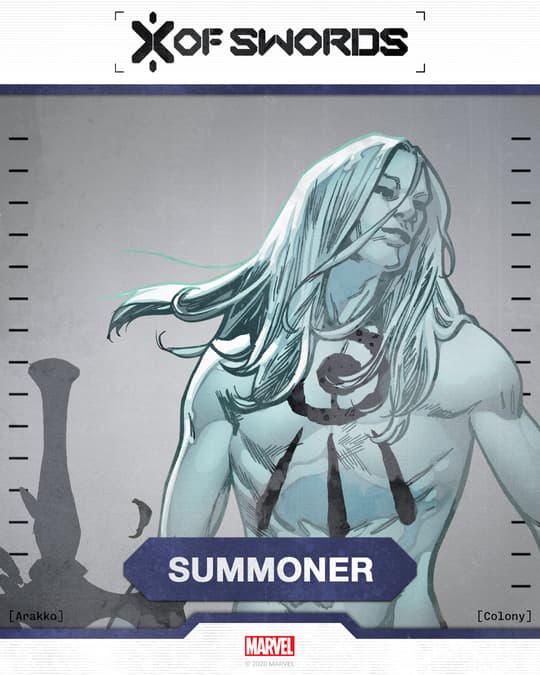 Summoner is the child of War and her late husband, Bracken. That would also make him Apocalypse's grandson. Summoner came to Earth in X-MEN #2 with a piece of Arakko that rejoined with Krakoa. He claimed to be a friend and ally of Krakoa's mutants, while warning them of an invasion. But Summoner always planned to betray Apocalypse, and he personally murdered Rockslide.
Because of his mutant power, Summoner is nearly invulnerable; only his eyes can be hurt. His sword is called Colony.
Annihilation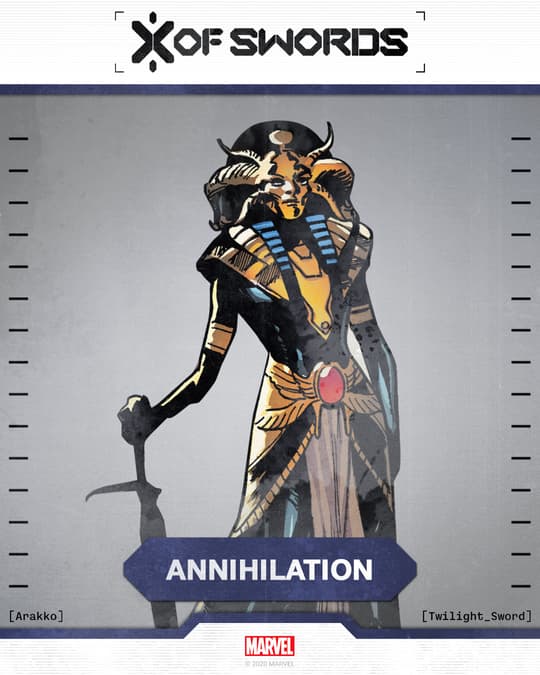 Annihilation is the leader of the Arakkii, and the wielder of the Twilight Sword. Her mutant powers remain concealed, but she has strength that exceeds even Apocalypse's might. Much to his horror, Apocalypse has learned that Annihilation is his wife, Genesis, who has somehow merged with Amenth.
She is literally Apocalypse's greatest love and his greatest enemy in one. And in the war ahead, only the strong will survive.
Continue the tale of X OF SWORDS at your local comic shop next week with MARAUDERS #14 and X-MEN #14!
The Hype Box
Can't-miss news and updates from across the Marvel Universe!