Comics
Published October 19, 2020
How to Read 'X of Swords'
See the full rundown of the 22-part X-Men crossover event!
X OF SWORDS, the epic X-Men crossover that represents the next chapter in Jonathan Hickman's bold new vision for the X-Men, threatens the new mutant nation of Krakoa with invasion by the inhabitants of the lost land known as Arakko...
Saturnyne, the Omniversal Majestrix, has devised a delightful way to settle this ancient dispute—a tournament. Ten champions from each nation will gather mythical swords to wield in duels that will determine the very future of mutantkind, and the hunt is on right now!
Coming this week, EXCALIBUR #13 and X-MEN #13 present Chapters 9 and 10, before October 28's X OF SWORDS: STASIS #1 marks the halfway point of the tale.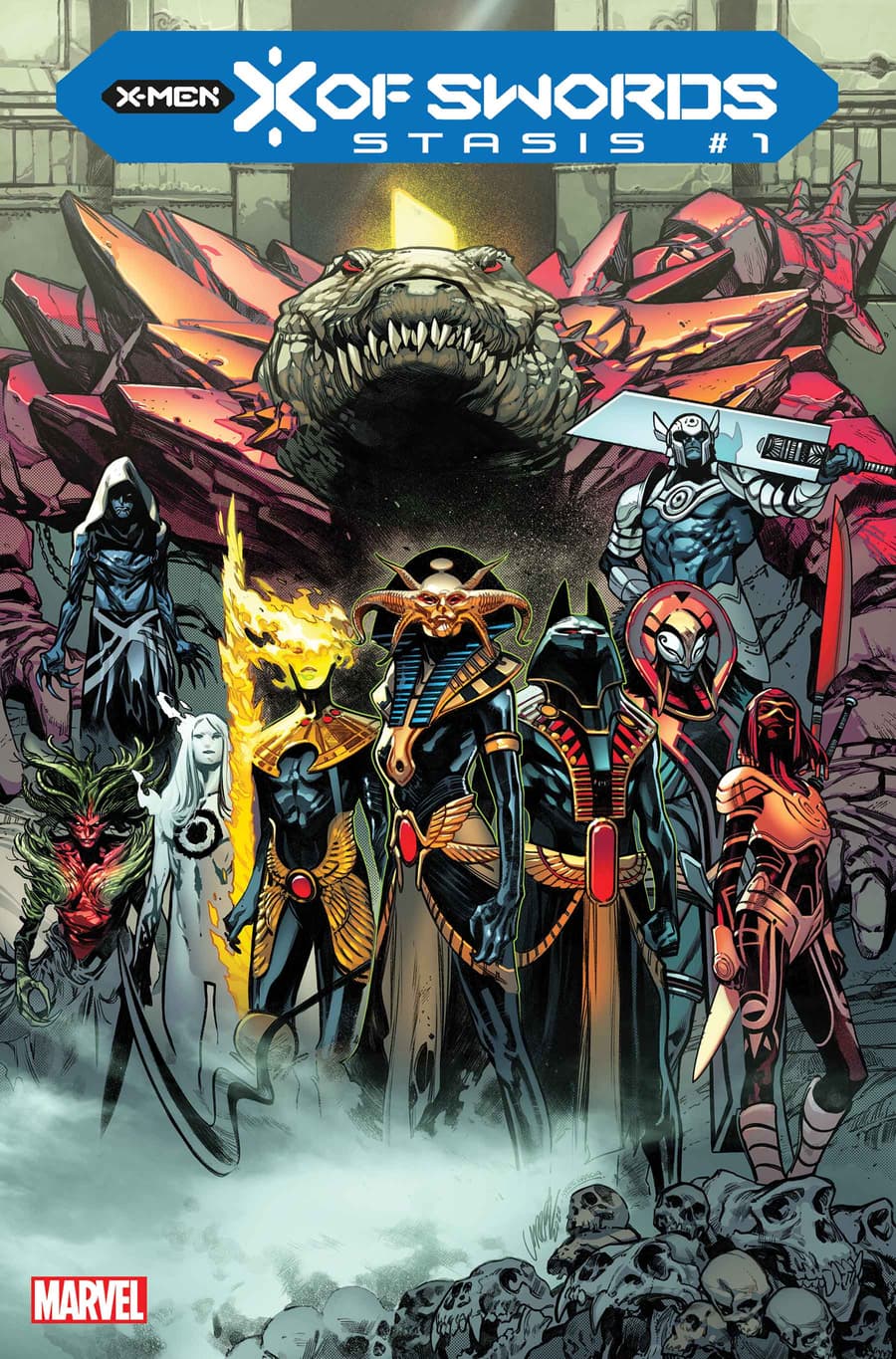 Also coming this week is the X OF SWORDS HANDBOOK, an all-new collection of X-Men-related profiles will bring you up-to-date on every major player in the worlds of Krakoa, Arakko, and Otherworld. 
Here's the full rundown, issue-by-issue, of the two prelude issues, the chapters that have hit comic shops so far, and the ones that have yet to come...
September
Prelude
X OF SWORDS begins
October
November
X OF SWORDS began in September with two prelude issues, EXCALIBUR #12 and X-MEN #12. Written by Tini Howard and Jonathan Hickman, two of the architects of the crossover event, these issues #12 transitioned the story from the Dawn of X into X OF SWORDS, which began in earnest with X OF SWORDS: CREATION #1. Read Marvel.com's spoiler review of that mag right here!
Chapter 2 arrived in the form of X-FACTOR #4—get the lowdown on that issue here—then story immediately ratcheted up to a rapid pace, with multiple chapters per week. October 7 saw the emergence of new threads and threats with WOLVERINE #6, X-FORCE #13, and MARAUDERS #13 (review here), and last week found Chapters 6-8 with HELLIONS #5, NEW MUTANTS #13, and CABLE #5. Get all the info on those mags right here!
This week, Howard and Hickman respectively return for two more monumental issues, EXCALIBUR #13 and X-MEN #13. Then the halfway point of the 22-part event arrives with Chapter 11, X OF SWORDS: STASIS #1...
A collection of creators—including senior editor Jordan D. White and writers Tini Howard, Gerry Duggan, Benjamin Percy and Vita Ayala—united at NYCC x Metaverse to preview the rest of the tale...
...which will continue after STASIS on November 4 with X-MEN #14 and MARAUDERS #14. Then the crossover speeds toward its conclusion as November 11 sees MARAUDERS #15, EXCALIBUR #14, and WOLVERINE #7. Then, on November 17: X-FORCE #14, HELLIONS #6, and CABLE #6. And the final three books arrive on November 25, with EXCALIBUR #15, X-MEN #15, and X OF SWORDS: DESTRUCTION #1.
Here's a handy checklist of each chapter of X OF SWORDS!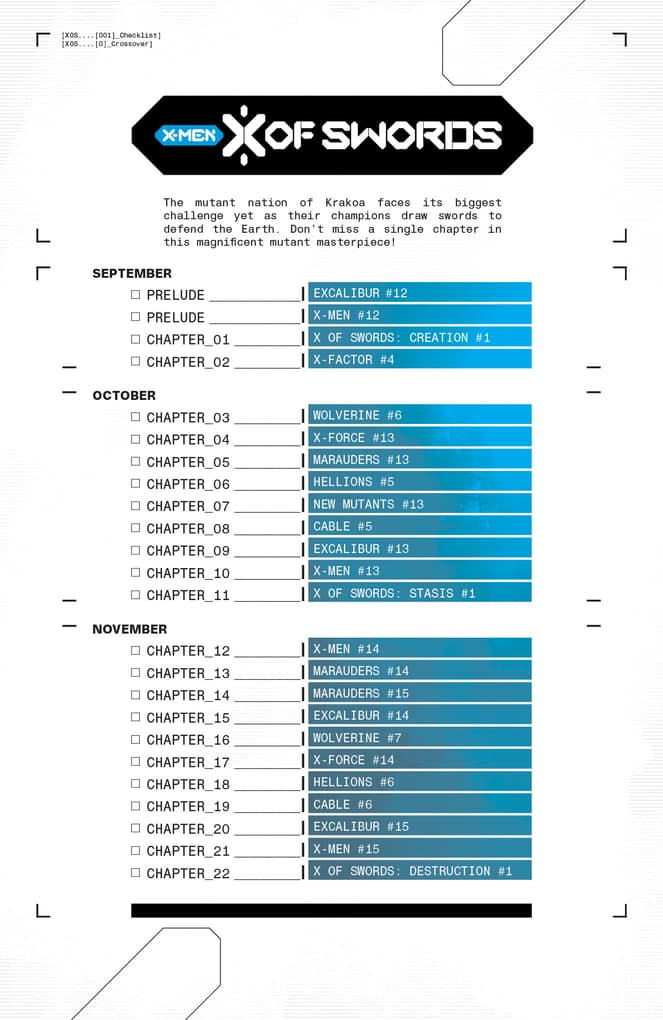 The Hype Box
Can't-miss news and updates from across the Marvel Universe!