Comics
Published July 11, 2019
Young Guns Profiles Aaron Kuder: 'Is Anyone Really Self-Taught?'
Known for his work on 'Fantastic Four,' 'Guardians of the Galaxy,' and more – check out the origin story of one of Marvel's elite artists!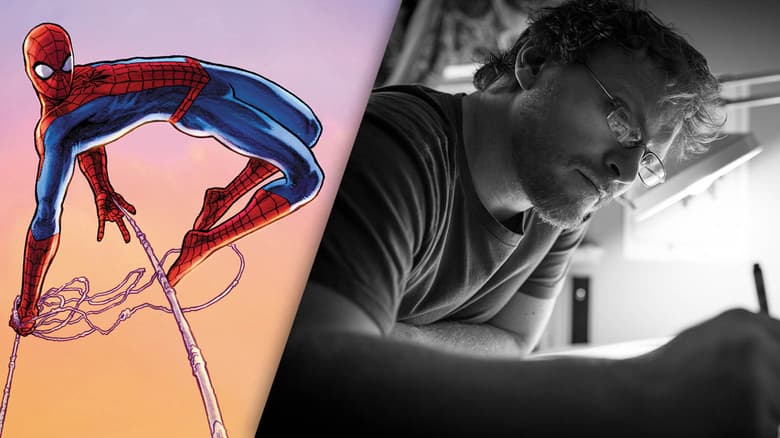 Young Guns artist Aaron Kuder grew up living and breathing art, reading Marvel comics throughout his youth, and working all kinds of jobs before his big break into comics. We chatted with him about his artistic upbringing, his influences, and his favorite moments drawing FANTASTIC FOUR and GUARDIANS OF THE GALAXY.
On your portfolio website, I saw that you taught yourself to draw. Tell me about that, what does the self-taught path look like?

Huh, I don't know if I feel that way anymore. I mean, is anyone really self-taught? We are products of our environment, so someone is guiding us in some way. I've had a lot of wonderful people who have encouraged me and helped me along the way. I found inspiration and stylistic techniques from books and art around me. Someone wrote those books, or painted those paintings -- did I get to talk to them and learn from them in a hands-on sort of way? For the most part, no. But did I learn from them? Did I infer the knowledge of how to make something on a page? Absolutely. What I mean when I say I was self-taught is that I didn't go to school to learn "art." I went to college for about a year and felt like I was getting more out of hanging out in coffee shops making art than I was in a classroom. Of course, those were some pretty great coffee shops. I [also] don't want to encourage anyone to drop out.
When did you start drawing?
Long before I can remember (and hopefully long after I forget).

Was it encouraged by the people you grew up around?
Absolutely. My mother would buy me anatomy books when I was in grade school. Most summers, my father and step-mother would enroll me in summer art camps. Beyond that, they all really gave me the space and tools I needed to grow as a "creative." To my friends I was always the guy that drew all the time. I really can't remember having any sort of negative reaction from anyone about making my art until I was already an adult. I mean, I had negative interactions/reactions about art, about life, but no one ever sat me down and tried to discourage me from making art (until I was an adult).
Who were your biggest supporters and/or influences?
Loads and loads of people. My older brother Nathan got me my first professional-level illustration job. I worked for a wonderful printmaker/artist extraordinaire named Treacy Ziegler. I helped build frames and stuff for her. That was probably my first glimpse of what a working artist looks like. Growing up in Ithaca, New York, I was really lucky to have a community of supportive people, all of the previously mentioned "coffee shop educational staff" became a bohemian family that helped me see the world through their stories.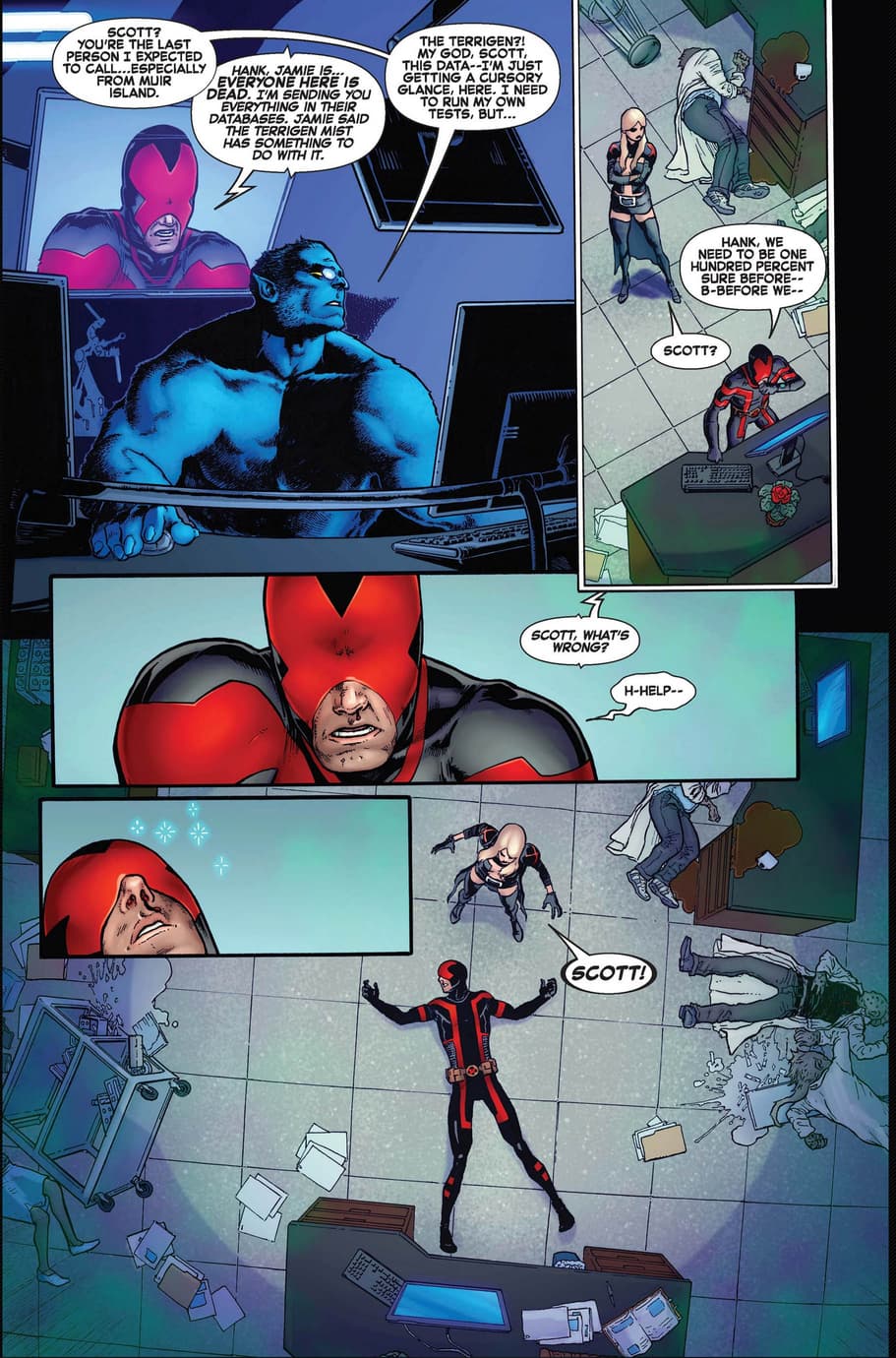 How did you find/create your style?
I have a style? Wait a minute, it'll change.
Which Marvel comics did you read growing up that had the most impact on you as an artist and why?
My earliest comics were bought in gas stations on long family drives. One of the earliest I can remember was MIGHTY MARVEL TEAM-UP THRILLERS which highlighted some of the best marvel crossover stories. That introduced me to all the classic greats like Lee, Kirby, Wein, Claremont, Byrne, Heck, Buscema, Ditko, and Starlin. I started picking up comics regularly in the late '80s/early '90s. Mostly X-Men (X-Family) and Spider-Man, but it didn't take long for that to expand into SO many titles.
Why do you draw? Why is the process of drawing or making comics meaningful to you?
Dang… my gut reaction to "Why do you draw?" is why do fish swim? Because that's what they do. But to go deeper, why DO fish swim? To survive. In that same way, I create to eat -- not just to pay for food on my plate, although that too. But if I'm not creating, I just don't feel a connection with the rest of the world. In a very real sense, my stories are me, at least during the creation process. Once I finish a page or an issue, I have to let go and give it away. Without that, I just don't know what I would be able to contribute to the world.
What Marvel character did you want to be growing up?
Spider-Man. Seventh birthday candle wish: "I wanna grow-up to be Spider-Man." But don't tell anyone. If you do, it won't come true.
Have you worked outside of illustration or has that always been your career?
I got my "big break" into comics later in life -- I think I was 33? So I've had many different jobs. I've been a waiter, line cook, bartender, bouncer (pretty much any position that can be filled in a restaurant or bar from mopping the floors to managing), a Turkish Rug and high-end furniture sales person, a greeting card painter, a ditch digger, a barista, a coffee roastery delivery driver, a sign maker, a wine store manager, an art supply store clerk, and an electrician.
How did you first get involved working with Marvel? Did they reach out to you after you had something published?
The first interaction I had with a Marvel editor was at NYCC, maybe in '08 or '07? I submitted a portfolio and landed a meeting with Nick Lowe. Nick was totally encouraging. Unfortunately, for a number of reasons I didn't follow up after the show. Fast forward a few years, I was working on my second book with Evil Ink and Boom Studios, Key of Z, when (then Young Gun) Ryan Stegman showed some of my work to Stephen Wacker. Wacker brought me on to do a couple of AVENGING SPIDER-MAN… and thus my bucket list got one shorter.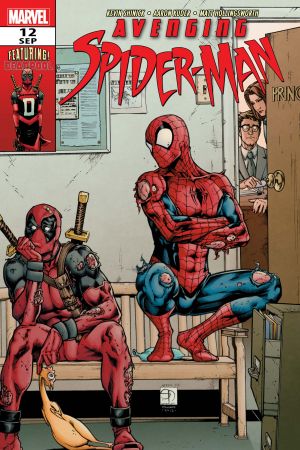 What do you feel like was the tipping point in your career as an artist? When was it (or what was it) that got you to this point of being one of Marvel's Young Guns artists?
I think the first time I held a comic I drew in my hands, there was a feeling of "Yep, this is what I'm supposed to be doing." Honestly still happens every time I get my comps.
For Marvel, you've worked on books like FANTASTIC FOUR and GUARDIANS OF THE GALAXY. What have been your top five favorite moments about drawing these books?
In no particular order…
- Let's not forget Death of X. I got to kill Cyclops. Regardless of how long he stays dead, I got to kill him. Easily one of my top five Marvel moments.
- Every Gerry Duggan script had me literally laughing out loud. The first one that jumps to mind is ALL-NEW GUARDIANS OF THE GALAXY #2  when the Guardians break into the Collector's vault. A large rare animal is being brought into the vault, the Guardians hide inside the creature's poop.
- On Guardians, Gerry and I got to dive deeply into the oddity of space-opera. I absolutely loved every second of making aliens and redesigning the Elders of the Universe.
- On FF, I got to draw Doctor Doom versus Galactus . To quote one of the fathers of the Fantastic Four, 'nuff said.
- Also on FF, easily, hands down, something that will always be in my top five until my end of days, drawing the wedding of Ben and Alicia.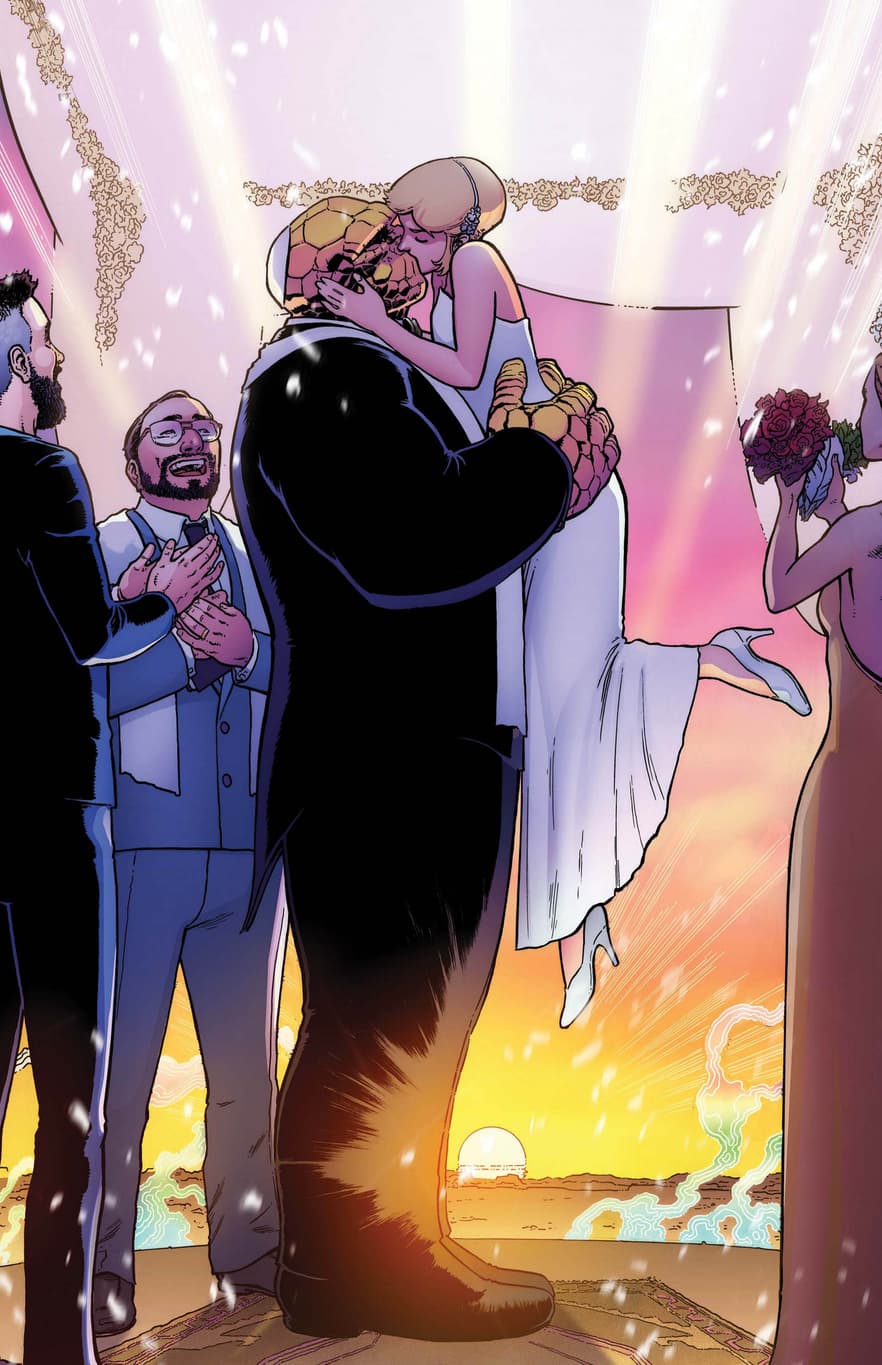 Do your fur babies, your three dogs and two cats, influence your work on GUARDIANS OF THE GALAXY at all, considering Rocket is an animal, albeit a genetically enhanced and augmented one and Groot is, well Groot?
My fur babies keep me sane. Each of them could be personified to parallel certain traits with any team. Rocket is most like our cat Marco, always getting into mischief. Groot is like our dog Jonesie (German Shepard) -- strong, a little regal, big-hearted, but don't you dare threaten his loved ones. Gamora and our cat Blu are totally similar, but only if Gamora were hungry all the time.
What Marvel character have you worked on that has surprised you the most?
Probably the one I'm currently working on, but that's a big secret right now…
What was the weirdest or strangest thing you've drawn for Marvel?
See answer to the favorite moments and note the poop-heist.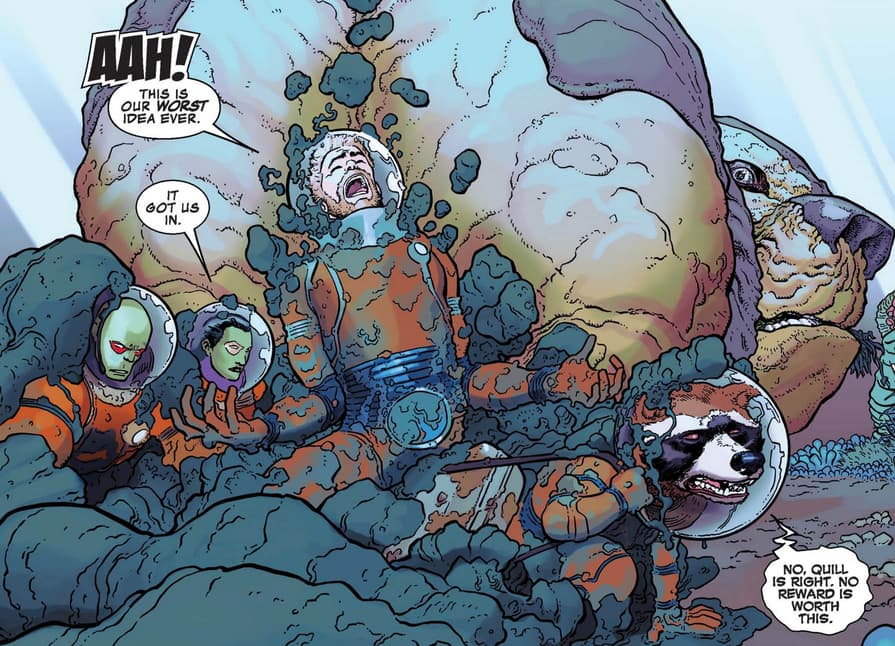 The Hype Box
Can't-miss news and updates from across the Marvel Universe!