Culture & Lifestyle
Published February 8, 2023
Actively Black Brings Wakanda-Inspired Athleisure to Life
"We are building a brand that will continue to bring together the Diaspora and be a vehicle for uplifting our communities worldwide."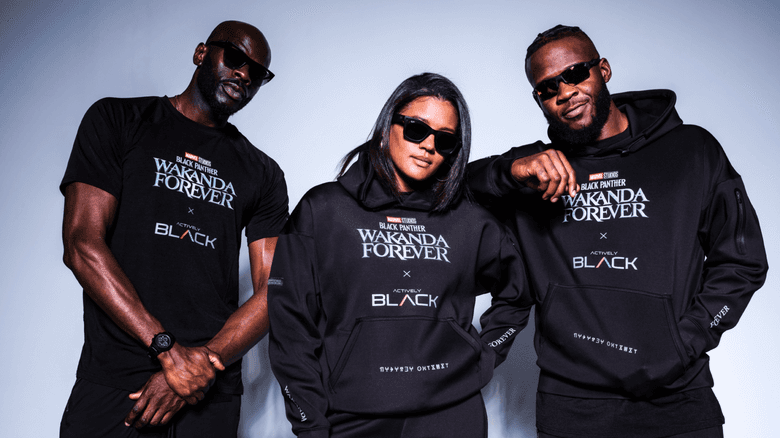 In celebration of Black History Month, we're proud to continue shining a spotlight each Wednesday on Black-owned businesses and licensees that have produced products inspired by Marvel Studios' Black Panther: Wakanda Forever. This week, we're spotlighting Actively Black, a premium athleisure and sports apparel brand.
Actively Black was created by former professional basketball player Lanny Smith with the intention of uplifting Black people and investing in the health and wellbeing of Black communities worldwide. Their premium sports apparel is created by Black designers and athletes to support the wearer's optimal performance at a professional level.
"The unity of the entire African Diaspora after Black Panther came out was something I have never seen before," said Lanny. "We are building a brand that will continue to bring together the Diaspora and be a vehicle for uplifting our communities worldwide."
In the early stages of production for Actively Black's Wakanda-inspired collection, Lanny envisioned premium athleisure apparel that Wakandans themselves would proudly don. Alongside lead designer Jordan Jackson, the company ultimately decided on three distinct iterations — each serving an intentional purpose aligning with Actively Black's brand and embodying specific principles from the film. This led to the creation of the Wakanda Athletics brand, and the procurement of the Classic and Performance collections, as well as a "Movie Merch" line, which featured comfortable clothing fans could wear while watching the film in theaters.
"The Wakanda Athletics Classic Collection is a nod to classic collegiate style– team apparel that would be worn by a student or alumnus of 'Wakanda University,'" Lanny told Marvel.com. "The Performance Collection is more futuristic and sleek with design elements that pay homage to the advanced technology and vibranium found in Wakanda."
The garments are cut from premium performance tech, ventilated, and breathable moisture-wicking fabric, reflecting the high quality of Actively Black's performance wear. 
The themes of representation, Black excellence, and unity from Marvel Studios' Black Panther and Marvel Studios' Black Panther: Wakanda Forever continue to inspire the Actively Black team and tie into Lanny's vision for his brand. "I remember the feeling of pride after seeing the movie for the first time, and in creating Actively Black it has always been important to me that our brand emulate that feeling for our customers and community."
Thus far, Actively Black has donated roughly half a million dollars to several worthy causes and organizations positively impacting the Black community. "We have so much more work to do and so far to grow– I don't really give myself time to think about the success," Lanny stated. "I am focused on the next steps and the next phases and how we can have a bigger impact on the Black community." 
The Hype Box
Can't-miss news and updates from across the Marvel Universe!