Culture & Lifestyle
Published June 2, 2022
'Asked & Answered with the Women of Marvel': Giovanna Sardelli
Get to know the Marvel original scripted podcast director and then listen to the six-episode series!

Get to know the Asked & Answered with the Women of Marvel series here. Be sure to head over to Marvel.com/askedanswered every other week for more!
We could all use a little joy right now, and we dare you not to laugh your tail off while listening to Marvel's Squirrel Girl: The Unbeatable Radio Show Podcast.
This week, we had the absolute pleasure of chitt-chitt-chatting with the original scripted podcast's director, Giovanna Sardelli (she/her/hers). A prolific theatre director, Saredelli brings her considerable talents to Ryan North's delightful radio play — the entire first season is available now on all podcast platforms!
We're stealing her answer for what she brings to parties. She's all about the (actual) sisterhood. She's a Woman of Marvel. And we had some questions for her. 
[RELATED: Marvel Entertainment and SiriusXM Premiere New Scripted Podcast Series 'Marvel's Squirrel Girl: The Unbeatable Radio Show!']
We asked. She answered.
What is the first thing you do when you wake up?
I greet the day and let it know it's going to be awesome. It doesn't always listen, but I think it should know what I expect.
Who has your back in the park after dark — Tippy Toe or Chipmunk Hunk?
Tippy Toe! She is small, but she is brave and mighty. Plus, Chipmunk Hunk is probably out on a date or out stopping someone from henching (my favorite new word from the podcast — thank you, Ryan North!)
What was your favorite book, movie, or TV show as a kid?
Anything with Fred Astaire! Also Get Smart and I Love Lucy.
What is your favorite book, movie, or TV show now?
Not to be a complete sycophant, but I have loved all the Marvel Studios' limited series. Last year, I watched all the Marvel movies in chronological order and that was a game changer. Non-Marvel, Ozark. So dark. So good.
The thing I always bring to parties is…?
I'm an introvert masquerading as an extrovert so I always bring an exit strategy just in case.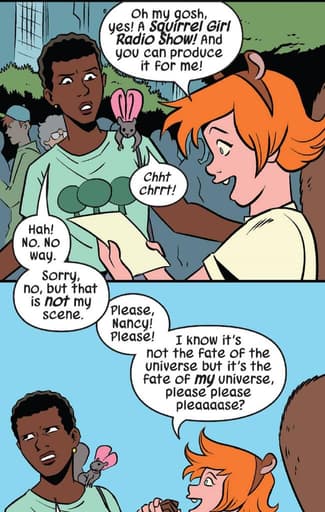 [RELATED: Squirrel Girl Stars in Her Own Radio Show]
Got any superstitions?
Just as I was about to type "no," the clock struck 11:11 and I dropped everything to make a wish. So, yes.
Super-power of choice?
I've spent waaaay too much time contemplating this answer. I start to type and then think of another super-power that would be awesome, delete my answer and start again.
What I've come to is that I want all of them, but to make it exciting, I get a different super-power each week or so. I never know what I'm going to get and when my powers will switch. It's an adventure. Could be a short-lived adventure if in the middle of being invisible I suddenly become visible, and blamo! it's all over. Ok, there are flaws in my answer but I'm sticking with it. Maybe even copyrighting it.
Better to ask permission or forgiveness?
Forgiveness. Sometimes people can't envision the thing you're asking permission for, and if it isn't going to hurt anyone, then I usually opt for forgiveness.
What takes your breath away?
Kindness. (and Chris Evans)
Rollercoaster or Merry-Go-Round?
Rollercoasters — with a few exceptions. It's so cathartic to scream your head off. Something that is perfectly acceptable on a rollercoaster but frowned upon on a Merry-Go-Round. I'm guessing. I wouldn't know from experience…
Must have item when directing for the stage?
A sense of humor and a belief in the impossible. And chocolate nearby.
Must have item when directing for a podcast?
The same plus good headphones!
Who would be your dream guest for Doreen on Squirrel Girl: The Unbeatable Radio Show?
Mariska Hargitay!! She's very close to a real-life super hero and she's been busting perps for two decades. Plus, she and Brain Drain could have a very adorable flirtation since she's married to Peter Hermann (the voice of Brain Drain).
What's the best thing about your best friend?
They can make me laugh at myself when I've messed up or when I'm taking myself too seriously. They are my cheerleaders, my coaches, and my truth-tellers. They are also my sisters, so I'm super blessed.
Salty or Sweet?
Sweet — preferably in chocolate form. I have a particular weakness for brownies. Seriously, if I'm at a party and there are brownies, I won't hear a word anyone says to me until I've secured one or two…or three.
Favorite sound effect?
Oh, the fun John Moros, our Sound Designer, and I had putting together Squirrel Girl: The Unbeatable Radio Show! While I loved all the fight stuff — especially finding the perfect "ooff" for someone getting hit by something, I particularly enjoyed Brain Drain's dancing sound effects. You can really hear those robotic hips move!
If you could go back in time and tell your younger self one thing, what would it be?
Everything turns into a good story so take the risk, do the thing you want to do and don't worry if you "fail" or embarrass yourself.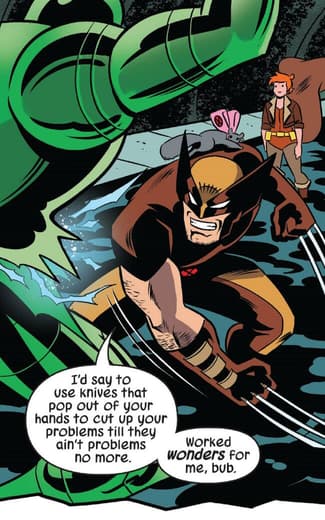 What do you always make time for?
A hike if the opportunity presents itself. Also, a really good ghost or haunted location tour.
Who makes you laugh?
My sisters — biological and logical! And my father and my very witty, wry niece. 
Mantra or quote that keeps you going?
My mantra is potty-mouthed. Skip this part if you're easily offended. My sister, Pietra, gave me some jewelry with the phrase "keep f-ing going" inscribed on the inside. I always wear it and, so far, I always keep going so it must be working.
Best thing about being a Woman of Marvel?
Being part of a group of people who understand that strength comes in many forms. Living the truth of who you are, and supporting others in their truth, is the most heroic thing you can do.
Marvel's Squirrel Girl: The Unbeatable Radio Show! is available on all podcast platforms!
The six-episode podcast series is written by Ryan North, directed by Giovanna Sardelli, and has original music by Justin Huertas and Steven Tran. The series stars Milana Vayntrub as Squirrel Girl and features performances by Crystal Lucas Perry (Nancy Whitehead), Leo Sheng (Koi Boi), Davied Morales (Chipmunk Hunk), Peter Hermann (Brain Drain), Erica Schroeder (Tippy T. Squirrel), and Tina Benko (Rachel Oskar).
Want more? We don't blame you! Don't miss SQUIRREL GIRL INFINITY COMIC #1, the prequel tie-in to Marvel's Squirrel Girl: The Unbeatable Radio Show! on the Marvel Unlimited app!
It's time to kick butts and eat nuts as Squirrel Girl takes the spotlight in the all-new SQUIRREL GIRL INFINITY COMIC #1 by Ryan North, Derek Charm, and Rico Renzi! Picking up after the events of her final issue, this one-shot, vertical special leads directly into the events of her all-new podcast series available now on SiriusXM and all major podcast platforms. Now that her secret identity has been revealed, Doreen Green, AKA Squirrel Girl, is trying to figure out the best way to be a hero... and she turns to the rest of the Marvel Universe for help! (Also there's a phone number in this comic and you can really call it, so there goes your last excuse to not read this comic at your earliest convenience.)
MacKenzie Cadenhead (she/her) is a children's book author and an old school (Read: former) Marvel editor — not old-old but let's just say she knew Gwen Stacy when she was dead. She co-authors the "Marvel Super-Hero Adventures" chapter book series for young readers and is a proud Woman of Marvel. You can see what she's up to over at Instagram @mackenziecadenhead.
Want to stay on top of everything in the Marvel Universe? Follow Marvel on social media—Twitter, Facebook, and Instagram—and keep watching Marvel.com for more news!
The Hype Box
Can't-miss news and updates from across the Marvel Universe!