Culture & Lifestyle
Published June 9, 2022
'Asked & Answered with the Women of Marvel': Iman Vellani
The future is in her hands. Learn all about the new face of the MCU!

Get to know the Asked & Answered with the Women of Marvel series here. Be sure to head over to Marvel.com/askedanswered every other week for more!
Welcome to Ms. Marvel Month at Asked & Answered!
For the rest of June, we'll be featuring some of the incredible women that bring our most beloved Super Hero to life (it's true, we're stans).
First up is Marvel Studios' newest shining star, the amazingly talented Iman Vellani. If you haven't watched her as Kamala Khan in the new Marvel Studios' original series, Ms. Marvel, streaming exclusively on Disney+, you are in for the biggest treat. Seriously, stop reading and go watch now. We'll wait…
She's figured out the perfect super-power for Marvel fans. We think the universe actually IS sending her messages. She's a Woman of Marvel. And we had some questions for her.
The future begins with her. Watch Iman Vellani's MCU debut as the titular star in Ms. Marvel, now streaming on Disney+!
We asked. She answered.
What makes a great day?
Oh! Good food.
Who has your back in a dark alley — Bruno or Muneeba?
Bruno. I mean, Muneeba definitely does, too. She's my mom, obviously. But I don't know, I feel like Bruno would be smarter with it.
Super-power of choice?
Telepathy. You get to go inside Kevin [Feige]'s mind; he knows too much.
Better to ask permission or forgiveness?
Forgiveness. Permission can be tough. Live your life and then live the consequences later.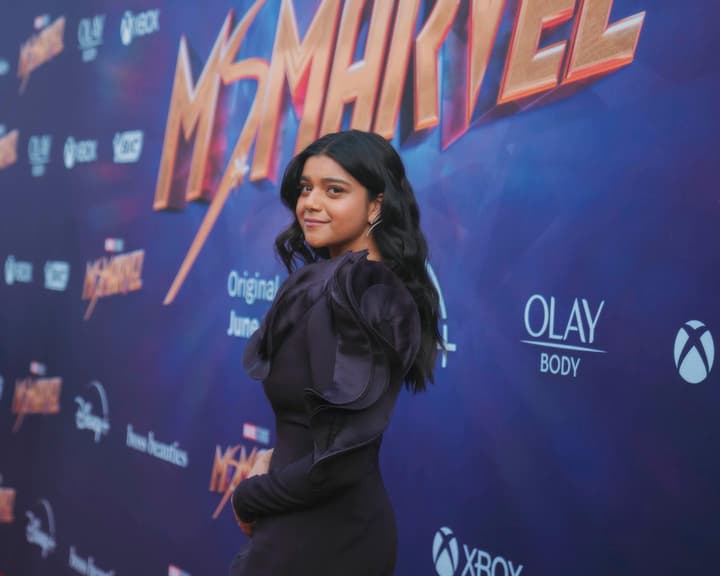 Which Avenger would you road trip with?
This is so difficult. OK, Tony Stark, obviously.
Which one would you kick out of the car at the first red light?
Kick out of the car? I don't think I hate anyone enough. Who talks a lot? Ant-Man talks a lot. Maybe him.
Best advice you've gotten?
Trust your instincts. Period.
What's on Kamala's playlist?
Ooh. OK. "Be My Baby", obviously. "Come on Eileen", "Anthem" by Swet Shop Boys. My God, this is difficult! I have a whole playlist of Ms. Marvel songs. OK. OK. OK. I'm going to put ACDC's "Back in Black." I think it's a good pump up song. "Weapon of Choice" by Fatboy Slim.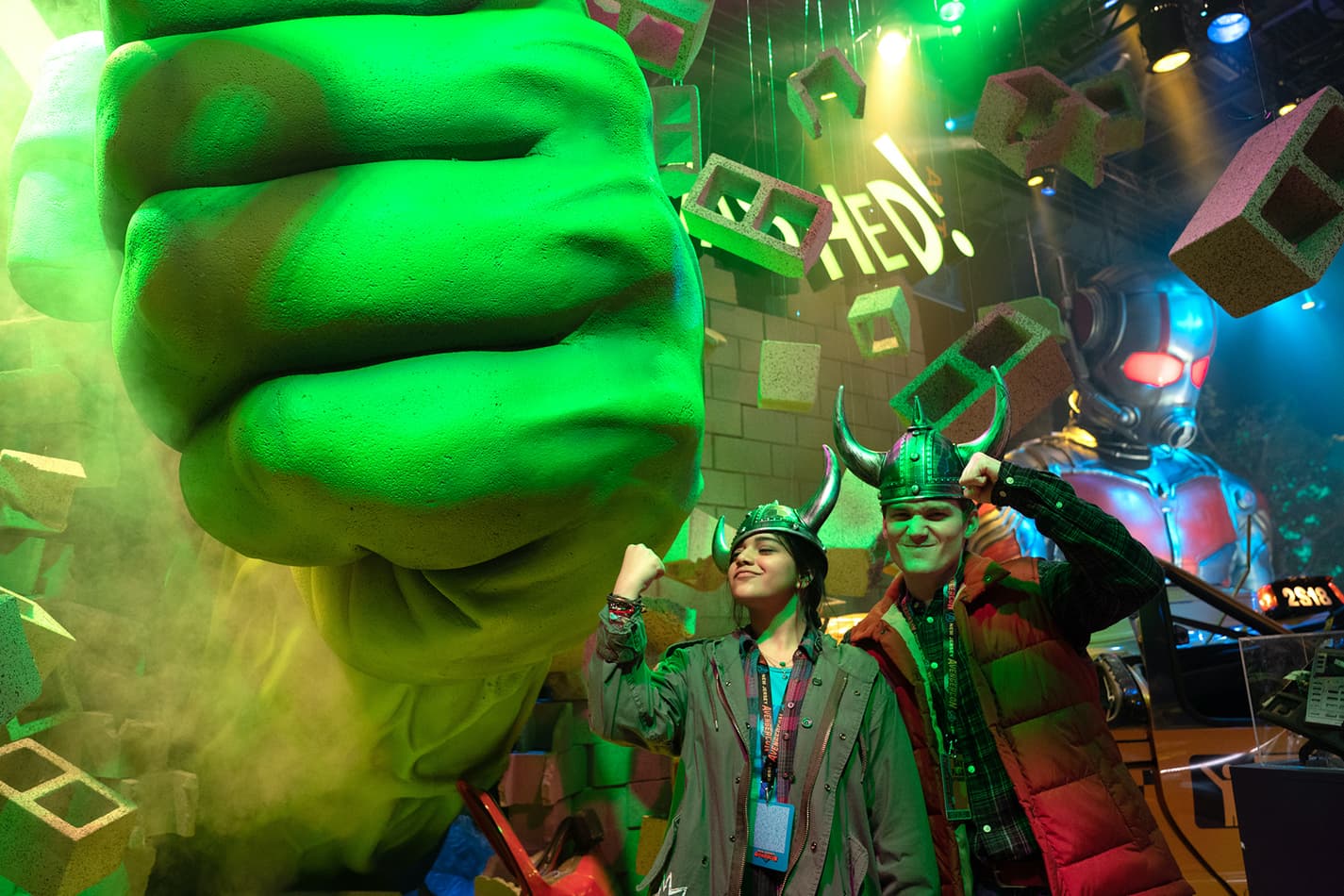 Who makes you laugh?
It varies from time to time. OK, like Matt [Lintz] is super funny but he doesn't even know it. He's just him, as a human being is like, ha, you're funny. Saagar [Shaikh] is, like, intentionally funny; he's actually a comedian. He's fun. Yasmeen [Fletcher] and I, we are funny together. Like we think we're so funny but we're really not; so it's subjective.
The universe — sending you messages or dealing with enough of its own stuff to worry about you? 
I do think the universe is kind of sending me messages. I didn't even believe in fate or manifestation or anything until this part happened. It was too perfect, you know? From me reading the Ms. Marvel comics to me dressing up as her. I once passed by the Russo Brothers in Toronto — that was a sign. Everything just happened so perfectly that I think the universe is telling me something.
Favorite Pakistani food? 
Ooh, I think Nihari.
Must have item on set?
A blanket, I like to sleep.
If you were going to AvengerCon, who would you dress up as?
I have my Ms. Marvel cosplay ready. But aside from Ms. Marvel, my other cosplay that I have is Tony Stark's black tank top look — black tank top, arc reactor, and draw a goatee.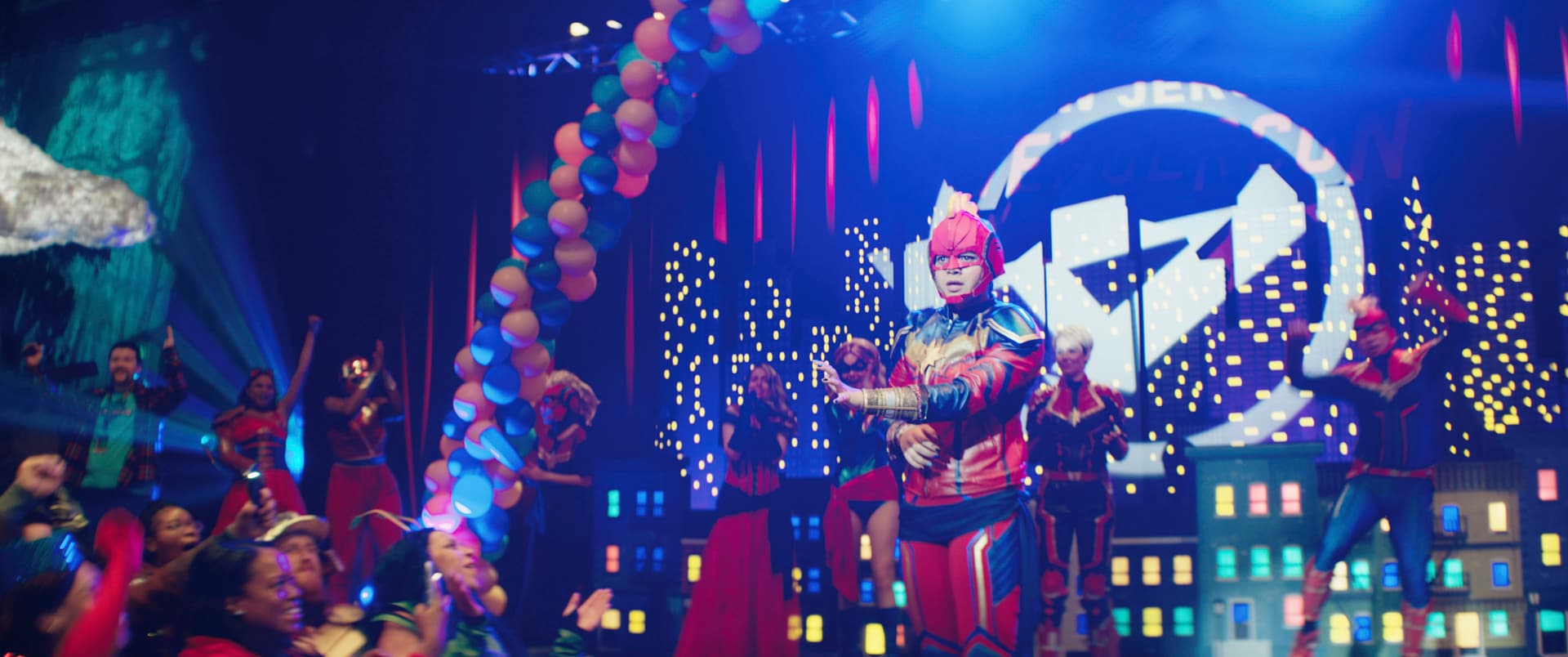 [RELATED: 'Ms. Marvel': Every Single Hidden Reference at AvengerCon]
Favorite Ms. Marvel fan moment thus far?
Meeting Kevin Feige, when my favorite YouTuber started doing a Ms. Marvel trailer breakdown, and filming AvengerCon — that entire week, it was a fever dream of Avengers. It was amazing. In between takes, Matt and I would just go around the entire set looking for all the little Easter eggs, and people would be looking for us because we would have to film the scenes. But we were so just enamored by this sheer scale and the set design. It was beautiful and it was so much fun.
Best thing about being a Woman of Marvel?
The support from other Women of Marvel. They just get it, you know? The super-suits aren't comfortable so we're just like bonding over having shoulder pain together. It's wonderful.
Looking for more Kamala? Follow Ms. Marvel on Twitter, Facebook, and Instagram, and find Marvel on TikTok! 
MacKenzie Cadenhead (she/her) is a children's book author and an old school (Read: former) Marvel editor — not old-old but let's just say she knew Gwen Stacy when she was dead. She co-authors the "Marvel Super-Hero Adventures" chapter book series for young readers and is a proud Woman of Marvel. You can see what she's up to over at Instagram @mackenziecadenhead.
The Hype Box
Can't-miss news and updates from across the Marvel Universe!