TV Shows
Published June 8, 2022
'Ms. Marvel': Every Single Hidden Reference at AvengerCon
Did you catch them all? Stream the series now on Disney+!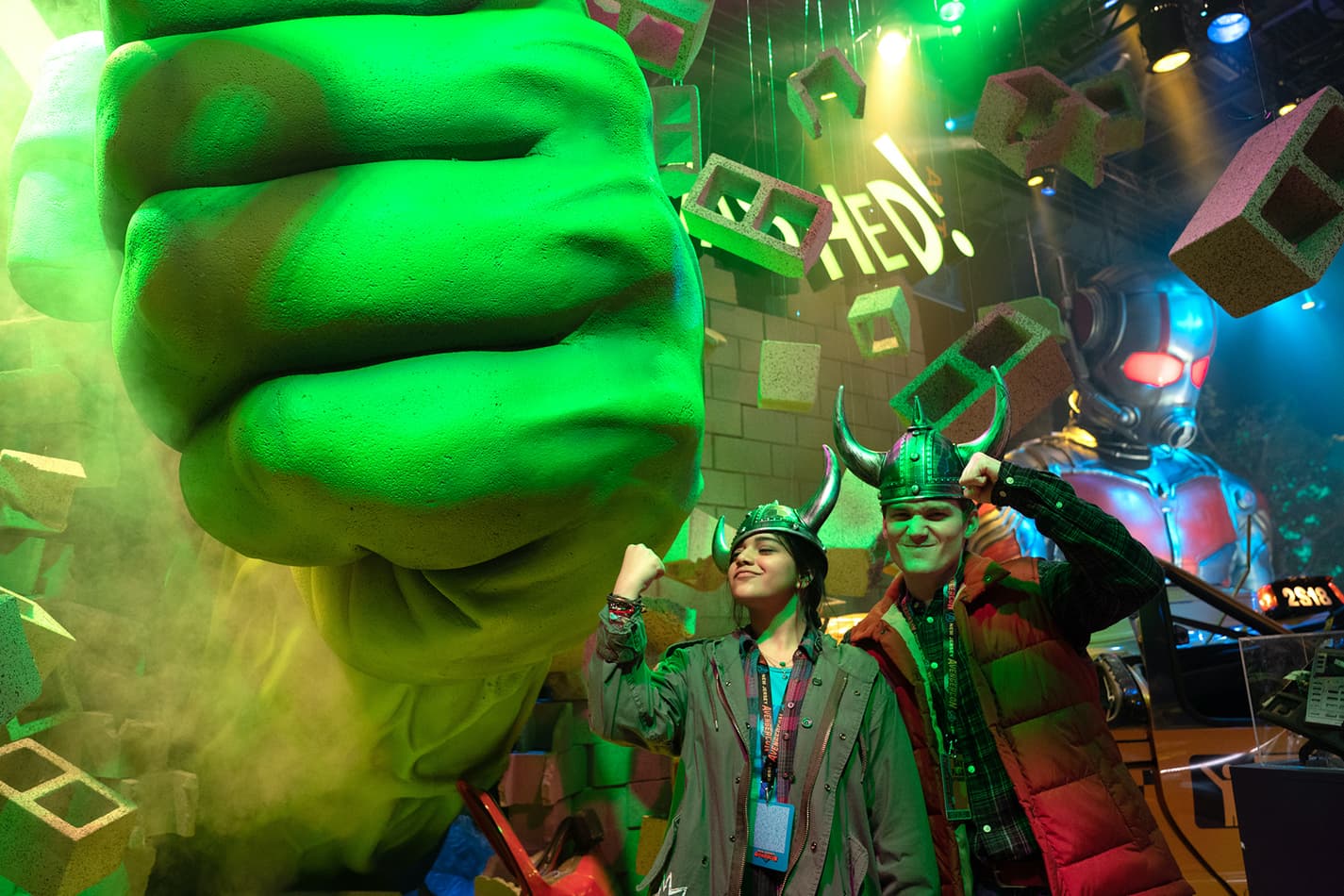 If you're wondering what the greatest Avenger convention is on the planet, it's definitely AvengerCon. Introduced in the first episode of Marvel Studios' Ms. Marvel, Kamala Khan is eager to attend the first AvengerCon ever — going so far as to try and convince her parents that it's an "educational" experience with a "historical reenactment" (aka a costume contest). Hey, if the description fits, the description fits. 
AvengerCon is absolutely packed with references to Earth's Mightiest Heroes including everyone from Iron Man, to Hulk, Star-Lord, Black Panther, and even Kamala's personal favorite, Captain Marvel. So needless to say, AvengerCon is a living, breathing reference extravaganza for visitors (and viewers). The first major nod to the Marvel Cinematic Universe is that the convention is located at Camp Lehigh, which also happens to be where Steve Rogers took the Super Soldier Serum, and that's just scratching the surface! 
But how to see, do, and experience everything in such a short amount of time? In case you couldn't snag whole weekend pass to AvengerCon, let alone a day pass, don't worry. Here's just about every single thing hidden inside AvengerCon waiting to be discovered: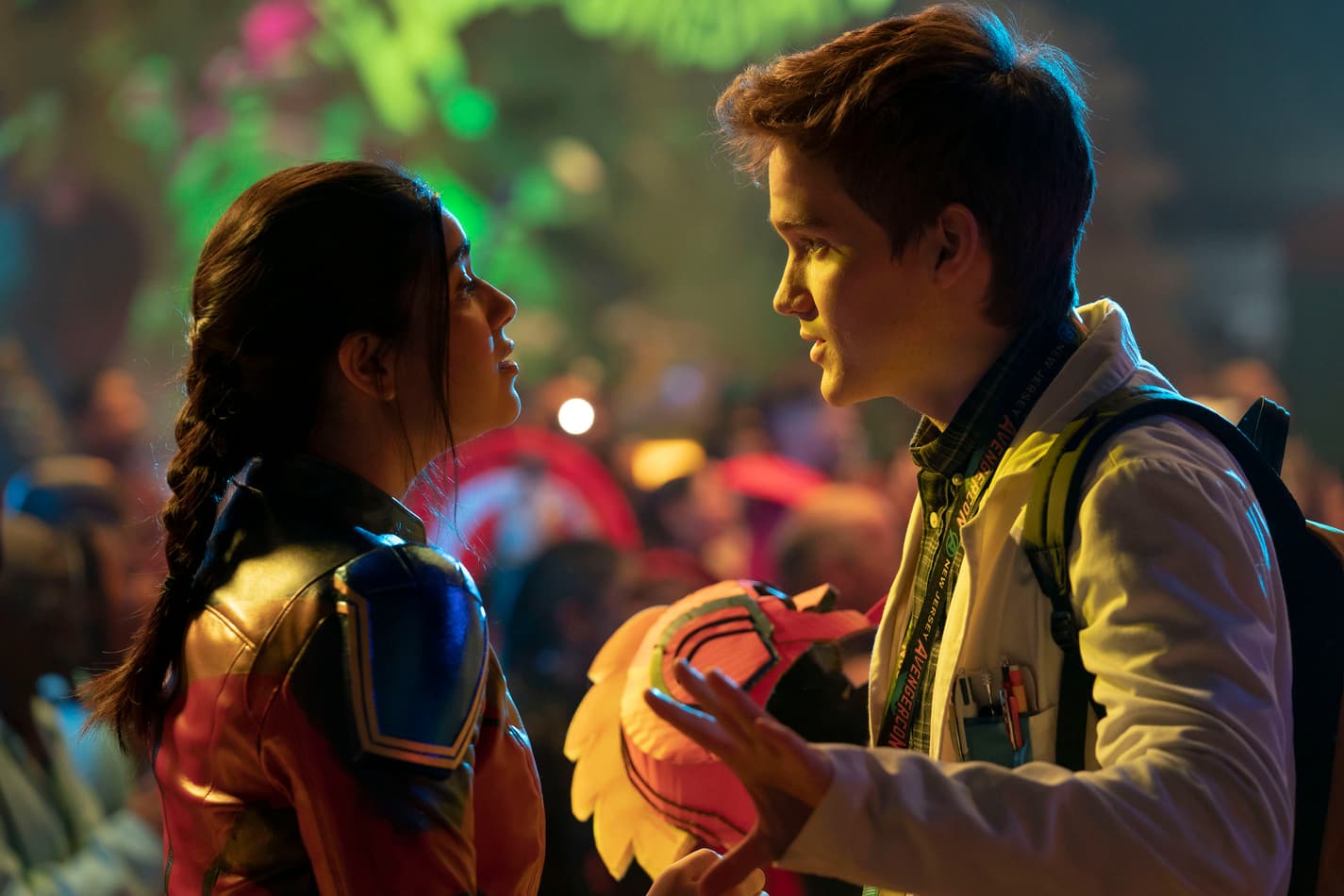 [RELATED: Sloth Baby Productions Presents: 'Ms. Marvel' Episode 1]
WELCOME TO AVENGERCON
There is so much to see and do where to even start? Outside the venue, there's signage welcoming visitors to the area, including a statue of the "man-with-a-plan" himself, Captain America. Upon entering — through Hulk's head on one side, and Iron Man's helmet on the other — there's a mural to the side honoring both Iron Man and Black Widow for their sacrifices. Surrounding artwork of the two of them are notes from fans and loved ones calling the duo "heroes" and mentioning people they saved. Thank you, Avengers! 
Walking further into the space, giant standees line the area showcasing The Scarlet Witch, Doctor Strange, Hawkeye, Iron Man…is that a giant Mjölnir suspended from the ceiling? (Yes it is — and it's the same one that sends Zoe flying.) 
Looking up, the walls are lined with sponsors for the event, like Edison Electric. If you're searching for a first-hand account of The Battle of Earth, be sure and pick up a copy of the memoir I Was There… written by a S.H.I.E.L.D. agent detailing "the clash between the heroes of earth and the Alien scourge threatening our fragile planet." The book includes a conversation with Hawkeye, and a first-hand account of Tony Stark using the Infinity Gauntlet (even though the author was 6,000 feet away).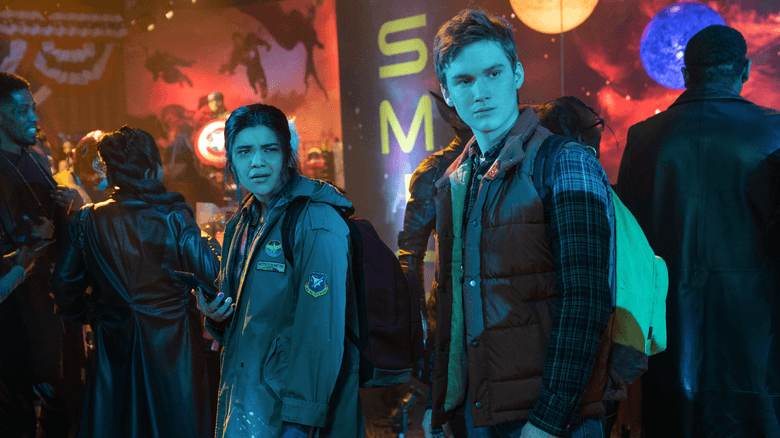 [RELATED: 'Ms. Marvel': The Easter Egg Paradise of AvengerCon]
ANT-MAN
Clearly, word about Scott Lang getting extra big in San Francisco has gotten out and there's a whole display for "Gigantic Dude" at AvengerCon — complete with the little ferry Scott found Sonny Burch on while trying to recover Hank Pym's lab. 
Speaking of Pym, if you're looking for Pym Particles for yourself, a nearby sign reads, — "you too can change your size with Pym Particles." If you're looking for a drink, be sure to grab Pym Particles Punch that promises to help consumers, "grow into a gigantic dude." 
All this is nestled by the larger-than-life ANT-SNACKS located inside an ant-sized overturned popcorn container. And be careful where you step, considering there are little (fake) ants crawling all over the floor. 
THOR
Looking for Thor? Just follow the Rainbow Bridge that has been painted onto the floor of AvengerCon. This path leads visitors right to the center where they can actually meet Thor (please note: not the real Thor), in an ornate Viking chair. If you want some props for the photo opp, stop by the Asgard Armor for all your weapons needs, and/or the Asgard merch booth where you can dress head-to-toe in rainbow Asgard Pride! 
If you've got the appetite of a Norse god, head over to The Realm of Asgard snacks which has everything you could ever want to munch on: turkey legs, Bifrost macaroni, dried fish, deep-fried pickles, chicken fingers, sausage on a stick, Odin's scotch and eggs, and Thor's Mjölnir ale. As for souvenirs, be sure to pick up The Hills of Asgard role-playing game, and or the hardcover of Build Your Own Rainbow Bridge: Meditation and Self-Improvement the Asgardian Way.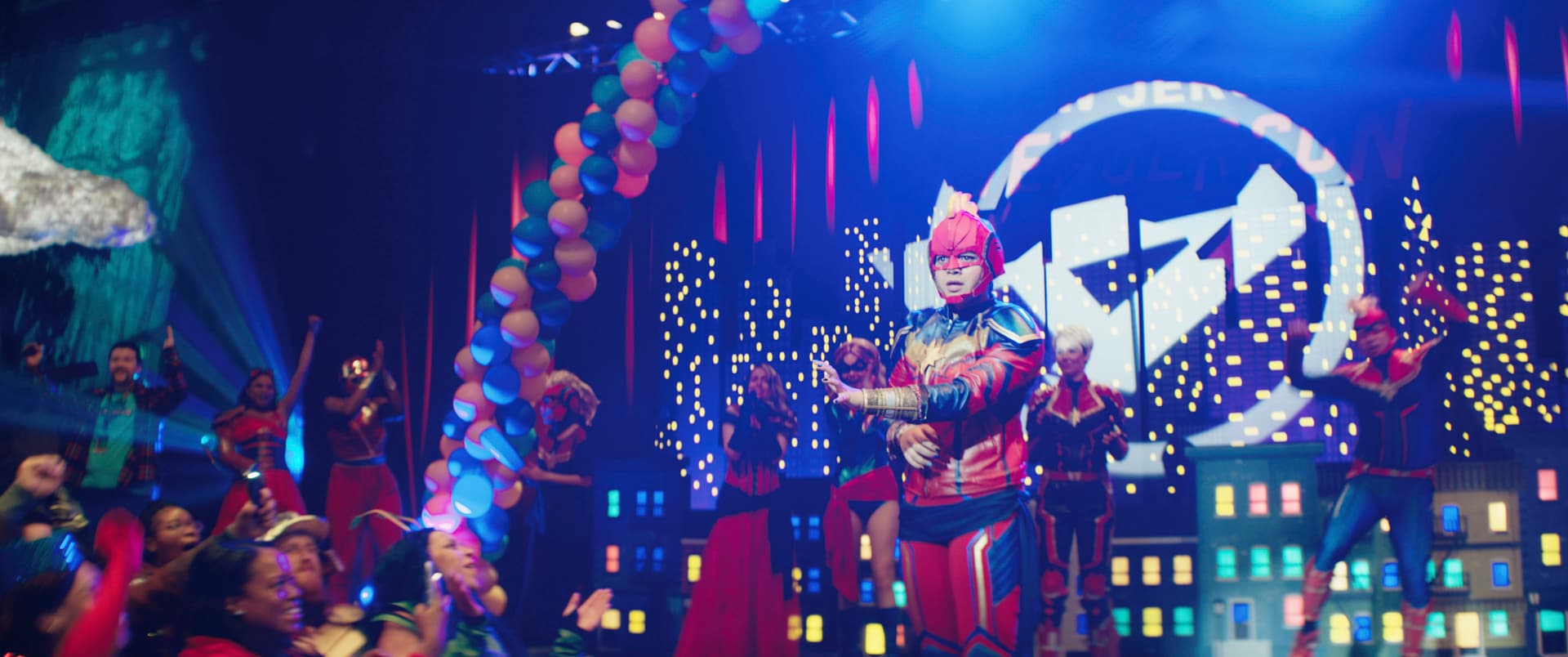 [RELATED: 'Ms. Marvel': Ryan Penagos Talks Hosting AvengerCon, Kamala Khan, and More]
HULK
Know what Hulk likes to do? Smash. Know what you can do at AvengerCon? Smash. Stop by Hulk's Rage Room to let all your aggression out, and after that be sure to stop by the immersive display of "Things Hulk Smashed!" which includes an NYC cab (Battle of New York, anyone?), some cinder blocks, a shopping cart, a fridge…the list goes on. 
Anyone looking to dress like the Big Guy can pick up a SMASH shirt, ripped jeans, or the convention exclusive t-shirt: I'm Always Angry Unless I'm At AvengerCon. 
CAPTAIN MARVEL
Captain Marvel is better known as the "Cosmic Avenger" around AvengerCon. Hoisted from the ceiling, the woman we know as Carol Danvers sparkles in all her cosmic glory, reflecting shimmering light across the area. If you're curious like Kamala and want to know more about Carol, be sure to pick up CAROL - A Definitive Account of the Cosmic Avenger, a book aimed to "[unfold] the true identity of Captain Marvel."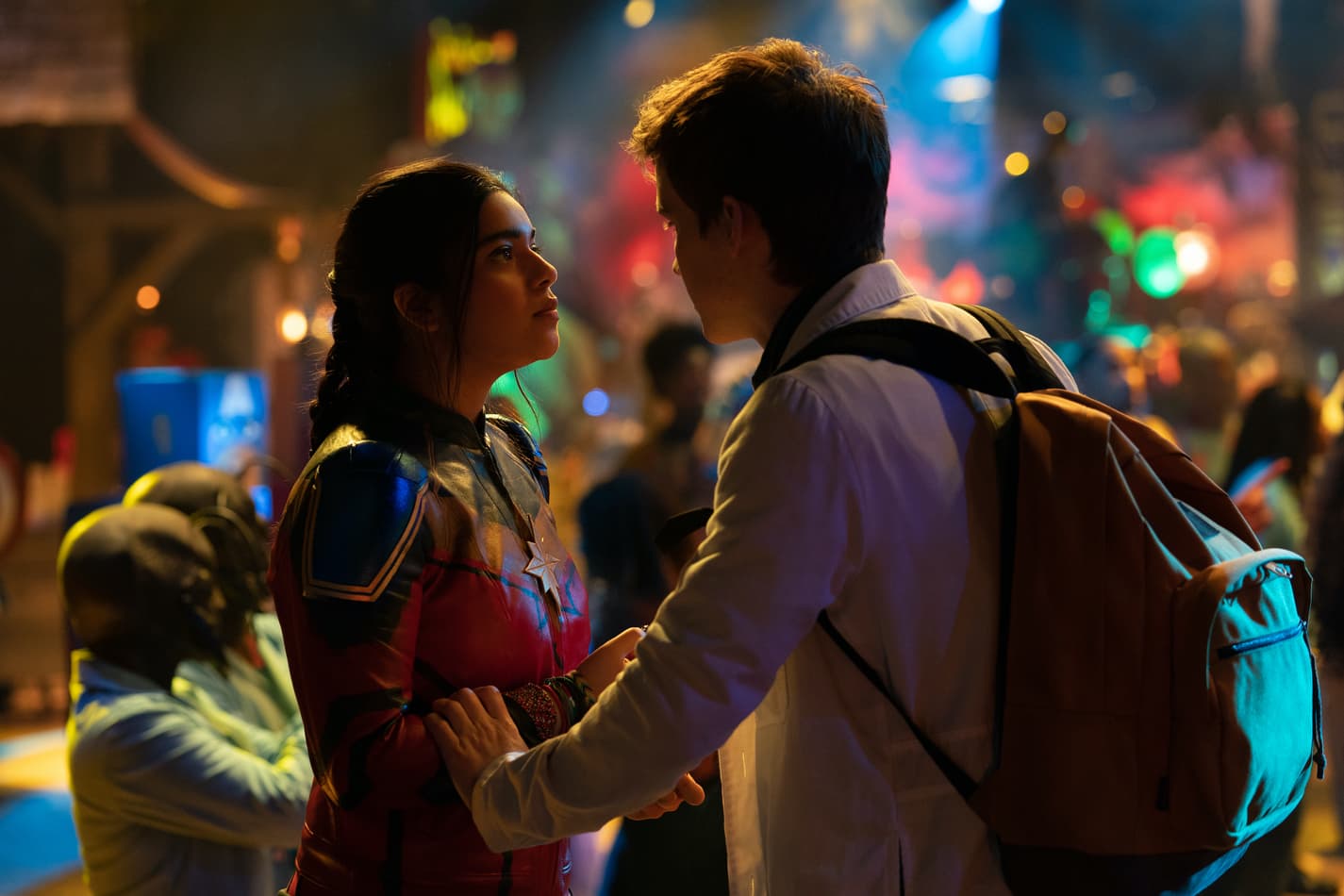 [RELATED: 'Ms. Marvel' | Every Song Featured in Episode 1]
CAPTAIN AMERICA
The First Avenger has a whole display of costumes featuring "Cap Through the Ages," along with other Steve Rogers memorable (which you can buy — prices as marked). There's also an assortment of "I Can Do This All Day" items, along with artwork honoring America's ass (you're welcome). 
If you want the real Captain America experience, be sure to pick up some Super Soldier Serum located nearby in easy-to-drink pouches! 
GUARDIANS OF THE GALAXY 
Peter Quill has certainly made an impact on Earth…even though everyone's taken to referring to him as "Star-Boy" instead of "Star-Lord." Anyone looking to take a deeper dive into the Boy/Lord can pick up A Pay to All Planets: The Peter Quill Star-Boy Story (it's a 40-minute documentary series that promises to show viewers "wonders beyond imagination as Quill journeys through the universe in search of his home. Witness love, heartbreak, friendship, and courage in the best film of the summer and discover the secrets of the galaxy." Also includes deleted scenes and audio commentary). 
Quill isn't the only Guardian on display at AvengerCon. Honoring Rocket, he's got not only a giant light-up statue of himself but also "Trash Panda Alley" where visitors can scavenge for a prize. Sounds fun! 
As for Groot, welcome to Mr. Tree's House! Do the people of Earth know that Groot's name is Groot? Absolutely not, and considering he looks like a walking, talking tree, Mr. Tree he is! Stop by Mr. Tree's House for all your botanical needs. 
Looking for more Kamala? Follow Ms. Marvel on Twitter, Facebook, and Instagram, and find Marvel on TikTok! 
The Hype Box
Can't-miss news and updates from across the Marvel Universe!