Culture & Lifestyle
Published October 20, 2022
'Asked & Answered with the Women of Marvel': Rebecca Roanhorse & Karen S. Darboe
Get to know 'Crypt of Shadows' #1 creators Rebecca Roanhorse and Karen S. Darboe, who brought Moon Knight, Werewolf by Knight, and Bloodline to life in this spooky anthology issue.

Just in time for spooky season, we're checking in with two super talented Women of Marvel: writer Rebecca Roanhorse (she/her) and artist Karen S. Darboe (she/her). Both are featured in this month's spooktacular anthology CRYPT OF SHADOWS (2022) #1 (on sale now) –  Roanhorse with "Werewolf by Moonknight" and Darboe with "Neither Big Nor Bad" (featuring Blade's daughter Brielle Brooks, whose new series BLOODLINE: DAUGHTER OF BLADE was just announced at NYCC and will arrive in February 2023). 
They are on opposite sides of the salty vs. sweet debate. They are both passionate about storytelling. They are Women of Marvel. And we had some questions for them.
We asked. They answered.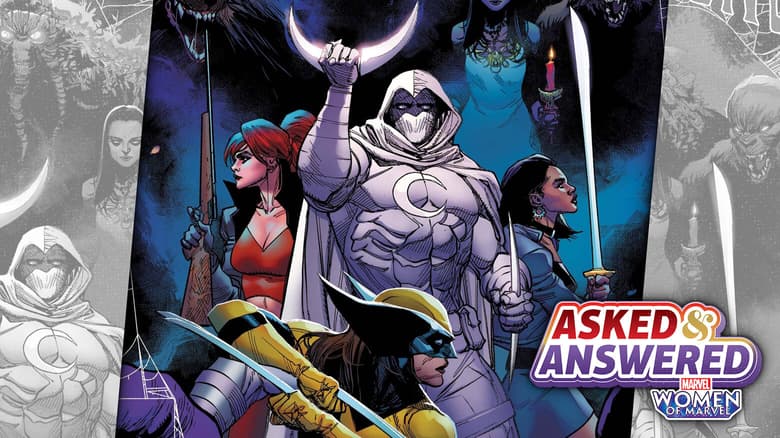 What is the first thing you do when you wake up?
REBECCA ROANHORSE: Go back to sleep. I have inevitably woken up much too early. 
KAREN S. DARBOE: I check on my cat! He sleeps with me so I must take note of where he is to avoid rolling over him by mistake.
What is the last thing you do before you go to bed?
REBECCA ROANHORSE: Read whatever I am currently reading on my Kindle. I always try to end the day with at least 15 minutes of pleasure reading.
KAREN S. DARBOE: It really depends on the period, but either I read some comics with a cup of hot tea, or I just watch YouTube videos. Did I mention having a cat? Can you guess when he demands playtime?
Apple picking or haunted hayride?
REBECCA ROANHORSE: If apple picking includes cider donuts, I am in! 
KAREN S. DARBOE: Haunted Hayride for sure! Never went on one before but it looks like the kind of thing that would 100% entertain my soul that loves to be creeped out!
Where do you stand on all things Pumpkin Spice?
REBECCA ROANHORSE: Cinnamon is one of my favorite spices. Throw in some nutmeg and cloves and whatever else we're short-handing as "pumpkin" and I'll eat/drink/inhale it. Related, I love Thai pumpkin curry. I say bring on the squash and accompanying spices!
KAREN S. DARBOE: I'm not a pumpkin lover at all, so pumpkin spice is a big no no for me. Please don't hate me; resist the urge to light up your torches! Thanks.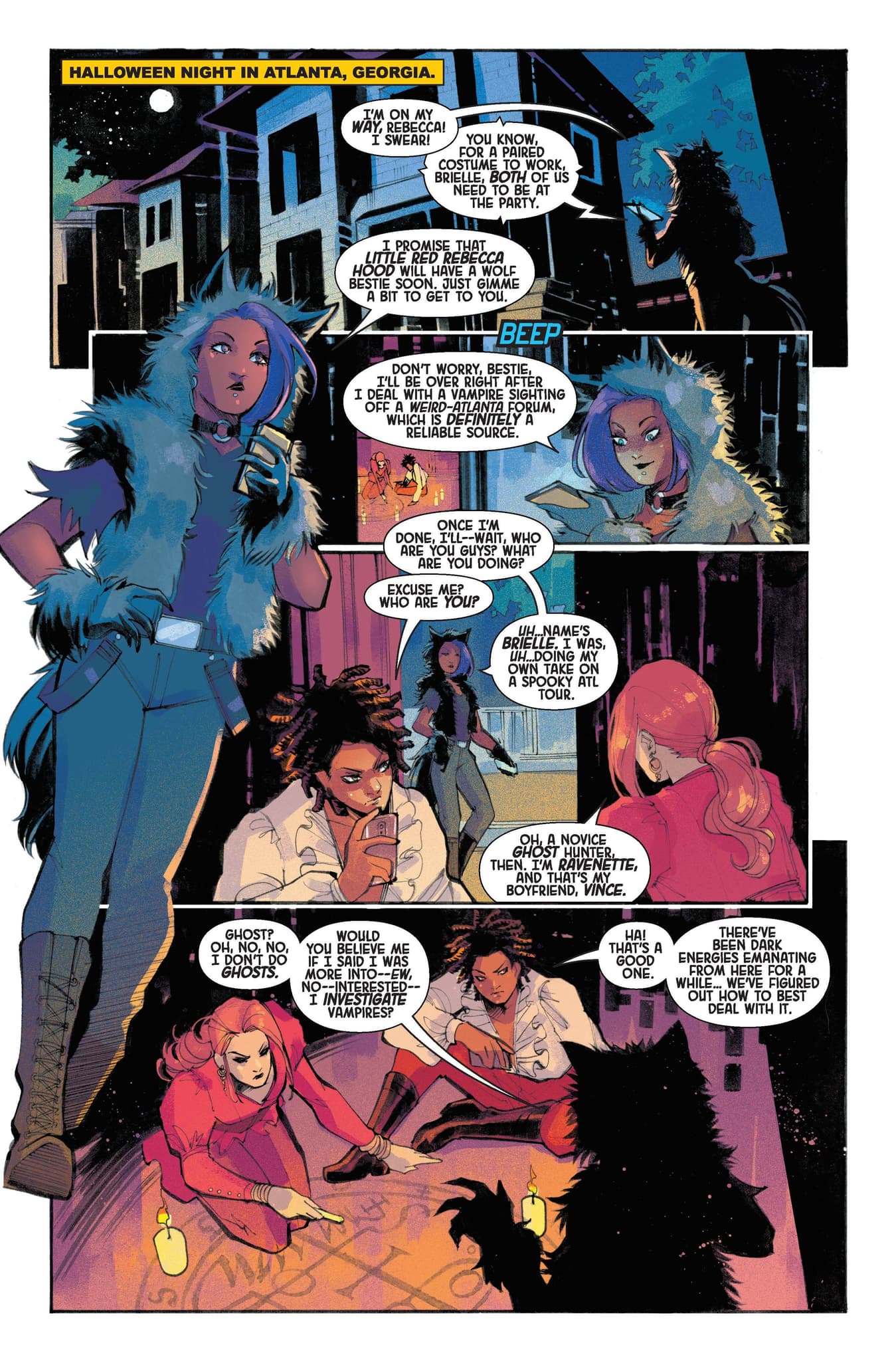 What was your favorite book, movie or TV show as a kid?
REBECCA ROANHORSE: Books were the Dragonlance Chronicles, movie was Lost Boys, and TV show was Robotech. Not all at the same time, but that covers my tastes between the ages of 12 and 16, probably. 
KAREN S. DARBOE: When I was a kid, I was totally obsessed with Dragonball, and I still am. I mean, I really, really love that series! I was also in love with the movie Mars Attacks. Scary at first, but for some reason it grew on me pretty fast and I ended up watching it over and over again as soon as I had the opportunity!
What is your favorite book, movie or TV show now?
REBECCA ROANHORSE: Book is usually whatever I'm currently reading, but probably the 2022 standout for me was Katherine Addison's Cemeteries of Amalo series, including the recent Grief of Stones. Movie is Fury Road. TV show is currently Andor. 
KAREN S. DARBOE: If I could, I would fill this with pages and pages of things I love, especially movies. So I'll just stick with those that are popping into my head recently! 
Speaking of TV shows and books, I recently re-discovered the Transformers series after some time, so I'm totally hyper focused on that, and getting my hands on the comics I've lost in the last few years!
Regarding movies, there is one that comes into my head every once in a while because of its bizarre and cryptic nature, which is Holy Motors. Just writing about it makes me wanna watch it for the... I lost count of how many times I've seen it!
Got any superstitions?
REBECCA ROANHORSE: Not really, but sometimes I won't change the channel if my team is winning.
KAREN S. DARBOE: I'm not really a superstitious person in general, but I give great importance to my dreams. I have a diary with all of them written down!
Superpower of choice?
KAREN S. DARBOE: I would say shapeshifting. That would be a child's dream come true!
REBECCA ROANHORSE: World peace. Is that a superpower? It should be. I would love the power to influence people for the better, to make them kinder to their fellow humans. It sounds silly, and it's no flying or invisibility, but it would make the world a better place.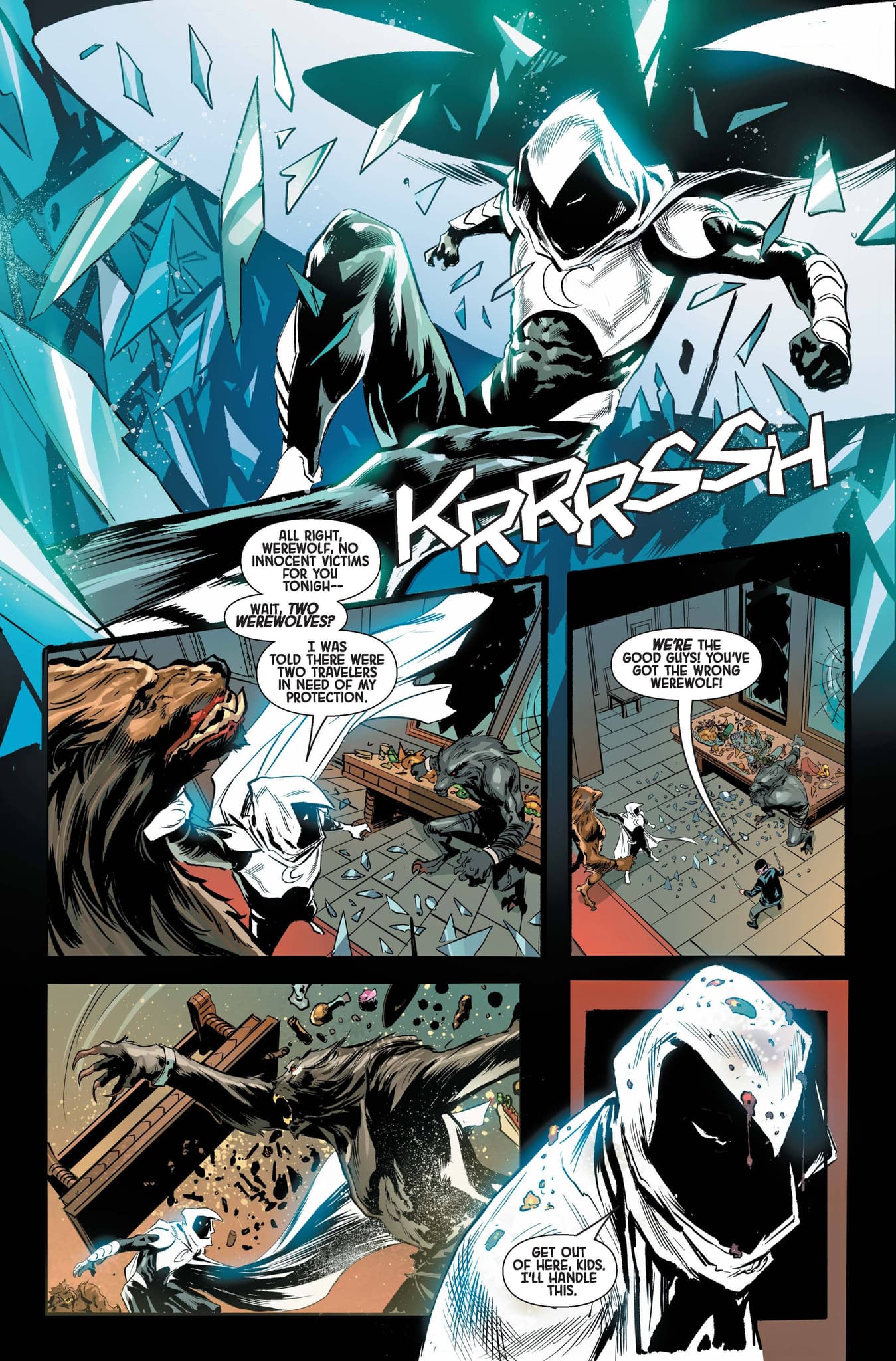 What excites you about genre storytelling?
KAREN S. DARBOE: Storytelling—it's a superpower. A person, a creator, capable of provoking the emotions that they want in other people in a very indirect manner, sounds like a superpower to me. If that's not the most exciting part, I don't know what else It could be!
REBECCA ROANHORSE: Boundary pushing. Possibility. The story not yet told.
Which super hero costume gets ALL the candy at your house on Halloween?
KAREN S. DARBOE: Batwoman and Miles Morales. Take all those candies, kids!!!
REBECCA ROANHORSE: The more creative the better, and I definitely love an obscure shout-out that shows lots of love and craft. But, in truth, I'm an equal opportunity FULL SIZE CANDY BAR giver.
What totally creeps you out?
KAREN S. DARBOE: Compilation videos of weird and unexplainable sightings of ghosts or any other kind of cryptid. But at the end of the day, I always decide to watch exactly those videos before going to bed!
REBECCA ROANHORSE: Irrational actors on the world stage. Oh, you mean like bugs? Sure. Bugs.
Salty or sweet?
REBECCA ROANHORSE: Short of dumping a vat of salt on your food, there is almost no such thing as too much salt.
KAREN S. DARBOE: There Is only one thing I can't live without, and that thing is chocolate! I would get rid of everything in my diet besides chocolate. If you didn't guess already, I'm 100% a sweets person!
In your respective fields, what is the key to discovering/developing a character?
REBECCA ROANHORSE: Knowing what they love and knowing what they fear. Figuring out what lie they tell themselves to keep going every day, and then exploding that lie.
KAREN S. DARBOE: In my opinion, the key to winning is simplicity. Design-wise, it's easier to overwork a character, falling in the trap of adding too many details in an attempt to make it unique, while, in my mind, the most unique characters are those with a simple design. My personal rule: one or two things are enough to make them stand out from the crowd!

If you could go back in time and tell your younger self one thing, what would it be?
KAREN S. DARBOE: "Everything will be okay, and you're doing good!" That might be something so simple and generic from the outside, but for the Karen of the past, it really could have meant the world!
REBECCA ROANHORSE: Holy crap, you're going to get to make up stories for a living! Best. Life. Ever.
Candy corn – it isn't October without it or literally the worst?
REBECCA ROANHORSE: I am candy corn neutral. I don't eat it but that's because I'm a salt girl. I don't really eat any candy. Maybe if you deep fried it and dipped it in ketchup I'd be down. (Please don't. I'm kidding.)
KAREN S. DARBOE: I guarantee I didn't live under a rock, but I admit I've never even come across a single piece of candy corn in my whole life! I guess it's the price for living in the rural parts of Italy, right?
Fortune teller – tell me everything or no thanks, I'll be surprised?
REBECCA ROANHORSE: I don't believe in fortune tellers, but even if I did, I wouldn't want to know.
KAREN S. DARBOE: I'd be tempted as hell, but I don't know if I would really want to discover happenings regarding my future...or maybe I would?
Favorite scary movie?
REBECCA ROANHORSE: I'm not big on scary movies, but I do love a psychological thriller. Most recently, Parasite.
KAREN S. DARBOE: Alien. That's a true masterpiece of horror!
Who makes you laugh?
REBECCA ROANHORSE: Professionally? Kat Williams, Will Farrell, Ali Wong. Personally, my husband. He is secretly hilarious. That's probably why I married him. 
KAREN S. DARBOE: Everyone that can make good dark humor. I highly appreciate that!
Oh, also those who told me that liking comics and cartoons was just a phase. It's becoming a pretty long phase!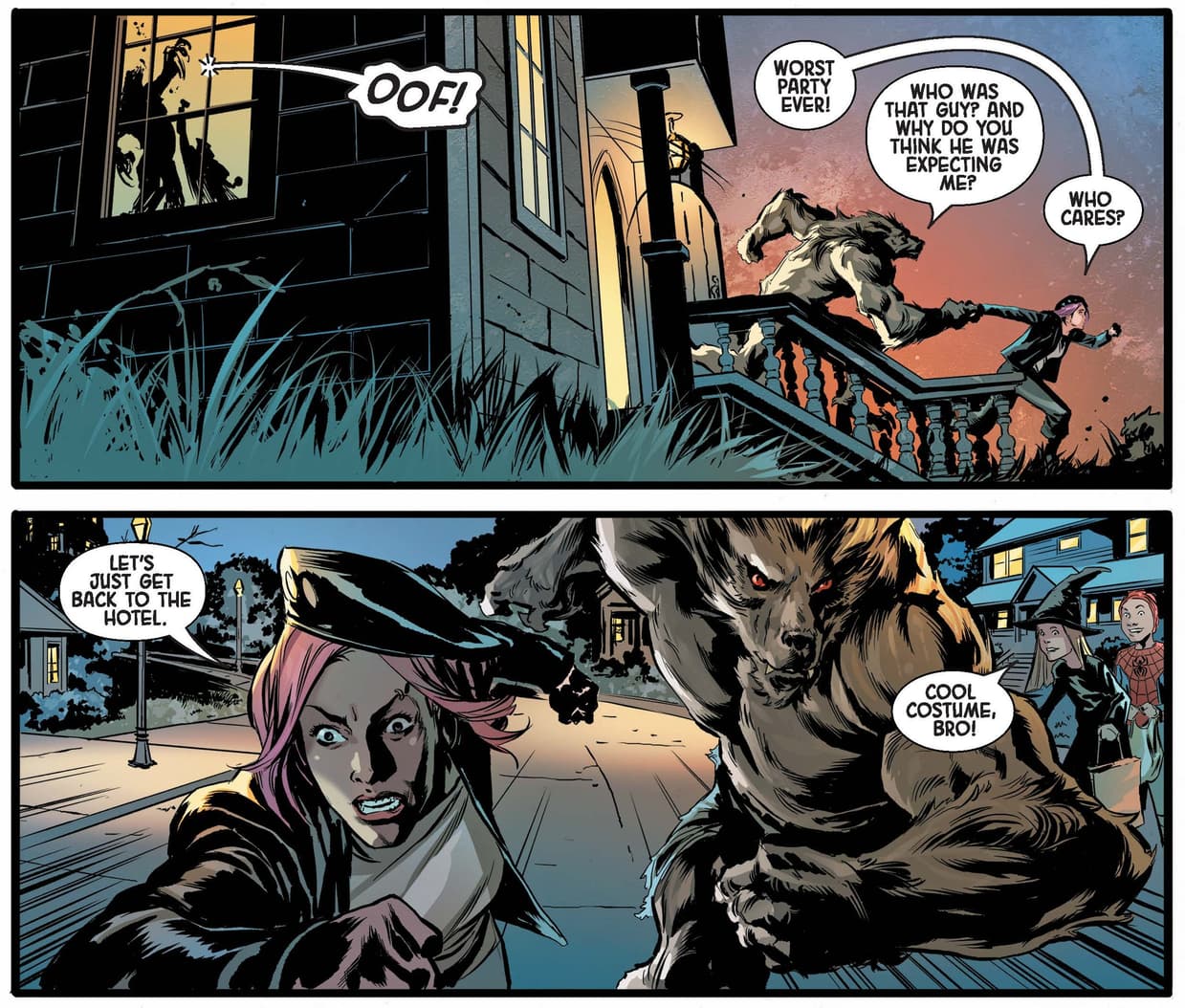 Mantra or quote that keeps you going?
KAREN S. DARBOE: "Learn to appreciate people's flaws, because everyone can easily appreciate the good qualities."
REBECCA ROANHORSE: The first thing that comes to mind is, "Keep on swimming, keep on swimming." I'm sure there are many others that are much more meaningful, but I'm going with Dory, an aquatic inspiration.
Best thing about being a woman or nonbinary creator of Marvel?
KAREN S. DARBOE: Having the amazing opportunity to collaborate with various people around the world. Also this brought me to having the pleasure to create a new character design for a new superhero in Bloodline. There are no words fitting enough to describe how grateful I am!
REBECCA ROANHORSE: The women and nonbinary fans who get to see themselves in the stories I write, who tell me representation matters, and who love the Marvel universe just as much as anyone else.
Don't miss Rebecca Roanhorse and Karen S. Darboe's stories in CRYPT OF SHADOWS #1, on sale now!
MacKenzie Cadenhead (she/her) is a children's book author and an old school (Read: former) Marvel editor — not old-old but let's just say she knew Gwen Stacy when she was dead. She co-authors the "Marvel Super-Hero Adventures" chapter book series for young readers and is a proud Woman of Marvel. You can see what she's up to over at Instagram @mackenziecadenhead.
The Hype Box
Can't-miss news and updates from across the Marvel Universe!