Culture & Lifestyle
Published November 17, 2022
'Asked & Answered with the Women of Marvel': Ruth E. Carter
Get to know 'Black Panther: Wakanda Forever' costume designer Ruth E. Carter!

When we started this column, we had a wish list of creators we wanted to interview. At the top was award-winning costume designer Ruth E. Carter. Whether or not you remember the first time you beheld her brilliant work (perhaps it was Do the Right Thing, Malcom X, or Love and Basketball), you certainly know her Academy Award winning vision of Wakanda in Marvel Studios' Black Panther and Black Panther: Wakanda Forever (in theatres now). 
She is a master of her craft. She's got the inside scoop on free will and fate. She is a phenomenal Woman of Marvel. And we had some questions for her.
We asked. She answered.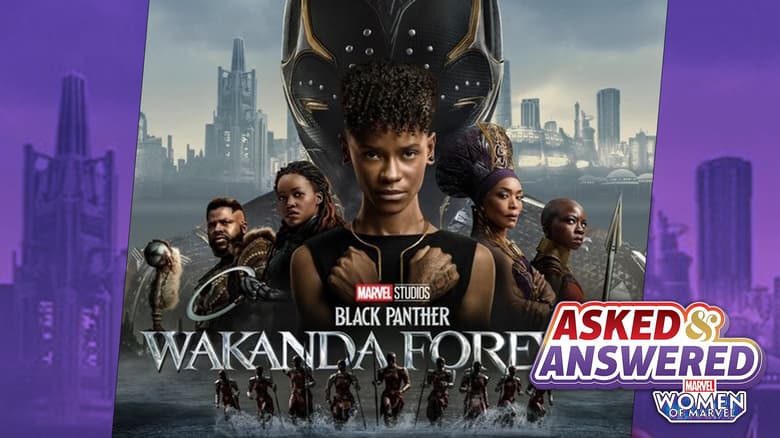 What is the first thing you do when you wake up?
I walk my dog.
What are you totally into right now?
I'm totally into podcasts. I find them hysterical. So I followed the podcast—when people's first reactions to the [Black Panther: Wakanda Forever] trailer, the first trailer that dropped, and I cried with every single person that cried. I was so touched that they were touched and it felt really good. So I started getting into talks... There's the Bulls Talk, and I just went down the rabbit hole to podcasts.
When I was a kid I was obsessed with…?
I was obsessed with drawing, and I co-owned all the drawing material that was in my brother's room. I say I co-owned it because I would go in there and [be] like, "Wow, he drew something with that chalk. I'm going to do the same thing!" So I was constantly fighting with my brother because he was always asking me to stop messing with stuff.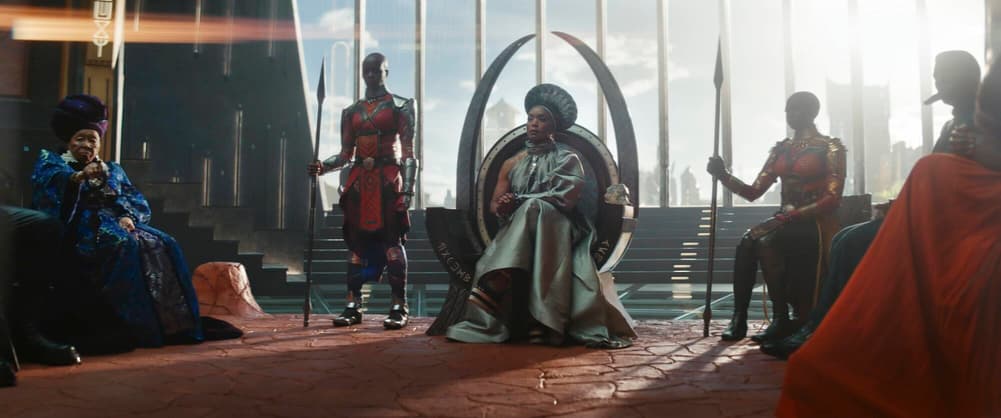 What is essential to developing a character through costume?
Actually knowing their story. So you know a little bit about their backstory, you know a little bit about the story and the present that the film is actually portraying, and also kind of a little bit of the future story, so that you can bring into their history a little bit about where they're going. So the story that centers around a character: where they live, how they live, is integral to knowing where to even start.
What is the key to collaboration?
The key to collaboration is to be a good listener, to actually do your own work and have your own voice, and to be able to communicate that voice. So listening and talking!
Superpower of choice?
I feel like, if I could choose a superpower... I want to say leadership—you know, the strength of leadership in these characters, because our Super Heroes are heroes. So I want the hero power. I want to be the hero and be able to lead a nation.
Got any superstitions?
Don't put a hat on your bed. That means somebody may be passing away. That's an old one. Don't wash clothes on Sunday. Not a good thing!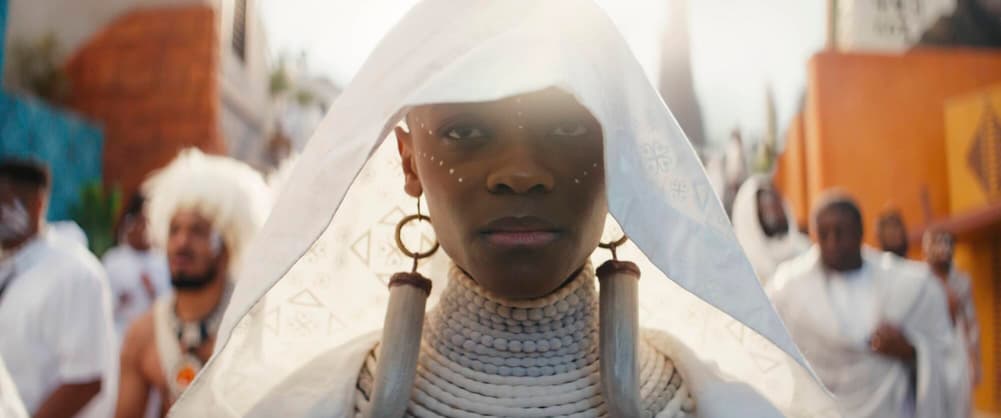 What is your research process, and when do you let that research go?
I realize that the more I collect research, the harder it is for me to get through all of it. So I do a speed read. I ask other people on my teams to read certain things and report, give me their CliffsNotes. I find a book that I like and I stick to it, even though I collect other stuff. I stick to one book that really does give me, sometimes, a jumping off point. So I come from an angle—this is my angle—and I will let others bring the other information and things that support what I read. So I have a book that's called Remnants of Self. How wonderful is that, when you think of textiles and character building?
What does Wakanda Forever mean to you in the real world?
I recently was asked that question, and what I found was :Wakanda Forever" means that we will always honor the memory of Chadwick Boseman as the Black Panther.
Salty or sweet?
Sweet!
Better to ask permission or forgiveness?
Forgiveness, for sure! You got to step out on faith. You got to leap into it. You got to just do it and then hope that it lands and it's right and people want it or like it or, "I'm sorry. I shouldn't have done that."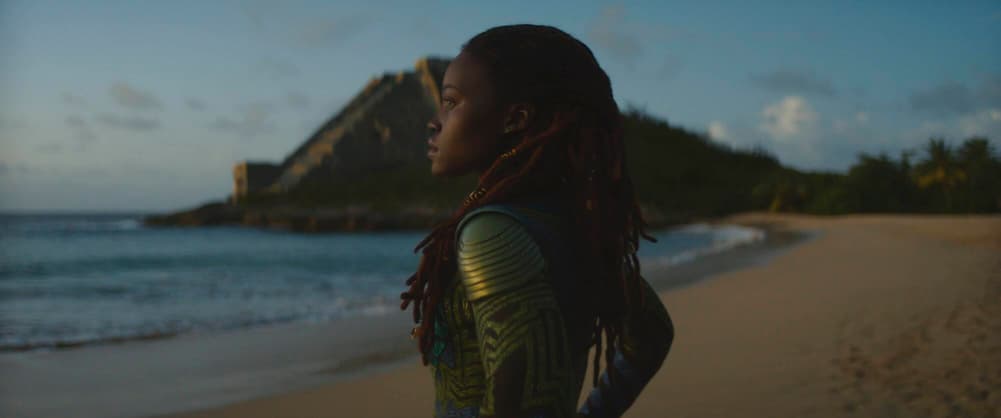 What takes your breath away?
The beauty in nature. I like the color palettes in nature. They do inform how you can be avant garde with combinations that you see in birds and things in nature. It still does take my breath away when I see—when I'm on my Instagram and I see a bird and it's beautiful, it takes my breath away.
If you could go back in time and tell your younger self one thing, what would it be?
I would say, "Thank you, young Ruth, for deciding that you loved art and that you wanted to be an artist. You didn't know that you were following that path, but you are, so I thank you for following your heart."
Best advice you've gotten?
Don't be afraid to ask for help.
Free will or fate?
I think we think of it as free will, but it's fate.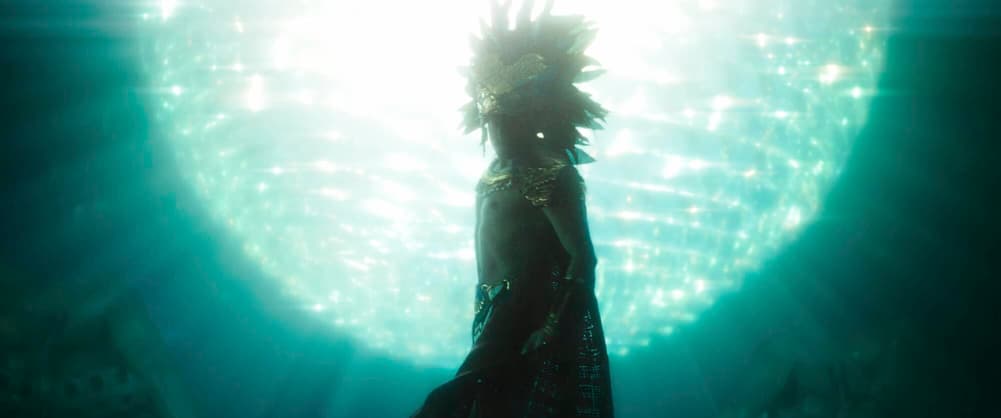 Where is your favorite place to travel?
Oh, I went to South Africa and had an amazing time. After Black Panther, I was just really compelled to go to Africa. It was a long trip, but it was worth it.
Must-have item when working?
I must have a white out pen, because I'm always dealing with imagery and sometimes I need to white out something to make an amendment when I'm talking with craftspeople and people who are building things. So the white really does come out really bold and bright when I'm making some notes on a drawing.
What do you always make time for?
I always make time for breathing, breathwork, and yoga because I find myself more creative when I have done a good stretch.
Mantra or quote that keeps you going?
I've got a couple of them! "Hey, they're in charge, and there's nothing we can do about it." That's the one that's like, when everybody is complaining, "I don't know why this has got to be like this. I don't want to do it like that!", they're in charge, and there's nothing we can do about it. Let's just keep going. If they knew better, they'd do better. I have some positive ones I just can't remember.
Best thing about being a Woman of Marvel?
That I can bring the woman's voice and the woman's vision to the costumes so that we can examine our forms of beauty in these characters through the lens of another woman that shows how complicated and powerful we are—not through our sexuality necessarily, but also through our gifts of strength and strength of mind.
Don't miss Ruth E. Carter's stunning costume work in Marvel Studios' Black Panther: Wakanda Forever, in theaters now!
MacKenzie Cadenhead (she/her) is a children's book author and an old school (Read: former) Marvel editor — not old-old but let's just say she knew Gwen Stacy when she was dead. She co-authors the "Marvel Super-Hero Adventures" chapter book series for young readers and is a proud Woman of Marvel. You can see what she's up to over at Instagram @mackenziecadenhead.
The Hype Box
Can't-miss news and updates from across the Marvel Universe!