Culture & Lifestyle
Published March 12, 2021
Prose Authors Reflect on 'Black Panther: Tales of Wakanda' Anthology
Storytellers from across the African Diaspora come together for this anthology on-shelves now!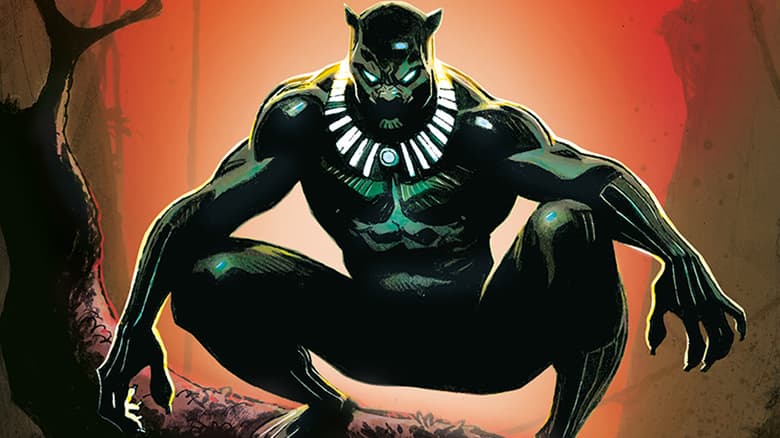 Black Panther: Tales of Wakanda, a ground-breaking anthology of original short stories from the African Diaspora, hit shelves early this week. The folks over at Titan Books shared an excerpt with Marvel.com — read the excerpt here and then snag a copy of the book everywhere books are sold!
The first mainstream Super Hero of African descent, Black Panther has attracted readers of all races and colors who see in the King of Wakanda reflections of themselves. Storytellers from across the African Diaspora—some already literary legends, others who are rising stars—have created for this collection original works inspired by the world of the Wakanda and its inhabitants. With guest stars including Storm, Monica Rambeau, Namor, and Jericho Drumm, these are stories of yesterday and today, of science and magic, of faith and love.  
The collection of brand-new original fiction is edited by award-winning author Jesse J. Holland (Who Is The Black Panther?) and features an all-star cast of 18 award-winning authors including Nikki Giovanni, Sheree Renée Thomas, Tananarive Due, Caldwell Turnbull, Suyi Davies Okungbowa, and Christopher Chambers. Marvel.com reached out to a handful of the creators to see what these heroes mean to them!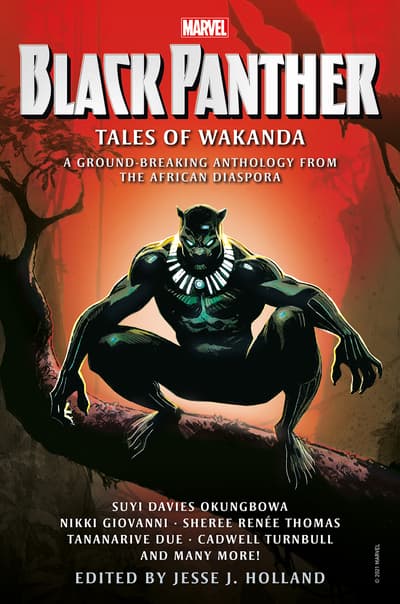 "As a child, I read comic books by flashlight under the bed covers because I HAD to know how T'Challa was getting out of his latest predicament. I despaired when Killmonger showed up, because I knew the Black Panther had never REALLY beaten him. And I rejoiced when T'Challa and Monica – and then later Ororo – got a few moments of peace, love and happiness. These weren't characters, these were my friends. And knowing that I had a chance to walk alongside my friends and perhaps even guide their adventures? It means everything to me and that little boy I used to be, reading comics by flashlight." — Jesse J. Holland, editor
"Being able to work on something like this, have a hand in molding the world around and within Wakanda, is a dream come true. I really have been blessed to be able to touch the heroes and fandoms I grew up loving. I'll never forget this moment. Here's to many, many more." — L.L. McKinney
"I wanted to participate in the anthology for two reasons. First, I'm a person of color and a creator. This is the Black Panther, Wakanda, Marvel. Doesn't get any better! Second, because the stories we told each other as humans around the fire were about what happened the previous day, then, about gods, heroes and monsters — to help us cope with what indeed happened the previous day. It is a privilege to contribute to this human tradition." — Christopher Alan Chambers
"I am excited because this is an opportunity to write from a perspective that is familiar to me, but also a wonderful challenge. I am always one for trying something new and seeing where it leads me. I discovered all the fascinating stories in the Black Panther world and am so blown away by the creativity within them as well as the excellent, vibrant characters of African descent. I'm so glad to be a part of this anthology seeing the power and the depth of the Black Panther world. I'm honored to share a space with other Black and African authors as well, because trust me, these folks know how to tell a story." — Kyoko M.
"At first, as a mid-1960s kid, I was a comic art fan. Eventually, like all curious minds, I started READING! After devouring FANTASTIC FOUR #52 in a barbershop, I was hooked. The Black Panther fought the FF to a standstill. T'Challa invited the Fantastic Four back to what I expected to be a poor, primitive African village, but instead revealed a technically-advanced Wakandan palace where T'Challa explained to Reed Richard's that he was seated on a $20 million Vibranium bench. The notion of an African King wealthy enough to craft such an extravagant bench in contrast to the obscenity of apartheid embodied by Klaw blew my mind!" — Glenn Parris
"When I was contacted to be a part of Black Panther: Tales of Wakanda, I was ecstatic. Not only would I have the opportunity to contribute a story to the world of an iconic character, I also couldn't think of a better way to pay homage to Chadwick Boseman's legacy. I'm excited to be included among such esteemed authors expanding the mythology of Black Panther and Wakanda." — Milton Davis
"As a young man growing up in southern Nigeria, the concept of the Black Panther—a Super Hero who hailed from a land very much like mine yet somehow also possessed a lot of what mine lacked—was very fascinating. From the day I learned about T'Challa, a part of me that had not been allowed to dream for a long time opened up. Getting to write about him and Wakanda and the lives that orbit his—it was a bit of an overwhelming experience. Telling a story about the Black Panther was like digging into my own self, my own past, present and future. It was like coming home." — Suyi Davies Okungbowa
"The opportunity to write Black Panther, to add to that canon of stories, was a dream come true. Literally. I have a 20,000+ comic book collection. I started collecting in 6th grade and the collection includes not only Black Panther's first appearance but every BLACK PANTHER #1. Christopher Priest's run on the title made me fall in love with storytelling all over again and had a HUGE impact on me as a writer. Black Panther has always been about the dream and responsibility of being a part of community, the lessons of which I continue to carry into all aspects of my work and life." — Maurice Broaddus
"As a Black writer and a diehard Black Panther fan, exploring Wakanda's themes and people was always something I did for fun. Still, I dreamed of being able to make my mark in the world of Wakanda somehow. For many, Wakanda and its citizens represent the power of possibility and our collective responsibility to strive for justice. Similarly, the world of the Black Panther represents for many, and for me, a society where embracing equality and justice enables Black people to live into the fullness of their excellence and power. Black Panther is a cultural force, and T'Challa, Shuri, the Dora Milaje and other Wakandans are pop culture icons who have inspired thousands of Black fans just like they inspired me. It was a dream come true to contribute to this anthology." — Troy Wiggins
"When I was invited to write a story for Black Panther: Tales of Wakanda, the little girl inside me whose family couldn't afford to take off work each week in the 80s to purchase comics, celebrated. Today I see Black Panther: Tales of Wakanda as a groundbreaking chance to participate in the storytelling of a character that has resonated across continents and generations. I am honored to add my voice to this wonderful tradition of storytelling that has remained so relevant throughout the decades. The ability to face insurmountable odds in ourselves and our world is the oldest story there is, and the wonderful world of Wakanda embodies those ideals." — Sheree Renée Thomas
"The Black Panther meant so much to me growing up. As smart as Reed Richards, as good a fighter as Steve Rogers, as rich as Tony Stark, and as regal to Namor. T'Challa took a backseat to no one, and that was what I needed to see as a child: Someone who looked like me but was as good (or better!) than everyone else in the Marvel Universe. Today, people still thrill to the idea of a Wakanda, an Africa that is allowed to fulfill its potential instead of suffering through the pains of colonization. Being part of the dream that everyone can be a hero means so much to me, and that's why I'm glad my story is in Black Panther: Tales of Wakanda." — Harlan James
"Growing up, I was a social pariah. The Marvel Super Heroes were my friends. I felt safe with T'Challa and Storm. In 2019, I started my own Super Hero organization, Neighborhood Heroes, teaching children how to use their own superpowers through literacy. Our first event featured cosplayers dressed as T'Challa and Shuri. When the opportunity arose to participate in Black Panther: Tales of Wakanda, I felt a lifetime of dreaming and imagining come to fruition. I saw an opportunity to combine the wonder of my childhood with the craft I learned as an adult, a chance to help another lonely kid feel strong." — Danian Darrell Jerry
"Wakanda gave us an alternate future of courageous, intelligent Black men and women with strong African roots, protected and thriving on their own land. This imagined world changed our real world on every level from economic to expanding the imagination of Black children. The nerd in me is thrilled by how the characters in Black Panther demonstrated that being smart is a superpower. It's an incredible honor to have a story in this ground-breaking anthology with such wonderfully talented authors." — Linda D. Addison
"The Black Panther came into my life as this exciting, fun-filled adventure character. But over the years, I've watched how society, Black and White and people of color, have taken ownership of this character. He's gone from mere guest appearances to mega king. He and Wakanda are the new Camelot, Shangri-La and Timbuktu. They reaffirm that we have a global place in this world—in places of fact, and of fiction." — Alexander Simmons
Want to stay on top of everything in the Marvel Universe? Follow Marvel on social media—Twitter, Facebook, and Instagram—and keep watching Marvel.com for more news! 
The Hype Box
Can't-miss news and updates from across the Marvel Universe!