Culture & Lifestyle
Published March 9, 2021
Celebrate T'Challa and His Kingdom with 'Black Panther: Tales of Wakanda' Anthology
Storytellers from across the African Diaspora come together for this anthology on-shelves now!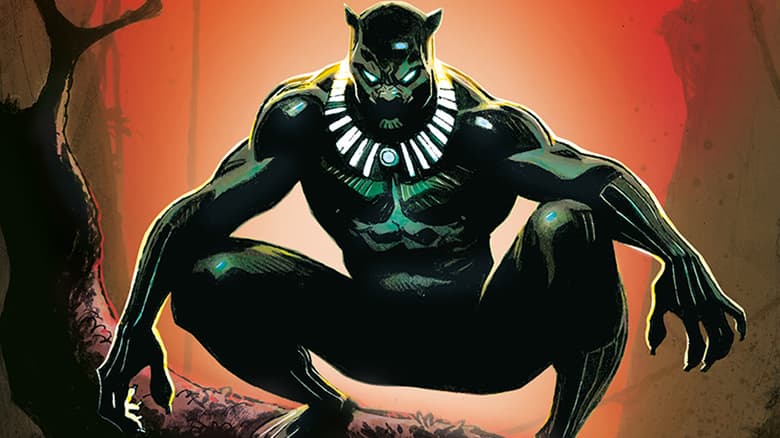 Consumed with wanderlust?
Let Titan Books satisfy that desire with the release of Black Panther: Tales of Wakanda, a ground-breaking anthology of original short stories from the African Diaspora. Grab it everywhere books are sold now!
The collection of brand-new original fiction is edited by award-winning author Jesse J. Holland (Who Is The Black Panther?) and features an all-star cast of 18 award-winning authors including Nikki Giovanni, Sheree Renée Thomas, Tananarive Due, Caldwell Turnbull, Suyi Davies Okungbowa, and Christopher Chambers.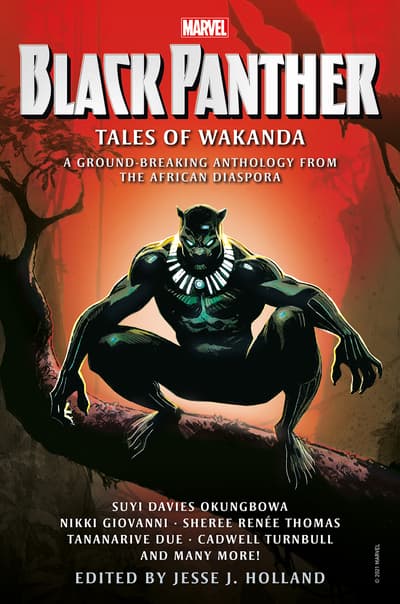 [RELATED: Alex Simmons on the History of Black Panther]
The first mainstream Super Hero of African descent, Black Panther has attracted readers of all races and colors who see in the King of Wakanda reflections of themselves. Storytellers from across the African Diaspora—some already literary legends, others who are rising stars—have created for this collection original works inspired by the world of the Wakanda and its inhabitants. With guest stars including Storm, Monica Rambeau, Namor, and Jericho Drumm, these are stories of yesterday and today, of science and magic, of faith and love.  
T'Challa faces the gods of his parents. Vampires stalk Shuri and a Dora Milaje in voodoo-laced New Orleans. Erik Killmonger grapples with racism, Russian spies, and his own origins. Eighteen brand-new tales of Wakanda, its people, and its legacy. 
These are the tales of a king and his country. These are the legends whispered in the jungle, myths of the unconquered men and women and the land they love. These are the Tales of Wakanda.
Featuring stories by Linda D. Addison, Maurice Broaddus, Christopher Chambers, Milton J. Davis, Tananarive Due, Nikki Giovanni, Harlan James, Danian Jerry, Kyoko M., L.L. McKinney, Temi Oh, Suyi Davies Okungbowa, Glenn Parris, Alex Simmons, Sheree Renée Thomas, Cadwell Turnbull and Troy L. Wiggins. 
Black Panther: Tales of Wakanda is now available, and thanks to our friends over at Titan Books, you can read an excerpt from Harlan James' story "Bon Temps," which stars T'Challa and Shuri, below!
Black Panther: Tales of Wakanda EXCERPT
SHURI WANTED to scream and scratch T'Challa's eyes out.
But the look on her mother's face... combined with the fact that it would be treason to attack that emotionless, smug, overbearing, and oh-so-confident-in-every-decision-he-made brother of hers, made the crown princess clench her fists so hard she was sure her nails were drawing blood from her palms.
She swallowed hard and narrowed her eyes at T'Challa, who stared back at her wearing that damnable neutral expression that she hated. She took a deep breath, gritted her teeth, and spat out her response, trying—and failing—to hide her emotions.
"May I ask, o' mighty King, why I can't go to Ibiza for my conference? I go every year, and each year I bring back vital intelligence about the ruling families of Europe and America. Intelligence, I might point out, that would be of value as Wakanda strides more forcefully into the outside world, as you commanded."
T'Challa looked almost amused as he reclined back, eating grapes during this rare quiet moment in the throne room.
His always-present Dora Milaje had cleared the royal court, until only they and the royal family remained. T'Challa's royal attire was relatively casual, a green turtleneck with a black silk suit and loafers, a dark purple scarf drawn tightly about his shoulders and waist. Shuri was dressed casually as well, with just a T-shirt and jeans, and her favorite black Chuck Taylor sneakers.
As usual, the Queen Mother's presence ruined everything. Ramonda, just like always, looked every inch a queen in one of her flowing Kente cloth dresses. She exuded restraint and confident grace, her long gray hair flowing down her shoulders. Shuri sighed as she watched her mother out of the corner of her eye, and felt all of her usual inadequacies.
The Queen Mother, of course, never believed in Casual Friday. Nor had she agreed when T'Challa allowed Shuri to go with her friends to Spain in previous years. After last year's fiasco, however, instead of confronting her daughter, she'd poisoned the much more easily swayed T'Challa, and left the decision to the one person she felt Shuri wouldn't defy.
Exactly like T'Challa was about to do. He shifted on his throne, looked down at her, and popped another grape into his mouth. Bast, she hated when he looked at her like she was still some precocious little girl-cub, instead of the crown princess and next in line for the throne of Bashenga.
"Intelligence, you say?" Ramonda commented. "Last year, you brought us the personal cell numbers of Harry and Meghan." She stood off to T'Challa's side, in her usual spot. "And if I remember correctly, there was an incident with Idris Elba that we had to have smoothed out."
"That—" Shuri pulled her shoulders back and stuck her chin out, refusing to meet her mother's eyes, keeping her gaze directly on T'Challa. "—was not my fault, brother."
"It's never your fault, is it?" Her mother sighed. "When are you going to grow up, girl? You are a princess, for Bast's sake."
T'Challa just stared with that piercing gaze of his, the one he used when Shuri felt he was trying to judge her soul to see if she was worthy of her crown and position.
"Regardless of past years, you may not go, little sister," T'Challa said at last, using a voice she had come to recognize. "It is a waste of your time... and ours."
That was the final straw. Decorum be damned, she thought. 
"You may sit on our father's throne, brother," Shuri hissed, "but that doesn't make you my father! You can lounge there and preen, but don't forget that I know you're an arrogant, emotionless...emnweni, pretending to be a king!"
"Shuri!" Ramonda said, her voice rising. "Apologize to your king right now!"
"I will not, Mother! I do not ask for much from my king, but I do ask that my itinerary be mine alone, outside my royal duties." She glared at the nonplussed T'Challa, who continued eating grapes.
"You asked me, brother, to tone down my extracurricular activities and concentrate on my royal duties," she continued. "I have done as you've asked. You asked me to increase my training regimen with Zuri, and I have. You've asked me to mentor at the Science Academy, and I have—even taking on a professorship and teaching advanced seminars. I've done everything you've asked of me, so I don't understand why you're all of sudden acting like you don't trust me."
T'Challa shifted on his throne again.
"I do trust you, sister," he said calmly. "That is why I have made my decision, despite your current breach of etiquette."
"But T'Challa..." their mother started hesitantly.
"My decision is final, Mother." T'Challa looked calmly at his mother, who shrank back almost imperceptibly at his unspoken communication. Shuri had no idea what they were talking about, but couldn't stop her temper from flaring again.
"Haven't I warned you two about planning my life without me?" She'd already had a roaring blowout with them over dinner, not that long ago, about their intention to send her to a meeting of African royalty in Nigeria. It just happened to be scheduled for the same time as another of her "can't miss" events, her annual safari getaway with some friends from T'Challa's court. The Nigerian gathering was well known as a matchmaking event for unwed royalty. She wouldn't be caught dead with the spawn of some of those jacked-up dictators who attended, and had refused to attend, then stomped out.
Want to stay on top of everything in the Marvel Universe? Follow Marvel on social media—Twitter, Facebook, and Instagram—and keep watching Marvel.com for more news! 
The Hype Box
Can't-miss news and updates from across the Marvel Universe!