Culture & Lifestyle
Published October 26, 2022
Enter the World of 'Black Panther: Wakanda Forever' in All-New Picture Book 'The Courage to Dream'
Writer Frederick Joseph and illustrator Nikkolas Smith talk about the debut of their original character Assata, and the making of their inspiring book for readers of all ages.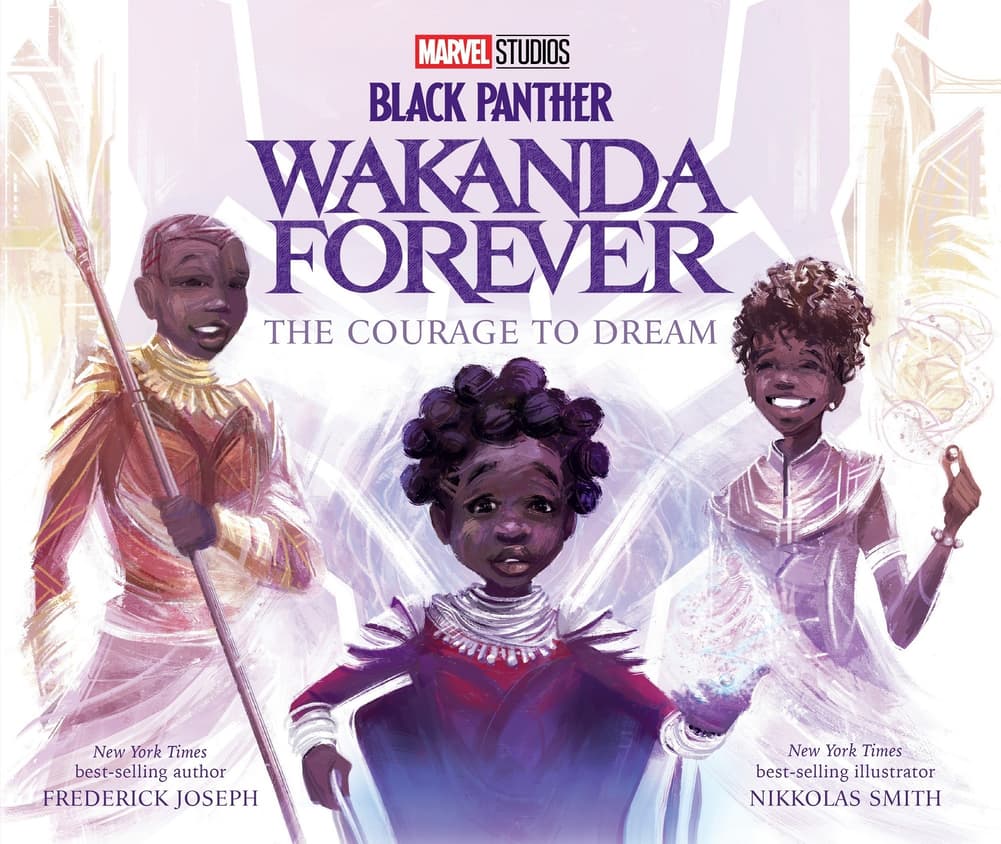 On November 1, Black Panther: Wakanda Forever: The Courage to Dream, an all-new picture book from New York Times best-selling creators Frederick Joseph and Nikkolas Smith, arrives on shelves for readers of all ages! Enter the world of Marvel Studios' Black Panther: Wakanda Forever, as told through the eyes of a newly introduced character, Assata.
"Assata is new not only to Marvel lore, but to the Marvel Cinematic Universe," says author Frederick Joseph. "Our hope is that she will help many people feel seen, and that this is just the beginning of her adventures."
Beautifully told and envisioned, The Courage to Dream will follow the young Wakandan who hopes to become one of the Dora Milaje, the warriors who protect Wakanda. But because of Assata's disability, fulfilling this dream feels next to impossible. Through the guidance of familiar Wakandans, Assata will learn the importance of following your destiny—no matter the obstacles in your way.
We spoke to writer Frederick Joseph (The Black Friend, Patriarchy Blues: Reflections on Manhood), and Artivist, author and illustrator Nikkolas Smith (The 1619 Project: Born on the Water, I Am Ruby Bridges) about Assata's debut, plus their personal ties to her story.
For a little backstory, do you remember what kick started your Marvel fandom?
FREDERICK JOSEPH: My entry into Marvel actually didn't start with a comic, as much as it started with the 90's X-Men: The Animated Series and Spider-Man cartoons. Those shows were magical and led me straight to the comic arcs they were based on.
NIKKOLAS SMITH: I also was introduced to the Marvel world not through the comic books, but after watching the [X-Men cartoon], the comic cards were my big introduction. On the front of the cards, they had stunning paintings of the Super Heroes from some of the best artists in the world, and character stats and origin stories on the back. I was hooked from that point on. Collected those religiously.
FREDERICK JOSEPH: I had these same cards!
Can you tell us a bit about some of the Wakandans that Assata is going to meet in your book?
FREDERICK JOSEPH: Assata is going to meet M'Baku, she's going to meet Shuri, she's going to meet Queen Ramonda, and she has some very specific ties to some of the Dora Milaje. When creating Assata's story and ultimately creating the character, the idea was to create something that helps us get a new lens into Wakanda. I think that our lens is oftentimes through the adults and what they're all dealing with. But what does the bedroom of a young Wakandan look like? What does Wakanda University look like? So, when working on her story, I really wanted to bring us to not just places where she met people, but like the places where we meet the places. I wanted us to get a glimpse of certain things [in the world] that we otherwise haven't.
NIKKOLAS SMITH: And I was so glad, Fred, that you went to all these places. I mean, one of the things that so many people left the theater thinking from [the first film], as the ship was flying over the Golden City, or these different parts of Wakanda, was like man, I just want to live in those spaces for a little while. And more than just flying over them, I want to see who these people are. Who are these Wakandan families? What are their daily lives, and all the things that they go through? It was really cool to be able to explore that.
How did both of you come to be involved in The Courage to Dream?
FREDERICK JOSEPH: Nikkolas, you were the first one on the project.
NIKKOLAS SMITH: Yeah, it was probably six or seven years ago—I was working at Walt Disney Imagineering, developing ideas for what would become the Avengers Campus for Disney California Adventure. And I was working on a lot of Wakanda ideas. Our campus [was] connected to Disney Publishing, so I would go over to Publishing and talk to Nachie Marsham. At the time he was one of the main editors there, and I just kept bugging [him] like, we need to do a Black Panther picture book. I basically was putting that seed into his mind every month. Long story short, [Nachie] forwarded along the idea, and years later I heard that they were trying to develop it. I think he mentioned that they were looking at some authors and Fred Joseph was potentially going to be writing it. Fred does so many amazing things with his writing, and I was like, "it's a no-brainer, let's do it."
FREDERICK JOSEPH: When [I was told] that Nikkolas was working on the book, I was like, OK, cool. I'll find the time. His artistic style is so dreamlike, and I think that was perfect for this book. Because while you absolutely are rooted in the palette and the feel of Wakanda, it's almost like you're sitting and imagining [with Nikkolas] as you're flipping through the pages. It's gorgeous. I'm so excited that people will get to see what he's done.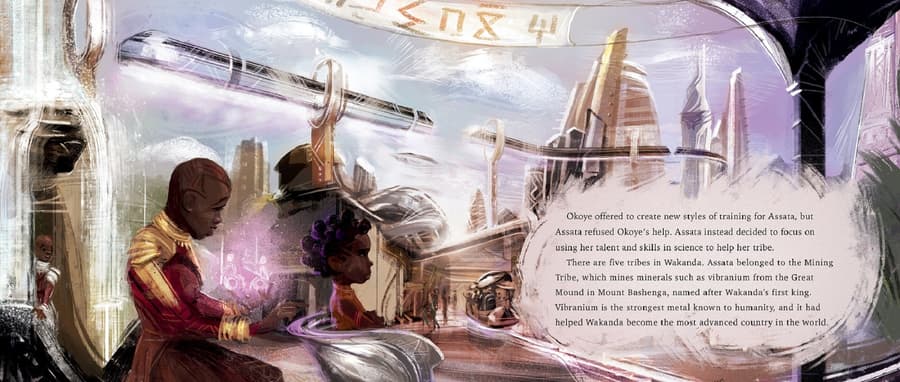 What else stood out in your collaboration with each other?
FREDERICK JOSEPH: [In drafting the script,] I actually was looking at Nikkolas' art just to imagine how certain scenes might be captured. So we hadn't spoken about it at all. And I already had one of his other books on my shelf, so there was definitely a fanship that was rooted in some of my scenes long before we ever got to speak about the book.
NIKKOLAS SMITH: I just thought having that structure, the world that Fred built, was a basis from the beginning. So once I got word that things were official, [I was] basically presented with the beautiful world and the characters that Fred created. I love it when something is established like that, and I can just visually go to work, create from a blank canvas. It was a pretty cool process.
What did you bring of your personal experiences to Assata's story and identity?
FREDERICK JOSEPH: First and foremost, I'm a person who does live with a disability. So it was important for me to help that specific marginalized community be seen. I think that kids in general have all sorts of obstacles. Sometimes obstacles are other kids, sometimes the obstacles are physical limitations.
NIKKOLAS SMITH: For one, [the idea] about blazing your own trail, creating your own path, I think that's something that all kids can relate to, but especially young kids of color in America. You're going to have to at some point create your own path. There's going to be something that society—or whoever—says like, "you can't do this," and then you have to figure out how you can do this. So I thought that was just brilliant and a great message to share.
I was illustrating this [one spread of Assata] sitting at a desk, doing a science experiment, something very technical, and she struggles with also wanting to do this other thing. And as I'm painting this, I'm thinking about my own journey of sitting at a desk doing something very architectural-engineering specific, and having dreams of doing something else, something more creative. And it's not like one or the other is bad, it's just your passion. I am now a full time artist, and I feel like I'm exactly where I want to be because I'm doing what I'm most passionate about. The journey that Assata took is very similar to my journey. I feel like there's so many parallels that we can all relate to.
The Hype Box
Can't-miss news and updates from across the Marvel Universe!