Culture & Lifestyle
Published August 15, 2022
Gemma Chan, Richard Madden, and Kit Harington on Their 'Eternals' Experience
The deluxe 'Marvel's Eternals: The Official Movie Special Book,' takes you behind-the-scenes of the hit Marvel Studios film!
Marvel Studios' Eternals follows a group of heroes from beyond the stars who had protected the Earth since the dawn of man. When monstrous creatures called the Deviants, long thought lost to history, mysteriously return, the Eternals are forced to reunite in order to defend humanity once again.
 
The outstanding ensemble cast includes Gemma Chan as humankind-loving Sersi, Richard Madden as the all-powerful Ikaris, Kumail Nanjiani as cosmic-powered Kingo, Lia McHugh as the eternally young, old-soul Sprite, Brian Tyree Henry as the intelligent inventor Phastos, Lauren Ridloff as the super-fast Makkari, Barry Keoghan as aloof loner Druig, Don Lee as the powerful Gilgamesh, with Kit Harington as Dane Whitman, with Salma Hayek as the wise and spiritual leader Ajak, and Angelina Jolie as the fierce warrior Thena. 
For thousands of years, Ikaris has loved Sersi even though the two have since grown apart. But when they're brought back together, now what? Also, Sersi has moved on with Dane Whitman.
Titan Comics, in partnership with Marvel, is releasing a deluxe hardcover, Marvel's Eternals: The Official Movie Special Book, arriving everywhere books are sold, September 6. Pre-order from your preferred retailer!
The Marvel Cinematic Universe is redefined once more with the arrival of Marvel Studios' Eternals. A race of immortal heroes from beyond the stars who came to Earth thousands of years ago, the Eternals have protected the planet since the dawn of man. But when monstrous creatures thought lost to history return in the present day, the Eternals reunite in order to defend humanity.
Lavishly illustrated with photos and production art, this deluxe collector's edition features interviews with the cast and crew including visionary director Chloé Zhao, and the cast led by Angelina Jolie, Salma Hayek, Richard Madden, and Gemma Chan.
Thanks to our friends at Titan Comics, we have a preview of Gemma Chan, Richard Madden, and Kit Harington's interviews, below!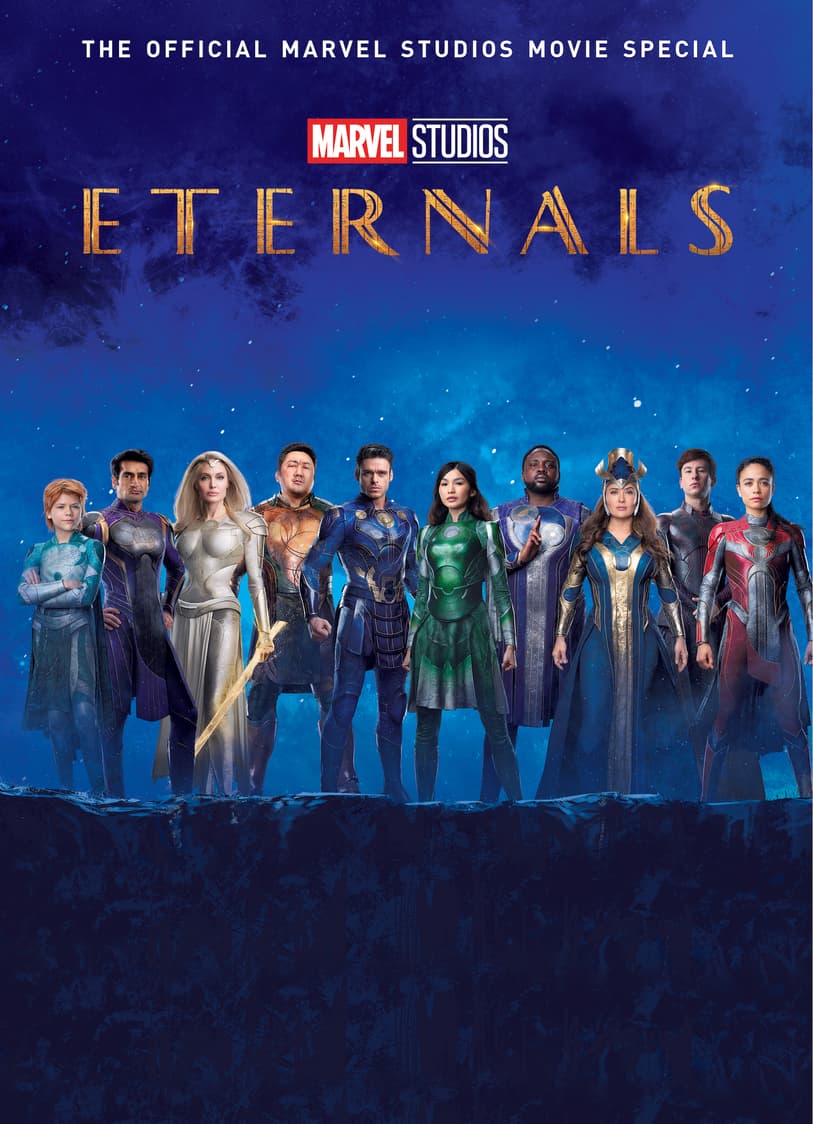 GEMMA CHAN TALKS ABOUT THE FILM'S DIVERSE CAST, AND BALANCING CHARACTER AND ACTION.
What's it like entering this phase of the Marvel Cinematic Universe?
Gemma Chan: Well, first of all, I should say I feel very lucky to be in the Marvel Cinematic Universe. Being part of this new phase and a new group of characters is quite exciting. And I think this film is trying to do something a little bit different than what has come before.
This is a big film. Can you talk for a moment about what it's like balancing delicate character moments with Super Hero action?
Gemma Chan: I think it's a tricky balance. But I think that's what's great about [Marvel Studios] films — you have big spectacle, these huge set pieces, but you also have really quiet, character-driven moments. Heartfelt moments between two people who are just trying to connect. Or, there are funny moments. There are very sad moments. And really, that's what glues the whole thing together. Our story is very much about these characters and how they feel about each other and how they feel about the world. And that's what drives the narrative.
What was it like working with Kit Harington (Dane Whitman)?
Gemma Chan: Kit Harington's lovely. He's great. And Dane and Sersi have a special bond, because he's really the first human that she's fallen in love with. And you can really understand why their relationship works. Dane is very assured, actually. There's a kind of quiet confidence about him that Sersi finds attractive. And, yeah, they have fun together as well. You can see why they'd be together, and why Sersi cares about him. It was really fun to play those scenes with Kit.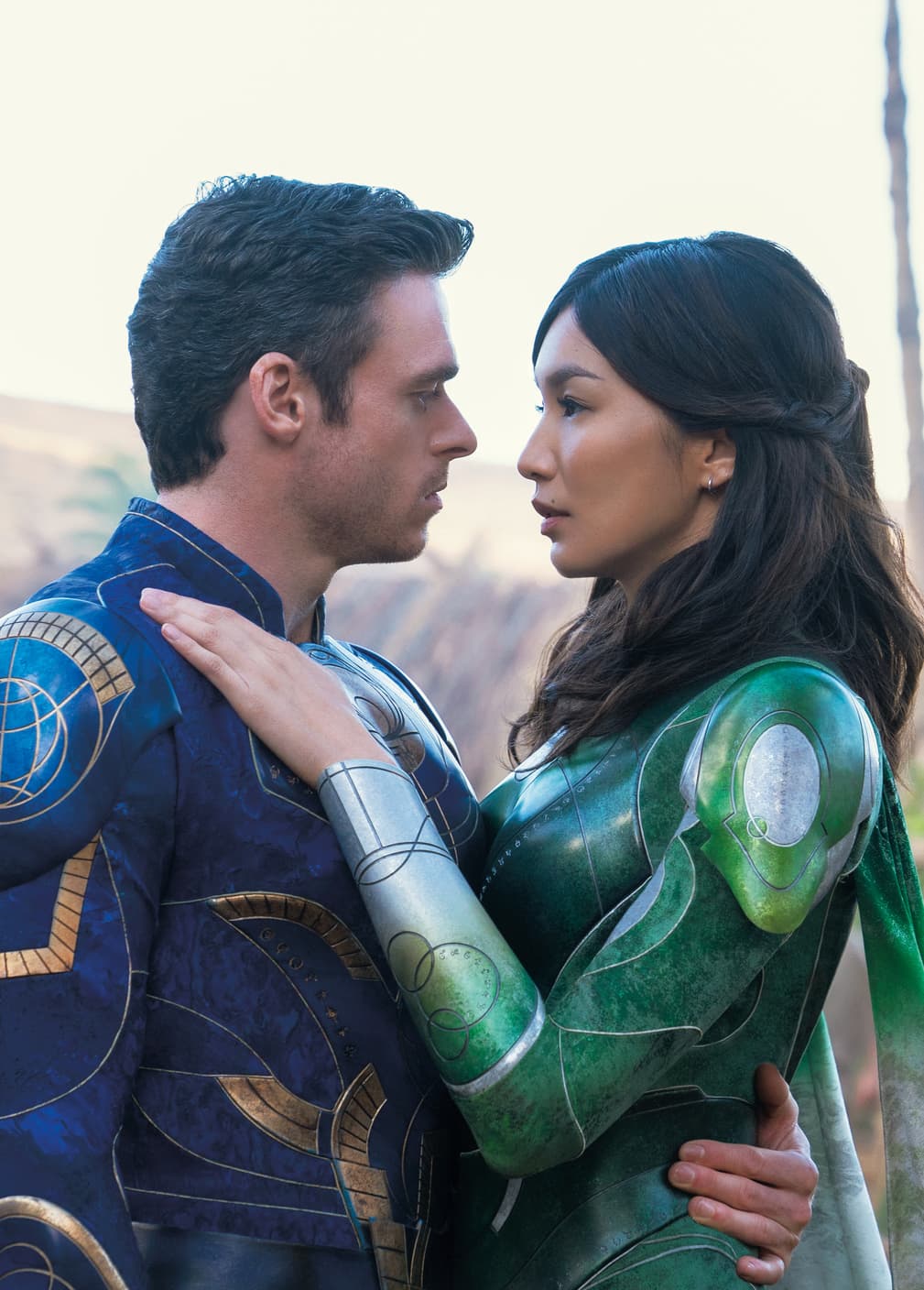 But what about Ikaris?
Gemma Chan: Well, there is a love triangle of sorts. Sersi and Ikaris have a long history. I mean, they've been on and off for about 5,000 years! So, yeah, it's pretty long-term. I mean, what can I equate it to? I suppose Ikaris is that ex that you just can't shake. Is he good for you? Is he not good for you? I mean, she still has this attraction to him. And he to her. But they've hurt each other in the past. For 5,000 years, they've been through everything together. And there's real love there, and a lot of history. But at the beginning of the film, Sersi has moved on. She's found someone else that she loves. And, of course, that's when Ikaris comes flying back into her life.
RICHARD MADDEN SPEAKS ABOUT IKARIS AND HIS ROLE WITHIN THE ETERNALS TEAM, AND WHAT IT WAS LIKE WORKING WITH GEMMA CHAN
How are you alike or different from Ikaris?
Richard Madden: Well, very different. I can't fly. I can't shoot lasers out my eyes. I don't have super strength, all of the things I would very much like to have! Similarly, I suppose we both stick to our guns, and have a strong sense of duty and loyalty, I think. Those are some parallels we share, but it's quite hard to share parallels with someone who has been alive for thousands of years.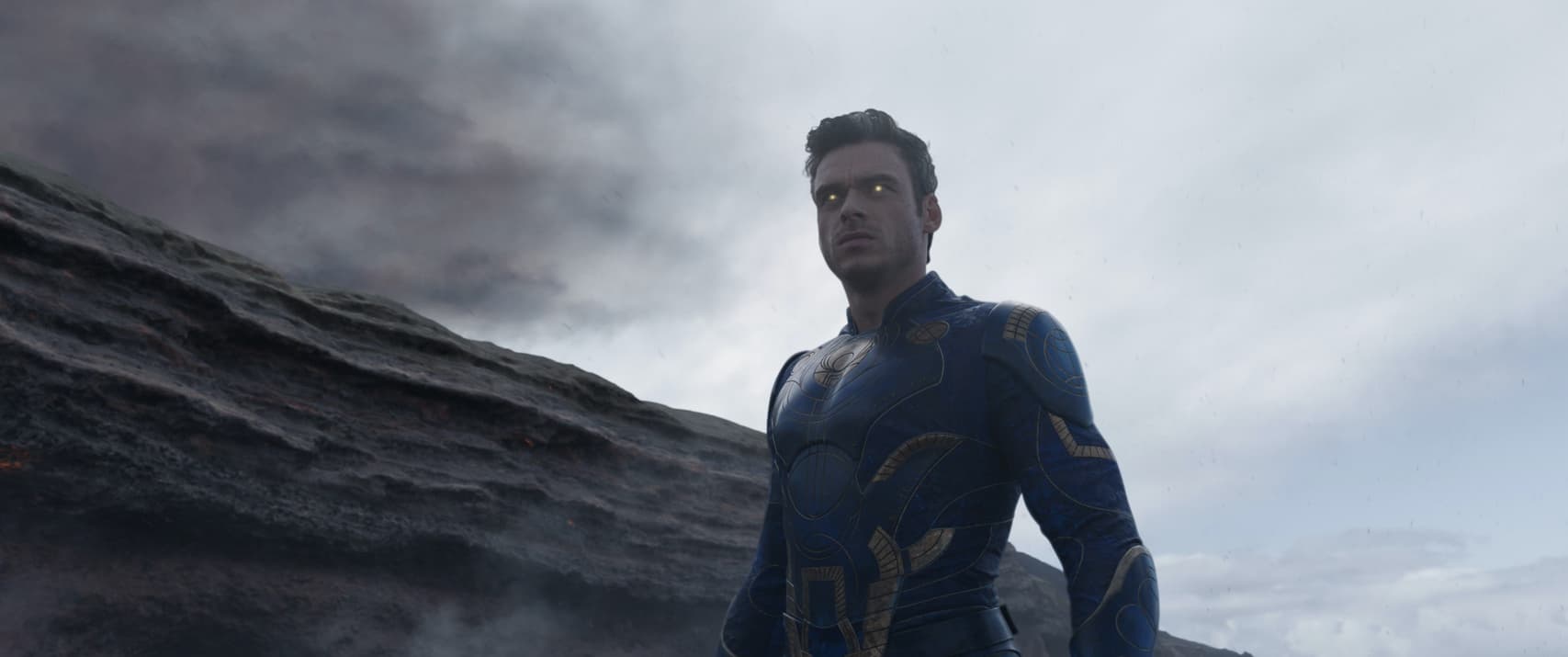 How did you bond with your fellow Marvel Studio's Eternals actors?
Richard Madden: In terms of bonding with some of my cast members, luckily, I'm very close with Gemma Chan [Sersi]. We've been friends for 10, 12 years. That's not quite the thousands of years that we need for these characters! But we've known each other for years before the film started, so that really helps in terms of building up a trust and a rapport with someone.
Speaking of Gemma Chan, what can you say about the relationship between Sersi and your character?
Richard Madden: I suppose one of the things I really enjoyed was being able to build this relationship with Ikaris and Sersi over the ages. I think it's a fascinating study of what keeps a couple together for thousands of years. Why do they not get bored each other? And what love means when you really care about someone for that length of time.
KIT HARINGTON TALKS ABOUT JOINING THE MARVEL CINEMATIC UNIVERSE AND LOVE TRIANGLES
What are your impressions of the Marvel Cinematic Universe, and what made you excited to join it?
Kit Harington: Marvel Studios has been a huge part of cinema, a huge part of the cinematic experience. I've had friends who've done Marvel movies. I've always kind of been rather jealous of them! So, to come round to a place where I'm being involved in this universe, it's huge, a great gift. It's a fantastic thing. I'm thrilled. It's one of those calls that you want to get as an actor. Like, "Right, they want you to come into the Marvel Cinematic Universe and to be part of their storytelling!"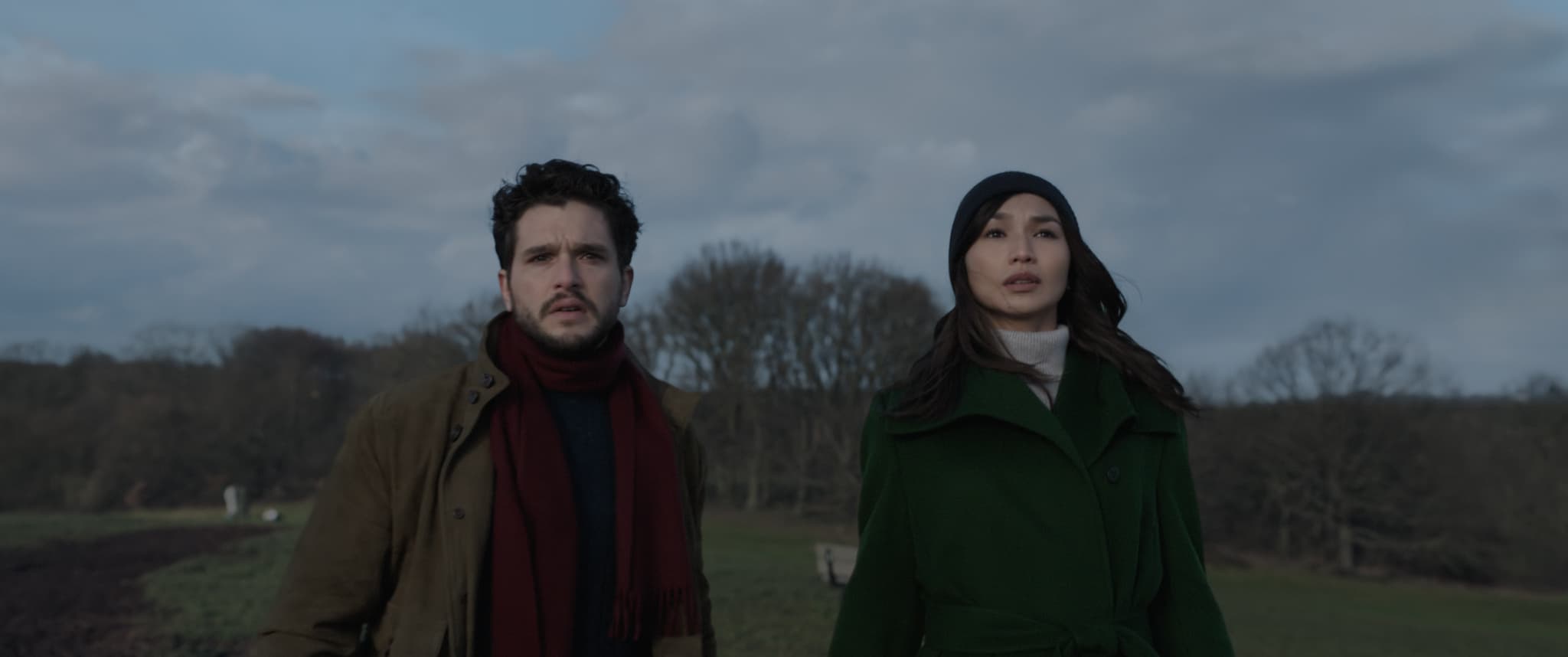 What can you tell us about your character, Dane Whitman?
Kit Harington: Whilst not being an Eternal, Dane is the human element of the story. He represents humanity. Sersi is an Eternal. She's been around forever, obviously, as the name suggests, but is a recent partner of Dane. And I think he really represents all those things that Sersi loves about the planet. He's meant to kind of stand in for Earth and humanity. So, within that, we get his kind of quite dry sense of humor, his affection, the way he speaks, the way he moves and talks.
We understand there's something of a love triangle…
Kit Harington: Yeah, Dane and Sersi are part of a love triangle, which includes Ikaris. Yeah, poor old Dane, he's up against quite the competition with Ikaris. I mean, not only is he [played by] Richard Madden, but it's a guy who shoots lasers out of his eyes and flies. Dane is a museum scientist. So, I felt Dane had to have a quiet confidence about himself that meant he could stand toe-to-toe with a giant such as that, and not be afraid. I think Dane's one of those guys who's from a certain schooling background where they've taught him not to be afraid of anyone. And what Sersi loves about him is this self-assuredness. He can stand opposite Ikaris who's just destroyed a monster and say, "Hi, I'm Dane!" and hopefully not come off too badly, but we'll see. Sersi's stuck between two men, who represent entirely different things. I'm pretty happy about what I represent in the film, but hopefully it'll be an interesting story line for the audience to watch.
Read the full interviews with Gemma Chan, Richard Madden and Kit Harrington in Eternals: The Official Marvel Studios Movie Special, available everywhere books are sold on September 6, plus Angelina Jolie, Salma Hayek, Don Lee, director Chloé Zhao and many more!
Want more Eternals? Follow @TheEternals on Twitter, @Eternals on Instagram, and Eternals on Facebook for the latest on Eternals as it develops!
Want to stay on top of everything in the Marvel Universe? Follow Marvel on social media—Twitter, Facebook, and Instagram—and keep watching Marvel.com for more news!
The Hype Box
Can't-miss news and updates from across the Marvel Universe!