Culture & Lifestyle
Published July 1, 2021
The Guardians of the Galaxy Clash with the Avengers in 'Target: Kree' Prose Novel
The action-packed novel by Stuart Moore is set in the world of the 'Marvel: Crisis Protocol' game!

Target: Kree, the next prose novel in the Marvel and Aconyte Books partnership, from author Stuart Moore (X-Men: The Dark Phoenix Saga), hits book stores next week on July 6.
Set in the world of the Marvel: Crisis Protocol tabletop game, get ready to witness an epic team-up with the Guardians of the Galaxy, Iron Man, and Ms. Marvel. However, not all alliances happen seamlessly as the outcome of an early mission for the Guardians weighs on some of their team members. Before you pick up the novel, everywhere books are sold, read the first four chapters now thanks to our friends at Aconyte, below!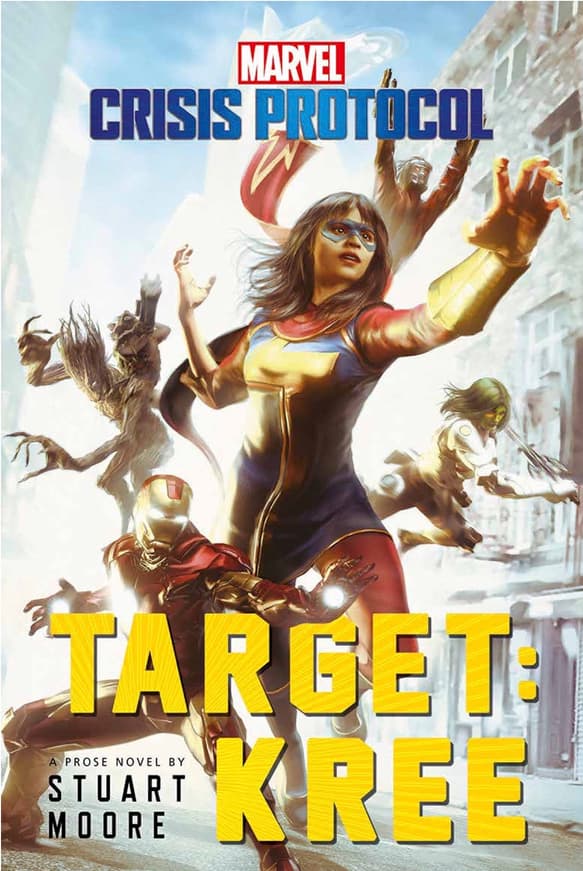 In the action-packed novel Target: Kree, the Avengers clash with the Guardians of the Galaxy in a desperate search for a planet-killer.
Following the destruction of their world, a group of Kree refugees come to Earth to work for Stark Enterprises. But the Guardians of the Galaxy arrive soon after, believing that the world-killer is actually one of those Kree, now hiding out on Earth. But there are others after the killer too, and the Avengers have no choice but to respond – and both Tony Stark and Kamala Khan have to choose between the fate of the Earth and the people they care about.
Target: Kree will be available in trade paperback, ebook and audiobook formats, available at bookshops and online retailers on July 6. Pre-order now!
Want to stay on top of everything in the Marvel Universe? Follow Marvel on social media—Twitter, Facebook, and Instagram—and keep watching Marvel.com for more news! 
The Hype Box
Can't-miss news and updates from across the Marvel Universe!