Culture & Lifestyle
Published April 17, 2023
Creator Jeffrey Brown on Thor and Loki's 'Midgard Family Mayhem'
The cartoonist spoke to 'This Week in Marvel' about his comic spin on the Asgardian brothers in new book 'Thor and Loki: Midgard Family Mayhem.'
Want to see Thor and Loki play freeze tag with the Avengers? Or ride the school bus as an alligator? How about Thor's hammer getting stuck in the ceiling, playing pranks, entering the school science fair, trick-or-treating, and popping popcorn with lightning?
Thor and Loki have traveled with their parents Odin and Frigga across the ten realms to their favorite world, and Midgard (AKA Earth) may never be the same.
From Eisner Award-winning writer and artist Jeffrey Brown (Darth Vader and Son), the brand-new book Thor and Loki: Midgard Family Mayhem is the creator's personal take on the young gods of thunder and mischief. The sweetly funny comic collection is intended for fans of all ages, and features the broader world of Asgard including characters Beta Ray Bill, Jane Foster, Sif, Hela, Valkyrie, Surtur, Heimdall, Thori the dog, and Throgg, as well as Avengers like Captain America, Black Panther, Iron Man and more.
[RELATED: 'Thor and Loki: Midgard Family Mayhem' Brings Jeffrey Brown's Signature Style to the Marvel Universe]
Ahead of bringing his funny family dynamics to Thor and Loki: Midgard Mayhem, the This Week in Marvel podcast spoke to Jeffrey Brown about his playful approach to art, favorite comics, and showcasing the worlds of Asgard and Earth.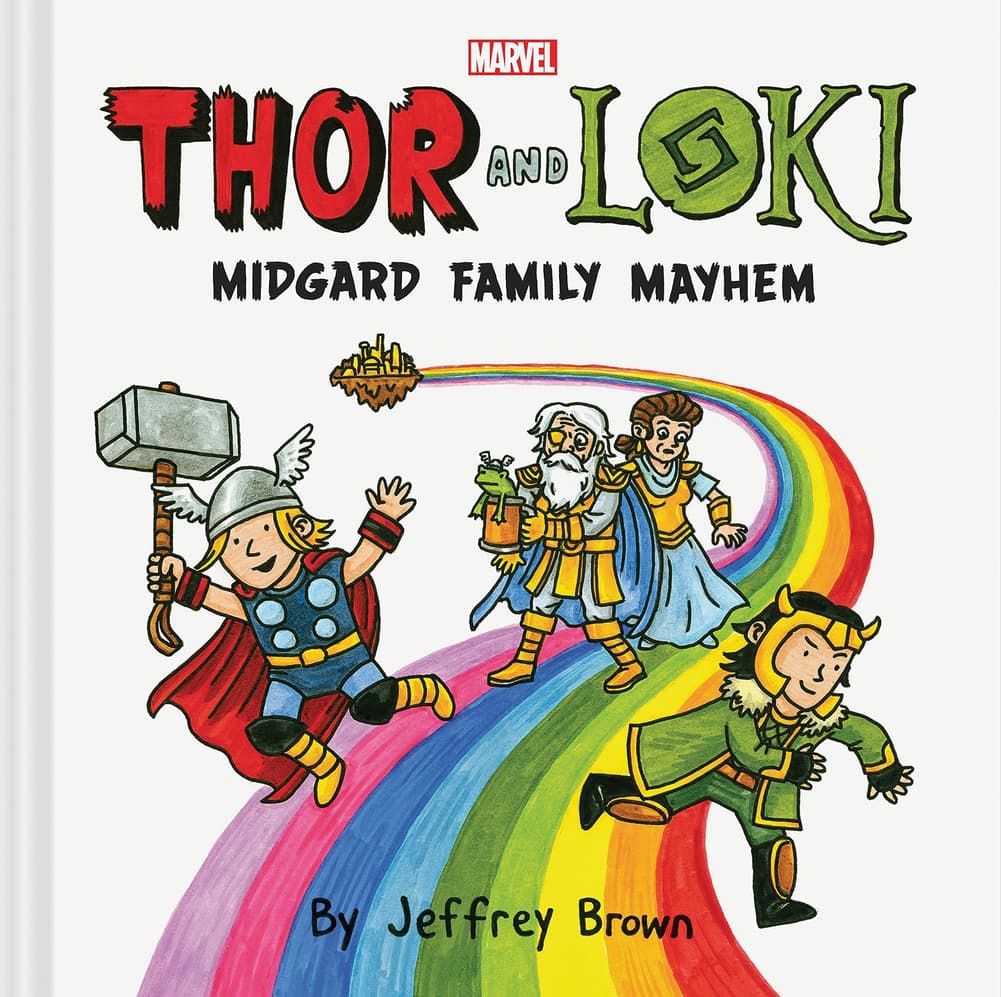 ON COMING UP WITH THE WORLD OF "MIDGARD FAMILY MAYHEM":
"My process is basically to start [coming] up with sketches. So, this book is around 60 pages, and I'll try to come up with like 120 to 150 ideas. Some are just the idea of [Loki and Thor] playing checkers, you know, and Loki's unamused. That was an idea that was just like, 'boom,' It just came into my head. And then sometimes [I come up] with an idea about kids being jealous of another kid, or kids having a snack right before dinner. Then I have to think like, okay, well, what characters would work or what would the situation be? And this might be something that [I see] with my kids, you know, more so than remembering my own childhood. So sometimes it's having a situation with Thor and Loki that I then have to figure out, like, what's the childhood equivalent of something that they could fit in?
I knew that I [wanted] to put some of the Avengers [in the book] too. So, you know, what are some ideas where I can fit as many Avengers in as possible? I've done some Star Wars playground scenes, but I haven't really done tag before. And so of course in [Midgard Family Mayhem] they're playing freeze tag because Loki's freezing everybody. And then there's a decent number of Thor just calling down lightning strikes for various reasons. I definitely wanted to fit in Alligator Loki too, if I could. Really happy that I got to draw that alligator."
ON THE THOR AND LOKI DYNAMIC:
"I think Thor and Loki's relationship, whether it's the comics or the cinematic universe, they bicker and squabble, they have their disagreements, but then they team up and get things done. And that's kind of how having older brothers is. It's like you'd be fighting. Then the bully from down the street is messing with one of us. And then, you know, all three brothers are like, 'okay, let's stop this.' Drawing them is fun."
ON HIS MARVEL ORIGIN STORY:
"I have two older brothers and they were never into comics as much as I was [growing up], but they would get comics sometimes, and we had a local comic shop. I'd start going in there and then there was a spinning rack at the grocery store. So, I just started buying comics off the rack. And the first comic that I bought [with my own money] was UNCANNY X-MEN (1963) #192. From then on, that's where my allowance went, and X-Men was the first. But I think SECRET WARS (1984) is what really expanded me into collecting every other Marvel comic too."
ON FAVORITE TALES FROM ASGARD:
"Walt Simonson's Thor is really where Thor became my second favorite after X-Men. And a lot of that was just that his art style seemed very different; it stood out story wise, and those comics are a lot of fun. There's a little bit of drama here and there, you know, there's some stakes. But visually there was something that really grabbed me—you have an issue where [Thor's] fighting the Midgard Serpent and [Simonson] is doing different things with panel layouts. I just really liked those."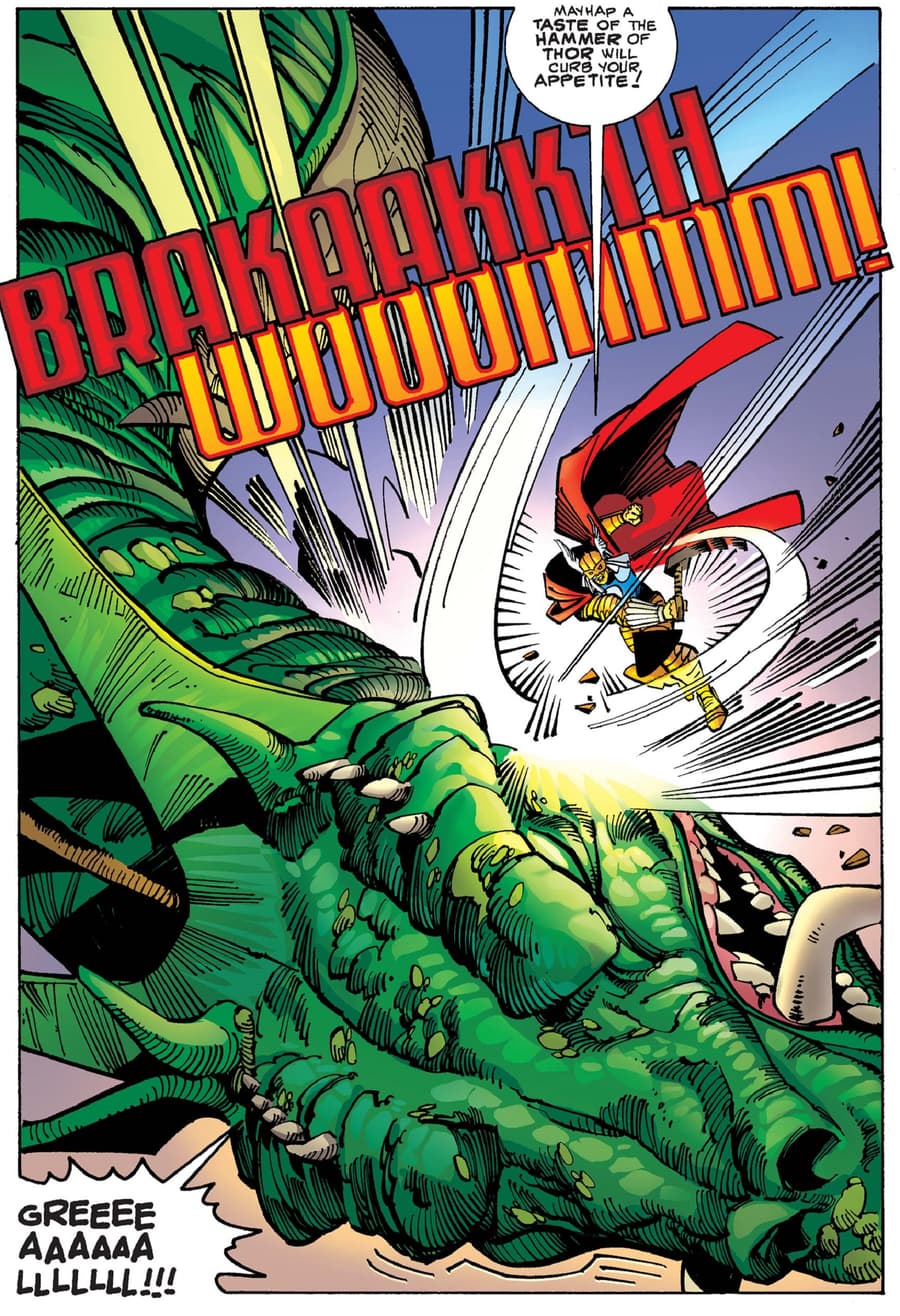 ON BECOMING A CARTOONIST:
"It's kind of a really roundabout path that I took. By the time I was in college, I was thinking, 'I'm a fine artist and I'm going to be a painter.' But I moved to Chicago to get my MFA, and while I was at the [School of the Art Institute of Chicago], it just wasn't clicking, and art was becoming less and less fun. I felt like I was hitting a wall creatively in terms of what I wanted to express. And so just to take a break, I was [drawing] comics for fun. At the time being in art school, you're seeing all this work that's very cerebral. It's like paintings about the history of painting in a painting. And I was thinking, what does that say about life? And so I thought just write something as explicitly about real life as possible. So, I started out writing these autobiographical comics just basically about awkward everyday moments. I started that and I was like, 'this totally feels right. This feels like what I should be doing.' My sketchbooks are just filled with little comics and cartoony drawings. I never really stopped making comics."
The Hype Box
Can't-miss news and updates from across the Marvel Universe!