Culture & Lifestyle
Published December 30, 2022
2022 Year In Review: The Best Marvel Moments
Marvel staffers' favorite moments from 2022!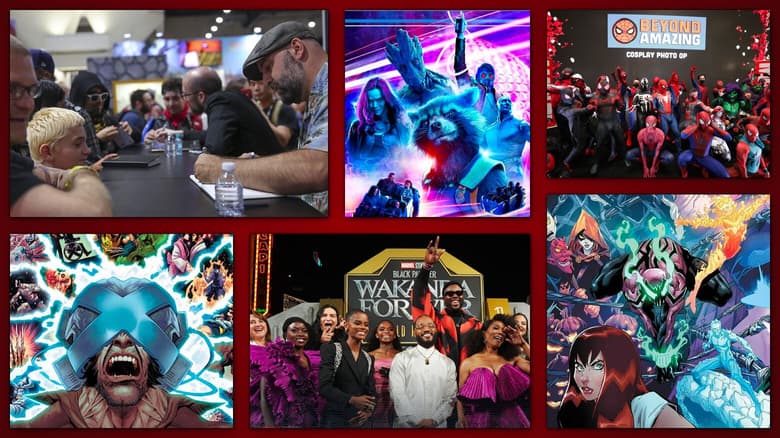 This year, it was all about connecting with fans—and with each other. Marvel staffers were just as excited as you to get back to San Diego Comic-Con, experience Cosmic Rewind, plus attend premieres, and witness Moon Knight/Khonshu dance-offs. (Looking at you, NYCC 2022.)
We've rounded up another year in our books—look back at some of our standout moments from 2022.
A BIG RETURN TO SAN DIEGO COMIC-CON 2022
"Being able to finally meet some fellow co-workers in person for the very first time at one of [our] most fan focused events was incredibly memorable. And to see the instant excitement and happiness of fans being back on the show floor and in the Marvel booth again." - Amber Galvin, Account Exec., Digital Media & Integrated Sponsorships
"The Marvel Studios presentation at San Diego Comic Con's Hall H is always spectacular, but this year's presentations from Marvel Studios' Black Panther: Wakanda Forever was particularly poignant and inspiring." - Lorraine Cink, Director of Creative Content
NEW YORK COMIC CON 2022
Basically, one big reunion for the team in front of (and behind) the Marvel Booth!
"It was a great time getting to return to the floor of NYCC and talking with our fans at the booth about all things Marvel and Marvel Unlimited. And everyone killed it with their cosplays. Always a fun time and I can't wait until next year." - Stephen Fiore, Senior Digital Designer
"Getting to see everyone again and experience the energy of the convention is something really special. And while exhausting it is always worth it." - Haley Conaster, Associate Manager, Content Distribution
And, who could forget one of the greatest highlights of the con?
"Khonshu and Moon Knight cosplayers having a dance-off at New York Comic-Con as the con was closing and the lights were going down? 'Twas Moon-LIT." - Andrea Lans, Associate Manager, Social Media
"I can't lie to you," adds Associate Editor of Marvel.com Meagan Damore, "Moon Knight and Khonshu twerking really just makes me laugh whenever I think about it. I don't know what to tell you!"
GUARDIANS OF THE GALAXY: COSMIC REWIND
Some staffers took a galactic trip on Guardians of the Galaxy: Cosmic Rewind, the new family-thrill coaster located at EPCOT at the Walt Disney World Resort.
"The opening of Cosmic Rewind was probably my favorite Marvel moment of the year. I'm a huge parks person, and I love seeing Marvel incorporated into Disney World. In my opinion, it's the best ride in the parks now!" - Erin Kaswan, Content Distribution Coordinator
"It's been about six months since riding Cosmic Rewind and I still can't believe they made a roller coaster that can do the things it does. Also 'September' is the best song on that playlist." - Brendon Bigley, Senior Manager of Distribution
HITTING THE RED CARPETS
"Marvel's return to Hollywood for the Marvel Studios' red carpets and sharing those moments with the world. Also we loved getting to showcase the work of the VFX and Visual Development teams this year—getting to see how Ms. Marvel's outfits were designed, and how VFX brought Wakanda Forever to life underwater was incredibly cool." - Larissa Rosen, Director, Production Management
"I got to attend my first red carpet as a member of the Marvel team this year for Doctor Strange in the Multiverse of Madness, and as a life-long lover of Wanda Maximoff, there was nothing more gratifying than seeing all the awesome cosplayers dressed up as her and hearing people cheer her on during the film. I remember being dressed as her as a teenager before she debuted in the Marvel Cinematic Universe in Avengers: Age of Ultron and no one knowing who she was—so watching people realize what an awesome character she is has been a joy." - Faith D'Isa, Assistant Manager, Audience Development
"Lupita Nyong'o dancing with Tenoch Huerta in Mexico City. La Raza." - Jasmine Estrada, Audio Producer
NEW AND SPECIAL RELEASES
"Cooper Coen—the witty, winsome Web-Weaver [who debuted in EDGE OF SPIDER-VERSE (2022) #5]—will forever hold a special place in my heart. As a gender non-conforming gay person myself, having a hand in developing a gay male character who exudes femininity and flamboyance while still being a competent Super Hero was easily one of proudest moments of my life."- Kaeden McGahey, Assistant Editor
"When the Moon Knight/Marvel Unlimited QR Code project got discovered by fans. It was great to see people discover the collaboration between Marvel Digital Media and Marvel Studios and celebrate the comics origins of the TV series." - Ron Richards, VP, Planning & Platforms - Marvel Digital Media
The release of Marvel's Squirrel Girl: The Unbeatable Radio Show: THE UNBEATABLE SQUIRREL GIRL (2015) #1 (the first one) was the first Marvel comic I'd ever read and it was super fun to hear all my favorite characters come to life. Ryan North hasn't missed a beat when it comes to writing Squirrel Girl and her madcap menagerie of friends." - Zachary Schechter, Proofreader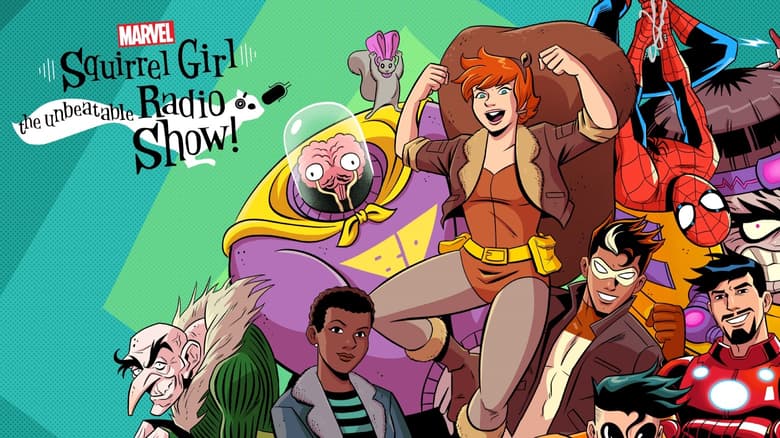 "As a former teacher reading is essential for a happy, healthy life to me. Seeing that we were encouraging the next generation of readers to check out their local libraries through The New York Public Library 'Beyond Amazing' Spider-Man library card was truly awesome. This initiative perfectly encapsulates all Marvel stands for and what doors our characters can open to the imagination." - Eric Monacelli, Senior Director, Product and Franchise Development
From your friends at Marvel.com, we wish you a Happy New Year! Stay up to date on the latest news covering all things Marvel—comics, movies, TV, games, and more—in 2023.
The Hype Box
Can't-miss news and updates from across the Marvel Universe!