Podcasts
Published May 5, 2022
Those Easter Egg Comics in Marvel Studios' 'Moon Knight'
The hosts of 'Marvel's Pull List' spoke to 'Moon Knight' Executive Producer Grant Curtis about the secret comics hidden in the show!
Read the free Moon Knight comics that inspired Marvel Studios' Moon Knight! The series' Executive Producer Grant Curtis sat down with Marvel's Pull List podcast to unpack the comic stories that influenced the show's design, production, and overall look. Hear how Curtis and the visual effects team of "Moon Knight" brought the QR experience to viewers across the globe, offering fans a direct peek at the pages and panels that brought the television show to life.
Here are the comics that Pull List hosts Ryan Penagos and Jasmine Estrada read along with Curtis, all available to read through the QR codes hidden in episodes 1-6 of Marvel Studios' Moon Knight! Watch the complete series now on Disney+.
GRANT CURTIS' MOON KNIGHT READING LIST:
RYAN PENAGOS: We've got six issues to go through! Let's start with [Moon Knight's] first appearances in WEREWOLF BY NIGHT #32-33. How were these comics chosen for the connection to the show and for the QR codes?
GRANT CURTIS: Well, for a variety of reasons. You know, what I tell people who ask me, "If I want to know about Moon Knight where should I jump in?" I do tell them you'll eventually find your own rhythm, your own groove, but at least read these issues. That kind of an origin story. And, you know, WEREWOLF BY NIGHT #32-33 is not technically Moon Knight's origin story. That's the fuse that lit it all. And so that's one of the things that was really special for us. You know, when we started looking at what should these six comics be. Go back to the beginning. Go back to those great storytellers. [Moon Knight] finally got his own comic in 1980. But in between there was so much to love from those first two issues. It's really fun storytelling. Werewolf by Night, amazing character. You know, Moon Knight trying to bring him to "justice," whatever you want to call it. I don't know if that's justice or just a payday. Not a very high payday, but…
JASMINE ESTRADA: I got the math. It was $10,000 in 1975 and I adjusted for inflation. It would be about $53,000 today.
GRANT CURTIS: I don't think that's worth, you know, falling out of a helicopter and almost drowning and--
JASMINE ESTRADA: Fighting a werewolf, nonetheless.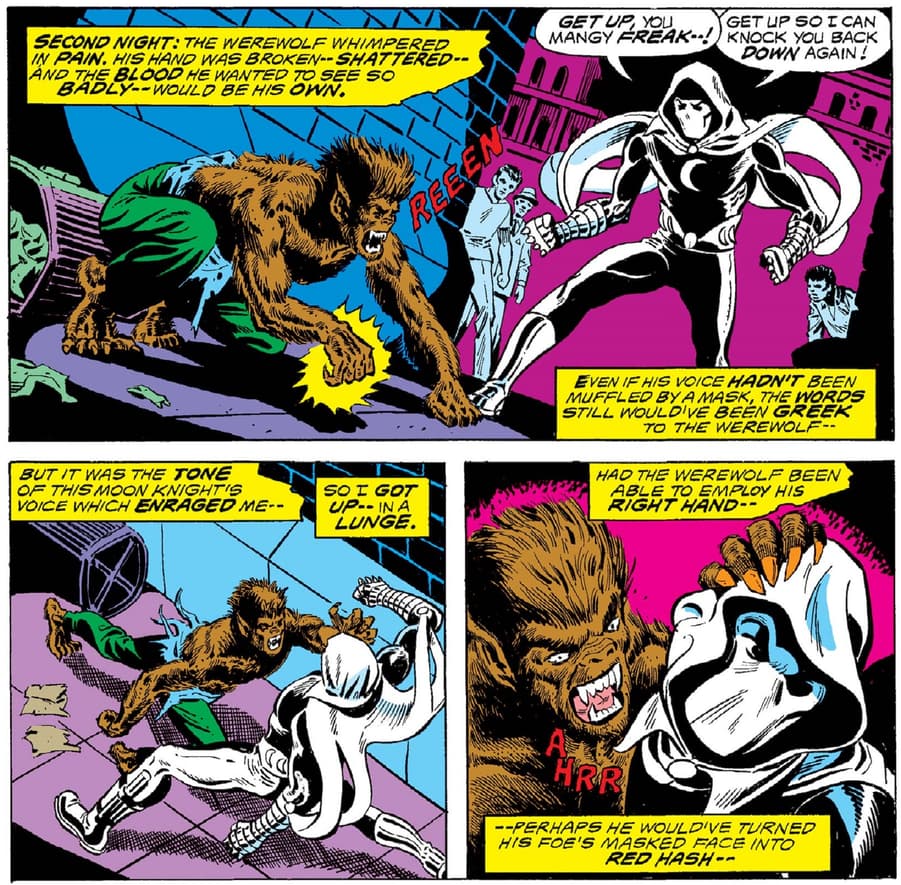 RYAN PENAGOS: In those early issues it's not like it gets refined a lot over time. But one of the things I love are the gauntlets, the silver, spiked lights that he has and the weapon. Like, he's scary and it's kooky. Great look. Do you have a particular favorite look or artist's rendition of Moon Knight?
GRANT CURTIS: You know, Declan Shalvey. His Mr. Knight. I just think it's groundbreaking. I mean, you could throw up so many different versions of how Moon Knight has been drawn over the years. But it's like, where did your brain go to even create that? So that's the one that really sticks out for me. Super cool, super unexpected. You know, you think your Super Heroes have to wear a cape or a cowl or kneepads or whatever. And then all of a sudden, the dude steps out in a full strut in a white suit, and it's game on.
[RELATED: Creator Declan Shalvey on His Influential Moon Knight Run]
JASMINE ESTRADA: I had never read [UNIVERSE X #6] up until today, and immediately when I saw that suit [on the cover], I was like, "Okay, this is where that inspiration comes from."
GRANT CURTIS: Absolutely. And it was bonkers. It was such a cool world that those writers and artists created. And that's one of the other reasons why we wanted to include that issue in this exploration, showing that other cool look because well, you know, when we were talking about the look that Declan brought to the table, it's also the look that UNIVERSE X brings to this world that we wanted to let the fans get a little bit of a taste of. Especially in the writer's room, we had comics plastered all over the place, and looks and inspiration. And one of those that we drew heavily from was "Universe X" and that look. I mean, Jim Krueger's great narrative obviously, but also the overall look of that world.
JASMINE ESTRADA: So, this is the first Marvel Studios' show that we've had QR codes hidden in the background. I'm the person who will watch one of these movies or TV shows and analyze the backgrounds and try to figure out all the puzzle pieces. Are these QR codes a result of that type of fandom and exploration?
GRANT CURTIS: I will tell you how that came about. I was trying to think of ways to create engagement and to extend the experience in our show. And I came up with an idea that I can't say what it is because technologically we weren't able to pull it off yet. But then I started talking to the "powers that be" and the technological "powers that be" were like, "Well, what, what can we pull off?" It was a QR code. I was in Budapest shortly thereafter with my wife going through, I believe, the Museum of Terror. [And] on the corners of the walls, there is a QR code that you could scan. And then it took you through that exhibit in your native language. It got me thinking about the original idea like, man, you know, we can start to pepper this QR code in and that's how we can deliver the comics to extend the experience, to introduce the experience to a lot of readers. You know, I've had enough conversations after starting this project three years ago that Moon Knight is not on the tip of everyone's tongue. How do we usher that experience in and this character to readers who, even if they just watch the show, will never pick up a Moon Knight comic? And this was a way to do it. People helped me out with the idea and it was not a one-man band at all. And, you know, interestingly enough, the Production Designer Stefania Cella [told us] that the storage facility [featured in episode 2] already had the QR code in it.
RYAN PENAGOS: I mean, I got messages from fans and friends who were just like, "Wow, this QR code thing is great! Good job." Like, I had nothing to do with it. Glad to see it take off and get people reading comics, which is, you know, what our show is about here!
GRANT CURTIS: And that's what's so cool about working at Marvel, the collaborative "What's best for the fans?" Give them six comics. Cool. No problem. Let's figure out how to do it. I'm very happy that people got excited about the QR codes, but really more than anything, taking people back to the '70s, taking people back to "Universe X" places, worlds they wouldn't have seen before. The incredible artists and writers that fans got exposed to by this goofy QR code. Awesome, awesome, awesome.
All episodes of Marvel Studios' Moon Knight are now streaming exclusively on Disney+!
Embrace the chaos and follow 'Moon Knight' on Twitter, Facebook, and Instagram.
The Hype Box
Can't-miss news and updates from across the Marvel Universe!