Culture & Lifestyle
Published March 21, 2019
Marvel Television Props & Costumes To Be Auctioned for the First Time Ever by Prop Store
Fans and collectors will have the opportunity to own an authentic piece of 'Marvel's Daredevil,' 'Marvel's Luke Cage,' and 'Marvel's Iron Fist'!
Prop Store, one of the leading film and TV memorabilia companies, in association with the world renowned Marvel Entertainment, has today announced it is hosting the first ever MARVEL TELEVISION live auction featuring original costumes, props and set decoration from "Marvel's Daredevil," "Marvel's Luke Cage" and "Marvel's Iron Fist."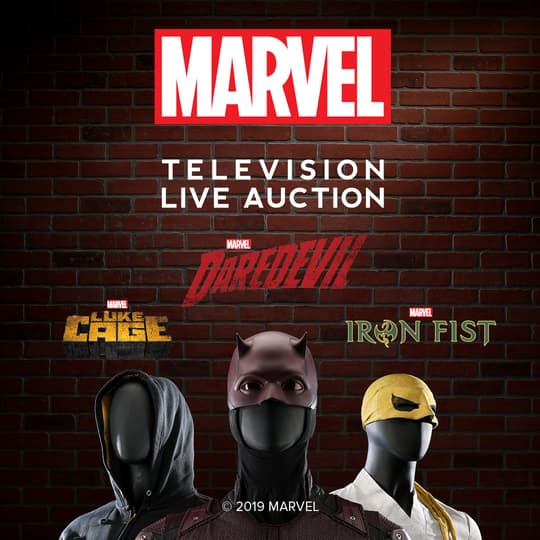 Over 750 lots will be offered in this first of its kind live two-day auction, taking place in August 2019 at Prop Store's auction facility in Los Angeles County, California. In addition to live bidding, out-of-town fans can participate via telephone or online via www.propstore.com/marvel. You can now subscribe to receive e-mail updates about the auction and bidding opens in July 2019.
Chuck Costas, VP of Business Development & Operations for Prop Store, commented on the upcoming auction: "Marvel created ground-breaking television with the shows featuring their 'Street Level Heroes' including Daredevil, Luke Cage and Iron Fist. The shows were true to their comic book roots, and fans can now celebrate these shows and appreciate the art that went into creating them by owning a real piece of their production."
Mike Pasciullo, SVP, Marvel Marketing and Communications, spoke about the upcoming auction: "The props and costumes created for these series are the living embodiment of the comics come to life. We're happy to work with Prop Store to give fans this unique opportunity to own authentic iconic mementos that were used to create these beloved Marvel shows."
For more auction information and to subscribe for e-mail updates, please go to: www.propstore.com/marvel