Culture & Lifestyle
Published May 19, 2023
Writer Jason Reynolds on the Inner World of Miles Morales
The author talks to 'This Week in Marvel' about the unique format of 'Miles Morales Suspended: A Spider-Man Novel,' out in bookstores now.
Miles Morales is your average teenager. He has unexpectedly become (totally) obsessed with poetry and can never seem to do much more than babble around his crush. Nothing too weird. Oh! Except, just yesterday, he used his Spidey super-powers to save the world from an evil mastermind called the Warden. And the grand prize Miles gets for that is…
Suspension.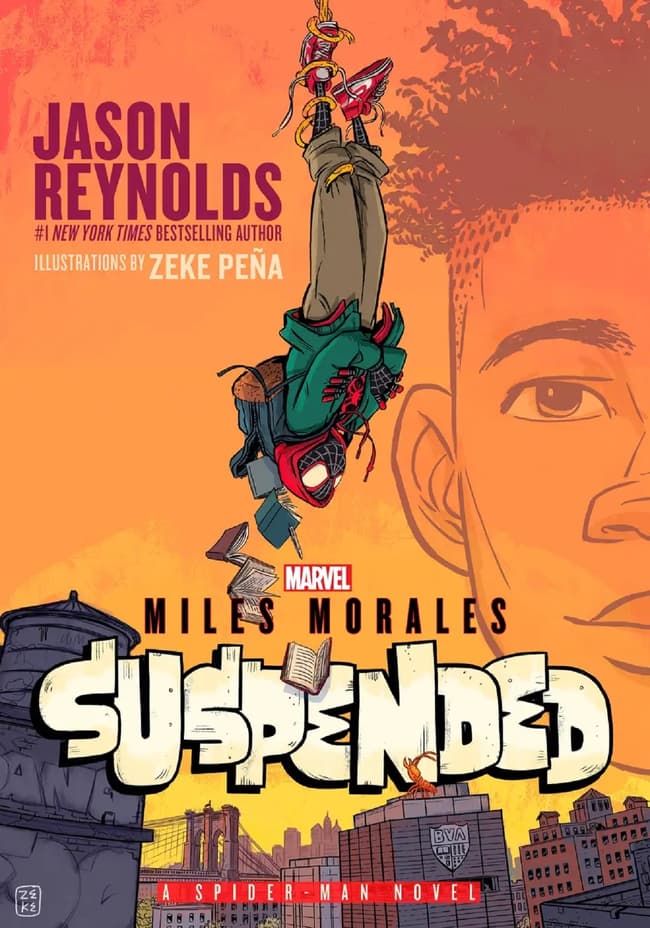 From #1 New York Times bestselling author Jason Reynolds and acclaimed illustrator Zeke Peña comes the high-flying sequel to young adult novel Miles Morales: Spider-Man! In Miles Morales Suspended: A Spider-Man Novel, follow the adventures of Miles Morales, and go inside the inner world and writings of the unassuming, everyday kid who just so happens to be Spider-Man.
Recently, Jason Reynolds sat down with host Angélique Roché on an all-new episode of the This Week in Marvel podcast to talk about his origins as an author, what first drew him to write Miles Morales: Spider-Man, and the unique verse/prose/illustrated format featured in Miles Morales Suspended.
ON THE VERSE USED IN MILES MORALES SUSPENDED:
"I was talking to some friends of mine, and I was arguing about how I feel like my folks who write [speculative] fiction, like fantasy and sci fi, they've got the biggest imaginations, but they refuse to shake up the format. And so we're getting into this argument. They're like, 'Man, you understand this is a different thing. And we got readers who like a certain thing.' And I'm like, 'Look, you're the artist. You dictate what the readers want.' We had this argument that, well, you try to do it[.] Because [for me] I think it's worth a shot.
I don't think every book belongs in verse. I think it's a very particular thing. And I think it should be purposeful and meaningful and thoughtful. It is not a way to cheat. It's harder. It should be harder to do. But then I thought to myself, 'Man, here's an opportunity.' If I'm thinking about how to cast the widest net for this kind of book then I want to figure out how do I hit every pocket of reader? How do I figure out how to get the comic book cat who's used to reading cells? Maybe they don't want to read a novel. They're used to reading block by block. How do I get them? How do I get my bookworms who love the novel format? How do I get cats who like the visual effect? How do I get the TikTok generation who needs multiple stimuli moving quick? How do I get multiple voices in the story where you get Miles' internal dialogue, and you get the context of everything happening with him? So, the format, which is all of Miles' language and conversation and internal dialogue is interior life happening in verse and then in prose. You're getting the environment. And what's happening around him, the classroom, the school, the background. And every ten or so pages, you see an image. It's art, right? That's all."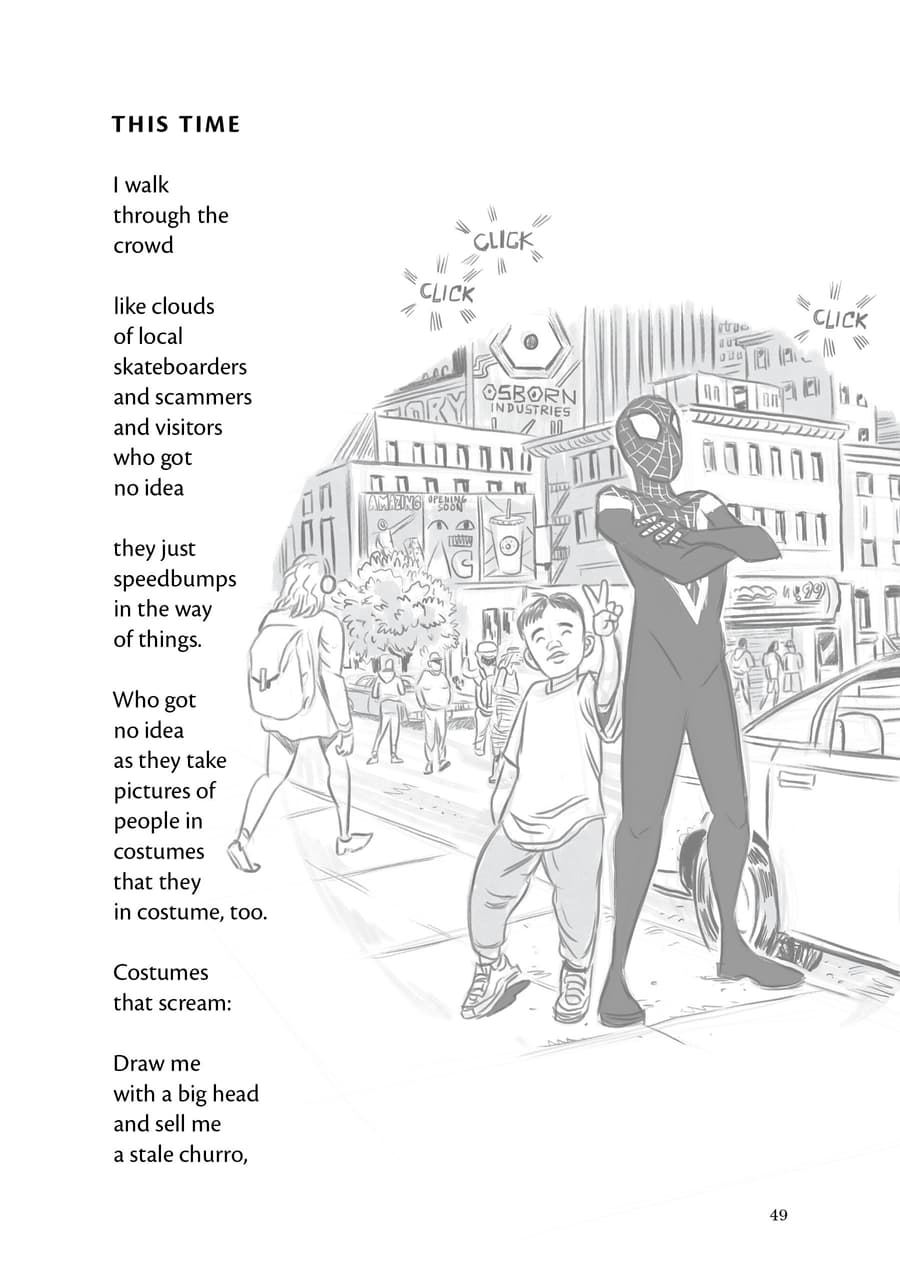 ON HIS ROOTS AS A WRITER:
"[When] I was a young person, I needed to figure out a way to process my emotions. So this is the necessity part, I think. You know, you're young and growing up in Black communities, [and] oftentimes the one thing that is sort of, [and] not as much these days, one thing that was sort of left off the table was a space for you to express your emotions in a safe and vulnerable way, just because vulnerability always had the potential to put you in a space of danger. And so, as a sensitive kid, [I needed] to figure out where to put it. I needed to figure out where the spaces were, where [I could] be expressive in a way that didn't make me feel small.
And then the other thing was at the very moment I'm discovering poetry and discovering lyrics, my grandmother is transitioning, and she passes on, and I'm met with this very new experience of hearing your mom mourn. And you know, the first time you hear your mama cry, it's visceral and you feel like it's chemically changing you. It's strange, you know? And so I was trying to figure out compassionately how to make her feel better. And I wrote a few lines on a piece of paper, and I gave it to her, and she printed it on a funeral program[...] When you're ten years old, the one thing that you're waiting to figure out is where exactly your power lies. And now I knew right then in that moment, and that was the beginning of this long life and literature for me."
ON THIS SEQUEL'S UNIQUE SETTING:
"In this particular story, it was 'How would Miles be able to be Spider-Man if [he's] trapped in a single room for the entire day?' The whole book is in one room. He's in a classroom. 99% of the book, he's in one room. And the question is, well, how does he not blow his cover? How does he still save anything or anyone, including himself? How do we create a problem that will work for the environment and have it be a sequel to the book that he's coming off of? All of that was on the table and then I just basically made a mess of things."
ON SOME CORE THEMES IN MILES MORALES SUSPENDED:
"My mantra for Miles, this sort of anchoring point for me when it comes to this character is 'what does it mean to put on a mask and be invisible and then take off the mask and still be invisible? [That's] the true north of the way that I'm telling these stories[...] I live in the world. It is impossible for me to make a thing divorced from the zeitgeist. I just can't make it. And so, what am I? What I'm thinking about is over harsh punishment for Black children, specifically Black boys in school. But simultaneously, I'm thinking about book banning and censorship. What does it mean to be a banned child? And what does it mean to have your stories banned?"
ON CONTINUING MILES' STORY:
"I think ultimately writing anything is hard and writing something [from the world of Marvel Comics] is harder, right? Because there are all sorts of rules that I got to make sure I adhere to. [But] all that said, this particular character, for me, will be a shining moment in my life. I get to be a part of an incredible legacy for however long I get to be a part of it. Like, my name is in that book forever. Because the truth is, is that what I was looking for from Miles in 2016 when I was like, 'Who is Miles Morales?' Everyone knows about [him now], not just because of me, obviously, but because of just what ended up happening. He is ubiquitous. And I get to be a part of that story for the rest of my life. And I'm grateful for that."
The Hype Box
Can't-miss news and updates from across the Marvel Universe!