Culture & Lifestyle
Published January 26, 2023
Go Inside the Action-Packed World of Natasha Romanoff in 'Marvel's Black Widow: The Art of the Movie'
Relive the big screen thrills of Marvel Studios' 'Black Widow' with this deluxe book featuring exclusive concept art and insider details!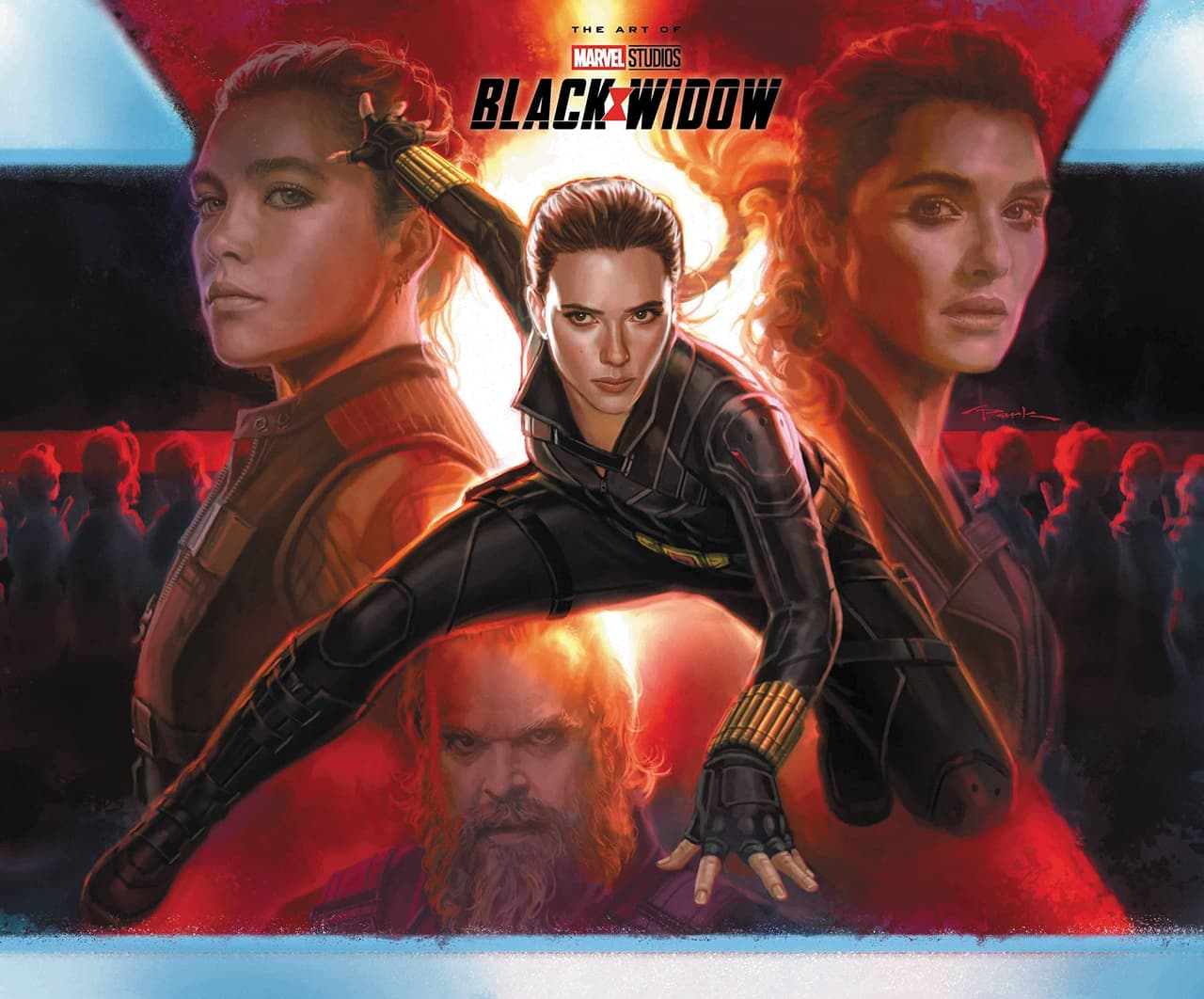 After seven appearances, spanning a decade in the Marvel Cinematic Universe, Natasha Romanoff , AKA the Black Widow, takes the lead in an adventure unlike any other she's known before. Continuing their popular "Art Of" series of movie tie-in books, Marvel presents another blockbuster achievement in Marvel's Black Widow: The Art of the Movie by Jess Harrold with a foreword from "Black Widow" director and screenwriter Cate Shortland! Featuring exclusive concept artwork plus in-depth interviews with the creative team, this deluxe volume provides insider details about the making of 2021's most celebrated Super Hero film.
Read an excerpt from the book, then grab even more of a sneak peek in the image gallery below!
FROM CHAPTER 5: FAMILY REUNION (PAGES 102-103)
Natasha and Yelena make their way to a convenience store to patch up their wounds and continue to share their stories—and their abandonment issues. Yelena expresses her frustration at being left behind and mocks Natasha for her "fighting poses." However, slowly but surely, the two begin to bond over stealing cars and Yelena's fine taste in pocketfilled vests. Natasha just has to admit that the first piece of clothing Yelena has ever bought herself is cool—after all, as Yelena says, "you can put so much stuff in there, you wouldn't even know." As Yelena's endearingly blunt personality emerges, she and Natasha agree on a shared purpose: to go to the Red Room and kill Dreykov. The only problem is, the Red Room moves constantly, and Yelena has no idea where it is. It sounds like a lot of work, but it sure could be fun—for the audience as much as for the two reunited sisters. The first phase of the plan means breaking the "father" that forsook them, Alexei, out of an inescapable gulag in the frozen wastelands of Siberia. While he proves clueless about the Red Room's location, he does lead his "daughters" to a remote farmhouse outside St. Petersburg, home to Melina. The two Widows thought their mother figure had perished from injuries sustained during their escape from Ohio, but now their whole family is together again—with all the complex feelings of pain, sorrow, and deeply buried love that comes with such a reunion. This sequence forms the emotional heart of Marvel Studios' Black Widow, defying any attempt to classify the film in a single genre.
"If you had to put it in a box, I guess you could say it's a spy family drama," Executive Producer Victoria Alonso says. "It's got the spy part of it, where you start finding things out. It is an action film. The family drama is because the entire movie is centered around Natasha's family and who she is as a sister, as a daughter, as a Widow."
"Yelena is the annoying little sister that says everything that comes to mind with no consequences," actor Florence Pugh says of her character, who comes to life on the road with Natasha. "She is kind of discovering the world in a new light. She is hurt and complicated and acts out. She meets Natasha as she's rediscovering who she is after being in the Red Room for so long. And together they realize that they're both suffering in very similar ways. And so you get this very lovely and unique friendship between the two of them, because they are ultimately long-lost sisters. They kind of repair one another and each other's holes in their lives. That was one of the most interesting things about this script—that, in amongst all of these epic car chases and battles and amazing stunt sequences, at the heart of it is this very brutal journey of figuring out who they are."
Yelena has known nothing but betrayal. "Her whole life has been a lie," actor and Executive Producer Scarlett Johansson says. "When she comes out of that Widow program, she's never had any sense of independence. She wants to write her own story. She just thinks of things in a completely different way. She can be dangerous because she's kind of careless at times. But she's also incredibly capable and brave and heroic and passionate. It really is a huge, stark contrast to the way that Natasha is used to doing things. Natasha is very pragmatic. And Yelena is not. She's all emotion and just all out there. And it's really fun to be able to see those two characters when they're together because it makes for a great sisterly relationship that just feels like real family."
The Hype Box
Can't-miss news and updates from across the Marvel Universe!