Culture & Lifestyle
Published September 28, 2023
'Spider-Man: Cosmic Chaos!' and 'Captain Marvel Soars Above' Covers Revealed
The upcoming releases from Abrams Books will entertain Marvel fans of all ages.
Coming in 2024, Abrams Books brings two new titles for aspiring Marvel Super Heroes fans and we're delighted to unveil the covers for both books here on Marvel.com!
Captain Marvel Soars Above: A Marvel Hello Heroes Book from the award winning studio Hello!Lucky, founded by sisters Eunice and Sabrina Moyle. Eunice Moyle provides the artwork for this book written by Sabrina Moyle as this brand-new series features stories about how the Avengers would act in relatable, hilarious situations that even the strongest hero would find challenging, in the delightful Hello!Lucky style.
Kicking off with Captain Marvel, we'll see everyone's favorite Kree fighting to save Earth while battling boredom, prank calls, and the need to make everything perfect. Filled with Easter eggs and characters from across the multiverse, this fully-illustrated gift book will delight Marvel fans of all ages.
Captain Marvel Soars Above: A Marvel Hello Heroes Book hits bookstores on March 26, 2024 and is available for pre-order now!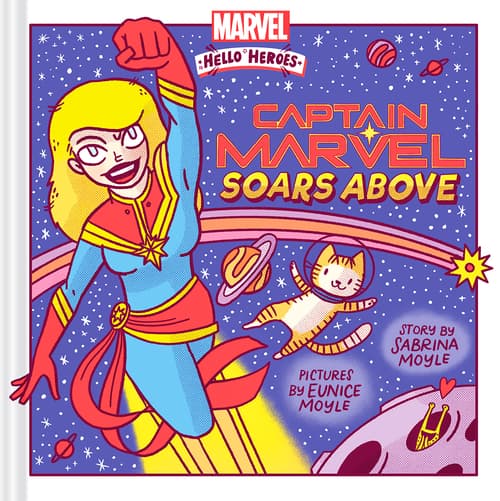 Spider-Man: Cosmic Chaos! is the third graphic novel in the Mighty Marvel Team-Up series from Abrams Books. In this action-packed and hilarious graphic novel, Spider-Man is thrust into space and must team up with the rebellious Guardians of the Galaxy! Author and artist Mike Maihack tells another action-packed and hilarious story, placing Spider-Man in the crosshairs of some of Marvel's most infamous cosmic characters!
Spider-Man has ventured into space to return Silver Surfer's surfboard to the space-faring hero. But what starts as a simple mission quickly evolves into a new mystery involving a collection of rare talismans that can give the owner great and potentially dangerous cosmic power. Before he can return home, Spider-Man must discover where all the talismans are and just what their purpose is in order to ensure they don't fall into the wrong hands. Good thing Spidey has joined forces with the perfect super hero team—the Guardians of the Galaxy—to see this mission through! With the help of Groot, Rocket Raccoon, Star Lord, Gamora, and Drax, can Spider-Man save the day and secure his way home? Or is he fated to be lost in space forever?
Spider-Man: Cosmic Chaos! will be released on July 9, 2024 and is available for pre-order now!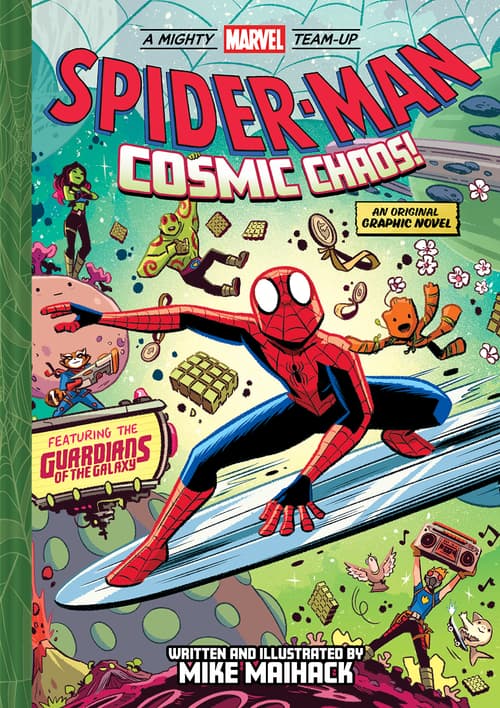 The Hype Box
Can't-miss news and updates from across the Marvel Universe!