Culture & Lifestyle
Published March 9, 2023
The Spider-Man Exhibition Swings Into Kansas City
The exhibition exploring the history and legacy of Spider-Man will open May 26 at Union Station Kansas City.
Since the moment he first appeared in comic books in 1962, Spider-Man – the iconic creation of Stan Lee and Steve Ditko – has always stood out from (and swung above) the crowd. He's the ultimate relatable hero, one who navigates everyday problems and faces unbelievable obstacles, yet still meets all evildoers with well-timed wisecracks and perfectly-placed bursts of webbing.
And now, as audiences look forward to a year where major motion picture, video game, and publishing releases are set to raise Spider-Man's profile to even greater heights, Marvel Entertainment and Semmel Exhibitions proudly present an exhibit that illuminates the web-slinger's entire storied history: from his humble introduction in the early 1960s to his modern-day multimedia stardom and place at the center of an entire "Spider-Verse" of related characters.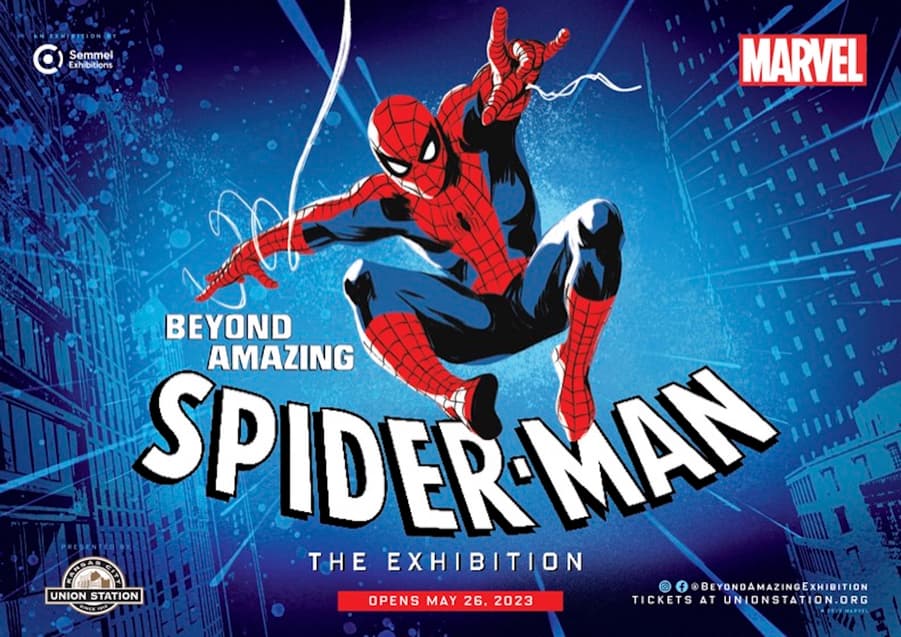 Within the galleries, visitors are able to explore interactive installations, learn about the many creators who have contributed to the Spider-Man mythos, take selfies alongside Spidey and other key characters, and discover a number of priceless artifacts from the past six decades, all within a space that combines traditional museum display techniques with cutting-edge technology. Guests will learn how the web-slinger has adapted and changed with the times, while getting up-close with original comic art, film production elements, and behind-the-scenes materials from the wall-crawler's appearances in animation and video games.
Marvel's Spider-Man: Beyond Amazing – The Exhibition is co-curated by pop culture scholars Benjamin Saunders and Patrick A. Reed, with visual design by acclaimed Berlin-based collective StudioTK and original sound and multimedia elements by LEM-Studios, all of whom previously collaborated with Marvel and Semmel Exhibitions on the blockbuster touring exhibition Marvel: Universe Of Super Heroes.
Marvel's Spider-Man: Beyond Amazing – The Exhibition will open at Union Station May 26. For more information, please visit https://beyondamazingexhibition.com/
The Hype Box
Can't-miss news and updates from across the Marvel Universe!