Culture & Lifestyle
Published August 30, 2019
The Day Stan Lee Came to the Marvel Office
See exclusive photos and video from February 3, 2014, when Stan Lee stopped by the Marvel offices in New York!

Imagine it's a normal day at work and then you hear the boss is stopping by later—and your boss is none other than Stan Lee! 
The much beloved creator of Marvel comics is celebrated for his sensational storytelling, and he was an intrepid editor through and through. Even as Chairman Emeritus, he seemed as comfortable as ever chatting to the Marvel editors and excitedly looking at new issues in production, which is just what he did on February 3, 2014 when he visited Marvel's New York City office! Cameras were there to capture the visit, and the employees who were there shared their memories of the occasion.
Nick Lowe, VP of Content and Executive Editor: "Every time Stan would come to the office or to the booth at a convention or (I assume) the grocery store, everyone went nuts. His energy was unstoppable, positive, and contagious!"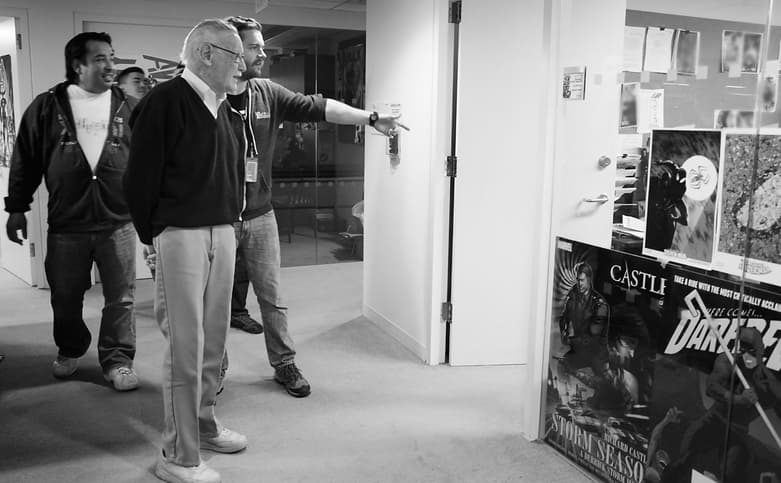 When asked what Stan was most delighted about during his visit, Lowe said, "Just about everything. He was such a gracious man each time I saw or talked to him and you always felt like the center of the universe when he talked to you. If I recall, I told him about SPIDER-VERSE and he thought it was the coolest thing ever. We had talked to Stan about SUPERIOR SPIDER-MAN and I remember hinting at SPIDER-VERSE. He loved SUPERIOR (he'd said it several times in print and such as I recall) and was super excited about SPIDER-VERSE."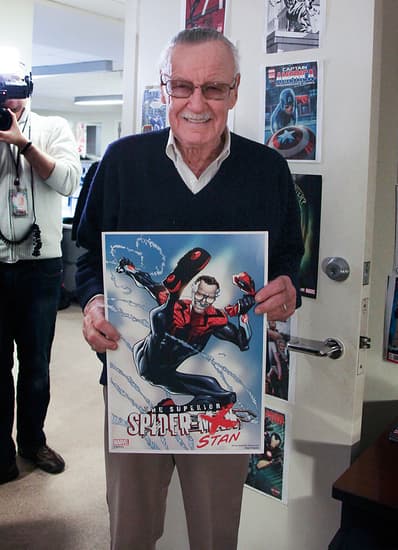 Mark Paniccia, Senior Editor: "There was always an air of excitement when Stan would visit. To see the man who had such an impact on all of our lives was electric, surreal and always pleasant. If he had another superpower besides a great imagination, it was definitely charm. Stan seemed humbled by the fact that all these characters were still living on, evolving and entertaining readers and audiences. You could tell he felt blessed."