Culture & Lifestyle
Published November 11, 2019
This Week in Marvel History: November 8-14
See what happened at Marvel on these dates in its 80-year history!

With Marvel celebrating its 80th anniversary this year – and to scratch my own history and research itches – every week I'm digging through a whole host of important dates and details for a special segment of This Week in Marvel called… (wait for it) … This Week in Marvel History! Important comics, storylines, character appearances and moments, real world releases and special Marvel milestones—it's all part of TWIMH! Here are just a few Marvel History notes for the week of November 8-14!
First, we missed a big one last week: Steve Ditko's birthday! Born on November 2, 1927, Ditko passed away in 2018 at the age of 90. A founding father of the Marvel Universe, Ditko helped create Spider-Man and much of his early canon, the same for Doctor Strange, and much more. And as we'll see in a few minutes, his legacy as a Marvel creator extends even into the '90s!
November 8
2013: Marvel Studios' Thor: The Dark World film debuted in theaters.
November 9
1976: MARVEL SPOTLIGHT #32 by Archie Goodwin, Sal Buscema, and Jim Mooney introduced Spider-Woman AKA Jessica Drew. She's introduced as Arachne, an agent of Hydra who's infiltrating a S.H.I.E.L.D. base to rescue her Hydra lover. But over the course of the story, she learns how Hydra manipulated her, and some of her origins through genetic manipulation by the High Evolutionary. (This is a correction from mentioning it last month—which was the copyright date, not the newsstand date.)
1982: It's a classic X-Men vs Brood epic in UNCANNY X-MEN #166 by Chris Claremont and Paul Smith. We get some really cool Carol Danvers/Binary action, but most importantly, it's the first appearance of the dragon Lockheed. He meets Kitty Pryde while frying some sleezoids (Brood warriors) and kicks off a lifelong friendship.

2011: POINT ONE, a massive issue featuring seven stories that set up the Marvel Universe for 2012. It includes an Age of Ultron sequence, new villains, ominous warnings, and much more. The biggest standout is the introduction of Nova (Sam Alexander), making his comic debut in a story by Jeph Loeb and Ed McGuinness.
November 10
1964: Dragon Man made his first appearance in FANTASTIC FOUR #35 by Stan Lee and Jack Kirby. An artificial creature created by an egghead at State U—Reed Richard's alma mater—Dragon Man is inanimate until Diablo returns and uses his potions on DM, giving life to the creature. He's really just a sweet boy, ordered around by jerks. 
1981: Corsair revealed to Cyclops that he was Scott's father in UNCANNY X-MEN #154 by Chris Claremont, Dave Cockrum, and crew. Scott… didn't take the news very well.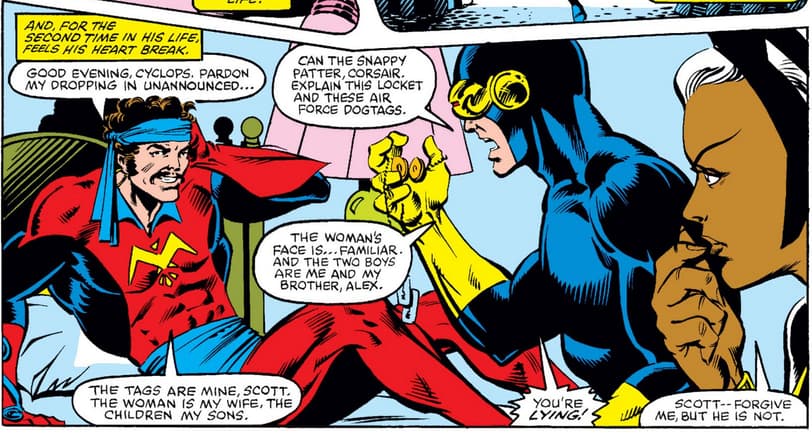 1987: Eddie Brock made his first cameo – with a tease of the symbiote as well – in AMAZING SPIDER-MAN #298 by David Michelinie and Todd McFarlane. We got a better look at Eddie the next issue, and the full Venom debut in issue #300!
November 11
1965: Spider-Man pushed himself to the limit, finding the strength and will to escape from under the rubble and save Aunt May in AMAZING SPIDER-MAN #33 by Stan Lee and Steve Ditko. It's often cited, rightfully so, as one of the most iconic and important formative issues in Spidey's long and storied history. What's lost in the telling most times is that the story doesn't end when Spidey gets through and frees himself! He then has to go on, swim for his life, fight a bunch of bad guys, get to the hospital with May's medicine, do some science, go to work, deal with J. Jonah Jameson, and check back in on his aunt—all before getting any sort of rest or break. It's epic.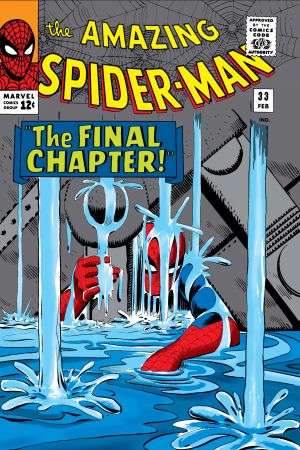 Over in FANTASTIC FOUR #47 by Stan Lee and Jack Kirby, the inaugural Inhumans storyline heated up as we were introduced to the city of Attilan, Maximus the Mad (Black Bolt's nefarious brother), and the Alpha Primitives, a race of cloned worker drones genetically manufactured by ancient Inhumans to do the crappy work of keeping a society running so the Inhumans wouldn't have to. So, ya know, that whole Alpha Primitive stuff is pretty awful.
Mentallo and the Fixer made their debuts in Stan Lee and Jack Kirby's S.H.I.E.L.D. story in STRANGE TALES #141. While Nick Fury spent most of the issue barechested, we were introduced to the two baddies—one a mutant mentalist with numerous yet not overly powerful psionic abilities and one who has the power to make and fix pretty much any tech.
1980: Captain America decapitated Baron Blood (with his shield!) in CAPTAIN AMERICA #254 by Roger Stern and John Byrne. While Blood saw his demise this issue—in haunting and memorable panels—his archenemy and brother, the original Union Jack, also breathed his last.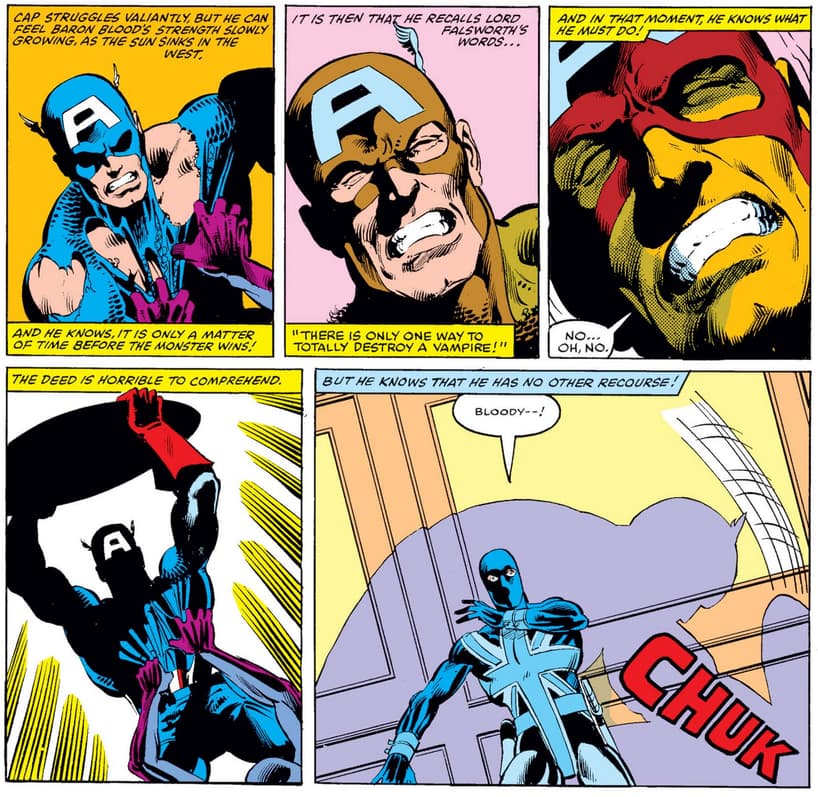 November 12
1963: Sparks flew when classic Spidey villain Electro AKA Max Dillon made his first appearance in AMAZING SPIDER-MAN #9 by Stan Lee and Steve Ditko. His costume? One of the coolest and most iconic of all Marvel villain costumes!
1968: The Wasp and Yellowjacket married in AVENGERS #60 by Roy Thomas and John Buscema. The entire Avengers crew was confused and concerned about the whole affair since they had no idea who this Yellowjacket goon was, even if Jan seemed good with it. Things went sideways, naturally, when the Circus of Crime showed up to ruin the wedding. It was only when Wasp was in extreme danger that Yellowjacket snapped, growing in size as Goliath, and revealing that he's actually Hank Pym.
1985: Loki turned Thor into a frog, creating the first appearance of Throg in THOR #364 by Walter Simonson. Froggy Thor found himself caught up in a war between frogs and rats. It's a pretty epic, fun, and wild story!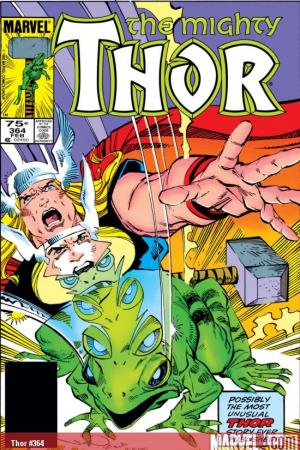 X-FACTOR #1 by Bob Layton and Jackson Guice hit newsstands. The issue followed the recent return of Jean Grey, sparking the original five X-Men to reunite. They each ditched their lives—including Cyclops pretty much walking out on his wife Madelyne Pryor to hang out with his reborn ex-girlfriend…who looks like his wife. The group became X-Factor, a for-hire group that "takes care" of mutants. While the public thought they were getting rid of mutants, they were in fact saving and protecting them. This issue included the first appearances of pyrokinetic mutant Rusty Collins (adapted for the screen in Deadpool 2) as well as secretly nefarious villain Cameron Hodge. 
1991: Squirrel Girl debuted in spectacular fashion in a story within MARVEL SUPER HEROES #8, a massive 80-page winter special. She was brought to life by Steve Ditko and Will Murray in a delightful story in which she just wants to be partners with her favorite Super Hero—Iron Man! She uses her powers of squirrel, and powers of a girl, to take down Marvel's greatest villain, Doctor Doom, even to the point that the squirrels tear apart and steal his cloak and kick him out of his own aircraft. Her final words in this story? "I don't need luck. I eat nuts."
2014: Ian Zola AKA Ian Rogers, biological son of Arnim Zola and raised by Steve Rogers and Sharon Carter, became Nomad in ALL-NEW CAPTAIN AMERICA #1 by Rick Remender and Stuart Immonen. It was also the first full issue featuring Sam Wilson as Cap, after he was given the mantle and shield by Steve Rogers.
November 13
1979: Jennifer Walters made her first appearance as She-Hulk in SAVAGE SHE-HULK #1 by Stan Lee, John Buscema, and Chic Stone. A criminal lawyer in Los Angeles, Jen Walters met up with her cousin Bruce Banner while he was on the run from being all Hulky. After revealing his gamma secret to Jen, she vowed to help him. Unfortunately, they were attacked, with gangsters shooting and wounding Jen. To save her life, Bruce gave her a blood transfusion, but his irradiated blood ended up turning her into She-Hulk! 
November 14
1978: Mariko Yashida debuted in UNCANNY X-MEN #118 by Chris Claremont and John Byrne. The X-Men found themselves in Japan, dealing with Sunfire and then the Mandroids, and even with Moses Magnum, but the quiet scene between Logan and Mariko—the start of their romance—is the gem here.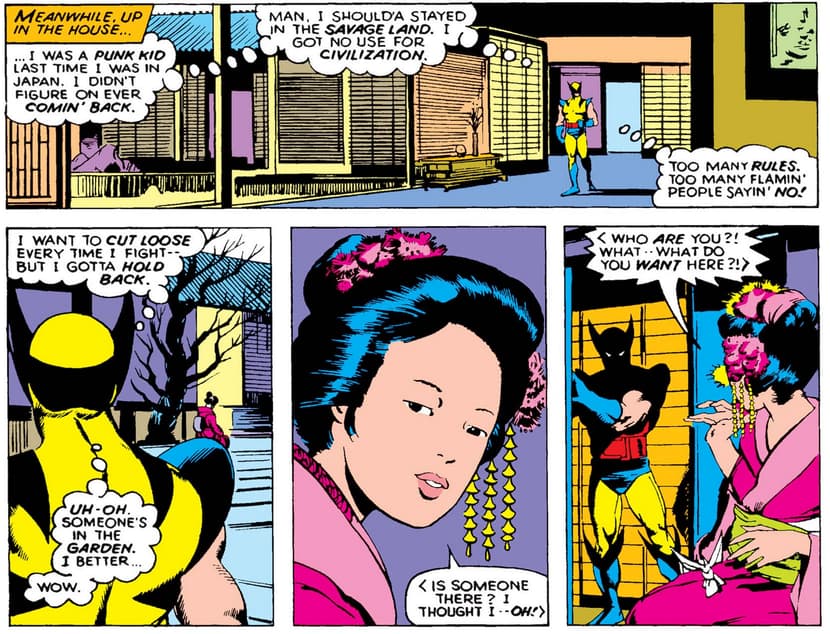 For more about these events and more Marvel news and history, tune in to This Week in Marvel every Friday wherever you get podcasts!
For more about Marvel's 80th Anniversary, visit marvel.com/marvel80!
The Hype Box
Can't-miss news and updates from across the Marvel Universe!