Culture & Lifestyle
Published September 30, 2019
This Week in Marvel History: September 27-October 3
See what happened at Marvel on these dates in its 80-year history!

With Marvel celebrating its 80th anniversary this year – and to scratch my own history and research itches – every week I'm digging through a whole host of important dates and details for a special segment of This Week in Marvel called… (wait for it) … This Week in Marvel History! Important comics, storylines, character appearances and moments, real world releases and special Marvel milestones—it's all part of TWIMH! Here are just a few Marvel History notes for the week of September 27-October 3!
September 28
1950: The Texas Kid debuted in TEXAS KID #1. This is a different Texas Kid from the Texas Kid who was around in Timely comics of the '40s, but he has the same name -- Lance Temple -- as Outlaw Kid, and similar origins as Outlaw Kid. Comics!
1961: Stan Lee, Larry Lieber, and Jack Kirby introduced scientist Henry Pym and his incredible shrinking and growing potions in TALES TO ASTONISH #27. This is pre-Super Hero Pym, a classic thriller/suspense tale, but Stan and crew knew they had something and would later revisit Pym in creating the astonishing Ant-Man! This issue also includes a super creepy Steve Ditko story, a tale about a talking horse, and more.
Over in FANTASTIC FOUR #2, Stan and Jack introduced the shape-shifting menace of the Skrulls! The Skrulls muck around with the Fantastic Four's lives for a bit, but are eventually beaten. Spoiler alert: As punishment for their crimes, Reed Richards told the Skrulls to turn into cows, then hypnotized them so they lived their lives as peaceful cows. Double spoiler alert: Those Skrull cows would later be turned into food.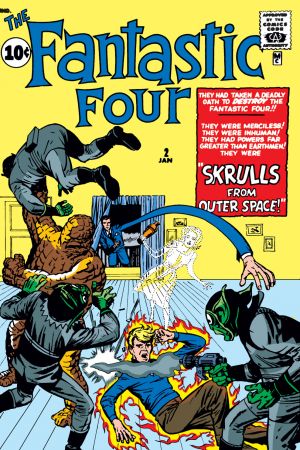 1976: Howard the Duck began to run for president in HOWARD THE DUCK #7 by Steve Gerber and Gene Colan. Next issue is the big "HOWARD FOR PREZ" issue, but the campaign kicked off right at the end of this one.
1989: The New Warriors—Nova, Marvel Boy, Namorita, Night Thrasher, Firestar, and Speedball—gathered for the first time to help Thor battle the Juggernaut in THOR #411 by Tom DeFalco and Ron Frenz. The New Warriors would get their own title some months later, in May 1990.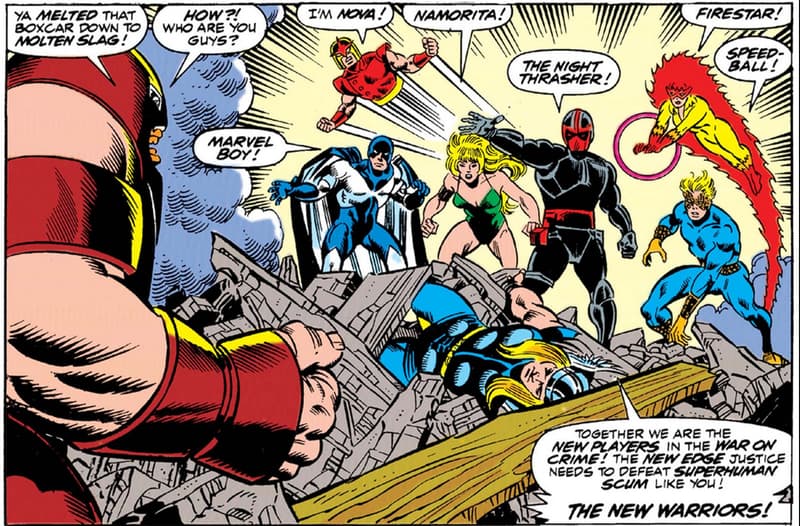 1991: Power Pack made their TV debut as a Saturday morning special on Fox. It's honestly pretty solid! It's definitely of the time in a number of ways, but it's got some fun creepy elements and shows the neat ways the Power kids use their abilities. Fun tidbit: Jack Power has some comics in one of his drawers in the special, and one of them is FANTASTIC FOUR #348 with art by Arthur Adams! (Check out the latest episode of This Week in Marvel for an interview with Arthur Adams!)
September 29
1999: DAREDEVIL #9 by David Mack, Joe Quesada, Jimmy Palmiotti and crew introduced Maya Lopez AKA Echo. A deaf character, she has the power to recreate any complex physical action that her eyes record. And she's employed by Wilson Fisk to work an angle on Matt Murdock. Great story, absolutely stunning art.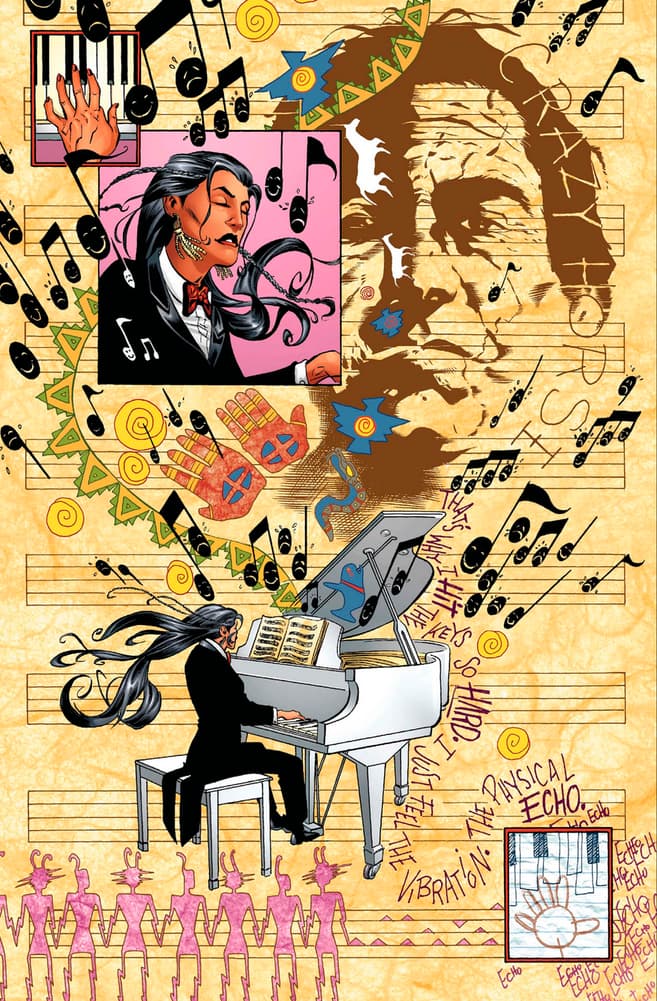 September 30
1998: The fourth Marvel Knights title launched—INHUMANS #1 by Paul Jenkins and Jae Lee. It's a socio-political re-introduction to the Inhumans, from the royal family down to the lower classes and the divides and conflicts around all of that. Plus, Jae Lee's artwork SHREDS.
2018: Marvel Rising: Secret Warriors debuted on the Disney Channel and Disney XD! It's the animated movie featuring Ms. Marvel, Squirrel Girl, Patriot, America Chavez, and Inferno all coming together to fight Hala the Accuser—who's played by Ming-Na Wen! It also features Captain Marvel and Lockjaw, and it's a bunch of fun. You can watch it now on the Marvel HQ YouTube channel!
October 1
1963: Stronger than a dozen men! More dangerous than any mere mortal! The mysterious Mister Hyde debuts in JOURNEY INTO MYSTERY #99 by Stan Lee and Don Heck. Hyde AKA Calvin Zabo was just a fan of the original Jekyll and Hyde story by Robert Louis Stevenson and wanted to make the changes actually happen to himself. And he did it!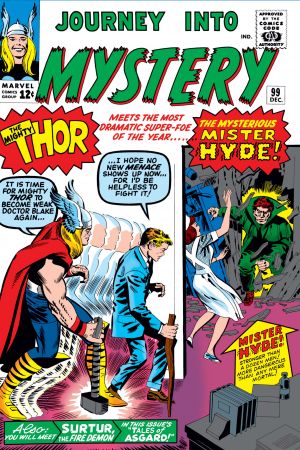 1964: The Matador debuted in DAREDEVIL #5, by Stan Lee and Wally Wood. It's Wood's first Daredevil issue, and it's GORGEOUS.
Over in the Hulk story in TALES TO ASTONISH #63 by Stan Lee and Steve Ditko, we got to see the Leader in full for the first time as well as his origin story. 
October 3
1967: Whiplash and Big M are introduced in the Iron Man story by Stan Lee and Gene Colan in TALES OF SUSPENSE #97. Whiplash... whips stuff! And of course you know Big M, head of the Maggia crime syndicate, right? You may know her better as Madame Masque! Masque remains a major villainous force in the Marvel Universe, but she was first introduced as the shadowy Big M!
1972: Moondragon, member of the Guardians of the Galaxy and Infinity Watch and the daughter of Drax, debuted in IRON MAN #54 by Mike Friedrich and George Tuska. Well, she calls herself Madame MacEvil this issue and takes over Tony Stark's armor, forcing him to fight Namor. She created a computer and it called her Madame MacEvil, but her Moondragon name was revealed in DAREDEVIL #105 in July 1973 along with her origin and connection to Thanos.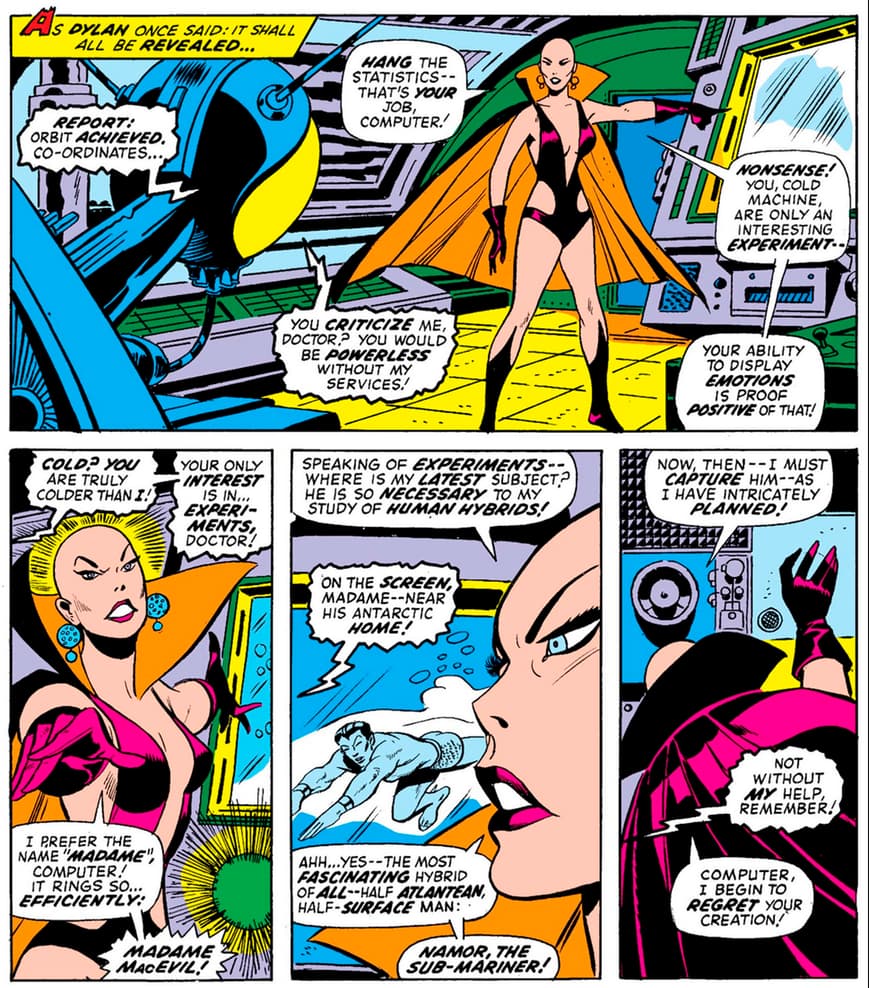 2009: I got married to my amazing wife Elizabeth! Happy 10th anniversary, Elizabeth! When I said, "I do," there was a loud crash of thunder as if Thor himself was blessing the ceremony!
For more about these events and more Marvel news and history, tune in to This Week in Marvel every Friday wherever you get podcasts!
For more about Marvel's 80th Anniversary, visit marvel.com/marvel80!
The Hype Box
Can't-miss news and updates from across the Marvel Universe!