Culture & Lifestyle
Published October 27, 2021
Topher Grace Suits Up as Iron Man
Go behind-the-scenes with 'Home Economics' executive producer and star Topher Grace and then tune in tonight!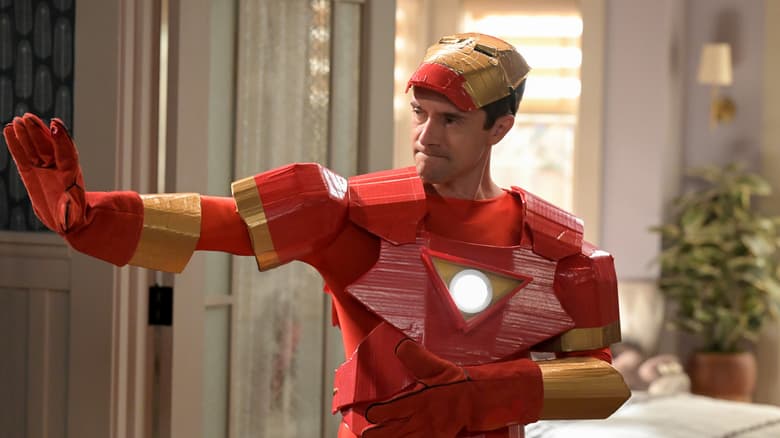 Topher Grace suits up once more!
In a brand-new episode of Home Economics, airing Wednesdays on ABC, executive producer and series star Topher Grace heeds the call. But he's not the only one; in fact, it's a whole Hayworth family affair assembling to take on — Halloween!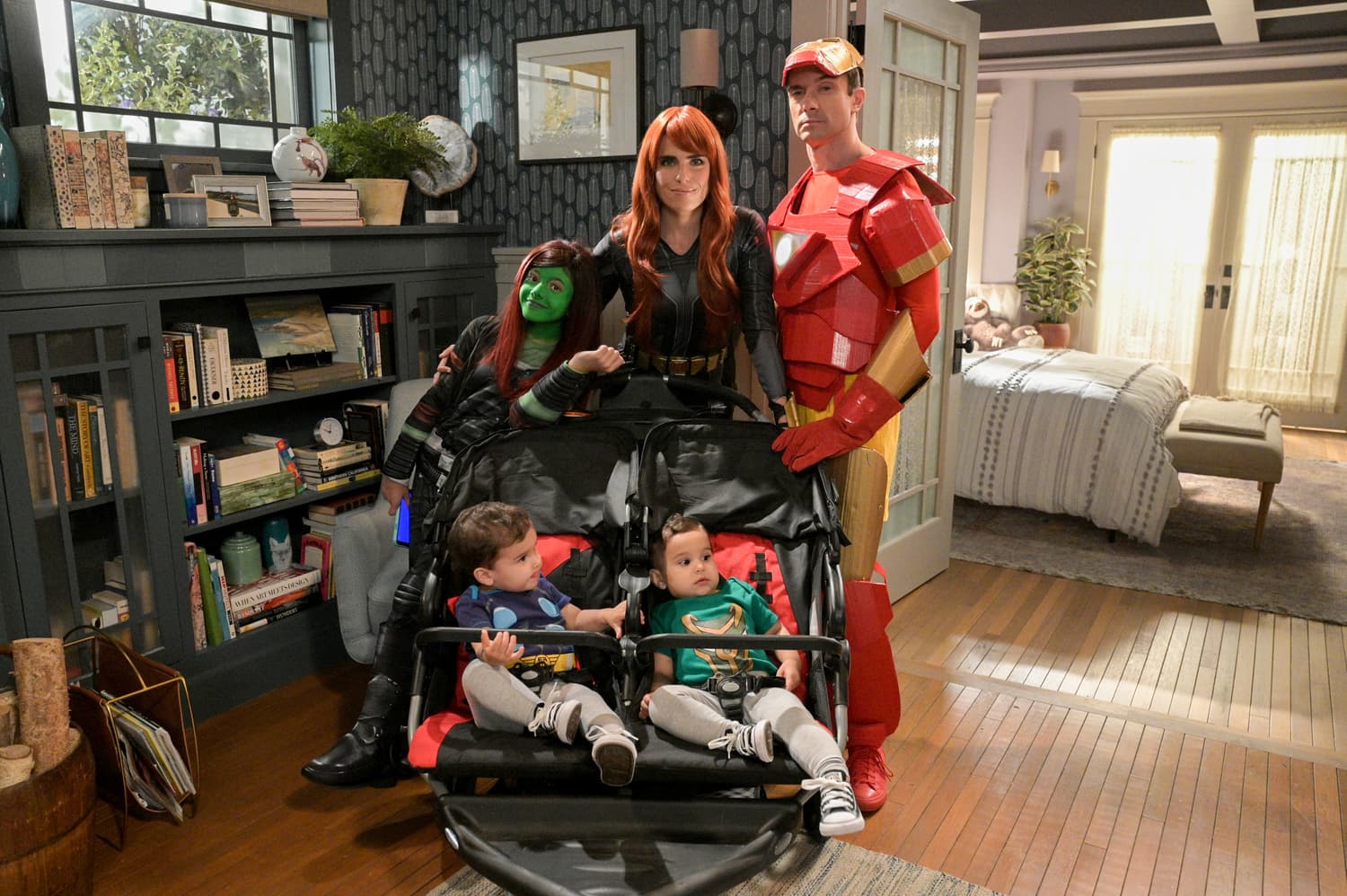 In "Box of King-Size Candy Bars, $48.99," airing tonight (9:31pm ET/PT on ABC and on Hulu the following day), Trick or treat is not the only question on the Hayworths' minds as they debate the best neighborhood for a spooktacular Halloween. Meanwhile, Connor navigates sharing the holiday with his ex-wife, Emily. The episode was written by Melissa Hunter and directed by Dean Holland.
Marvel.com had the opportunity to speak to Topher Grace earlier this week about the episode!
Marvel.com: What I love about this show is how you guys tackle weighty topics like income disparity. In a way, it's like how Marvel tackles real world issues. Can you talk about how you handle that in a sitcom?
Topher Grace: Well, the great thing about the idea of the show, which is from Michael Colton. Mike Colton and John John Aboud write the show; they're the writing team, but it's [Michael's] life. He is the 'Tom' of his family. Hopefully, this show becomes such a success that he eclipses his brother. [laughs]
But there's the number one thing, and they have this in the pilot, and it's at the core of every episode of the show, is that the love is so much bigger than their economic issues. I think that's true in Mike's family. And that's, that's what I like about being on the show is that it is making a point about income inequality, which is very real right now more than ever before. But also, it's making a point about family, which is even stronger than that.
Marvel.com: On deck this week is a new Halloween-themed episode. Did you get to choose the heroes you wanted to represent?
Topher Grace: I don't think Jimmy [Tatro] or I would have chosen a different hero, obviously.
But one of the interesting things that I was privy to because I'm a producer on it, is these writers had this idea on what if it was all like not just super heroes. I remember when I was on That 70s Show, we did a Star Wars-themed show, but I was like, 'No one's done that Marvel-themed show yet.' And it's the coin of the realm right now. We even got to use that amazing Alan Silvestri theme in there.
Marvel.com: That's incredible!
Topher Grace: There's a difference between my costume and Jimmy's costume. We're playing the same character but there's a big difference. We straight up got the Iron Man costume for Jimmy. So mine's homemade, and he has the actual suit.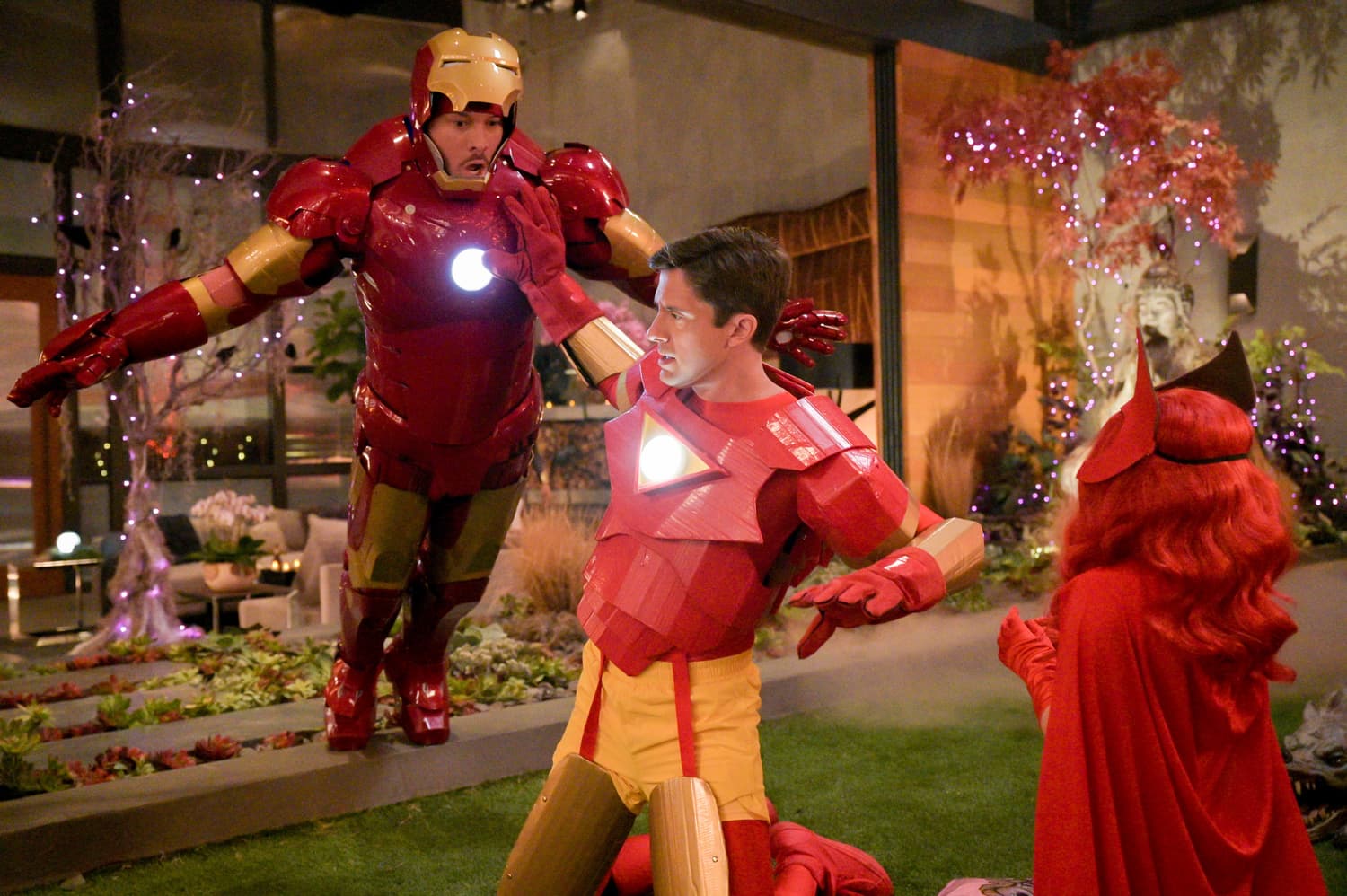 Topher Grace: What's great is it really shows the story that we're trying to tell about this family. By the way, I have the same feelings my character does when I put mine on. It's like homemade and I was like, 'Whoa, this is great. My character really did a great job.' Then Jimmy walked in [robotic noises]. I'm so mad. I was like, I'm just gonna use this for my acting.
Marvel.com: Tom's costume doesn't look bad; it looks great for homemade!
Topher Grace: Agreed, but, man, it looks so bad next to Jimmy. Even people were laughing on the day! And I was like, Oh, I know it's just characters were playing, but it really hit home.
Marvel.com: I know you've been a huge fan of Marvel since you were a kid. Has your favorite heroes and villains changed from when you were younger to now?
Topher Grace: Well, yeah. I was really into comics as a kid, but I wasn't that aware of Iron Man. But that movie. Oh my gosh, I remember watching that first movie in the theaters going this is just incredible and I'm such a huge Jon Favreau fan. I just am so in awe of what they've done with the MCU. And, like everyone, I'm addicted to it. I feel the way I did when I was a teenager about comic books as I now feel as an adult about these movies. Every time I see an interview with Kevin Feige. He's a genius obviously, but he's like we're just going to the comic books. Like that What If...? comic book which I remember really loving. Like what if Spider-Man married Gwen Stacey.
You're reminding me now what we should have done, at the end of the episode, is have Samuel L. Jackson show up and be, 'Hey, we need you. We need you five. You five adults in Home Economics. I'm putting together a team.'
Marvel.com: Is there anything you can tease about tonight's episode?
Topher Grace: We have someone in the WandaVision Halloween costume; I won't tell you who. Oh, but we also have JeCobi [Swain], who was also in The Falcon and The Winter Soldier, and he's dressed up as Sam Wilson in our episode. It was it was really our most fun week. I don't think there's anyone who wouldn't tell you this was our favorite week.
Watch Topher Grace as Iron Man... er, Tom Hayworth playing Iron Man in a brand-new episode of Home Economics tonight!
The Hype Box
Can't-miss news and updates from across the Marvel Universe!