Culture & Lifestyle
Published August 25, 2020
Sink Your Claws Into This Wolverine Kebabs Recipe
Find more recipes like this in the new 'Marvel Eat the Universe: The Official Cookbook.'
Fire up the grill, because we're making Wolverine Kebabs! 
If you're in the mood for some juicy skewers, Celebrity Chef Justin Warner — who also hosts the Marvel digital series Eat the Universe — has just the recipe for you! You'll need some meat (Warner used top sirloin) along with a few sauces, sticks to cook them, and maybe a touch of Adamantine for dramatic effect. 
Find the recipe below, and don't forget to check out Marvel Eat the Universe: The Official Cookbook for more Marvel-inspired dishes! And whatever you're cooking, baking, or making there's an item from the Marvel Eat the Universe collection that's perfect for it! 
Wolverine Kebabs
I wanted to make a dish inspired by Wolverine that would be perfect for the summer, easy to make, and celebrate some cool stories about the Ol' Canucklehead himself. 
While recently putting together the Venomsaurus Rex Lego set, I did a little dive into Old Man Logan and had a fun time reading about the wasteland version of South Dakota, where I currently live. The state nosh of this fine state is Chislic, arguably a derivative of the kebab. You can probably see where I'm going with this, but with three reusable metal skewers and a few pantry ingredients, you can make a delicious dish and take photos like this. Just make sure the skewers are cool, bub!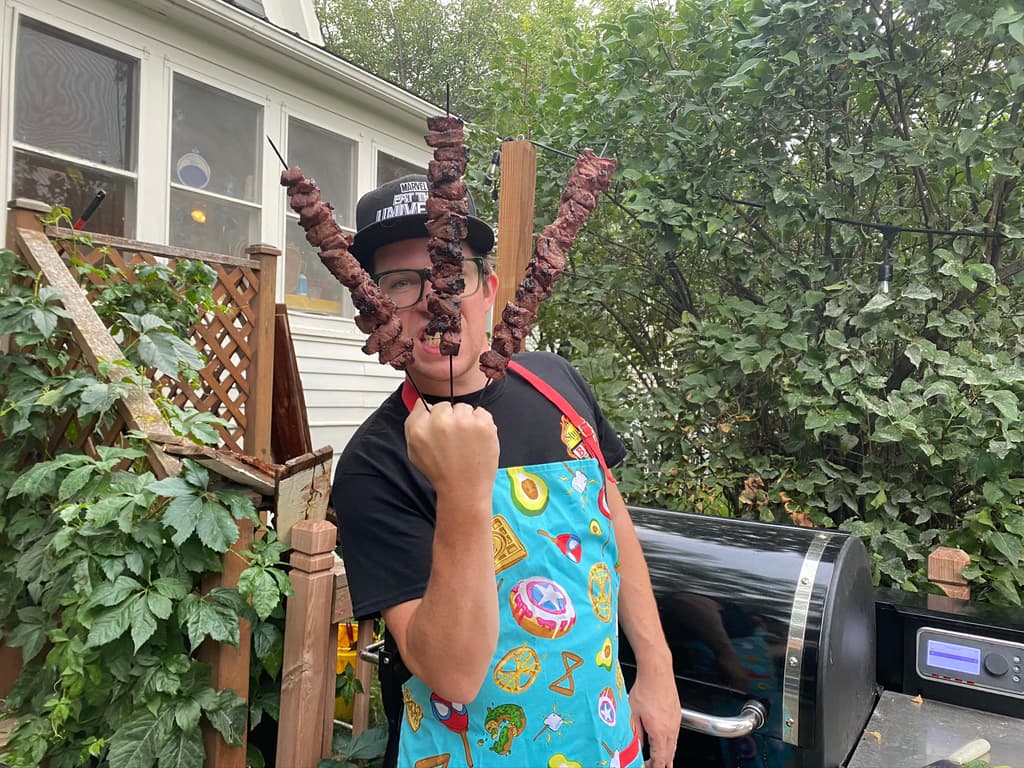 This is a good base recipe for Chislic... But don't tell my fellow Dakotans about the maple syrup. That's there for sweetness but also as a nod to Wolverine's Canadian origin. 
1.75lbs top sirloin, cut in to large cubes
2 Tablespoons maple syrup
2 Tablespoons Worcestershire sauce 
1 teaspoon kosher salt
1 teaspoon garlic powder
1 teaspoon onion powder
Combine all ingredients in a bowl, toss to coat, cover, and refrigerate for at least 6 hours.

The Hype Box
Can't-miss news and updates from across the Marvel Universe!